If there's one thing I know about Boca moms, it's that they looooove them a local staycation. And, that staycation tastes just a little bit sweeter when you have visitors (IMO). There's a certain satisfaction that I get from showing off my beautiful state of Florida to out-of-towners. Whether it be the Florida Keys, the Space Coast or even the Gulf Coast, I am proud to be raising my family only a few hours away from some amazing vacation destinations. So when the opportunity to take my in-laws (from Maine) on a multigenerational Florida staycation arose, we decided to go for it!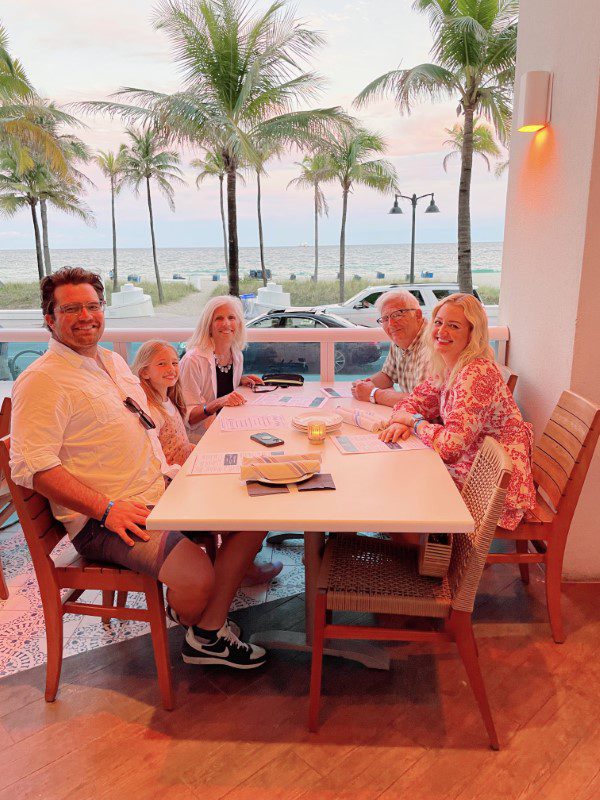 Where did we go on our multigenerational Florida staycation?
To Ft. Lauderdale Beach to B Ocean Resort! Thank you for hosting us!
Formerly known as the Yankee Clipper (trust me, it looks just like a ship), B Ocean Resort has been a destination for American icons throughout history including Marilyn Monroe, and Joe DiMaggio, to name a few. It is located directly on Fort Lauderdale Beach and is just minutes from Fort Lauderdale-Hollywood International Airport, Port Everglades and downtown Las Olas Boulevard. It is also approximately 45 minutes south of Boca Raton by car.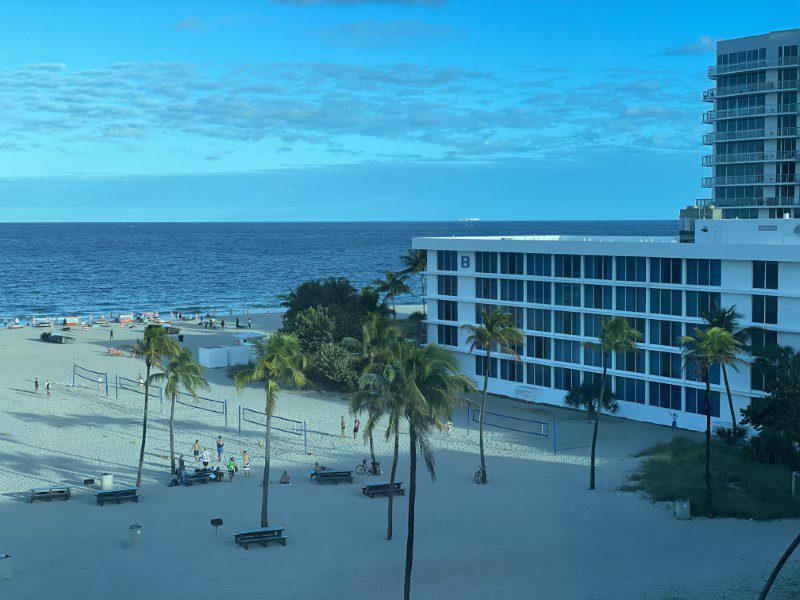 The Rooms and Suites at B Ocean Resort
If you're booking at multigenerational Florida staycation at B Ocean Resort, we highly recommend reserving adjoining ocean-view rooms (duh!), one of them being a suite. That way, you have a common area to hang out in addition to sleeping quarters for the whole family. With this setup, no one will ever feel cramped or like they have a lack of privacy.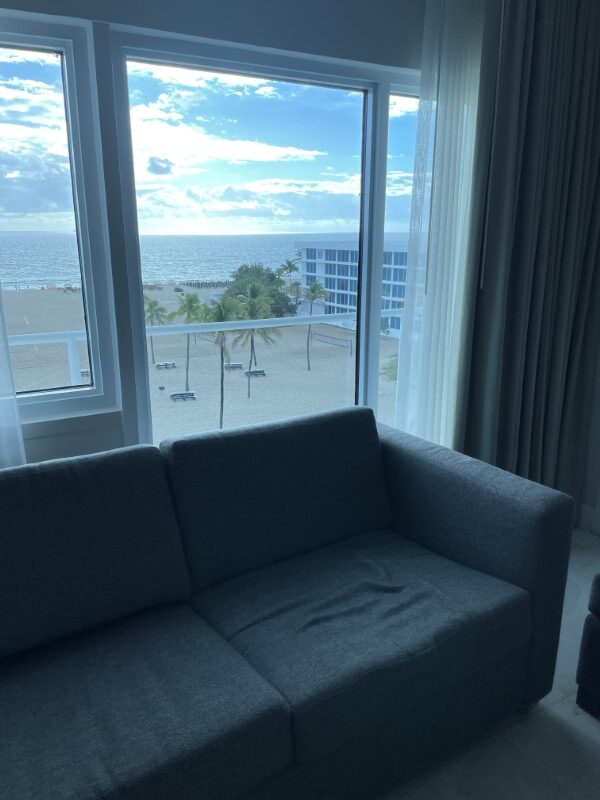 In B Ocean Resort's rooms and suites, modern decor meets a locally-inspired, beach-chic aesthetic. You could tell that everything was recently re-done and upgraded. The spaces were beautiful!
Both rooms had a bar with full coffee service (Keurig!) and a small refrigerator for anything you'd like to keep cold. The suite also had 1.5 bathrooms, a living room and a dining area. Our family had an absolute blast watching movies together each night in our suite after a long, fun day down by the pool and beach.
MBMom Tip: Pack your laptop and an HDMI cable to connect directly to the TV in your suite's living room. You can also play music that way!
What to Do on a Multigenerational Florida Staycation
Pools & Private Beach at B Ocean Resort
My in-laws, being from Maine, wanted to spend as much time in and around the water as possible. Their goal is always to soak up allllll of the sunshine before they head back up north to an extended winter.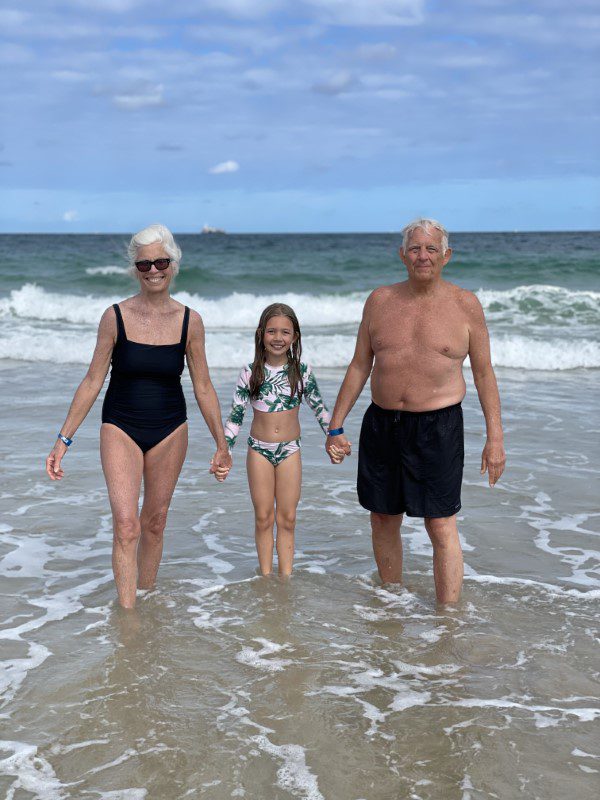 There are two pools on site at B Ocean Resort. We spent most of our time at the beachfront infinity-edge pool which offers guests stunning views of their private beach and easy drink and food ordering from Salty Siren.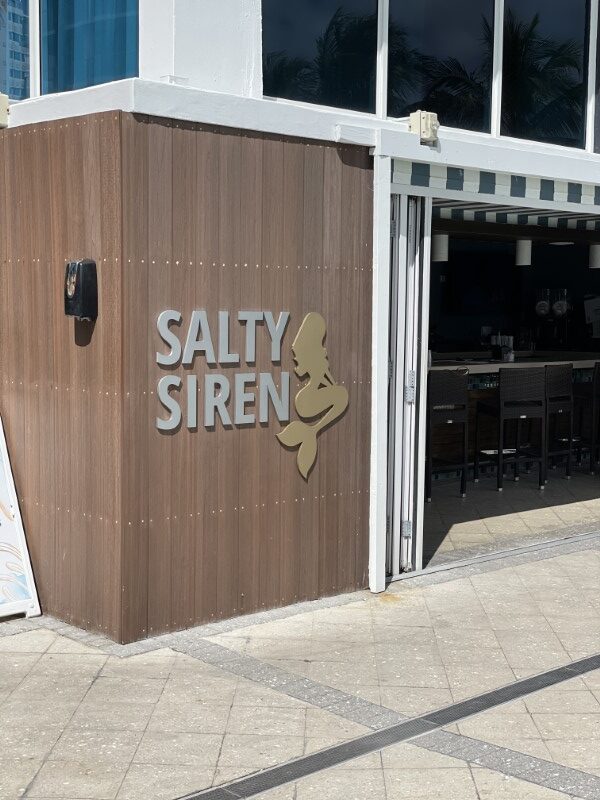 The Clipper pool in the main building is more secluded if you're going for a more relaxed experience. It's also the site of the Resort's Mermaid Shows which we'll get into below!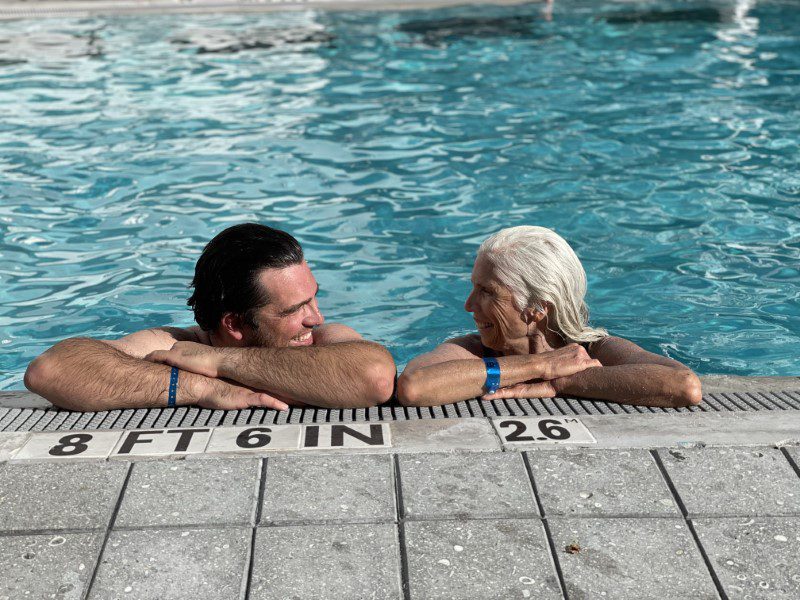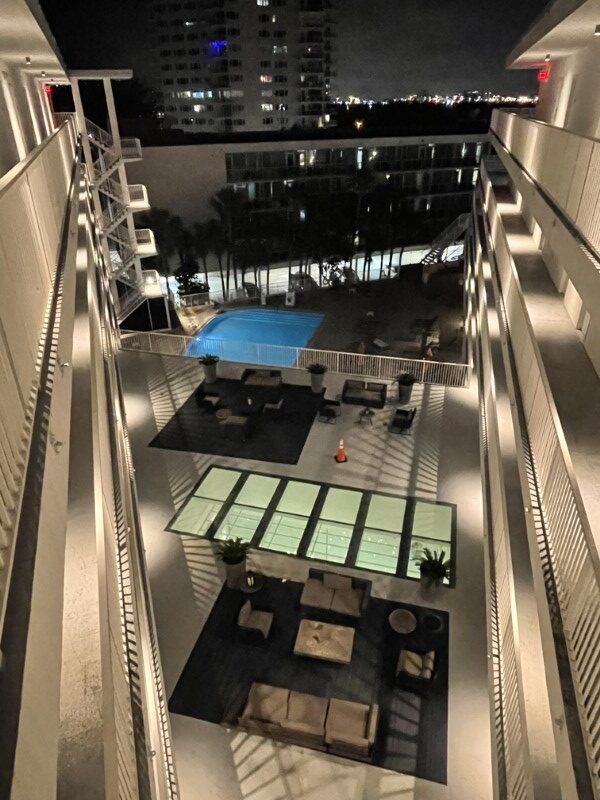 B Ocean Resort also offers exclusive access to a private stretch of Fort Lauderdale Beach. You can't help but want to relax on their guest-only beach loungers and order food and drinks from the Salty Siren there as well.
MBMom Tip: Don't miss out on ordering B Ocean's signature coconut drink–it makes for the best Instagram photos! 🙂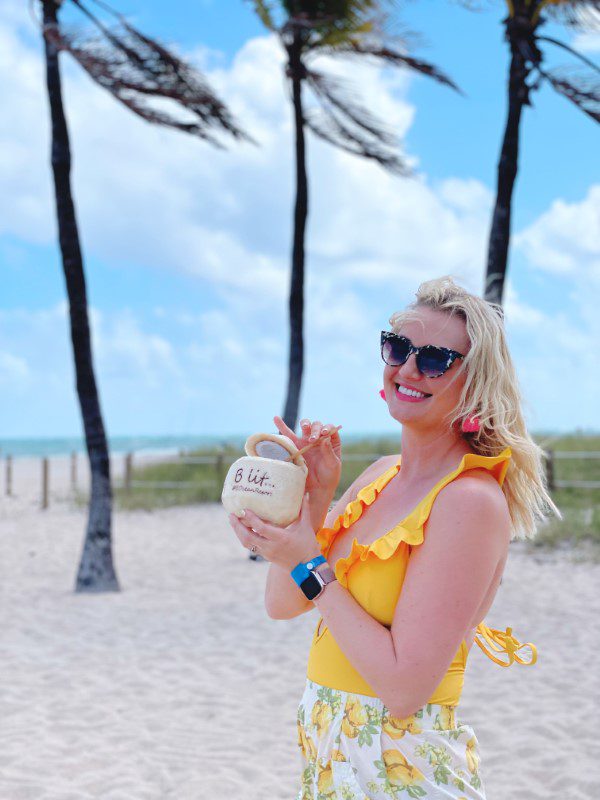 Although we didn't partake, B Ocean Resort also offers bicycle rentals and a 24-hour Fitness Center. There is really something for everyone there!
Mermaid Shows at the World Famous Wreck Bar
As I wrote in my column on BocaMag.com, you don't have to trek all the way to Orlando to enjoy a magical Mermaid Brunch! Simply flip your fins and head down to The Wreck Bar at B Ocean Resort in Fort Lauderdale for an enchanting family-friendly show and meal featuring real Coral Reef Mermaids on Saturdays and Sundays.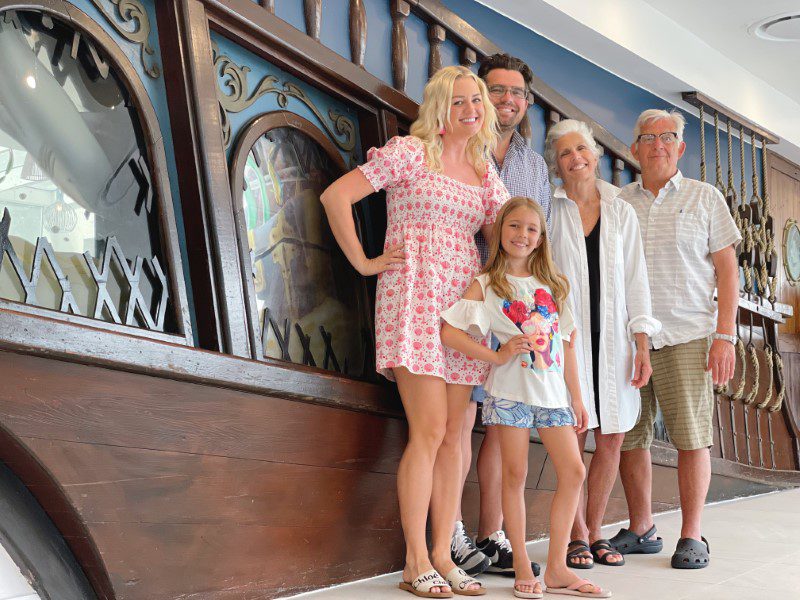 We were invited to enjoy a fintastic interactive mermaid experience at Wreck Bar, located just through the lobby. It was a scene, let me tell you! Wreck Bar, built in the 1950's, is an oasis of nautical design resembling the interior of a shipwrecked Spanish Galleon, complete with aquariums and briny decor throughout. There is extra bonus too- large portholes look into the hotel's pool from behind the bar. 
We even tried it for ourselves one day…check out Avery the mermaid from Wreck Bar!
MBMom Tip: If your child has a mermaid tail for swimming, bring it!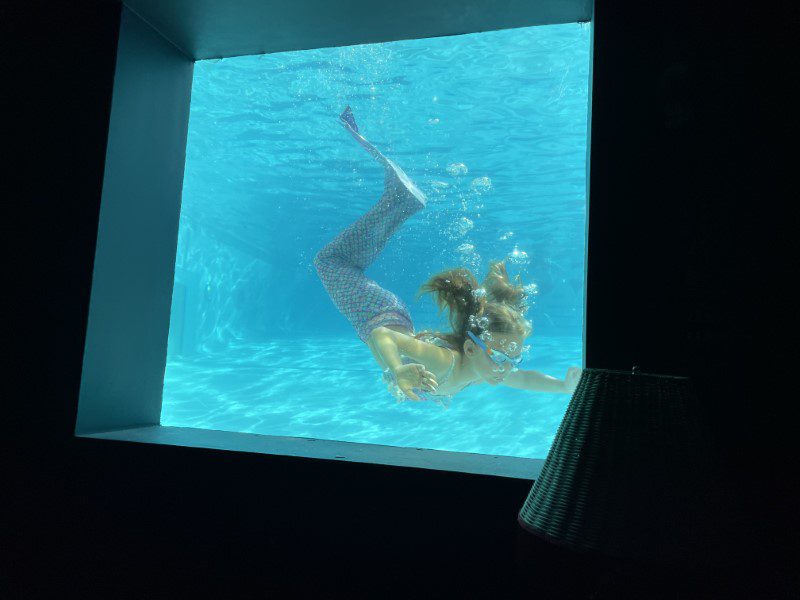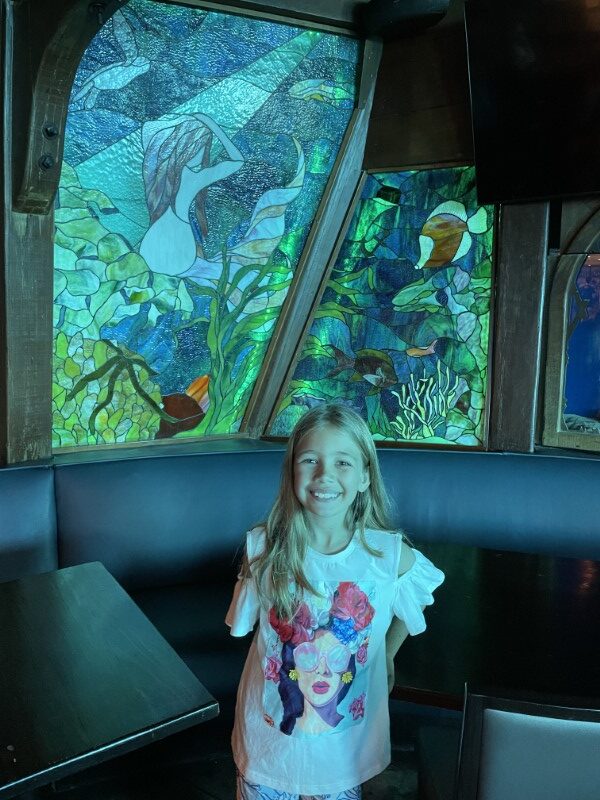 As for the Mermaid Show, first you are invited to take photos with the mermaid performers and show participants…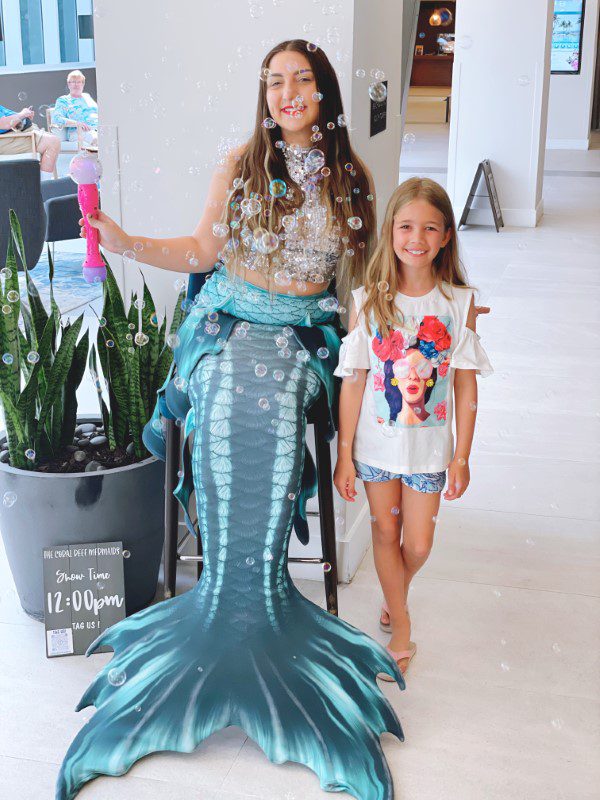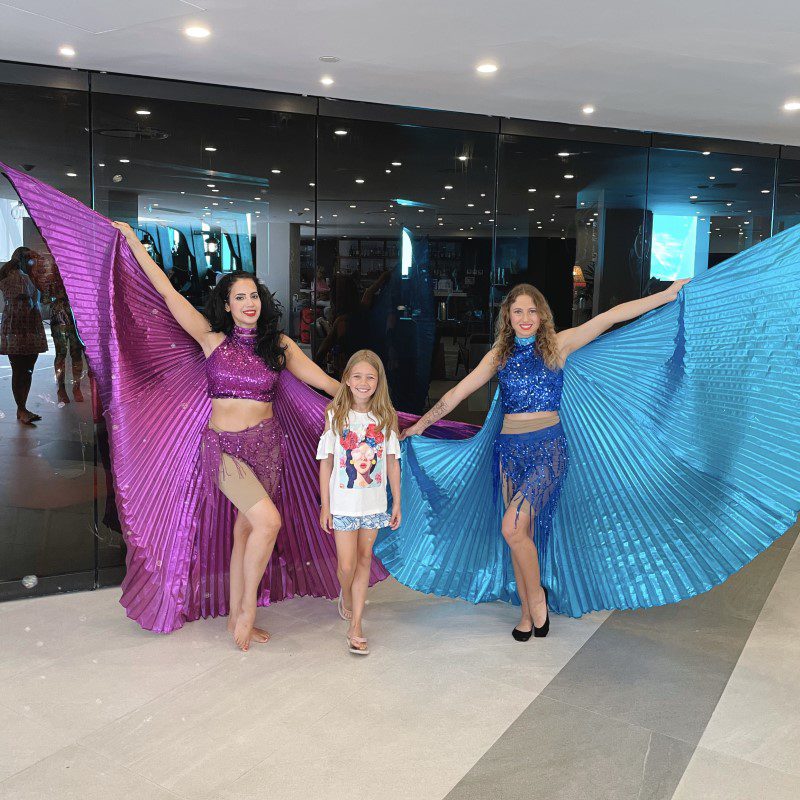 Then you head into the Wreck Bar and enjoy brunch from a prix-fixe menu while enjoying the show!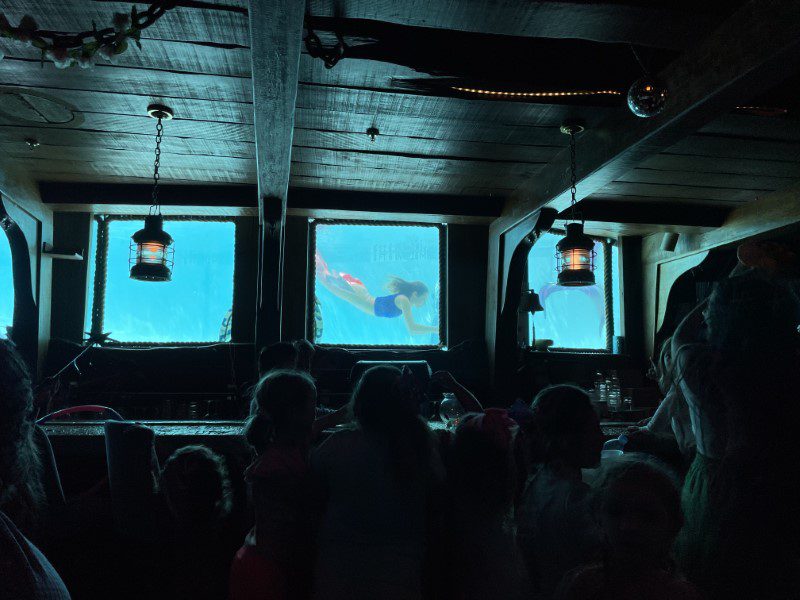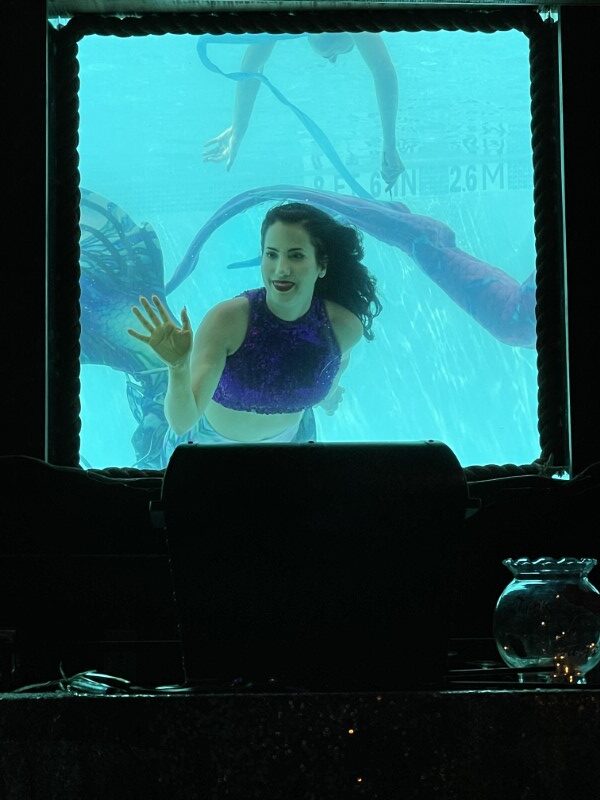 The storyline: While swimming up to see you (yes, in actual tanks), the mermaids lose their magical gadgets. They need your help to find them! Friends Ella and King Neptune will help you along the way. But, be careful! Some items aren't lost gadgets. They're actually items that pollute our oceans. With help from you and your kids, they can get their gadgets back and return to protecting the reefs. All while recycling those pesky items that are polluting our oceans!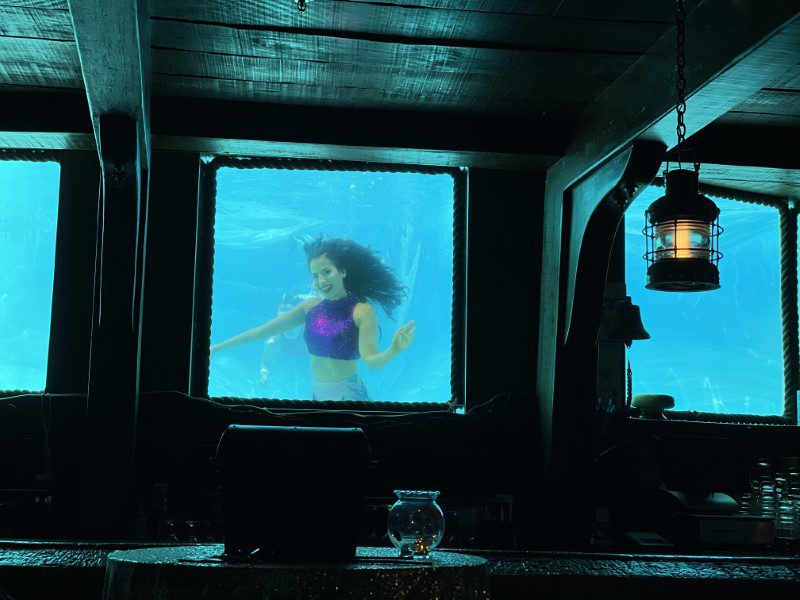 Tickets for guests and non-guests must be purchased in advance. Doors open at 11:00 a.m. | Show starts at 12:00 p.m.
Dining at B Ocean
I've already mentioned Salty Siren and Wreck Bar, but there are some additional dining options located right on site at B Ocean Resort for your multigenerational Florida staycation.
Naked Crab
How could we resist dining at restaurant with one of the coolest names ever? Naked Crab Seafood Kitchen + Cocktail Bar is modern Mediterranean meets the Florida coast and the menu is sourced locally using fresh seafood and produce from local farms.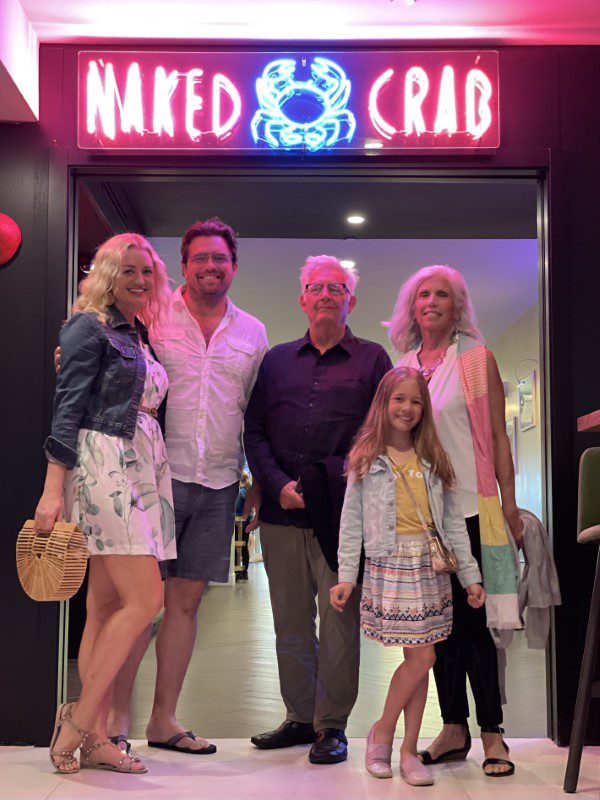 Open for breakfast, lunch, dinner, and a weekend seafood brunch, locals and guests can relish in a seafood tower to share with the table or take advantage of the dry-aged prime steak. For breakfast, guests can enjoy a full menu of traditional staples and specialties like lump crab benedict and crab avocado toast. Let's just say we were STUFFED after dinner at Naked Crab. Worth it!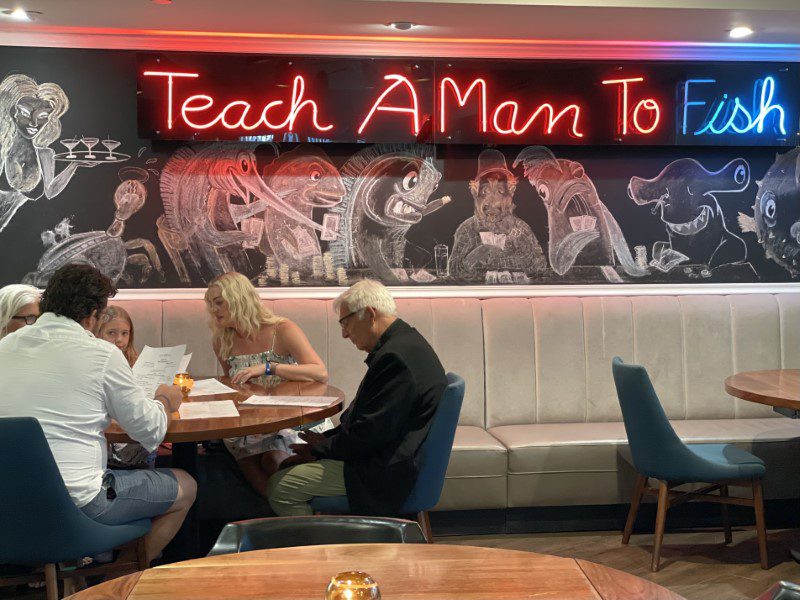 Indoor and outdoor dining is available.
Florida Bar & Clipper Express in the B Ocean Resort Lobby
If you're looking to enjoy a drink in the lobby or grab a muffin to-go, B Ocean has options for both.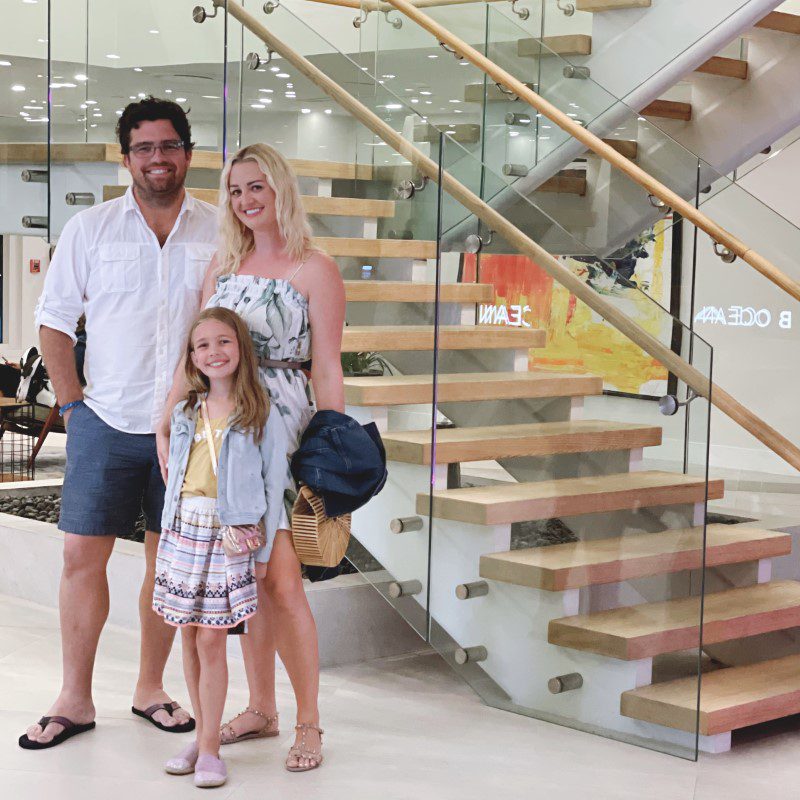 Florida Bar, located in the lobby, offers beer, wine, cocktails, and several food options from Naked Crab.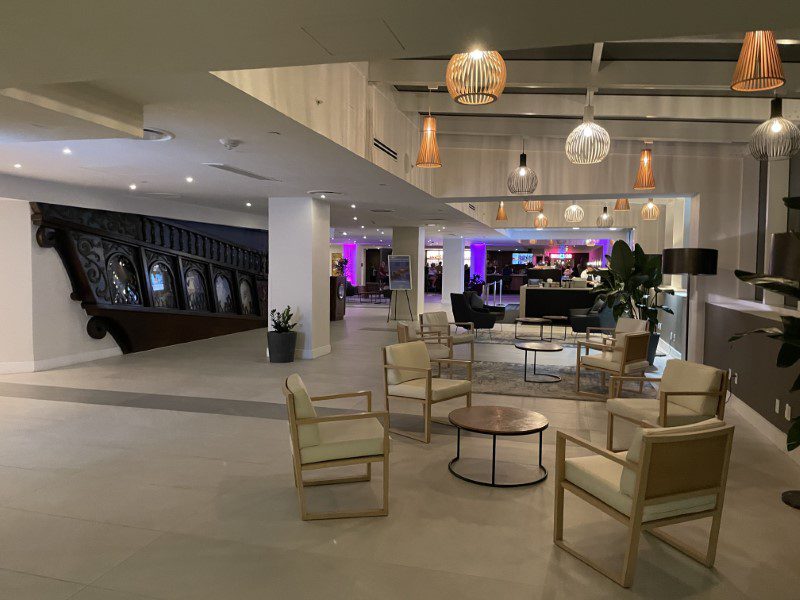 Clipper Express offers bites and beverages at your convenience. I highly recommend the croissants.  Open for breakfast, lunch, and dinner, this espresso bar and gourmet eatery features everything from delicious breakfast sandwiches and baked-to-order flatbreads to Italian gelato and beer, champagne, and wine. Find the Clipper Express in the main lobby of the Clipper building.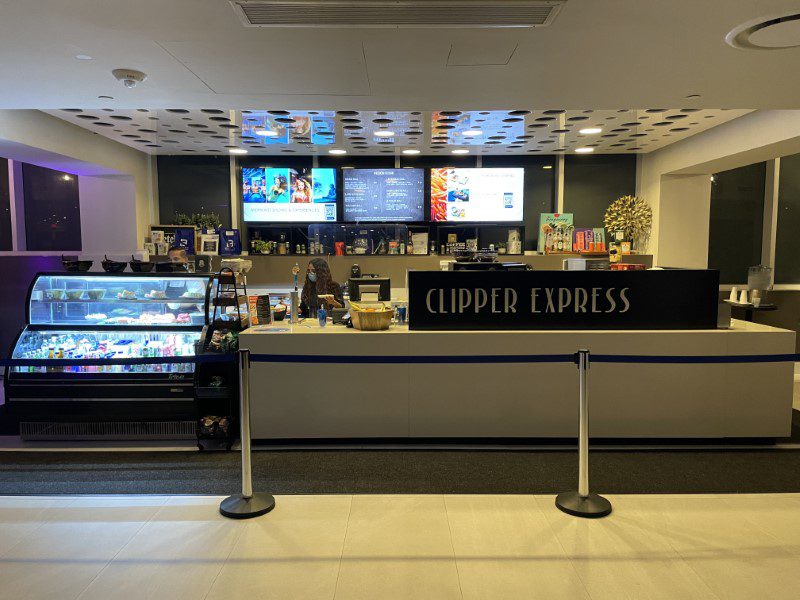 We had an absolutely wonderful multigenerational Florida staycation thanks to B Ocean Resort. I personally can't wait to plan the next one!
When will you take your own multigenerational Florida staycation? Comment below!
---
Sponsored: Modern Boca Mom and family were hosted by B Ocean Resort and the Coral Reef Mermaids for review purposes (no dining was sponsored). All opinions expressed in this blog post are my own. They are not influenced in any way by the sponsor. Any statistic, quote or other representation about a product or service should be verified with provider. Please refer to this site's Disclosure for more information. I have been given exclusive experiences and a complimentary resort stay, but that does not impact my views or opinions.
---
Pin for Later!