I recently wrote about our "good ol' fashioned family road trip" to St. Petersburg and Clearwater Beach, Florida in my column on BocaMag.com. Road trips came back in high fashion due to the pandemic! One area of Florida we hadn't hit as a family yet? Tampa Bay's gulf coast area—specifically Clearwater Beach and St. Petersburg (St. Pete to the locals). I was excited to visit a section of the state I hadn't explored yet during spring break. On our long weekend St. Pete and Clearwater family road trip itinerary? Pirates, dolphins, a little Dali and some hands-on discovery of Florida's gulf coast!
Read on to start planning your own family road trip…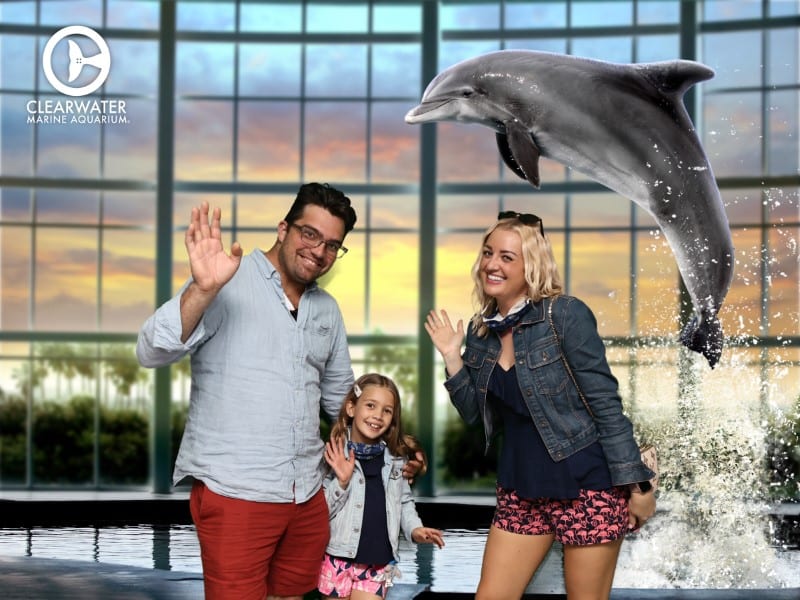 How to Plan a St. Petersburg/Clearwater Family Road Trip from South Florida
How to Get There
It's relatively easy. Pack up the family car and head north on Florida's Turnpike! Then take SR-60 west, connect with I-4 to Tampa and then drive I-275 South. It's not exactly a short drive (4.5 hours from Boca), but worth it. Alternatively you could take I-75 west across the state and then north to the Tampa Bay area.
Where to Stay
Winter the Dolphin's Beach Club
Before heading out, we had some homework to complete–well, at least the parents did. We were urged to watch the movie Dolphin Tale before embarking on our road trip because our family was invited to stay at Winter the Dolphin's Beach Club in Clearwater Beach.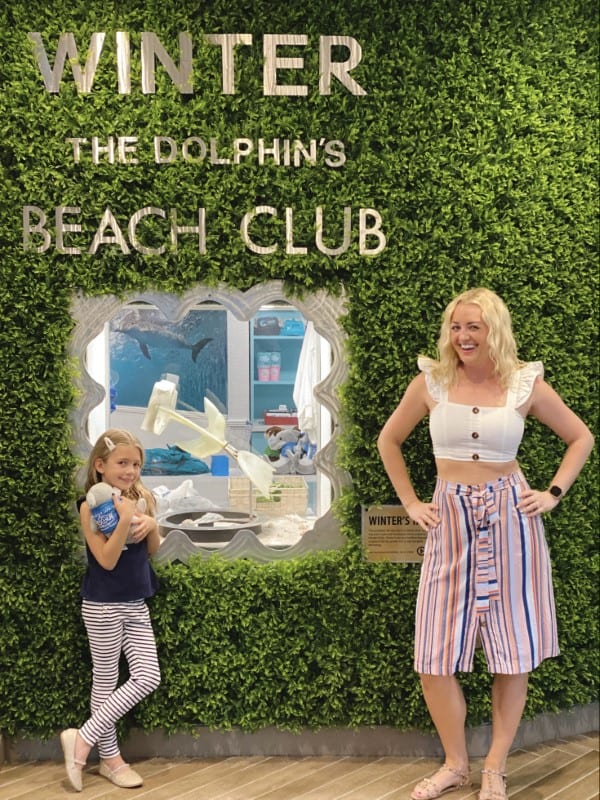 Winter is quite famous! Years ago, her tail was caught in a crab trap stranding her on the beach, and she was rescued by neighboring Clearwater Marine Aquarium (CMA). Sadly, the damage to her tail was too great and she lost it. I don't want to spoil the ending of the movie, but CMA was essentially able to have a special prosthetic tail made for Winter.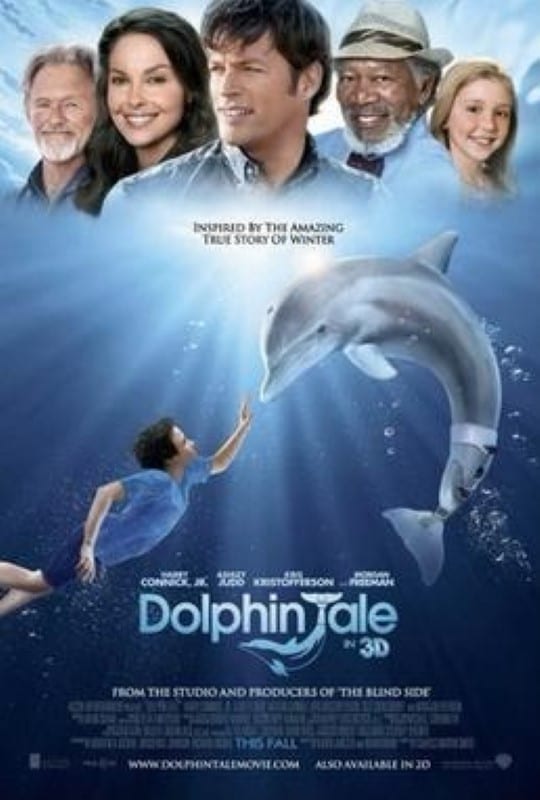 Her unique story draws in thousands of people to see her each year, especially after the movies were made (yes, there is a Dolphin Tale 2!). Unfortunately Winter passed in November 2021, but her legacy lives on.
So, Winter's Beach Club was imagined and the resort, having an alliance with CMA, is not only family-friendly but eco-friendly as well. During our trip, we relaxed in the resort's nautical surroundings which feature fun, ocean-inspired themes, not to mention one of Winter's prosthetic tails on proud display in the lobby!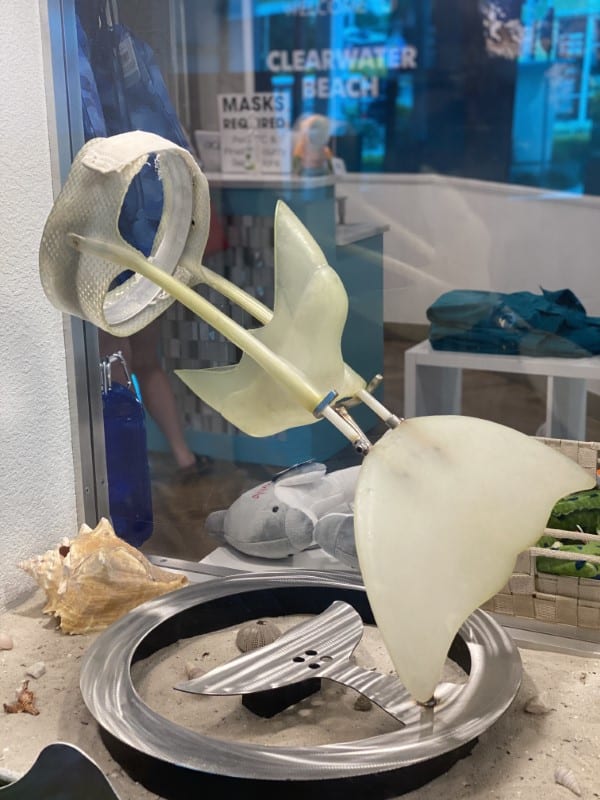 Many of the rooms have a balcony or small patio that overlook a stunning pool, pool bar and small, private beach with amazing views right outside.
What to Do
Clearwater Marine Aquarium (CMA)
Just down the street from the Beach Club is the actual (former) home of Winter and her friends: Clearwater Marine Aquarium. It sure has changed from the movies! While the original CMA hospital still stands, visiting is now a whole new experience with five times the guest space and a brand-new 1.5-million-gallon Ruth & J.O. Stone Dolphin Complex, part of an $80 million expansion that just opened in 2020. The dolphin viewing area is HUGE.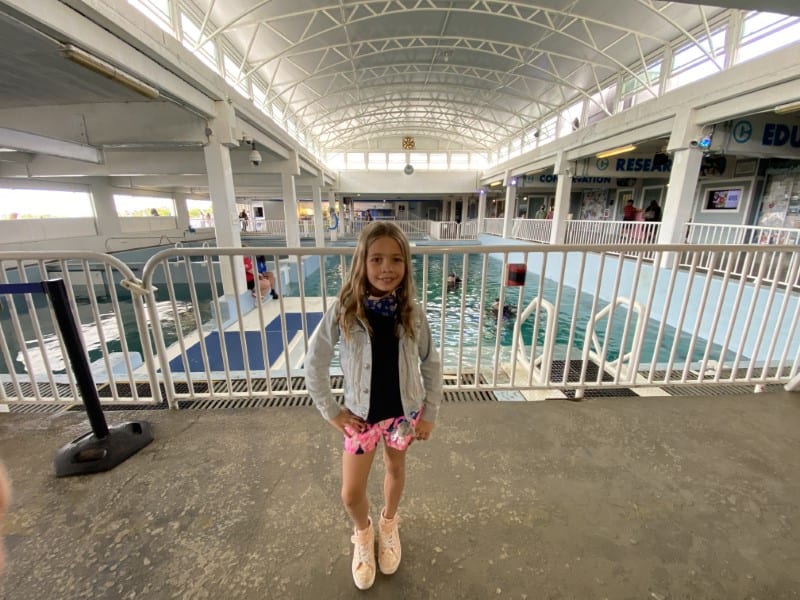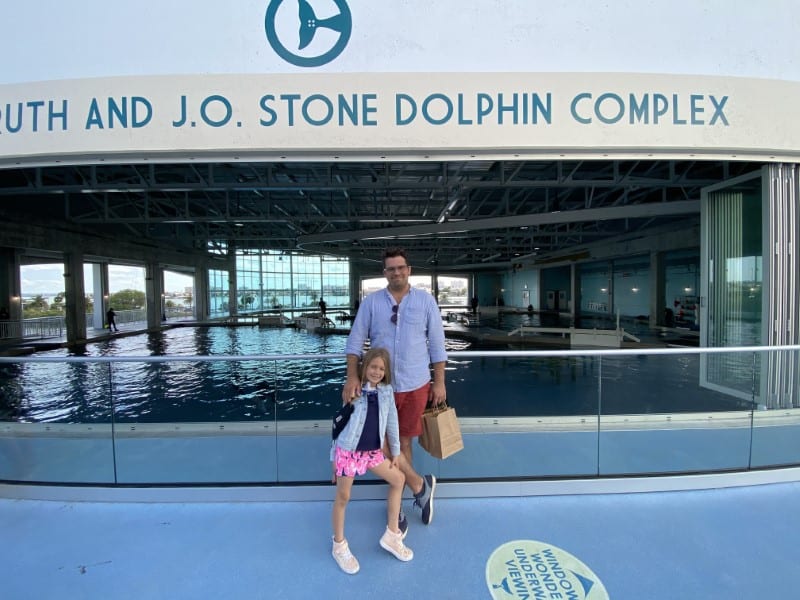 Not only can you view Winter in real life (until her passing in November 2021), you'll also be able to check out Rufus the pelican and Hope (from Dolphin Tale 2) along with the other rescued dolphins from stunning underwater windows or the spacious, open-air Dolphin Terrace.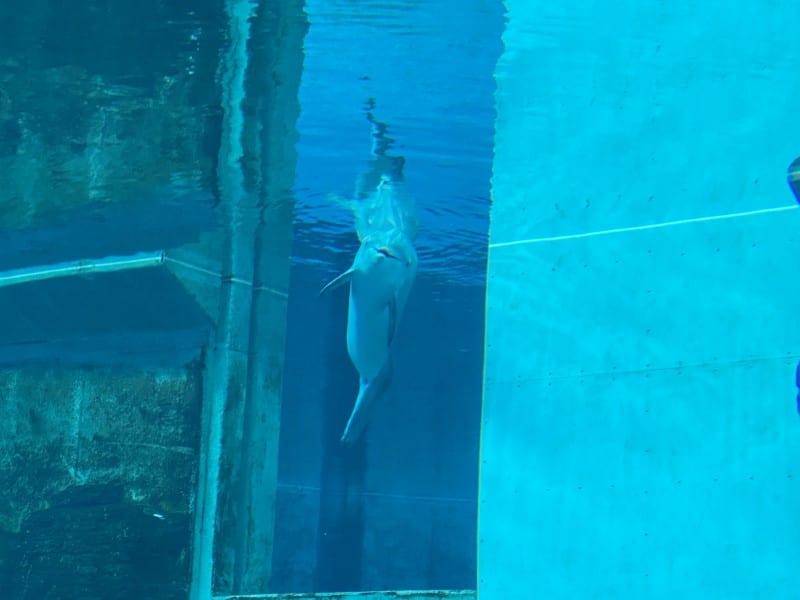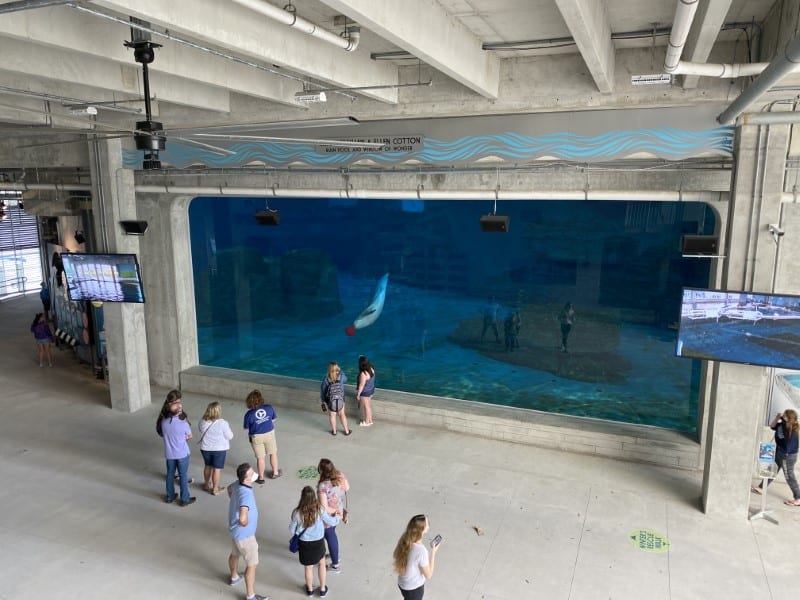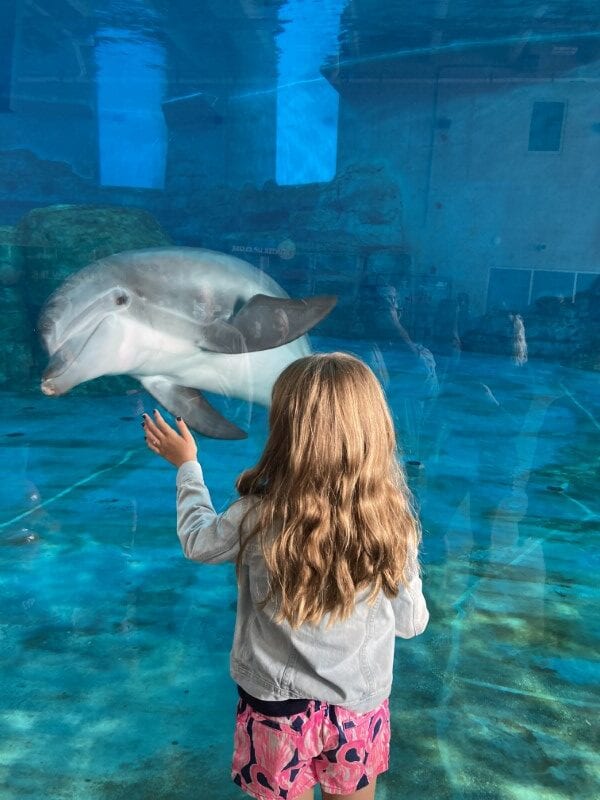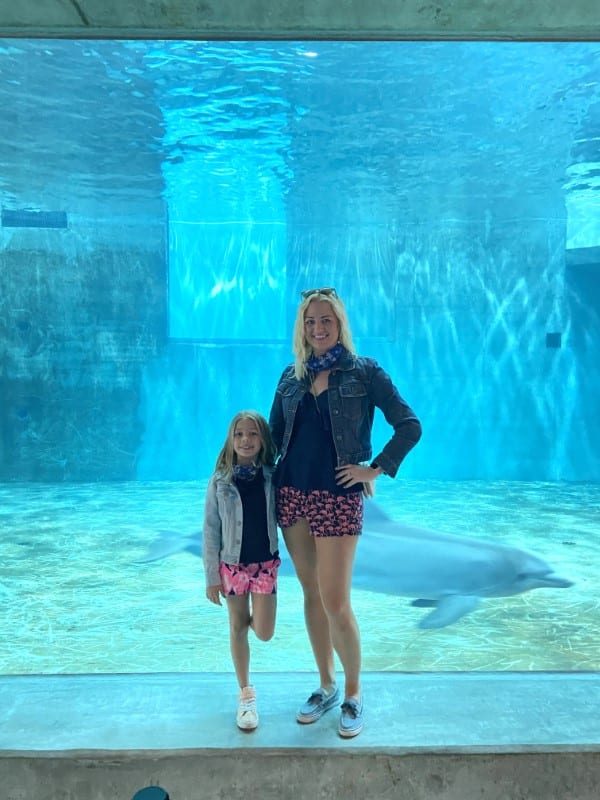 And if you want a craft beer, wine or specialty coffee—go for it! CMA opened a beautiful new café complete with a top chef and indoor/outdoor seating areas. The gift shop was pretty impressive as well.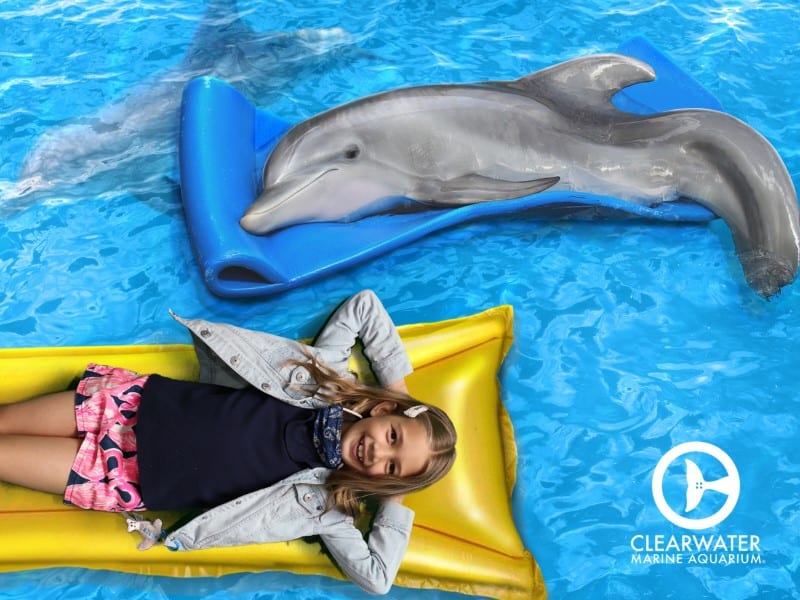 Captain Memo's Pirate Cruise
If you have a hankering to see some dolphins in the actual wild, then be sure to book a voyage on Captain Memo's Pirate Cruise! We were invited aboard for a 2-hour morning dolphin cruise in the Gulf of Mexico.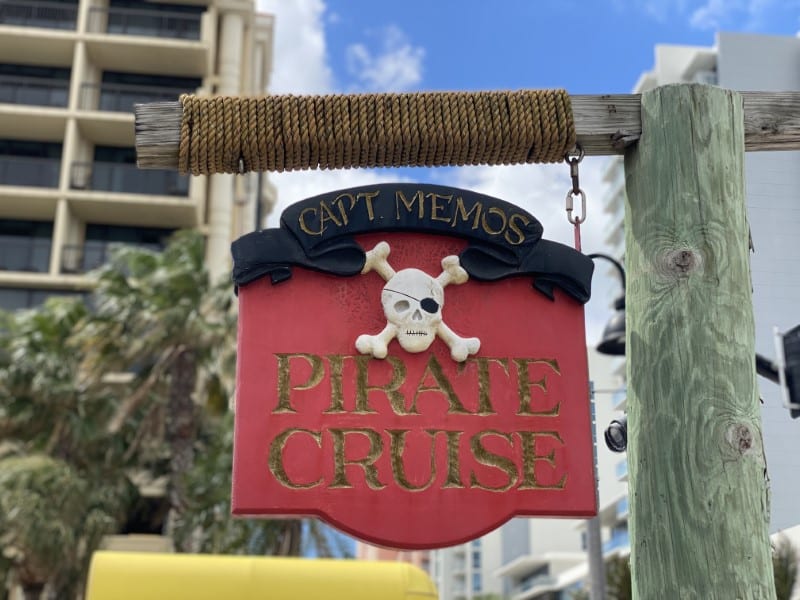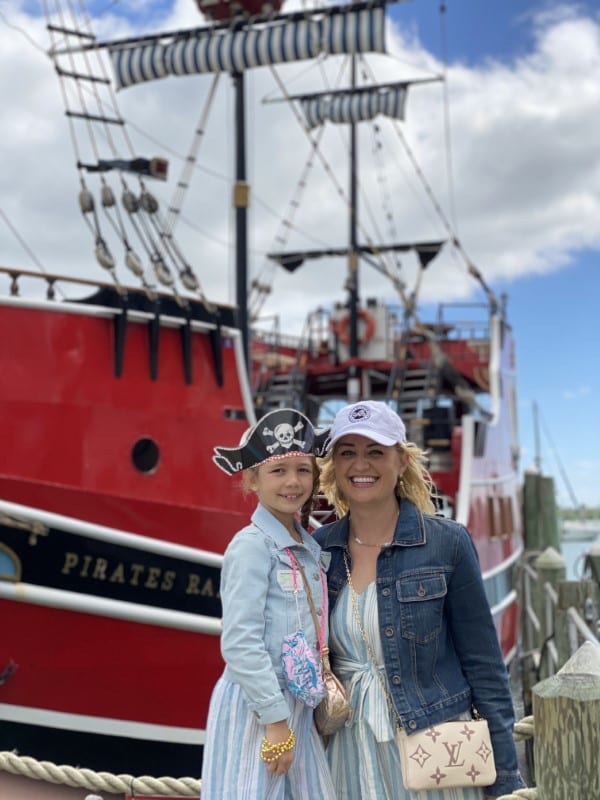 Did you know this area is home to the largest pod of Atlantic bottlenose dolphins? Along with trying to spot dolphins, there were complimentary alcoholic and soft drinks for the adults and fun themed activities for the kids. I remember taking this cruise in college a few times and it's just as fun now as it was back then.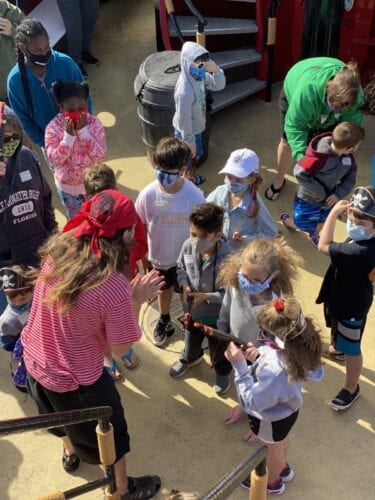 The Dali Museum
Just 45 minutes from Clearwater Beach, make sure St. Petersburg is on your family's itinerary, so you don't miss out on the famed Dali Museum.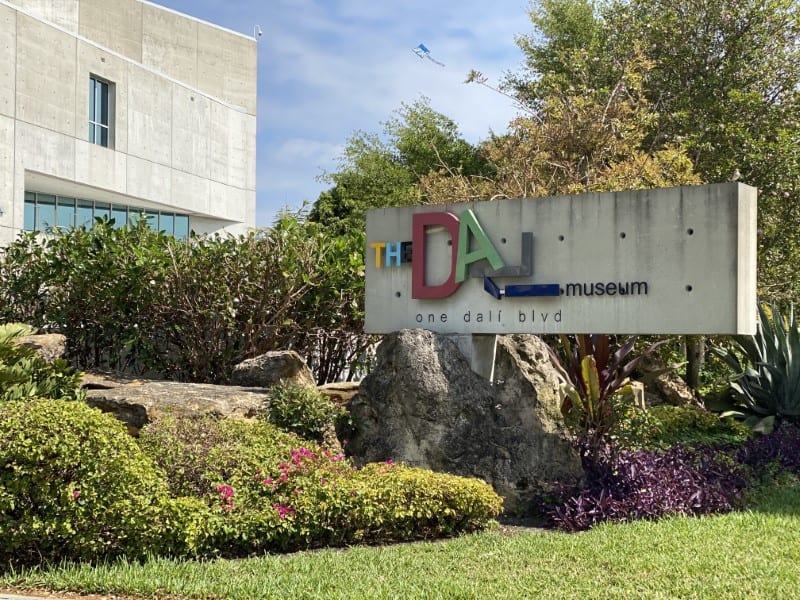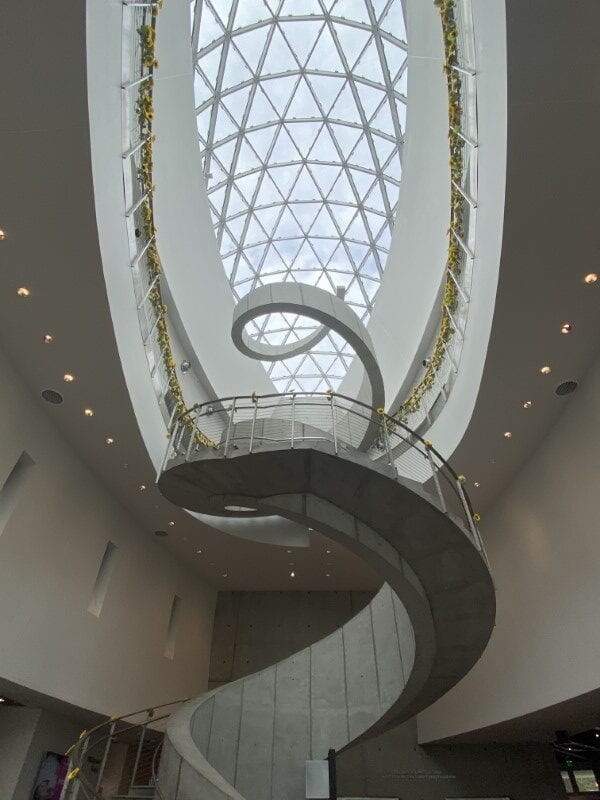 It's home to the largest collection of Spanish surrealist Salvador Dali's works outside of Spain. My Maine hubby especially enjoyed the "Lobster Telephone".
The museum's mind-bending architecture itself is even a work of art, especially viewing it from the sculpture garden. It's a stunner!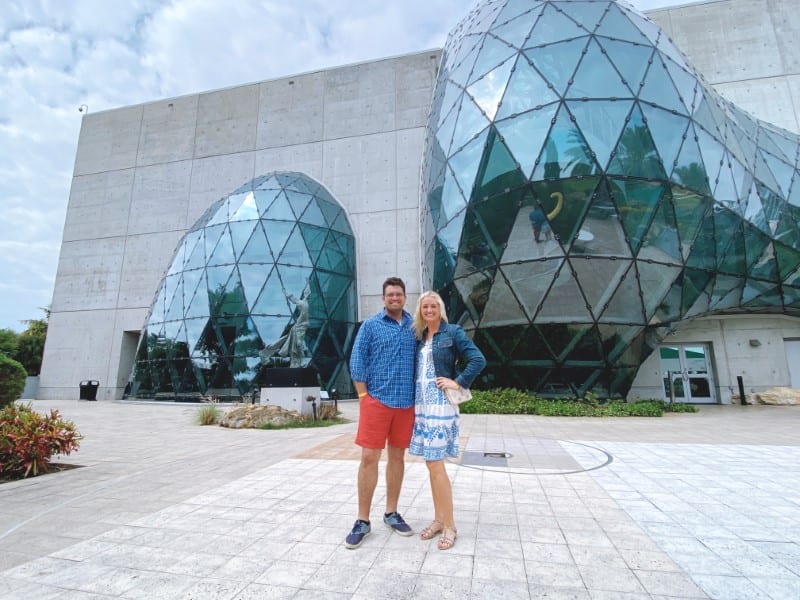 Great Explorations Children's Museum
It was so  much fun to witness our daughter's discovery of Great Explorations, Tampa Bay's first children's museum supporting a safe, hands-on practical learning environment. With the Boca Children's Museum shuttered for awhile now, we were quite excited to see how others in Florida have been stimulating curiosity (and safely doing it) through curated learning experiences.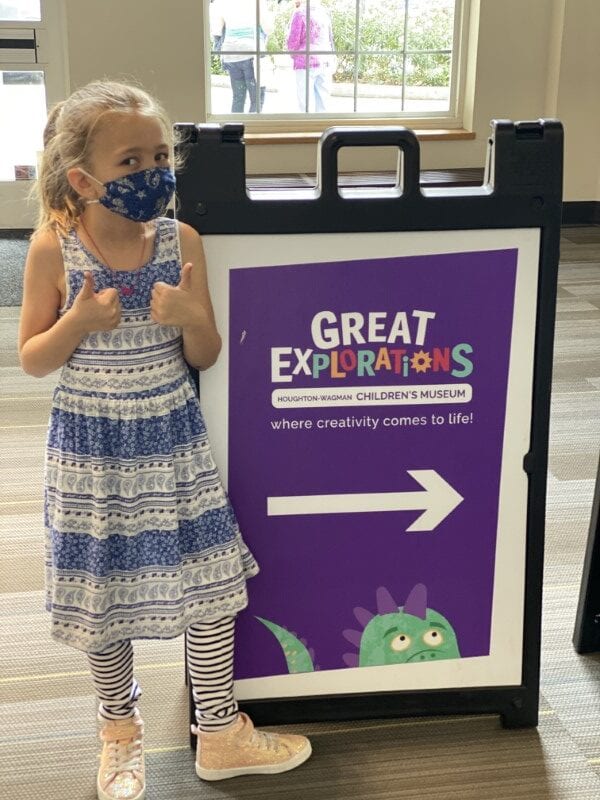 Set in one huge space, there were so many enticing areas to explore!
From a towering sea shell structure that my daughter couldn't wait to climb to an interactive hospital, art station, "Sand Shack" and weather reporting green screen, it is a museum mecca for kids. I hope a youth-oriented museum like this one comes back to our area soon!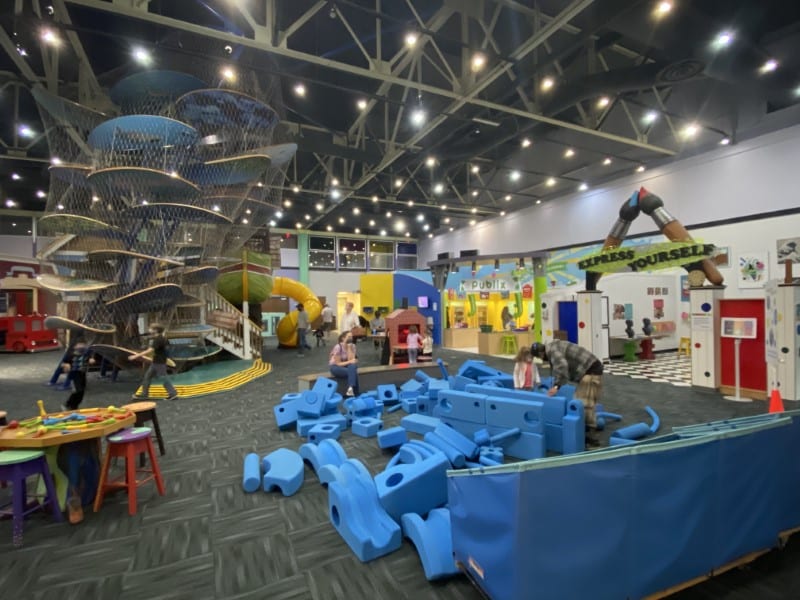 The St. Petersburg Pier
If only Boca had something like the St. Petersburg Pier–wow!!! FUN FACT: The St. Pete Pier was recently named the #2 new attraction in the country by USA Today in 2021.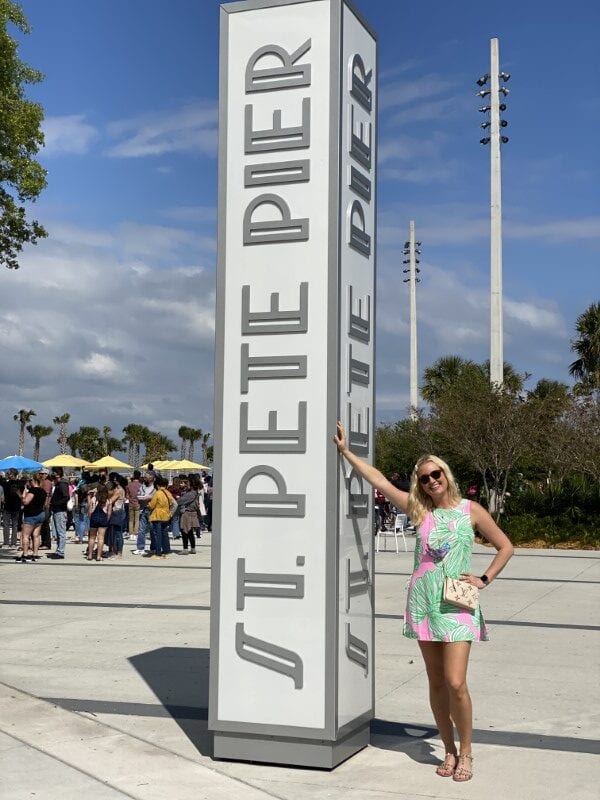 Located on 26 acres of Tampa Bay waterfront, there's something for everyone on the pier. From playgrounds to restaurants to open air bars and a pop-up market, we had a blast walking from one end to the other. There's even a trolley if you happen to get tired!
Opened in July 2020 following a decade-long development, St. Pete Pier is an all-encompassing entertainment district. It truly has something for everyone. Don't miss it!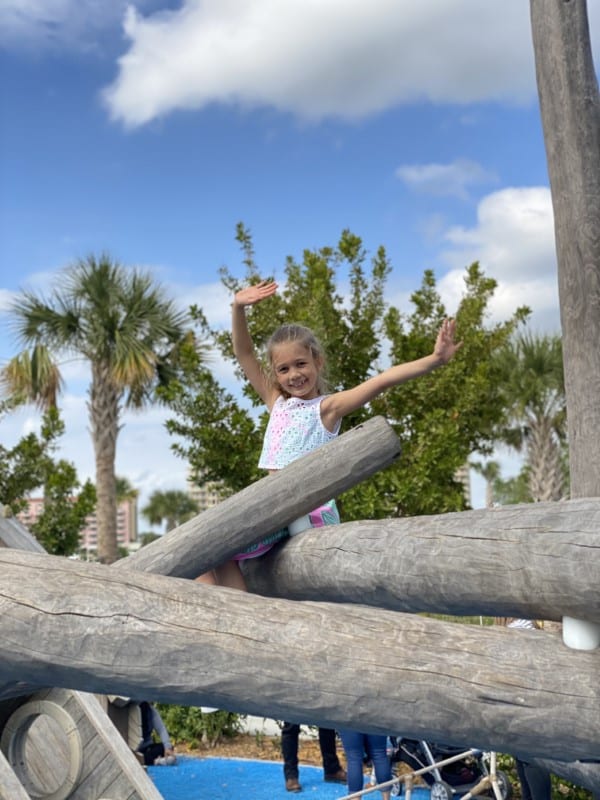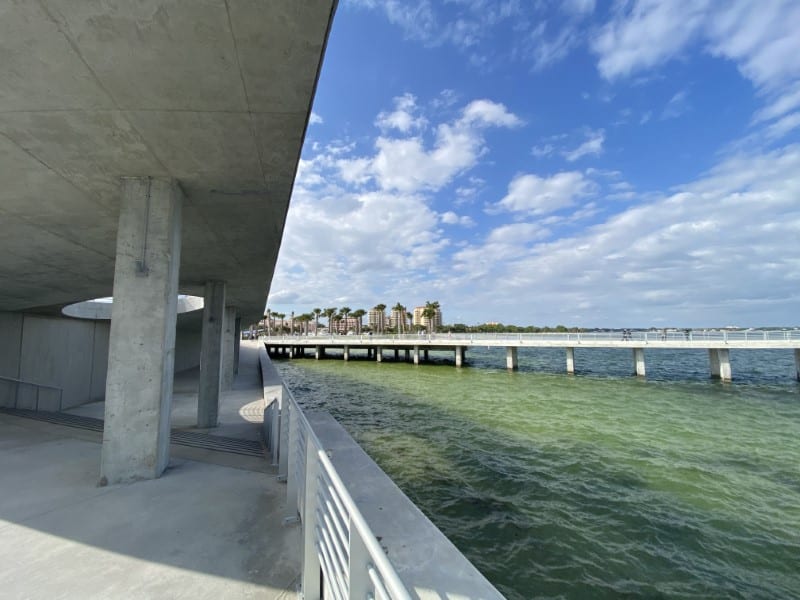 Dining on the Gulf Coast
Now that we're on the topic of food, I always love it when bloggers round up their favorite dining spots from a trip. These came highly recommended to us from Visit St. Pete Clearwater and we managed to hit quite a few!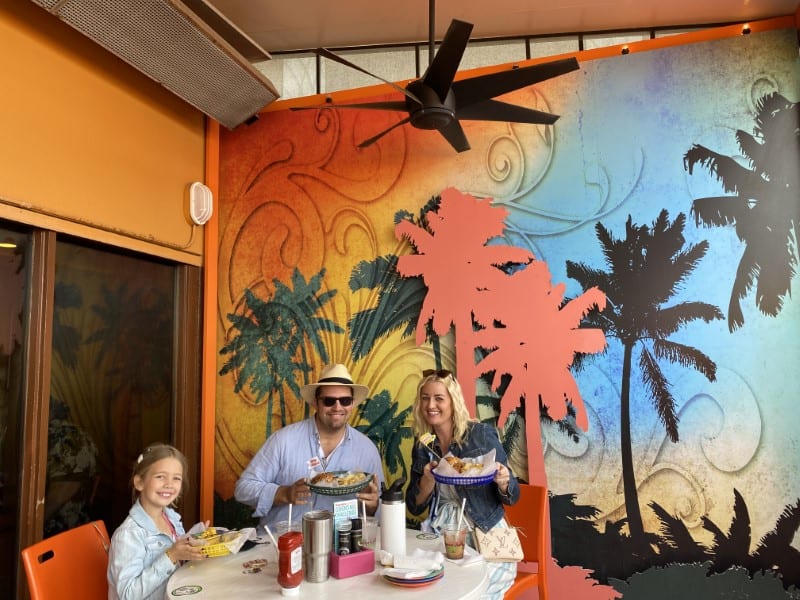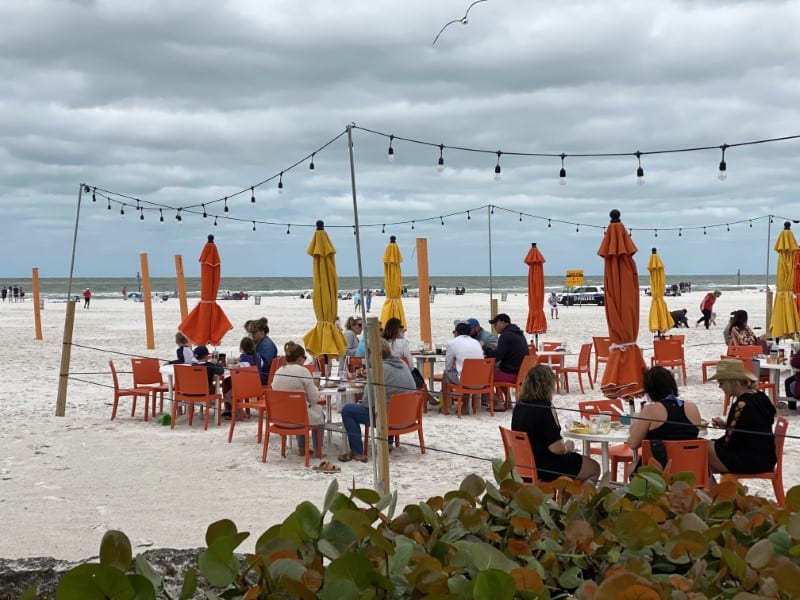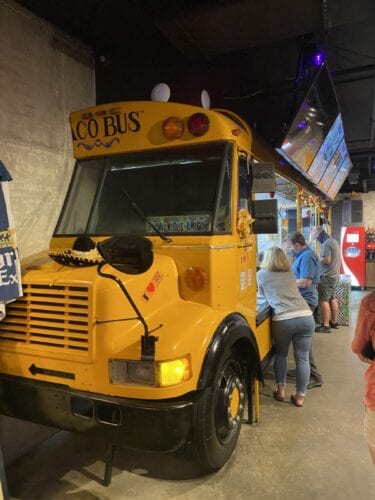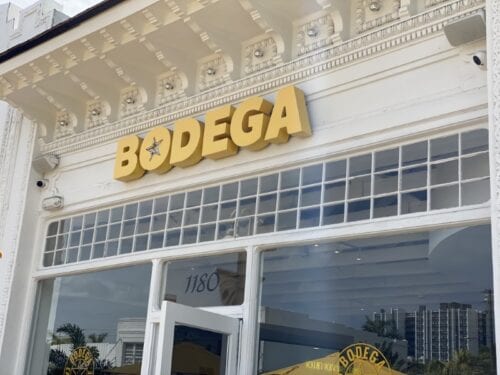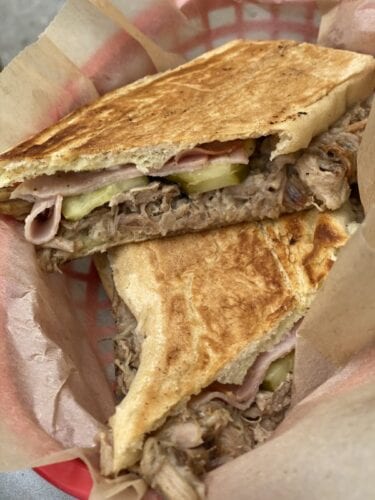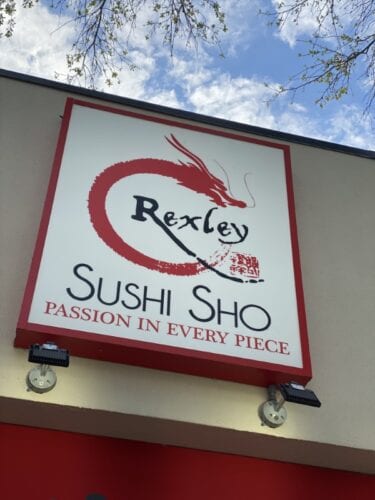 We explored, ate and enjoyed so much more of the gulf coast on this Clearwater family road trip. And I'm sure we only scratched the surface on this visit. We look forward to heading back again someday!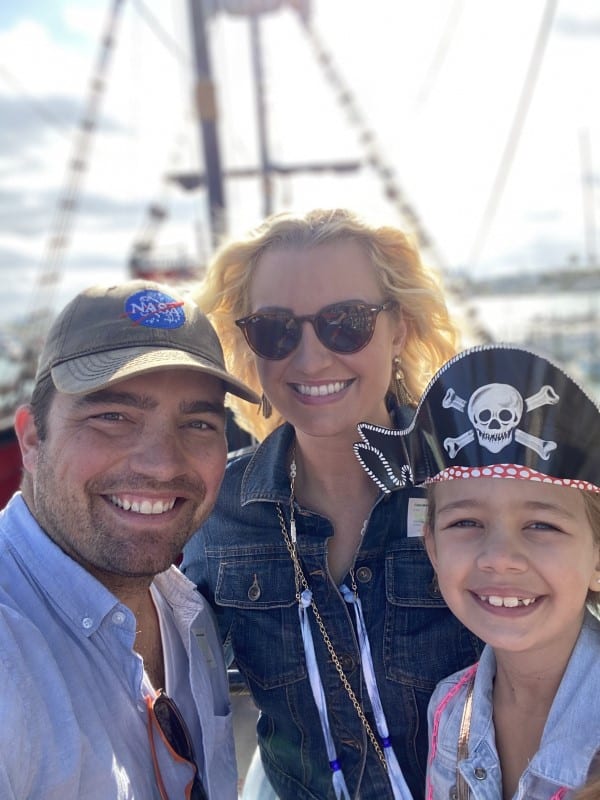 When will you take your own St. Pete/Clearwater family road trip family road trip? Comment below!
---
Sponsored: Modern Boca Mom was hosted by Visit St. Petersburg Clearwater for blog review purposes. All opinions expressed in this blog post are my own. They are not influenced in any way by the sponsor. Any statistic, quote or other representation about a product or service should be verified with provider. Please refer to this site's Disclosure for more information. I have been given exclusive experiences, meals and a complimentary resort stay, but that does not impact my views or opinions.
---
Pin for Later!