Never in a million years would I have thought my family and I'd be taking so many road trips in 2020. Like most, I'm still too nervous to get on a plane with my husband and daughter…but we're all craving a major change of scenery. Luckily, we live in Florida and there are so many fun, active and cultural things to do right in our state's backyard–even just two hours from Boca Raton! This in and of itself makes for a great long weekend away. So, let me ask you this: What do you get when you combine space, surf, sun and tons of cool animal species? A SUPER FUN Space Coast family road trip!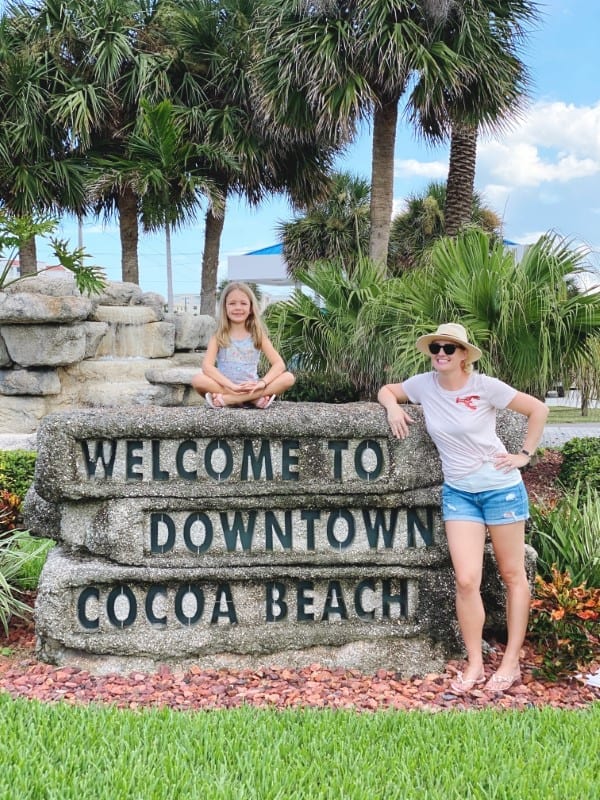 And we have all the COVID-era tips and tricks to help you plan the best visit for your crew…
How to Get There
It's pretty easy. Pack up the family car and head north on I-95! Exit north (in most instances) on State Road 519 and then head east to Cocoa Beach/Cape Canaveral on State Road 520. My daughter watched one movie on her tablet and we arrived in about two hours, as promised.
Where to Stay
On the beach! I definitely recommend basing your Space Coast family road trip in Cocoa Beach if you can. It's a cute little surf town with several attractions in walking distance from most of the resorts.
FUN FACT: Did you know the show "I Dream of Jeannie" was set in Cocoa Beach? It was actually filmed in California, but there is a street dedicated to the most famous sitcom in town there!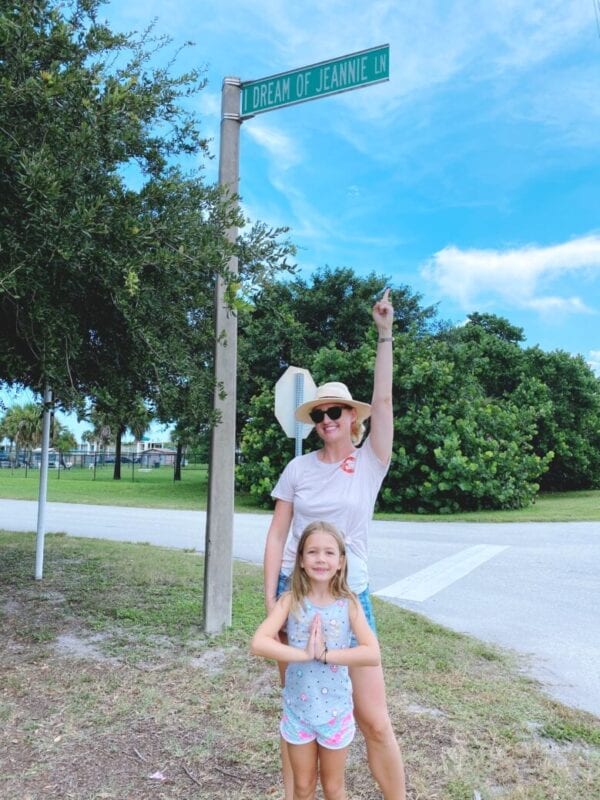 We were hosted at the newly renovated Beachside Hotel & Suites. Looking at the website on the drive up, I was so excited because the property had a real retro 60's "beach movie" vibe to it.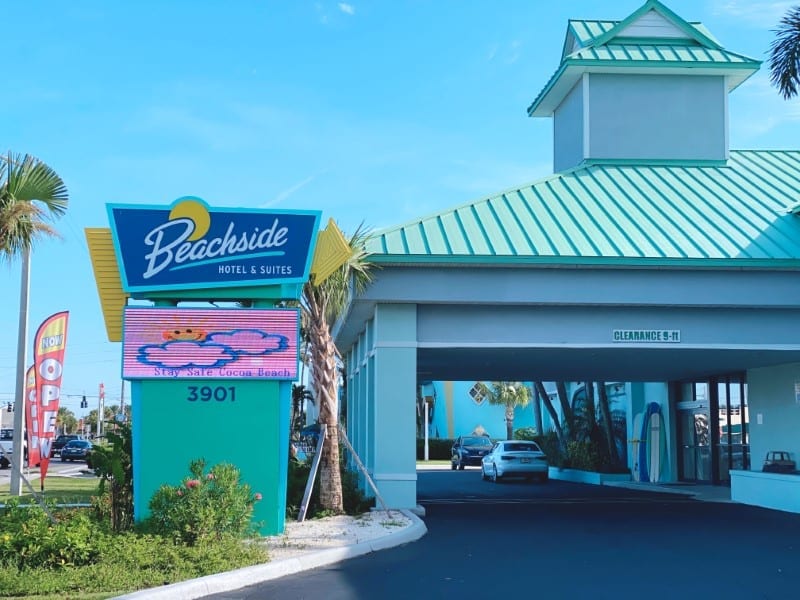 In fact, built in 1965, Beachside worked to restore the property to its former glory with a gorgeous remodeled lobby and an amazing courtyard (with a mini beach!) and pool area featuring a brand-new lazy river. Our room was conveniently located by the pool (and pool bar), so we definitely took advantage.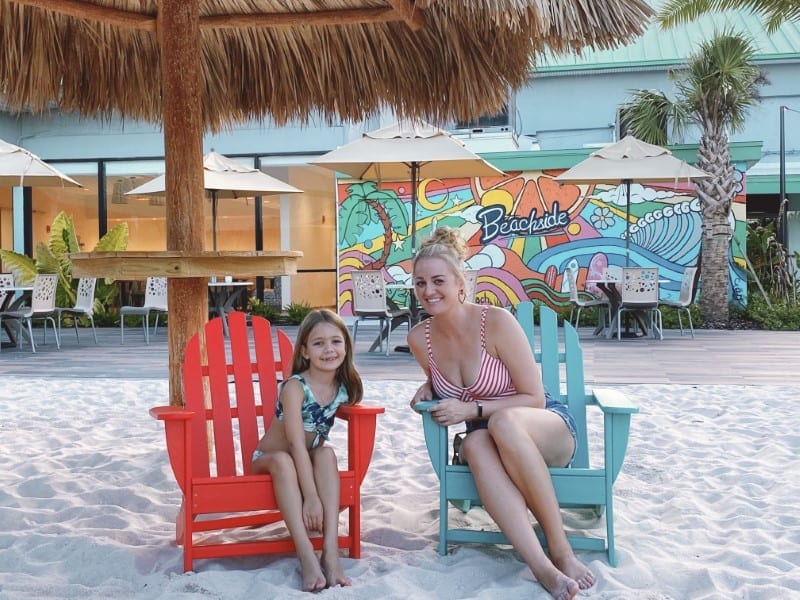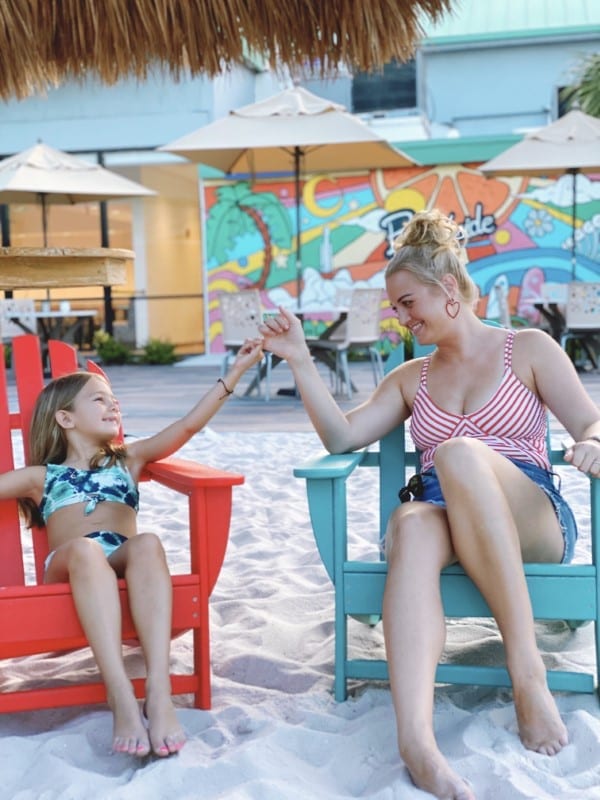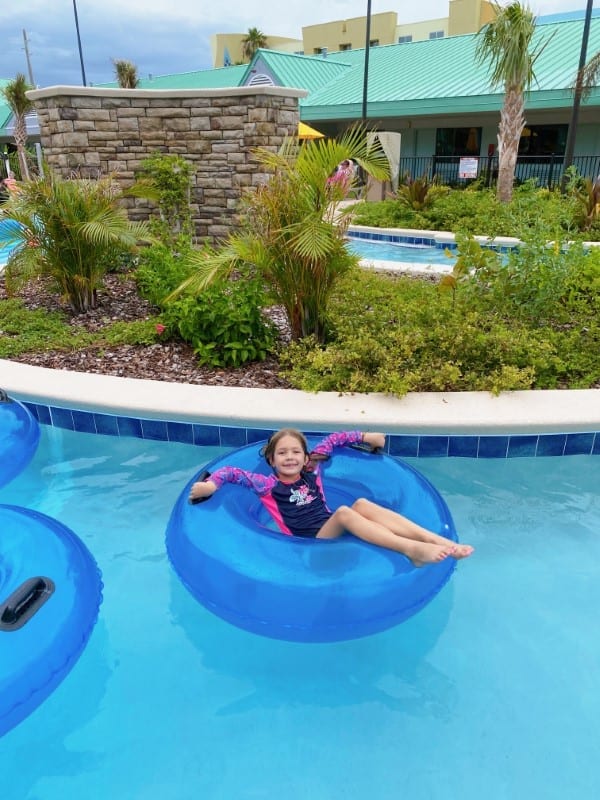 Our comfortable two-room suite had a bedroom with two double beds, a sitting room with a pull out sofa and small dining table–plus a kitchen area with refrigerator, sink and microwave. It was a great setup for our family since we prefer to eat breakfast in our room (the hotel is currently offering free brown bagged breakfasts to-go during COVID-19 instead of their usual complimentary options).
In addition, Beachside Hotel & Suites is pet-friendly and offers free bike and beach rentals such as boogie boards, surfboards and beach wagons.
MBMOM TIP: Book a colorful room by the pool if you can. Your kids will definitely thank you!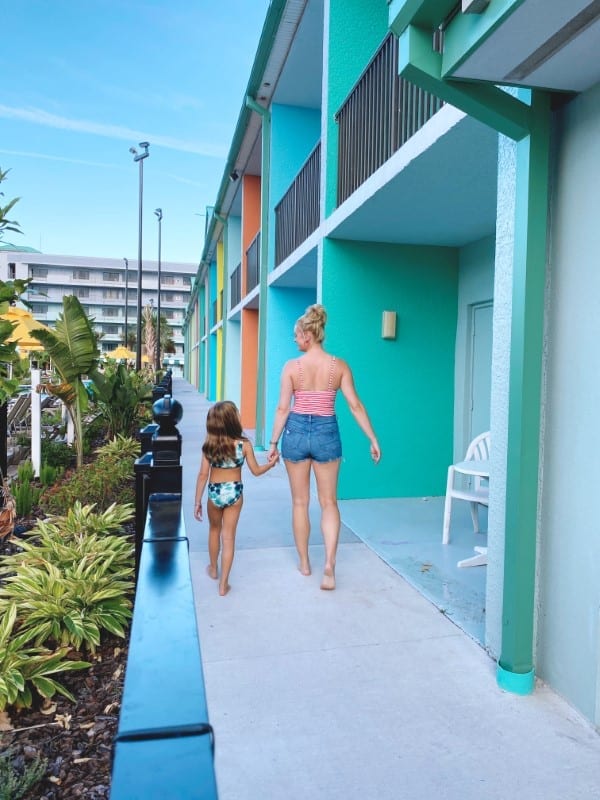 What to Do
There are so many different, family-friendly things to do on a Space Coast family road trip! For ours, I chose one big and one small activity per day, so we could really savor them. First up…
Kennedy Space Center Visitor Complex
This was what I was personally looking forward to most on our trip. For a child of the 80's-90's like me, space has always been the coolest, hasn't it!? Now that I have an elementary school-aged child (the youngest age I'd recommend a visit for), I knew it was the perfect time to introduce her to Kennedy Space Center. I couldn't wait to see the past, present and future of America's Space Program through her eyes! Plus, I knew the Visitor Complex had probably undergone many. many changes since this mama last visited…in 4th grade. 😉
MBMOM TIP: Face coverings are required at all times in KSC with the exception of eating and drinking. Also, current operating hours are from 10:00 a.m.-4:00 p.m., so plan to get there right at opening time!
Kennedy Space Center highlights included:
Rocket Garden: There are few things more impressive than seeing life-size rockets and spacecraft set against a clear blue Florida sky. Walking among giants is right! Let a space expert guide your family through a history of early rocket science during their daily guided tours (in the shade, preferably).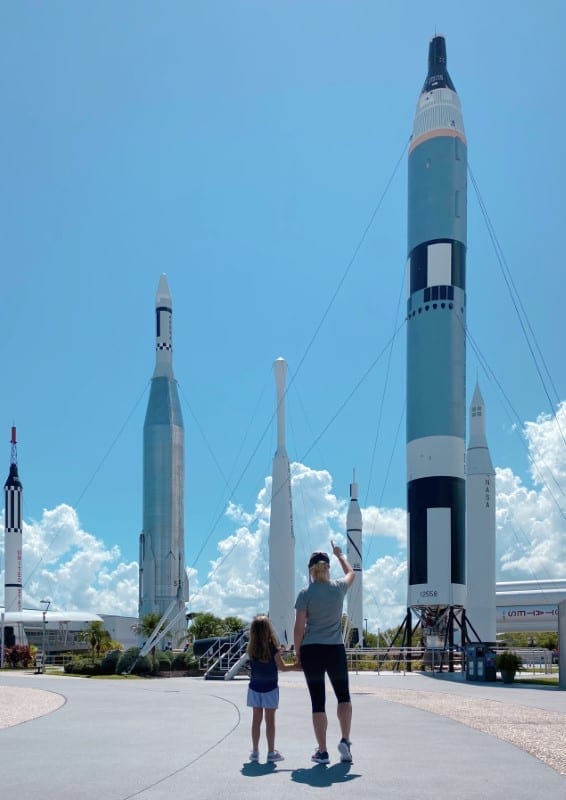 Heroes & Legends: The newest exhibit at KSC, located right at the entrance to the Visitor Complex, American astronauts are not only remembered, but honored here. Visitors can also learn about the lives of space heroes through compelling visual displays in the cold a/c!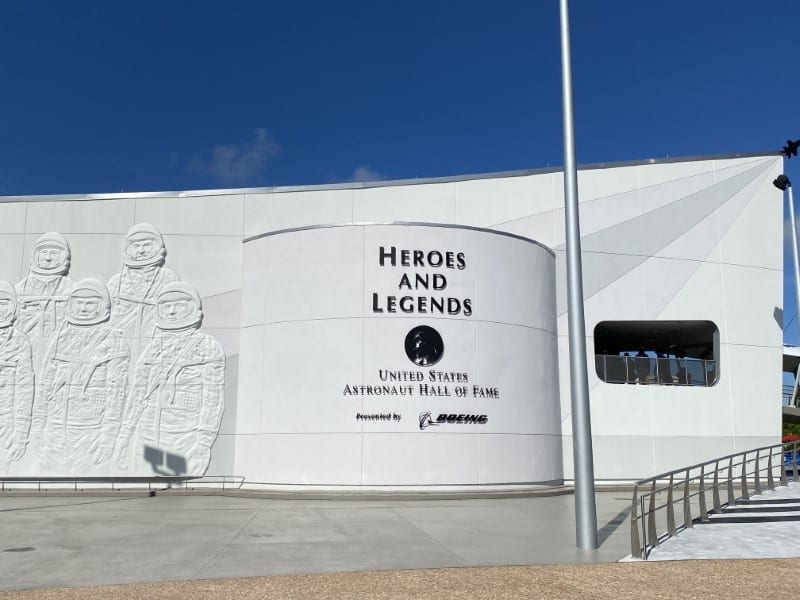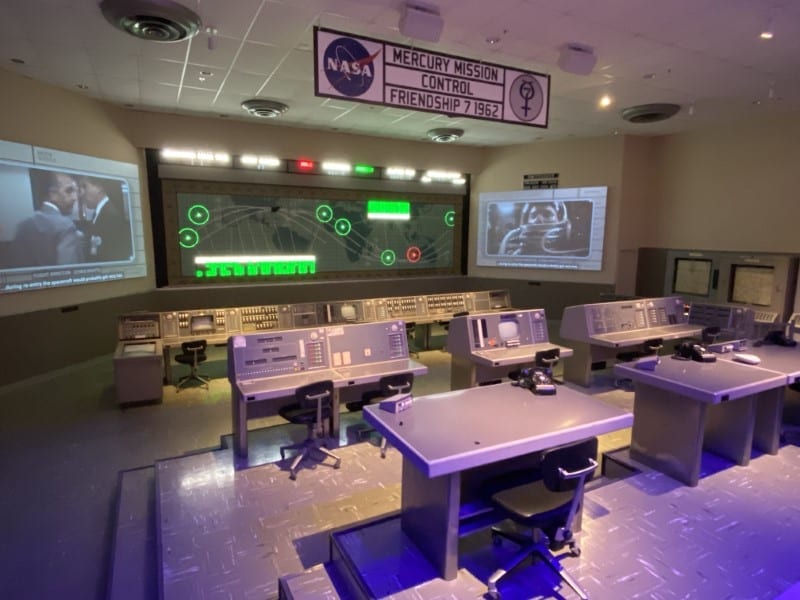 Created by the Mercury Seven astronauts, the U.S. Astronaut Hall of Fame® inductees are selected by special committee of the Astronaut Scholarship Foundation.
Shuttle: A Ship Like No Other: The permanent home of Space Shuttle Atlantis, this exhibit was seriously impressive! Not only will you learn about the history and challenges of developing a shuttle that launched like a rocket and landed like a glider, you can also experience your own launch through the Shuttle Launch Experience. We had an absolute blast on our simulated "mission!" (This is the currently the only "ride" at KSC.)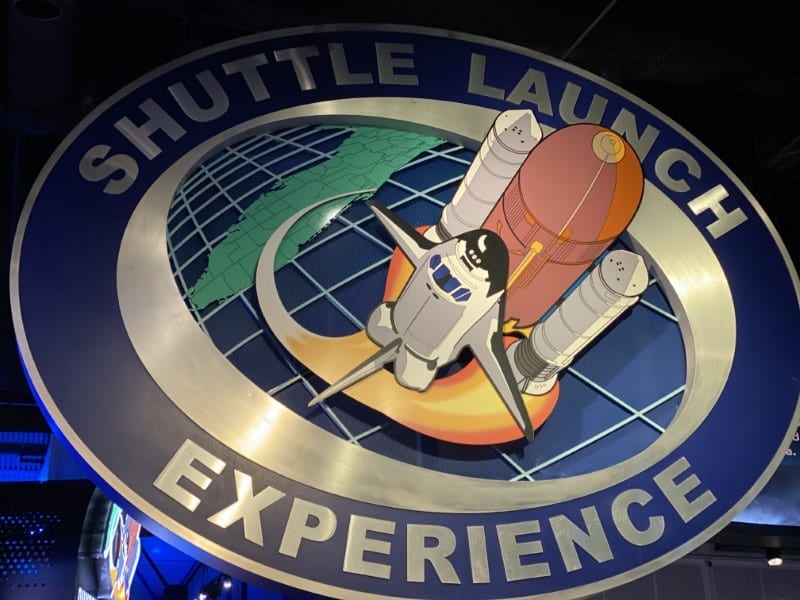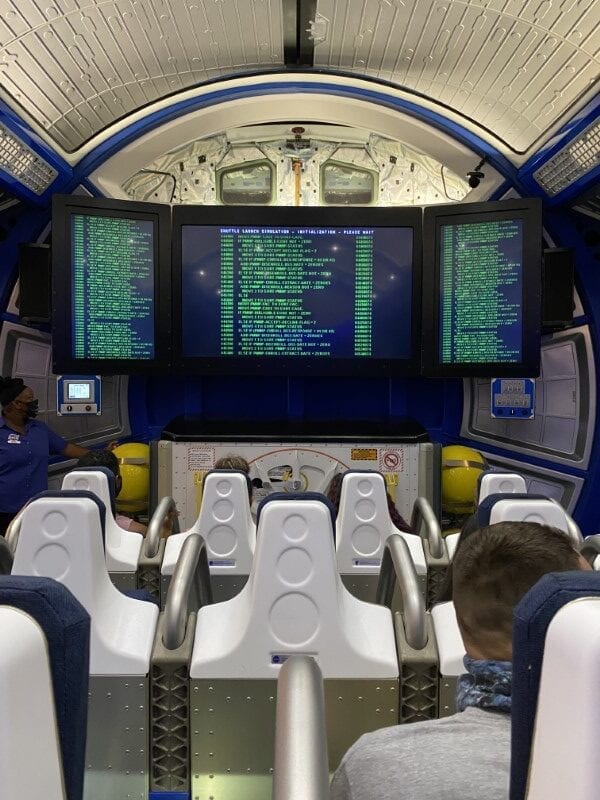 And what visit to Kennedy Space Center is complete without some Space Dots ice cream to cool you off? Our visit was…a total blast!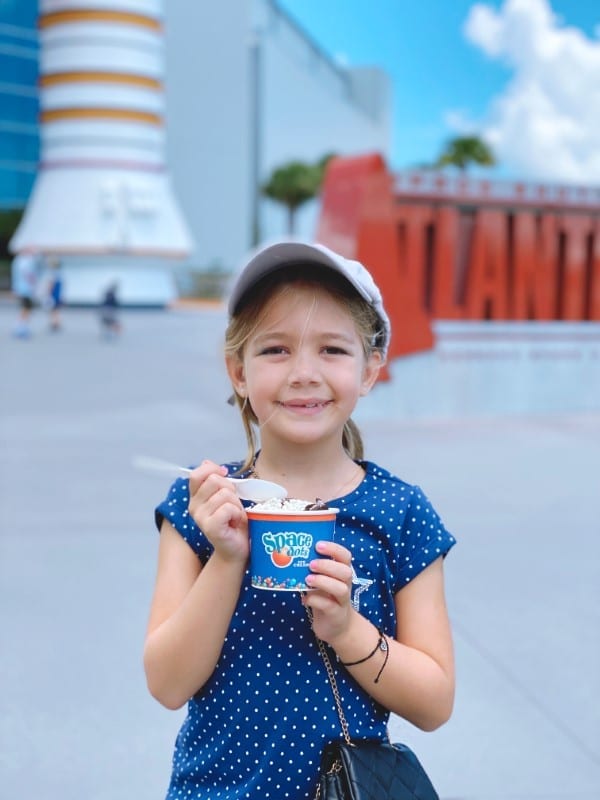 Exploration Tower, Port Canaveral
Currently offering FREE admission from 10:00 a.m.-5:00 p.m., the Exploration Tower has a birds-eye view of the Port, Cape Canaveral, Kennedy Space Center and area beaches. The gift shop at the bottom is pretty cute as well!
You can see all of the (currently) docked cruise ships including a HUGE space for the soon-to-be launched Carnival Mardi Gras!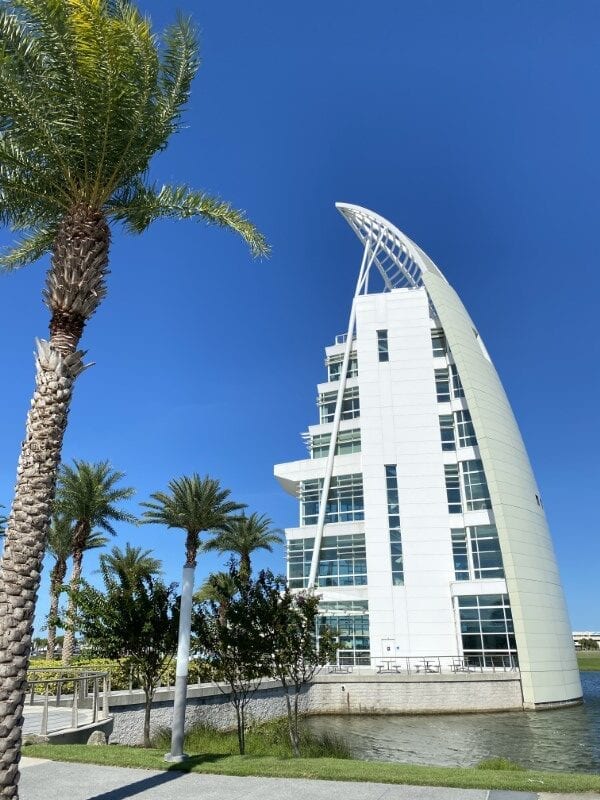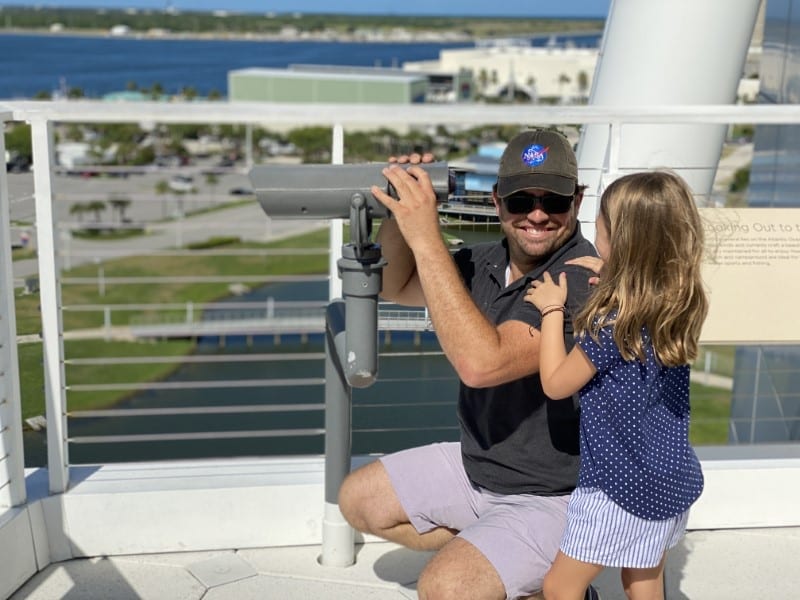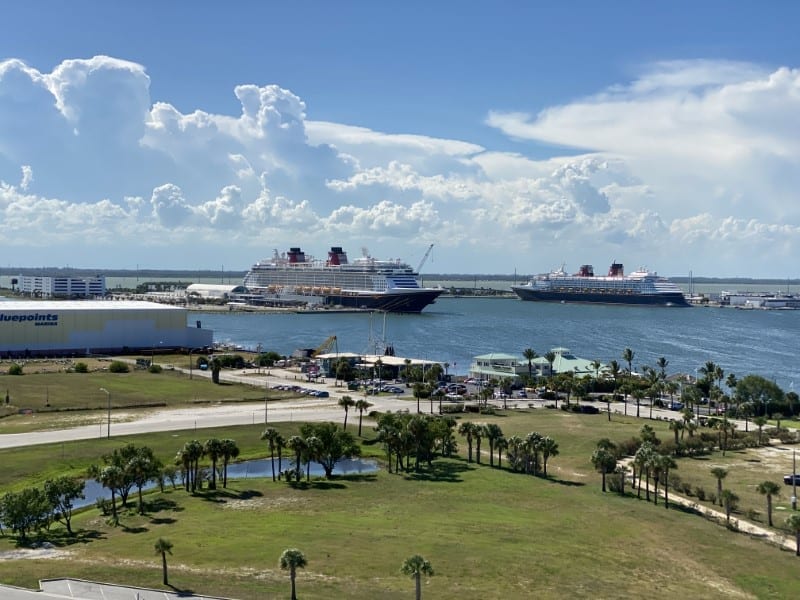 Surf Lesson at School of Surf
My kid is so much braver than I am; I just can't believe it sometimes. So when School of Surf Cocoa Beach invited us to take a surf lesson, #dailybocaavery jumped at the chance. She's been an avid "Disney Teen Beach Movie" fan this summer, so she really wanted to give it a try.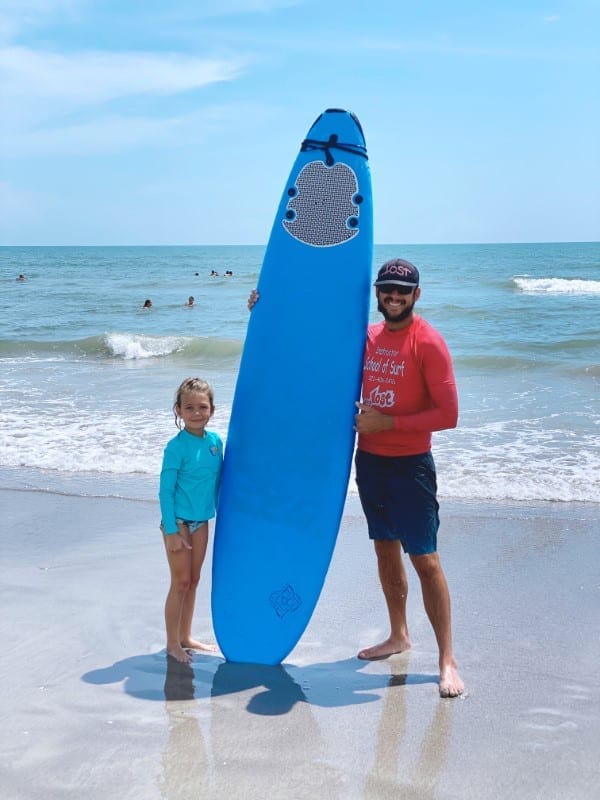 We had School of Surf instructor Chris all to ourselves and Avery had a blast learning how to paddle out, stand up and balance on a surfboard to ride Cocoa Beach's famous waves. Just look at her go!
Oh yeah, did I mention that this area is pretty famous for surfing? A "little known" professional surfer named Kelly Slater actually hails from Cocoa Beach. And trust me–the town has given him his due with multiple statues honoring the man who is widely regarded as the greatest professional surfer of all time.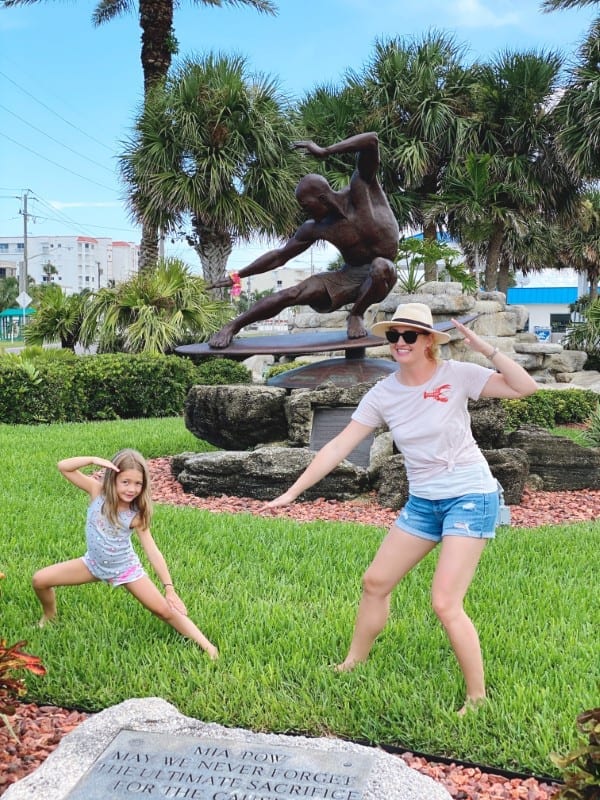 MBMOM TIP: When it comes to surf lessons, remember that all instruction will be outdoors. Bring a rash-guard, pull your or your child's hair back and wear a lot of waterproof sunscreen. Also, there are no restrooms or changing areas, so be prepared.
Ron Jon Surf Shop
What better way to round out a morning of surfing than with a visit to the world famous Ron Jon Surf Shop! This place is no joke when it comes to swimwear, beach accessories and board-sports equipment.
Also, did you know it's open 24 hours a day, 365 days a year?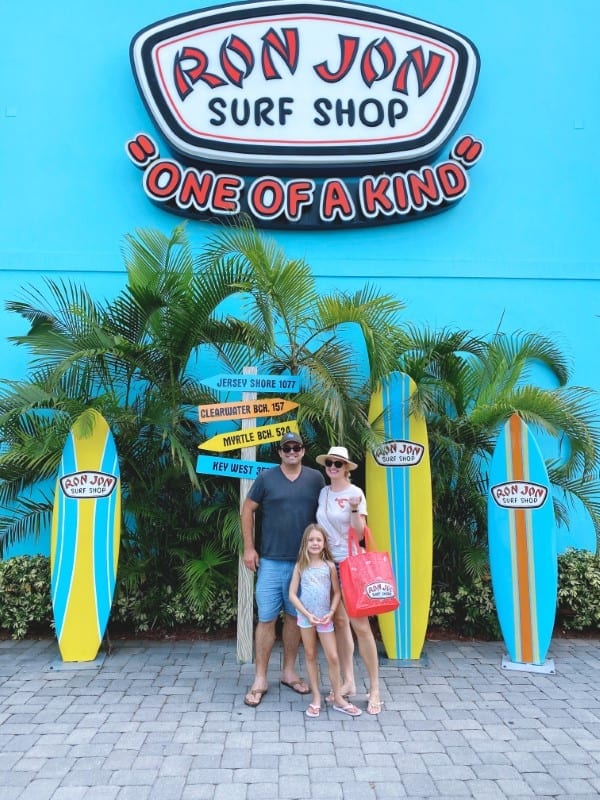 The original Ron Jon Surf Shop opened in Long Beach Island, NJ in 1961. Now, the flagship Cocoa Beach store has undergone several expansions, growing into a two-story, 52,000-square-foot oceanfront landmark and surf shop icon.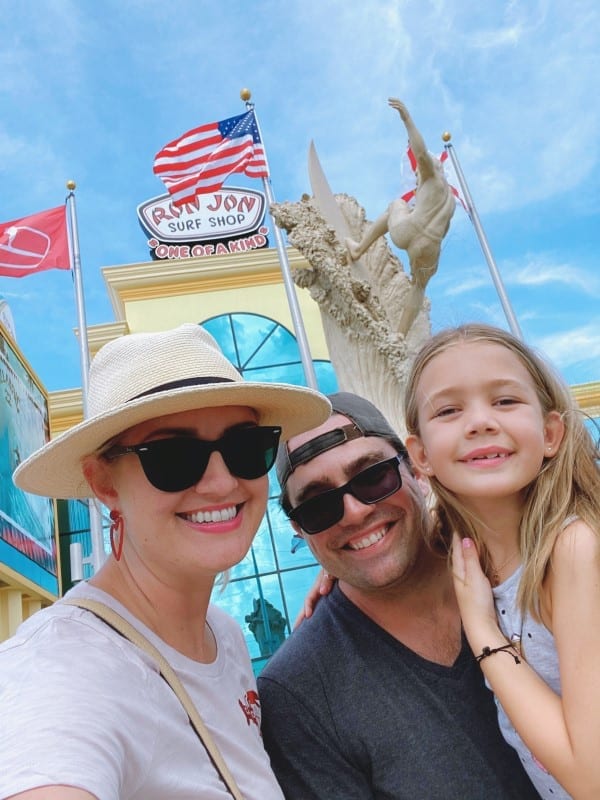 You can also see another statue of pro-surfer Kelly Slater in front of the store.
MBMOM TIP: Staff and customers at Ron Jon Surf Shop are required to wear masks and social distance. They even had security outside making sure everyone was safe before entering the store.
Brevard Zoo + Kayak Tour
If your kids love animals, then they'll be overjoyed to find out that more than 900 representing 196 species from the Americas, Africa, Asia and Australia are at the Brevard Zoo!
MBMOM TIP: Zoo visits now require a timed-entry ticket for both members and non-members that must be reserved online in advance of your visit.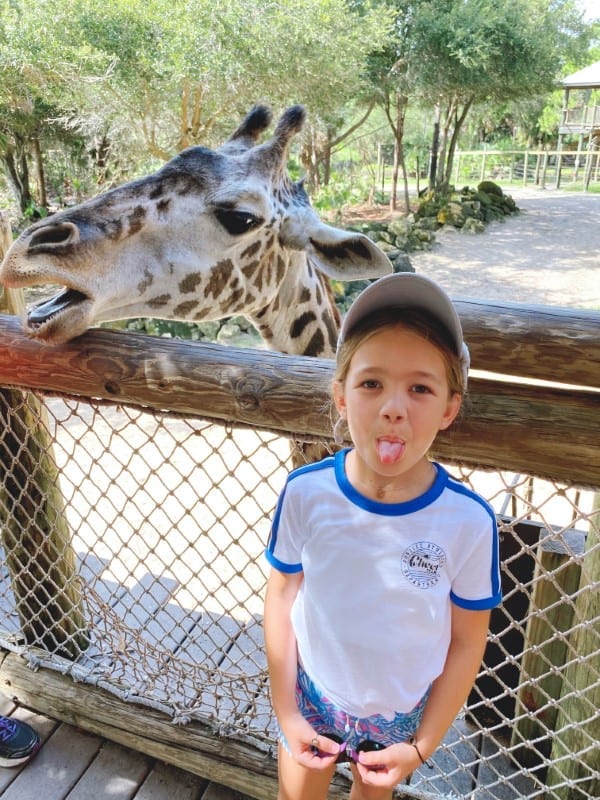 At the Zoo, not only can you feed giraffes in Africa (squee!) and have your little ones splash around (on a gorgeous splash pad) in the Paws On area of the Zoo. But, your family can also ride a Zoo Train or kayak through Expedition Africa to get a completely different view of the animals.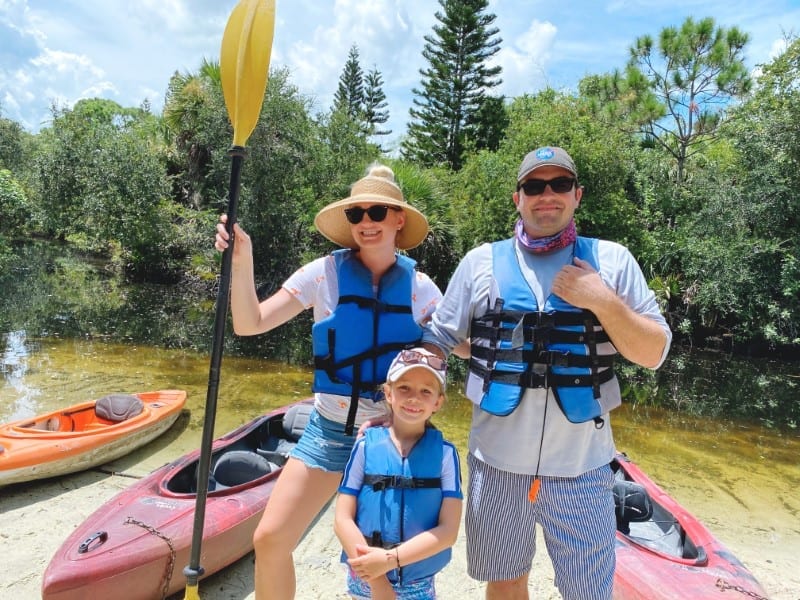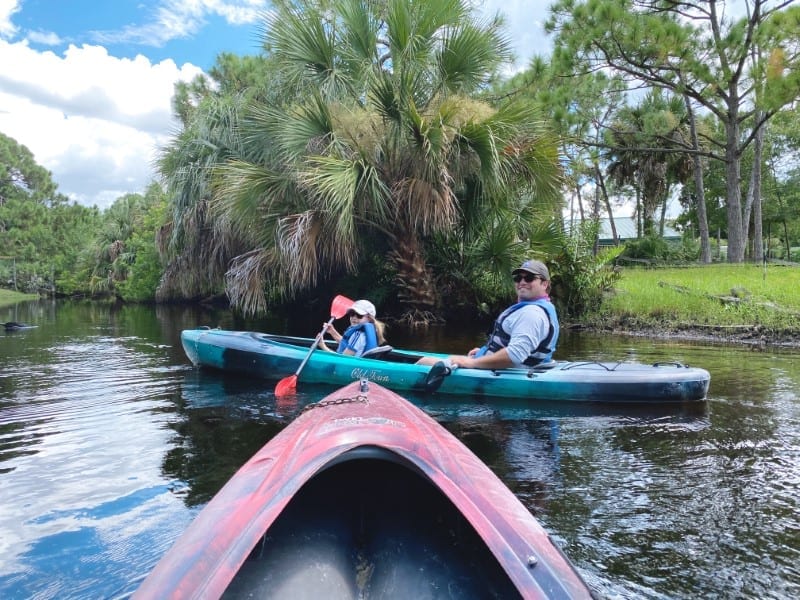 Do not miss the opportunity to kayak ($9.95 pp) if you can, even if it is a thousand degrees out…like it was for us! The loop around takes about 20-25 minutes depending on how fast you paddle, but the animal views are SO WORTH IT.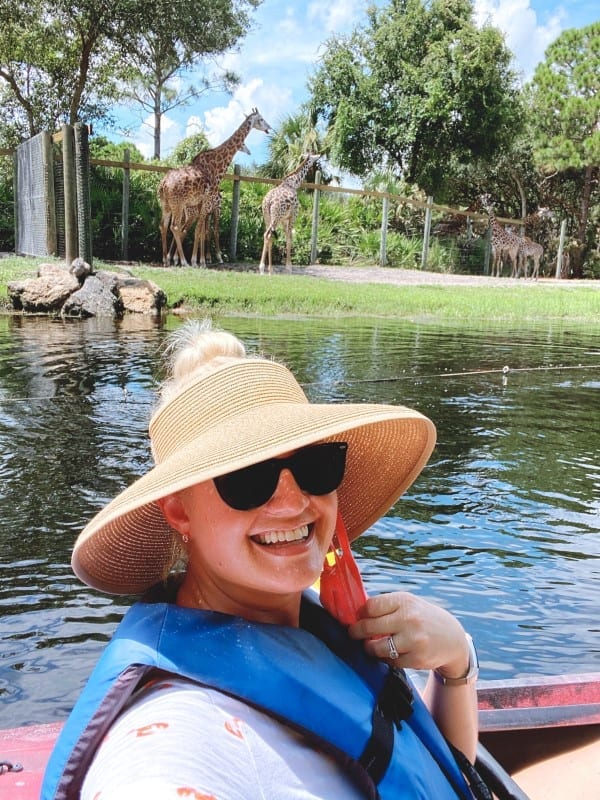 Kids must be 5 or older to ride in a tandem kayak and children under 12 must be accompanied by a paid adult. You also don't have to wear face coverings on the water (kids under 7 aren't required to wear them at the Brevard Zoo at all- FYI). Otherwise, mask areas are clearly marked.
I should also mention that the food at the Brevard Zoo is DELICIOUS. Pack waters or re-usable water bottles for your stroller, but buy your lunch there. Trust me on this.
Dining in the Space Coast
Now that we're on the topic of food, I always find it super helpful when bloggers round up their favorite restaurants from a trip. These came highly recommended to us from Visit Space Coast and we managed to hit quite a few!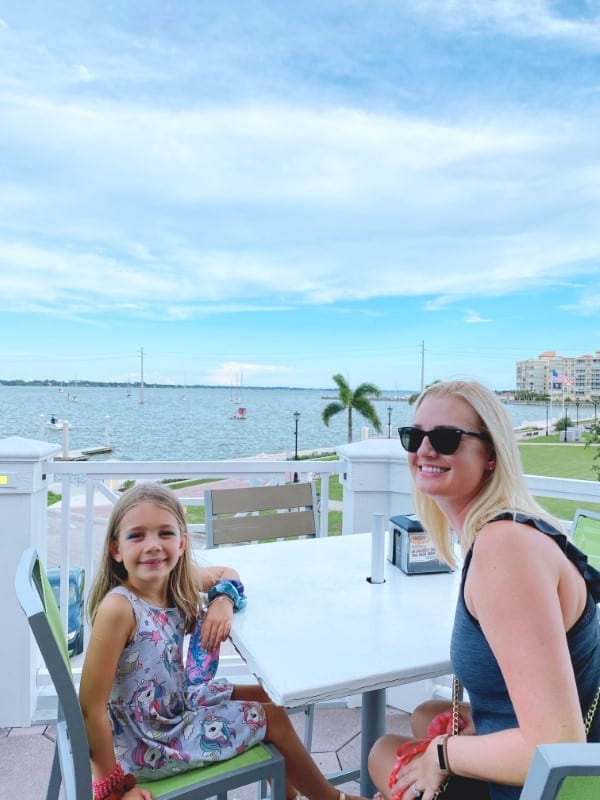 Ryan's Pizza & Pub – Arriving into town, this was a great place to stop for dinner in Historic Cocoa Village. With open rooftop views of the Indian River, the pizza (and margaritas) was delicious and the ambiance even better!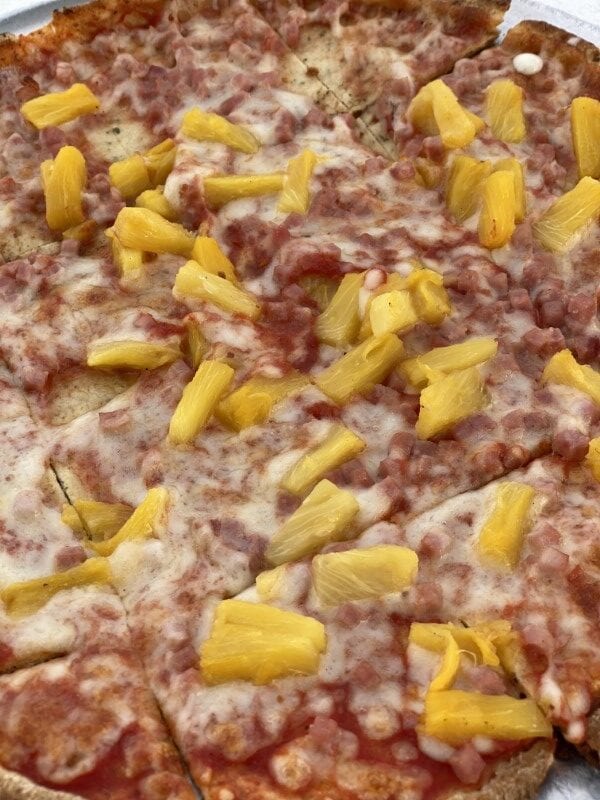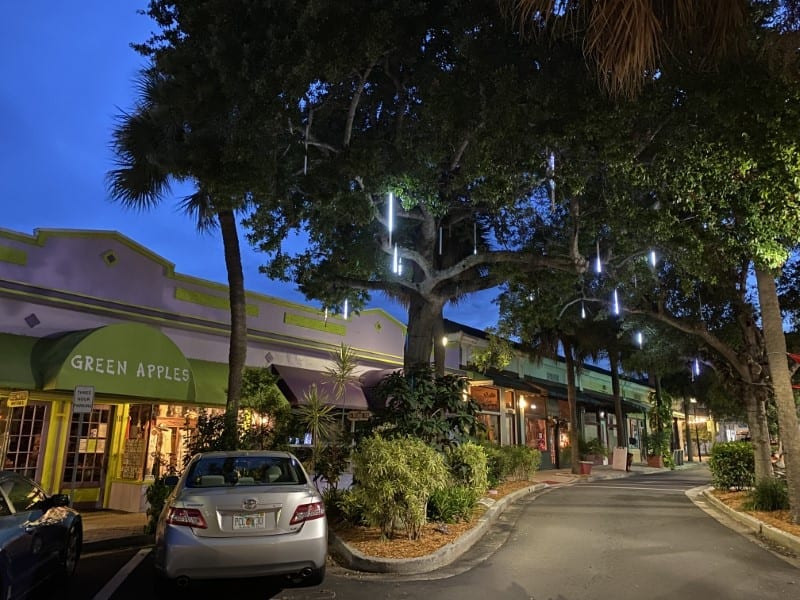 Long Doggers, Cocoa Beach – This restaurant is SOOOO much more than hot dogs…even though they are amazing. I ended up having the best southwestern shrimp salad of my life here! Definitely a fun place for lunch or dinner.
The Fat Donkey, Cocoa Beach – Of course we had ice cream every day. Walk up and order delicious ice cream or fine desserts at this kitschy shop…with a (somewhat skinny, not fat?) donkey sculpture outside.
Rusty's Seafood and Oyster Bar, Cape Canaveral – In the mood for oysters? Then look no further than Rusty's (preferably after a long day at Kennedy Space Center and Exploration Tower since this dining spot is nearby). They have great seafood dishes and a killer happy hour from 3-6:00 p.m. every day!
When will you take your own Space Coast family road trip? Comment below!
---
Sponsored: Modern Boca Mom was hosted by Visit Space Coast for blog review purposes. All opinions expressed in this blog post are my own. They are not influenced in any way by the sponsor. Any statistic, quote or other representation about a product or service should be verified with provider. Please refer to this site's Disclosure for more information. I have been given exclusive experiences, a complimentary resort stay and was compensated, but that does not impact my views or opinions.
---
Pin for Later!