Boca is a great place for parties. If the weather is nice, then you can have an outside party! If the weather isn't the best, then there are plenty of venues you can go to indoors. The only question is how many Frozen-themed parties will we all attend? That's like asking how many licks will it take to get to the center of a Tootsie Pop…
It is nice that we live in an area that has numerous venues, so that even though most of us are having the same theme, we can at least have them in different locations! I have a few favorite Boca birthday party venues and some that I can't wait to try out…
---
The Modern Boca Mom's Guide to Boca Birthday Party Venues
This post contains Amazon affiliate links
1. Twister parties provide a fun, safe experience for girls and boys of all ages. From the time you walk through the door to Twisters' indoor gymnastics playground fully equipped with bounce houses, trampolines, tumble tracks, climbing walls and obstacle courses, their professional staff will be there to take care of every detail of your party!
Sponsored
The first hour of the birthday party will be spent in the gym where guests will have a blast inflatable bounce houses, trampolines, and the famous Twister Pirate Ship (at Boca) or Castle (at Coconut Creek)! If you choose, their staff can guide the party guests through organized games and obstacle courses incorporating fun and fitness or you can have free play for the entire hour! During this time the gym is reserved exclusively for your birthday party*.
The next 45 minutes will be spent in one of their fully equipped private party rooms. Here, the staff caters to you and your guests serving food, beverages, and cake. The best part is that they clean everything up afterwards so you are 100% free to focus on enjoying the party and your guests. One of our favorite Boca birthday party venues!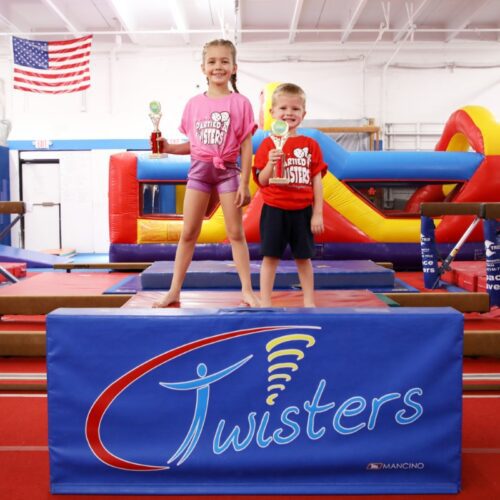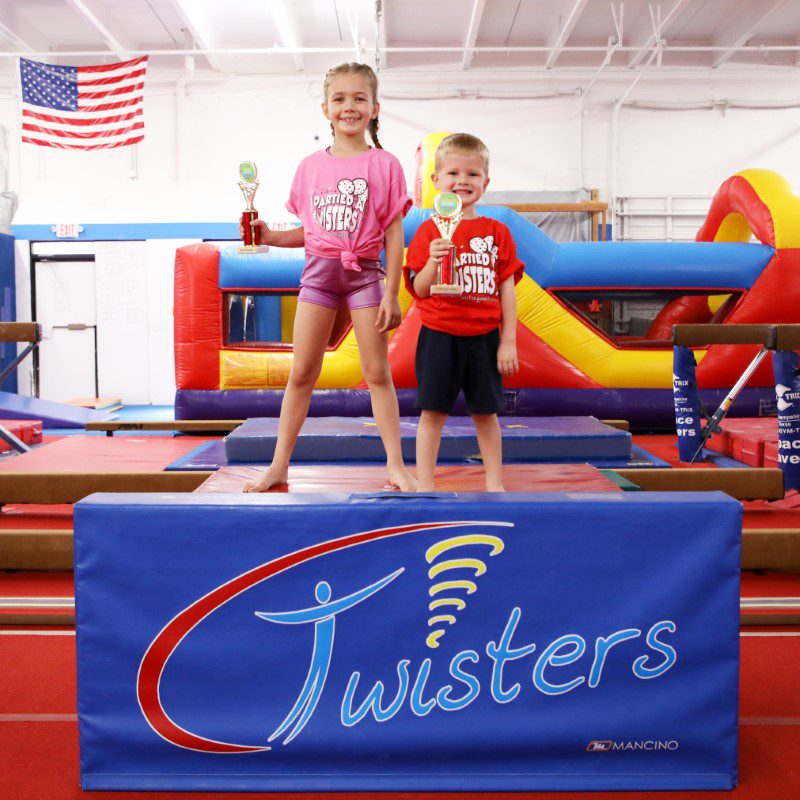 *On Saturdays at the Coconut Creek Location, the recreational side of the gym will be reserved for your party, while the team will be practicing on the team side.
---
2. Birthday parties at Petite Designers offer a fun and unique celebration for kids and teens. They make clothes, accessories and other beautiful projects on a real sewing machine!
Sponsored
Kids can also show their designs to friends and family on a runway during a fashion show. Their sewing & fashion party is always a special event! Kids not only have a chance to spend time with their friends, but also learn a new skill and take their sewing projects home. Friendly and professional staff as well as a nicely set up sewing studio contribute to making this celebration fun and memorable. Kids don't need to have any sewing experience to participate as they will learn all safety rules and sewing basics to successfully finish their sewing projects.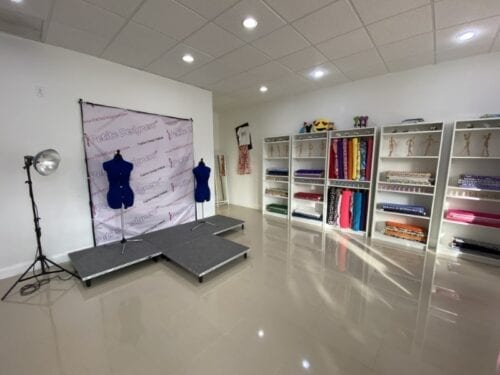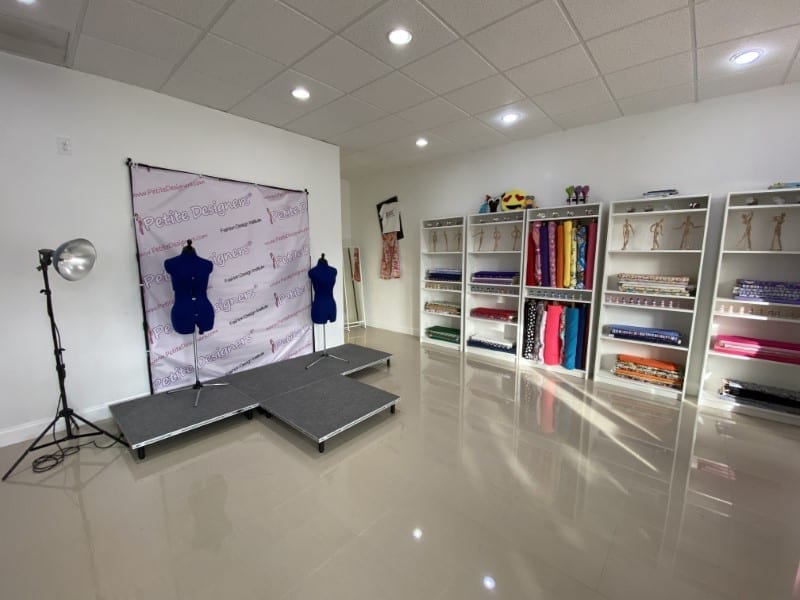 They can always customize a birthday party to select the right projects and event plan. For birthday parties, guests have the entire studio at their service, and Petite Designers provides all materials, tools and equipment as part of the package.
General Info:
All Materials Included
Every Child Leaves with a Finished Project!
Cleaning Included
30 Minutes for Setup Included
All Levels Welcome
Drop Off/Pick Up Party (Parents of the Birthday Child Stay)
*Call for Custom Parties and Hours
Pricing:
2-Hour Sewing Party (Up to 8 Kids): $320
3-Hour Sewing & Runway Party (Up to 8 Kids): $470
Extra Hour: $150
Additional Guest: $40


---
Sponsored
3. Birthday Parties at Bricks, Bots, Beakers allow children to discover different STEAM themes through exciting hands-on experiments and simulations!
Their B3 STEAM parties are a huge hit for your future veterinarian or chemist! More info HERE.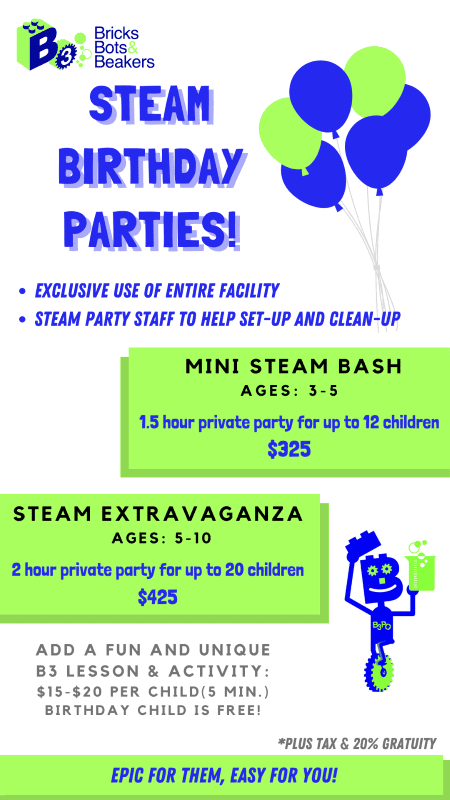 ---
Sponsored
4. Have the spa come to YOU with Mia's Dream Spa & Party Bus!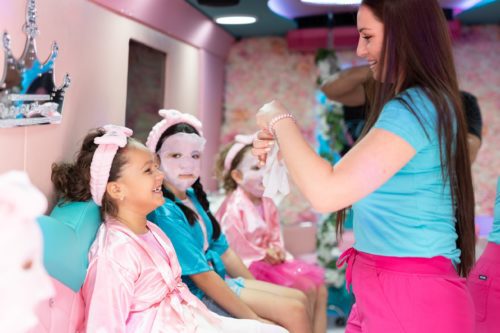 Mia's Dream Spa & Party Bus brings the magic and excitement to your celebration and it is perfect for birthday parties, school and special events, or just because! They specialize in pampering young girls and teens ages 4 to 14. They will go above and beyond to make your girls' party fabulous and fancy ! Give your DIVAS the magic day they will always remember.
When you book with them, you can expect:
Punctuality – We are on-time and reliable
100% Satisfaction – Customer satisfaction comes first
Cleanliness – We keep our spa bus sparkling clean!
Exclusivity – We are the first and only spa & party bus in town
A Great Time – Expect to have one of the most memorable times of your life!
Book here today and use Code: Miaspa for 10% Off!
---
5. Teenage Mutant Ninja Turtles are also hot this year and the perfect party venue for the martial artist in your life is American Professional Martial Arts in Boca Raton!
All you really have to do is bring your guests!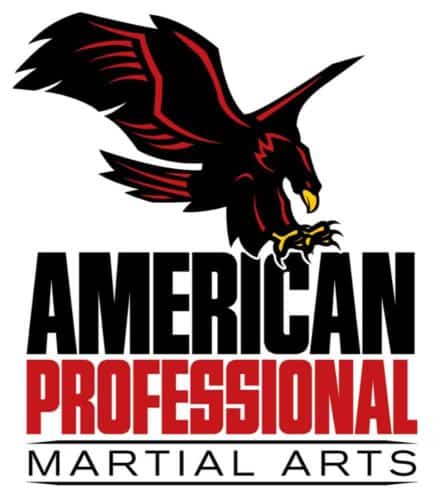 They provide the pizza party and structured entertainment including martial arts instruction. And if you, the parent, want to channel your inner ninja, well you can get involved as well. This venue books up fast, so be sure to book your party at least 6 weeks in advance.
As an extra bonus, just mention that you saw them on Modern Boca Mom and you will receive $50 off your party package!
---
6. Who says you have to go to the party? This party comes to you with AET Fit & Fun Bus!
The AET Fit & Fun Bus is an actual full sized school bus that has been re-purposed into a mobile fun and fit center. The walls and floors are padded for safety. The Fit & Fun Bus is heated/air conditioned & fully insured. Equipment included are monkey bars, balance beam, basketball goal, boxing bag, rock climbing wall, zip line, tunnel, trampolines, etc.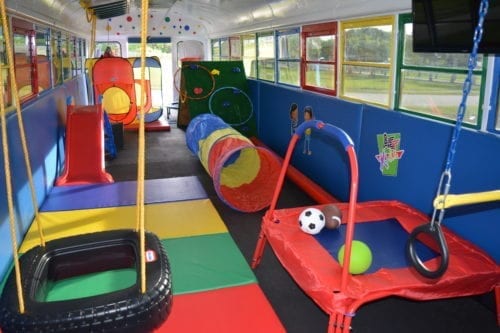 ---
7. For the princess in your life, there is the Little Princess Spa. This place really gives your party the royal treatment.
There are many packages to choose from depending on how extravagant you want to go (check out the Royal Package). You can also add on a pink Hummer Limo (what??!!)! And if you are going to have a Frozen party, they offer a Frozen Package that includes an Elsa and Anna appearance, decorations and Frozen inspired hairdos, makeup and mini mani. We actually had my daughter's 6th birthday party at the Boca Raton location!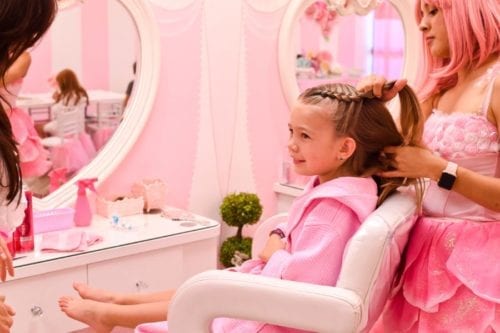 ---
8. Have a "cool in the pool" party at

The Swim Center

in Boca Raton!
This venue is run by the parks department and is very popular, so you need to book in advance! You do have to provide everything except the tables and chairs. On the plus side though, you get the peace of mind knowing that there are lifeguards on duty during your party. They even let you bring water balloons– just don't hit the lifeguards! It's a great way to get outdoors on these nice Florida days and the pool is heated!
To reserve a party, please contact The Swim Center at 561-544-8540 to discuss availability and reservation details with a team member. Reservations must be made in person. The host is required to fill out and sign a reservation form.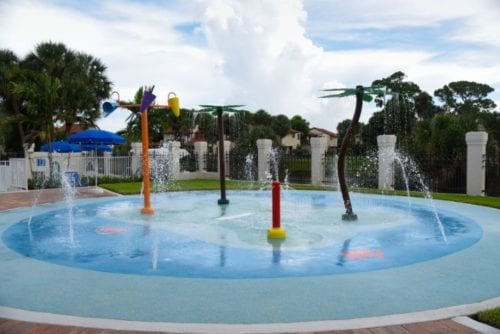 ---
9. Get messy at ArtNEST Delray!
Typical parties at ArtNEST Delray run about an hour and a half. The venue covers pizza, plates, cups, napkins, water and juice so the only thing parents have to worry about is the cake and goodie bags! They also include a group and family photo as well as photos throughout the party–what a bonus!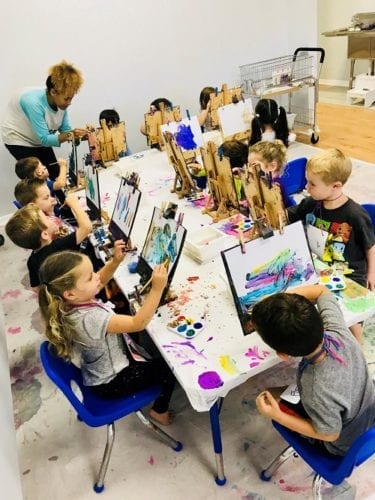 Splash Party–which is messy and adventurous. Everyone gets to splash on the walls and a big canvas to create a mural for the birthday kid. He/she then gets to take it home as a birthday souvenir!
Character Theme Party— which is more of a sit down and paint party. The birthday kid gets to select their favorite character (unicorn, princess, storm trooper, etc.). ArtNEST preps the canvases for each child and they all get to paint them and bring it home with them.
Parents are invited to stay but many of parties do drop off. If parents stay, it is for observation only and they will not be allowed to participate (unless it is a party for a 2 and under child). Drop off parties can accommodate up to 25 children. If parents stay, ArtNEST can accommodate 15-18 kids. There is a coffee shop next door where parents like to get coffee and pastries during the painting part and then come back to join for pizza and cake. The immediate family is invited to sit in front of the splash room of course!
---
10. For your tiny dancer,

Organic Movements

in East Boca Raton is the perfect venue to get your party moving.
You can rent a studio space, bring in your own food and drinks (and theme) and have your own private dance lesson for your party guests.
---
11. Build the best birthday party EVER with Young Engineers!
Deliver the WOW factor for your child's next birthday party. Young Engineers Boca/Delray has a great team ready to host an AWESOME and UNIQUE party building with K'NEX and LEGO® bricks. This award-winning STEM program from Israel provides a kit for each child to build an exciting and creative model. How cool is that!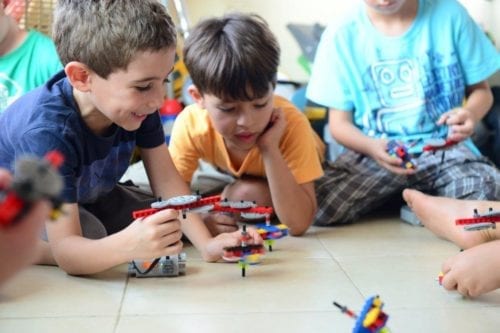 Birthday Party Packages:
4 to 7 year olds – 50 Minutes
Big Builders K'NEX Program
$15 per child, minimum $250
8 to 13 year olds – 75 Minutes
Bricks Challenge LEGO® Program
$20 per child, minimum $350
I wish these Boca birthday party venues were around when I was a kid! The only hard choice is figuring out which one to choose…
---
More venue and party theme ideas/options:
Boca Raton Tennis Birthday Party Theme