Is a Disney Cruise for preschoolers? That was the question I seriously asked myself as I accepted Disney's wonderful invite to the 2017 Social Media Moms Celebration. I mean, CLEARLY Walt Disney World parks are perfect for preschoolers (as we took complete and utter advantage of our annual passes in 2016).
But a cruise? And without my mom for travel backup? I figured we'd take a chance and give it a shot anyways…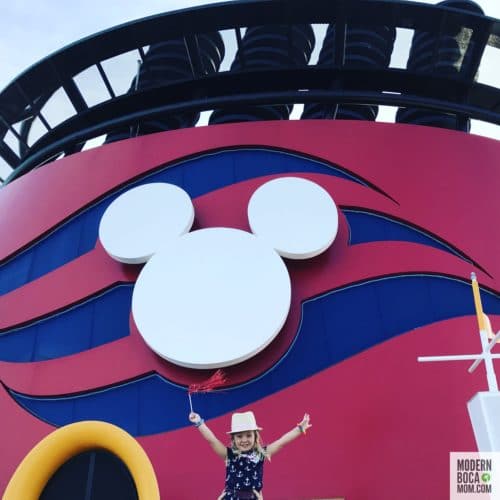 Is a Disney Cruise for Preschoolers? Our Experience on the Disney Wonder
Like I explained in this post, Modern Boca Mom was invited to the 2017 Disney Social Media Moms Celebration. #DisneySMMC (for short) is an invitation-only conference where digital/social media influencers and bloggers are asked to come together, collaborate and learn about their company as well as other likeminded brands.
This year's conference theme was Land and Sea. The sea part? Yep- a 3-night journey on the Disney Wonder out of Port Canaveral.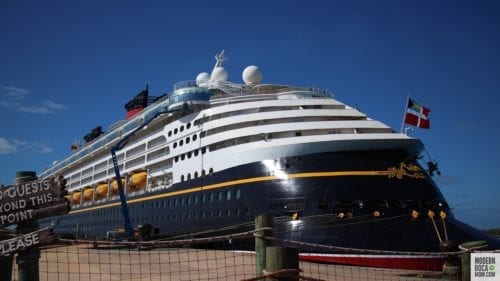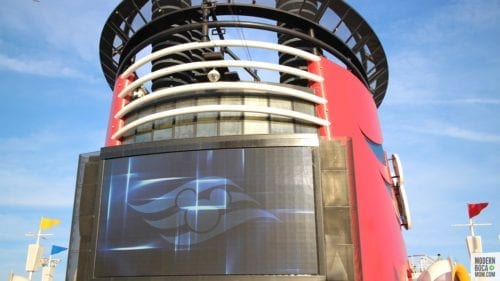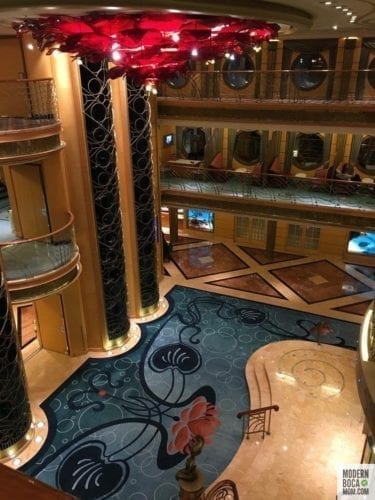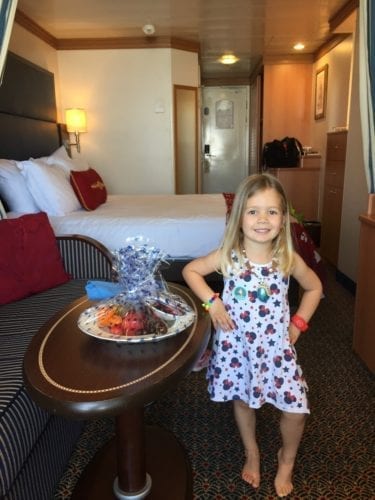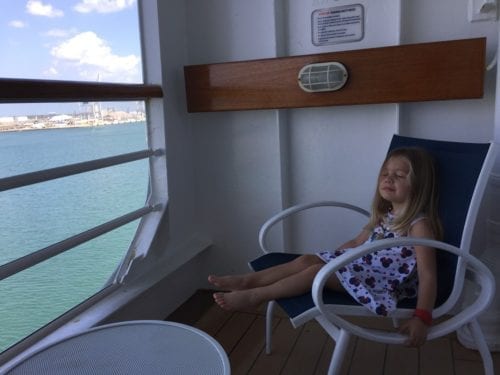 Disney Wonder Staterooms
#dailybocaavery made herself at home pretty quickly as you can see. The balcony staterooms on the Disney Wonder are a really nice size with two separate bathroom spaces. You can fit 4 people to a room easily. How cool is this bed conversion?
I read a ton of blogs pre-cruise and found that passengers like to decorate their doors with magnets. I got ours on Etsy (Little Mermaid Mickey), but I know other bloggers who totally DIY'd!
People went all out as you can see below. Many families also participated in something called a Fish Extender gift exchange. I couldn't get it together to participate this cruise, but here is a little more info on what that is from one of my fellow #DisneySMMC bloggers.
I'm also proud to report: no seasickness! I knew #modernbocadad and I would be okay as we had cruised several times before, but we didn't know how she would react on the high seas.
MBMom Tip: I hear drinking wine is really good for seasickness. 😉 And Disney Cruise Line allows you to pack 2 bottles of wine per person. Huzzah!
I knew in advance that I'd be pretty busy on this cruise. As soon as my family embarked, us bloggers were whisked away for lunch at the Animator's Palate while our families were invited to dine on their own by the pool (be sure to pack your swimsuits in your carry-on, so you can start swimming right away!).
Animator's Palate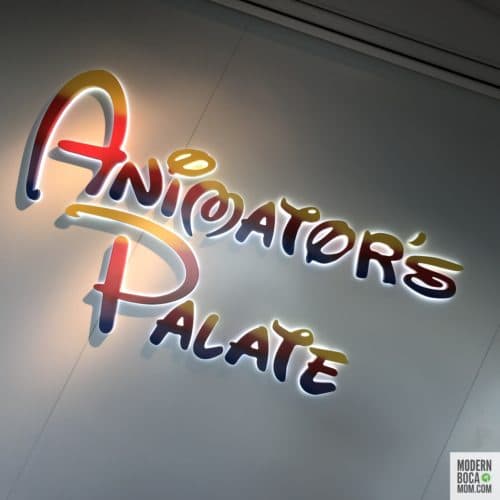 The food overall on the cruise was excellent, but this particular restaurant had something special…
Animation Magic (available on 7-night and longer sailings on the Disney Magic, but conference attendees were able to experience it on the Wonder)! Try your hand at drawing your very own character—and then watch in wonder as your creation becomes part of the show, dancing alongside some classic Disney characters!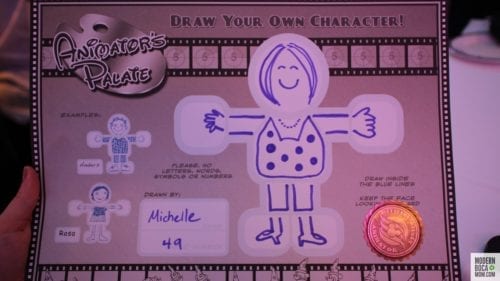 This activity screams Disney Cruise for preschoolers! Check out this short video featuring my "character":
Fine, I loved it too. 🙂 Coloring at lunch isn't just for the little ones! After, we had a few conference activities that involved champagne (!!!). I learned that the 'tale as old as time' (a.k.a Beauty and the Beast) is going to be enchanting the stage for the very first time in a brand new musical production on the Disney Dream on November 6 (2017)!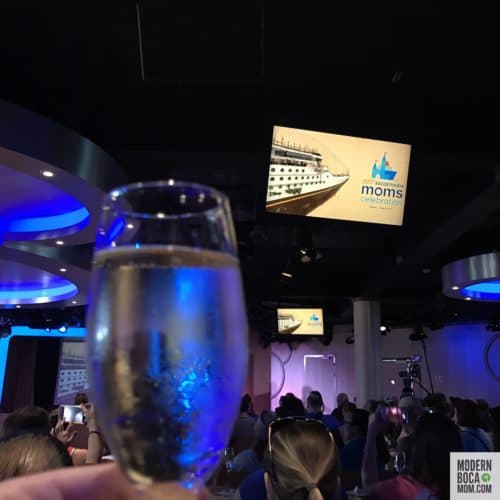 Disney's Oceaneer Club
While I was busy doing conference stuff, #modernbocadad took Avery on a tour of the Oceaneer Club aboard. Children 3 to 12 years old can interact with Disney characters—and each other—as they explore multi-themed magical lands like Toy Story, Frozen and Marvel!
MBMom Tip: Be sure to pack tons of costumes for your child!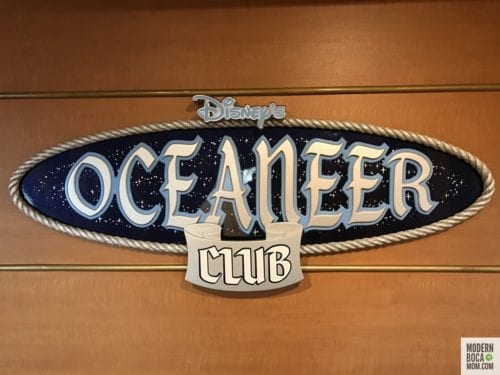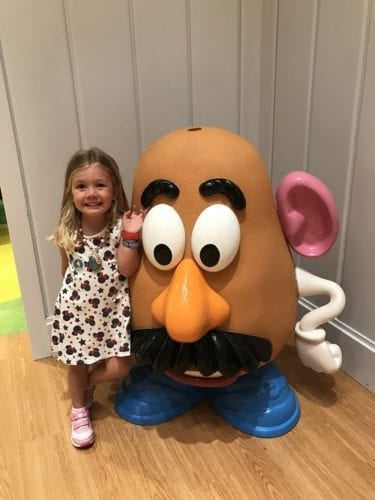 I now know why parents love cruising with Disney: the complimentary child care!!! Disney's Oceaneer Lab is about learning while having fun (for the older kids) and Disney's Oceaneer Club is pure Disney fantasy for the little ones. Character-driven performances, special storytelling sessions, larger-than-life playgrounds (a HUGE hit with #dailybocaavery), dress-up opportunities and cool interactive activities make sure there's never a dull moment for your little one.
Your child will be outfitted with a special magic band when you register them at the Oceaneer Club. They are always accounted for and can have a Disney cast member text you (of course there's an awesome Disney Cruise Line app- they think of everything!) to come pick them up when they are done. It's fantastic!
Night 1: The Golden Mickey's and Tiana's Place
Before I knew it, it was time to get ready for dinner at Tiana's Place and The Golden Mickeys!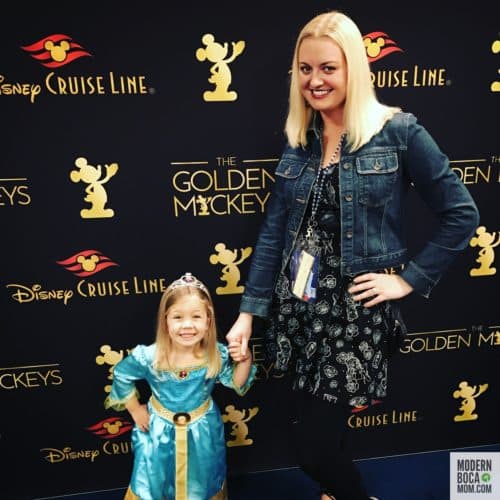 We had the later seating for dinner each night, so that meant showtime was always first. I say this without hesitation: the shows were my favorite part of this Disney Cruise for preschoolers. They were excellent– even better than the ones in the parks.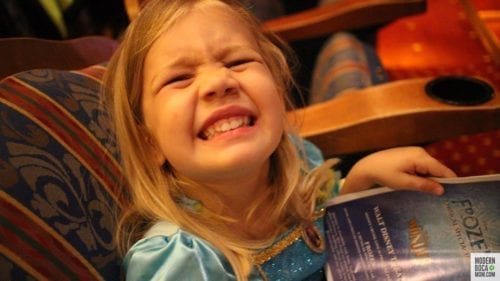 The Golden Mickeys invites you to a Hollywood-style awards show. You'll find out which Disney movie character wins "Most Heroic" or "Most Romantic," and enjoy familiar tunes from Disney films like:
Snow White and the Seven Dwarfs
The Hunchback of Notre Dame
Tarzan
Mulan
The Little Mermaid
One Hundred and One Dalmatians
Toy Story 2
Lady and the Tramp
Tangled
The Lion King
Beauty and the Beast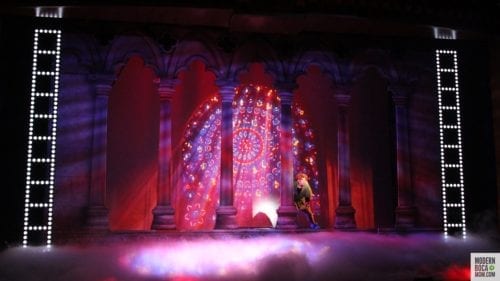 Then it was off to dine at the brand-new Tiana's Place, which was spectacular! You actually feel like you are IN the movie. How does Disney do that?!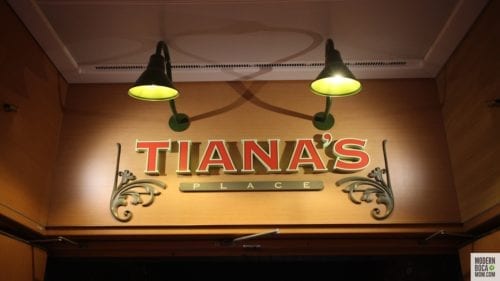 Once seated at your table, Tiana herself stops by to welcome you. Then, the restaurant's own band "The Crawfish Crooners" entertains you while you eat.
Feel free to get up and dance or even join the parade at the end of dinner! And don't forget to order the beignets for dessert. So much fun!!!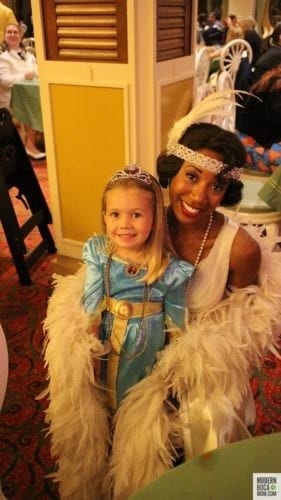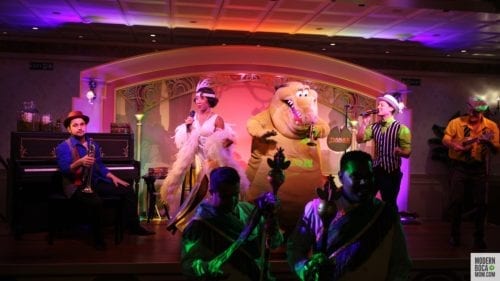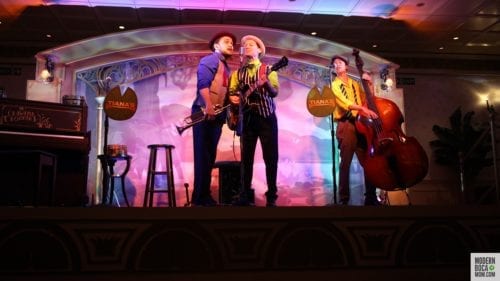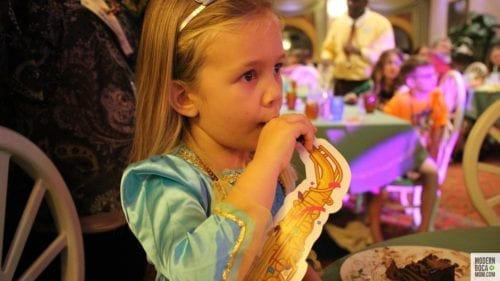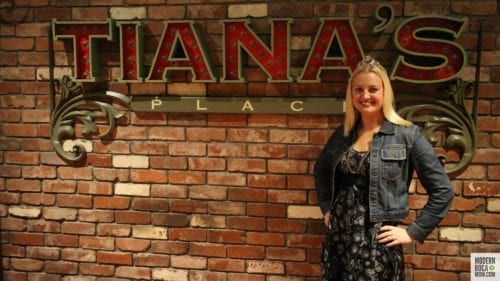 Disney Princess and Frozen Meet & Greet
One complimentary activity on the Disney Wonder is the Princess and Frozen meet and greets. Be sure to register for this on the Disney Cruise Line website as soon as you book your cruise. Times fill up quickly to meet Ariel, Cinderella, Rapunzel, Belle, Elsa and Anna!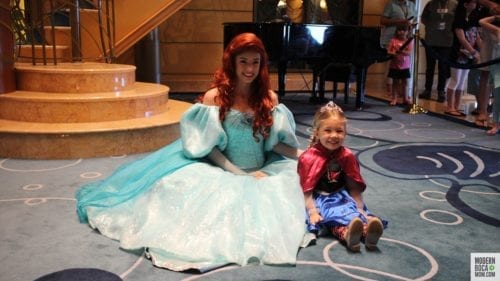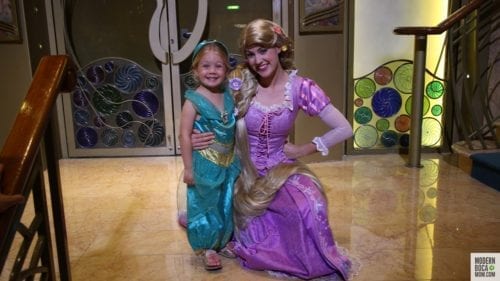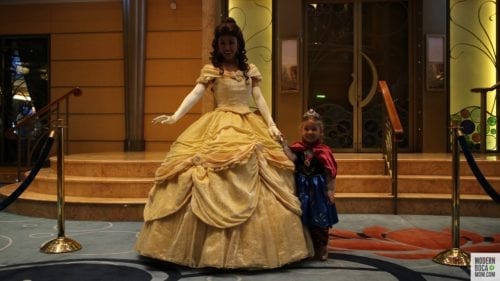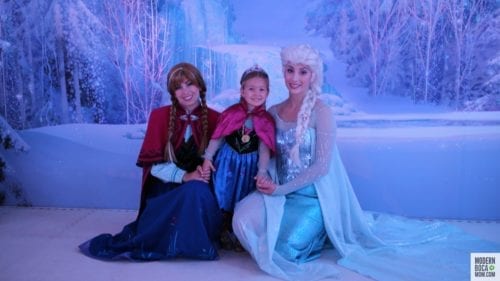 Night 2: Disney Dreams- An Enchanted Classic, Triton's and Pirate Night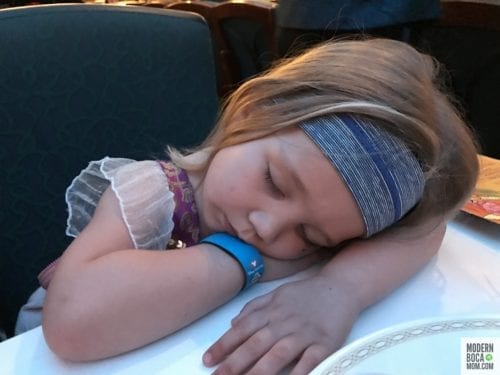 No, Disney Dreams isn't about my daughter sleeping. It's a musical about the power of dreams and family, starring a cavalcade of Disney characters! This live stage show features a dazzling procession of characters and songs from some all-time Disney classics like:
Peter Pan
Pinocchio
Cinderella
Aladdin
An award-winning musical, this show also includes stunning special effects—and a very special cameo appearance by Tinker Bell. All Disney productions are under 90 minutes, so they keep the attention of little ones.
MBMom Tip: You can bring a sippy cup of wine or order from the full bar at the theater. YES.
Dinner at Triton's restaurant was delicious and it really felt like fine dining under the sea. Disney Cruise Line has guests on a rotational dining plan, so you eat dinner at a different restaurant each night, but with the SAME wait staff. It's great!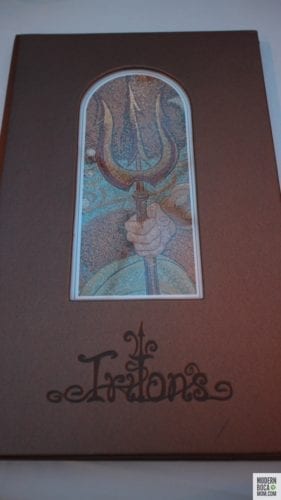 This night also happened to be Pirate Night on the ship, a tradition on Disney Cruises. You will receive pirate bandanas to wear in your stateroom, but most passengers go all out with costumes and outfits. We certainly did on this Disney Cruise for preschoolers.
There is a pirate party on the deck after the second seating as well as fireworks over the ocean. Amazing!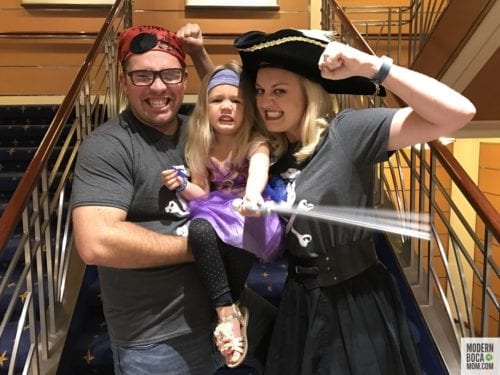 Castaway Cay, Disney's Private Island
Now for the piece de resistance! Castaway Cay (pronounced KEY) in the Bahamas, Disney's own private island. Castaway Cay visitors will find an island completely outfitted for premium family leisure.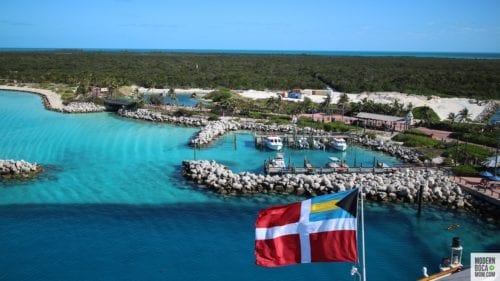 Amenities include sprawling beaches, sparkling lagoons teeming with curious sea life, splash-worthy water play areas, scenic walking trails, open-air BBQ dining locations serving complimentary meals, 2 shops featuring Castaway Cay gifts and souvenirs, free tram transportation around the island and more.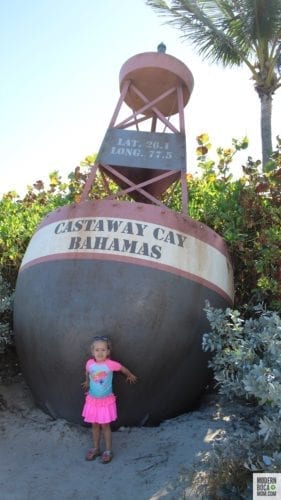 You can book excursions for an additional fee, but honestly, we were there the whole day and were completely entertained by all of the complimentary amenities. It was heavenly!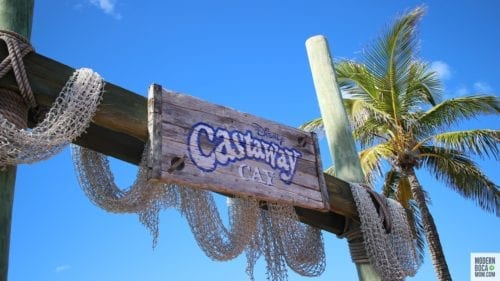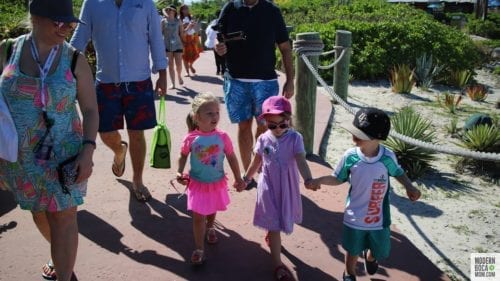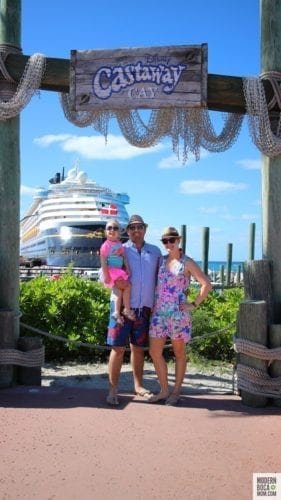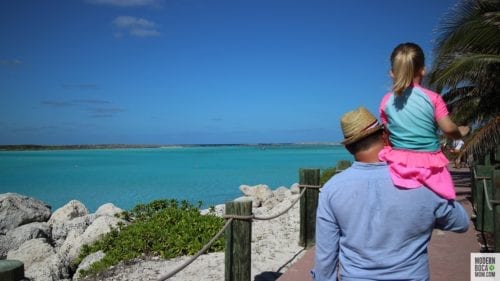 MBMom Tip: There's also an Oceaneer Club on the island that serves lunch in case you're craving a bit of adult time.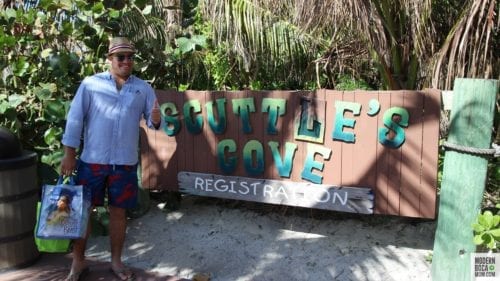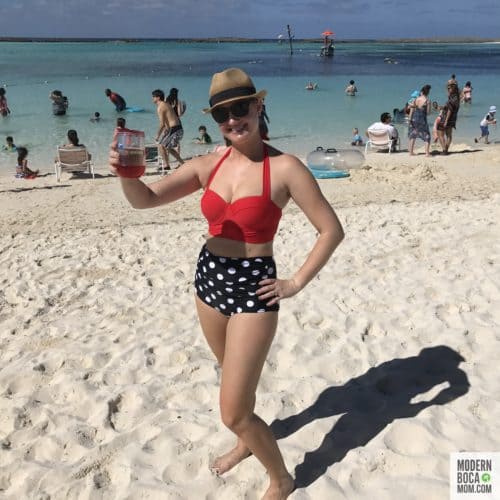 Buy this $26 swimsuit through my affiliate link HERE.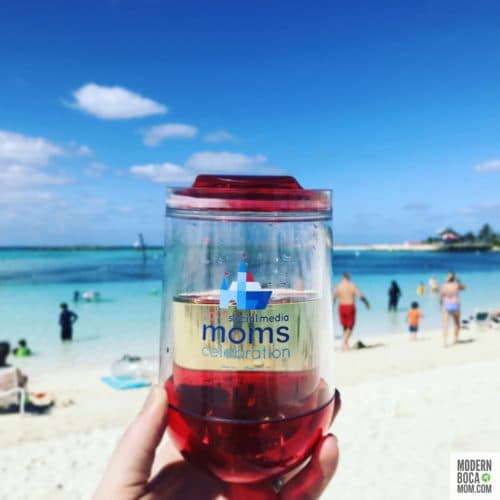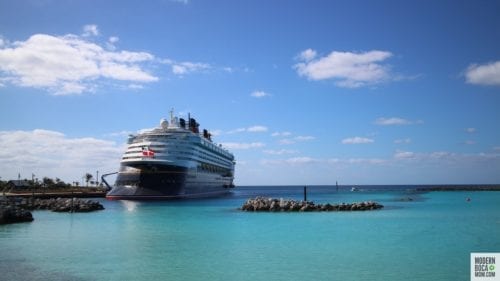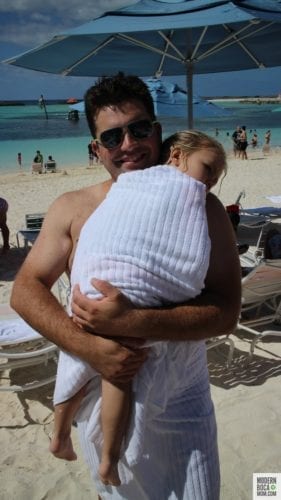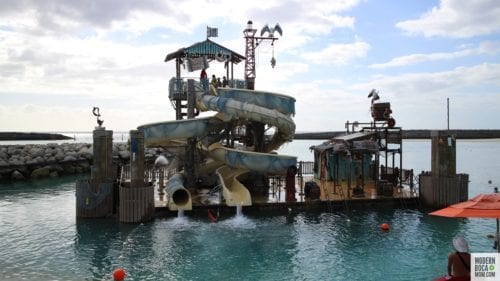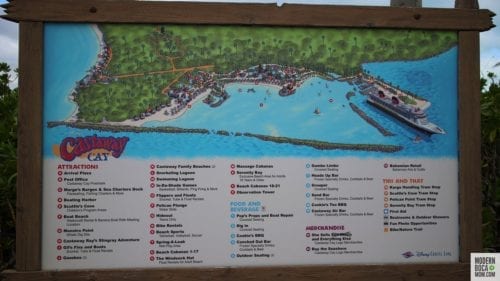 Night 3: Frozen, a Musical Spectacular and Animator's Palate
These are the faces of three people who had a great day at Castaway Cay.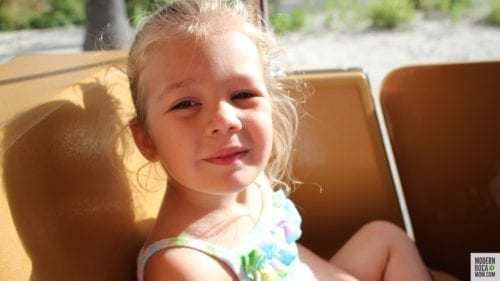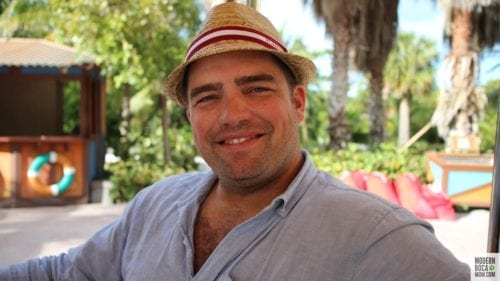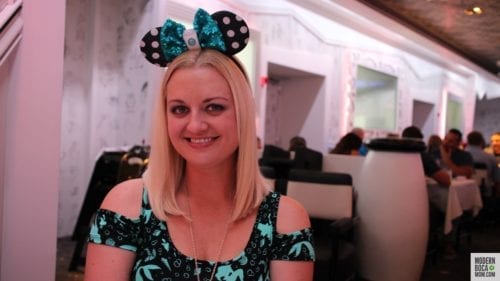 How could this cruise get any better? Well, it could be 4 days longer, but that's for another time. The only negative thing I have to even say about this Disney Cruise for preschoolers is that I felt it was too short.
Typically, when I cruise, it's for 7 days minimum. Since I was so busy with conference activities, it felt even shorter, but it made us want to go again. That's the point right? 😉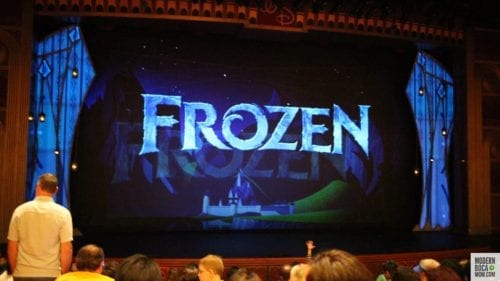 On our last night, we saw the new Frozen, a musical spectacular. I don't know how they are going to do better when it comes out on Broadway! Traditional theatrical techniques, state-of-the-art technology and classic Disney whimsy make this original stage show a flurry of fun. Avery was absolutely mesmerized.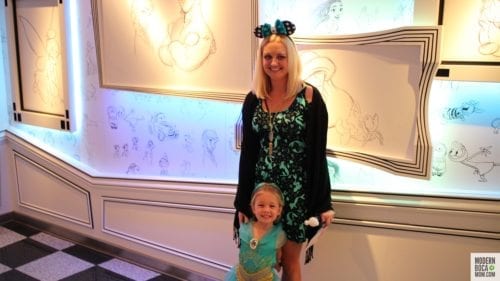 Our last dining rotation sent us back to Animator's Palate. It was the first time my whole family got to experience Disney black and white drawings come to life throughout our meal. At the end, Mickey even made an appearance in his Fantasia finest!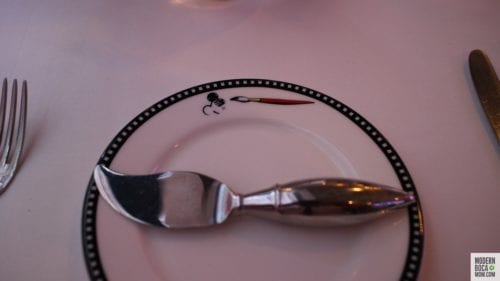 Our experience was a great one and jam-packed for 3 nights! There were so many things I didn't even have time to experience like the spa, Royal Court Royal Tea, Bibbity Bobbity Boutique, the adult bars and clubs and movie theater on the ship. Whew! And of course, the conference topics require their own separate blog post. 🙂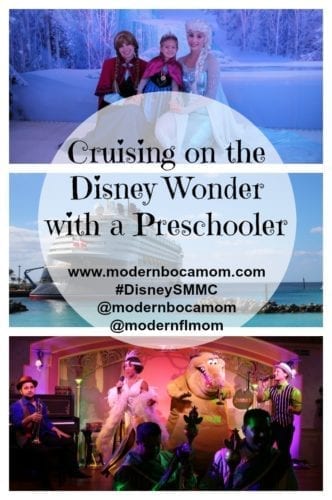 Now I want to hear from you. Do you plan on taking a Disney Cruise? Comment below!
---
Hosted: This Disney Cruise for Preschoolers post was hosted by the Walt Disney Company. All opinions expressed in this blog post are my own. They are not influenced in any way by the sponsor. Any statistic, quote or other representation about a product or service should be verified with provider. Please refer to this site's Disclosure for more information. I have been given exclusive experiences and branded merchandise for promotional consideration, but that does not impact my views or opinions. This Disney Cruise for Preschoolers post also contains affiliate links.