Want to take the best Disney trip EVER? Here are Modern Boca Mom's top tips and tricks for conquering Walt Disney World with your family…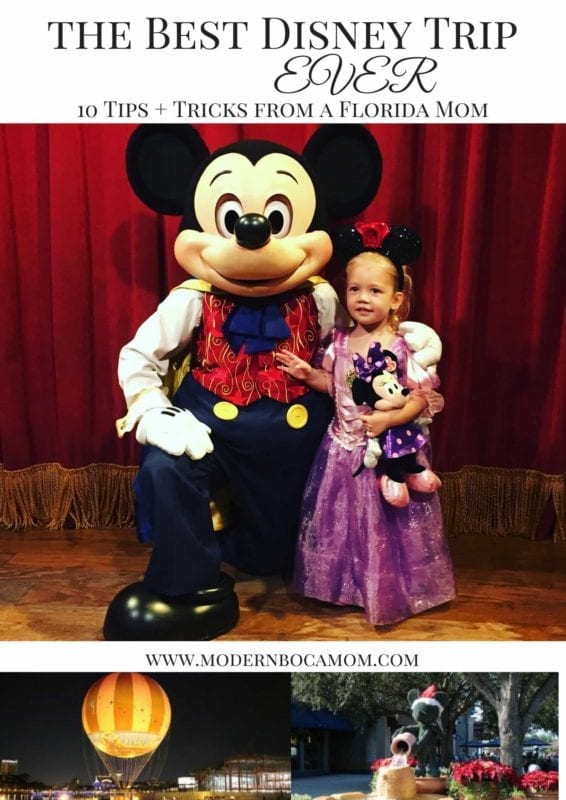 10 Tips for the Best Disney Trip Ever:
1. Wear Comfortable Shoes
This is likely my most important tip. From your personal walking-wear to your little one's shoe of choice, making sure you have comfortable shoes is ESSENTIAL.  Be sure to choose a pair you have worn many times before without blisters or discomfort and that provide awesome support. Disney = lots of walking! We also love these rubber shoe covers if it rains…squishy sneakers aren't fun…
2. Bring Snacks
*PRO TIP* You can bring your own food and drinks into the park! 
Bringing snacks can help keep your costs down and allow more time for play – instead of having to stand in long food lines with high prices.
3. Bring H20
Whether visiting in winter or in the dead of summer, I promise you and your family will get thirsty! Bringing your own water will save you big bucks in the park.
4. Bring it all in a cute backpack
You'll want to come prepared; snacks, water, sunscreen, Mickey ears – the works. But, you don't want to lug it all around in a big, awkward bag! Splurge on a backpack. We also recommend bringing a stroller, especially if you have a baby or toddler (or preschooler) who will inevitably get tired.
5. Plan Visits in Advance
Try to beat the crowds by checking out this Disney crowd calendar.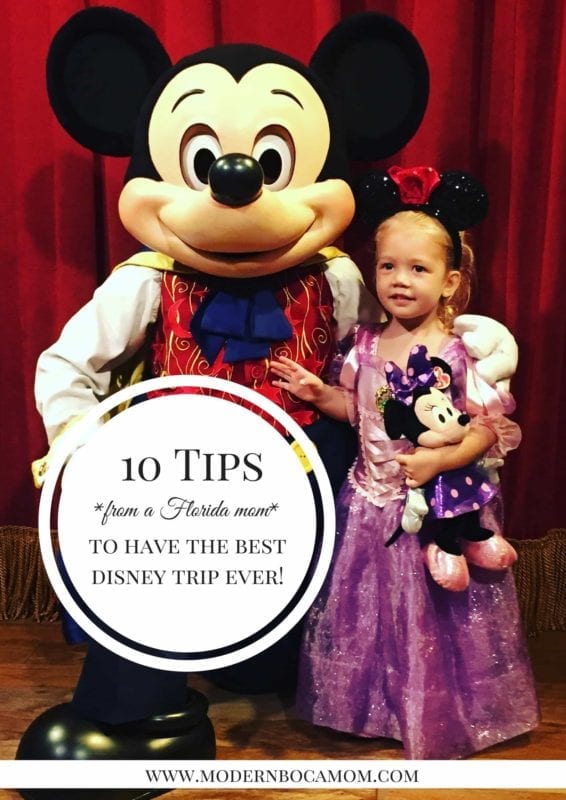 6. Bring a Camera
Or, clear your phone so you have plenty of memory to snap pics! There are so many Instagram-able *and just downright cute* memories you'll want to record when you are at the park.
7. Don't forget to put down your phone and your stress
You don't want to miss any memorable family moments! Don't be glued to your camera or your to do list– enjoy every second!
8. If you are able, stay at a Disney resort
With so many amazing options, the confusion surrounding where to stay is oftentimes overwhelming. But, staying in a Disney resort hotel makes the experience all that much more amazing and downright easier. Eat, breathe, sleep, Disney.
*PRO TIP* Make sure your hotel (if it's not Disney) has a shuttle. Parking can be expensive and oftentimes far from the park entrance.
9. If you have little ones, make sure they have a segmented day.
No one wants to spend 14 hours straight with kids under ten at "the happiest place on earth." It can become not very happy at all! Go for a few hours at a time and don't be afraid to break for your hotel pool.
10. Use the My Disney Experience app
If planning isn't your thing, this site/app can help you make an efficient and easy plan. It will help you to effortlessly manage the whole trip. Find it here: My Disney Experience.
Now that you have these tips for having the Best Disney Trip Ever, start planning your magical memories!
Here are some other Modern Boca Mom Disney Tips + Tricks!
Disney's World of Avatar Highlights + The Dolphin's BIG Resort Renovation
My Favorite Family Restaurant at Disney Springs | T-Rex Cafe
EXTRA PIN-ABLE: