Being the true New Yorker that I am, I'm always secretly plotting my escape back to my "sacred city". Although I constantly complain about South Florida's humidity, or lack of exposure to culture and the arts. Or consistently compare all of Florida's food to dining experiences in The Big Apple (let's face it, have you ever had better pizza or pastrami anywhere else?), perhaps I've overlooked some of the pros the Sunshine State has to offer like Gumbo Limbo Boca Raton.
Since becoming a mom, I've started to really learn to see things in a different light. I mean the kind of light that's broadens your awareness to all of the simple treasures each city brings to the table. In South Florida it is most certainly the Marine and Wildlife Preservation. More specifically in east Boca Raton, it's The Gumbo Limbo Nature Center.
Gumbo Limbo Boca Raton
Over the past year we've frequented the Gumbo Limbo Boca Raton space learning all about Marine wildlife and falling in love with the baby sea turtles!
We always start out front just passed the parking lot with the stationary sea turtles, the boys just love getting to "ride" them.

We usually make our way from there straight to the tanks outside (remember to bring sunscreen!), there we can see the two large tanks with plenty of sea turtles, and starfish!
If you're lucky you can catch the sea turtle feedings and learn plenty about all the different kinds of turtles there are. The staff is mostly volunteer based and all very knowledgeable.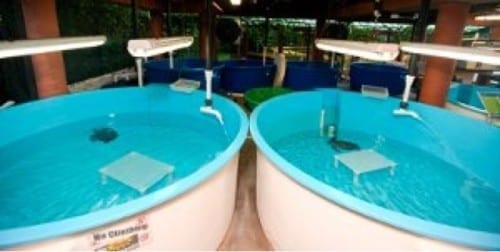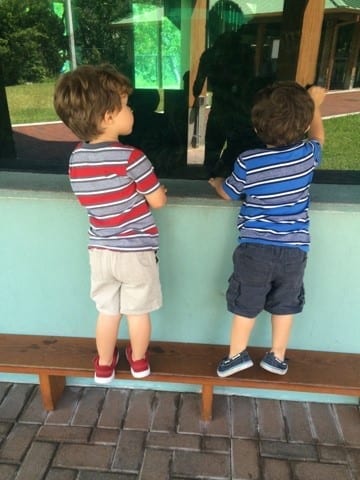 Next to the tanks is the shipwreck with lots of fun! There are plenty of eel, stingray and hammerhead shark to watch, and again there are plenty of volunteers around to answer any questions you or your little ones may have.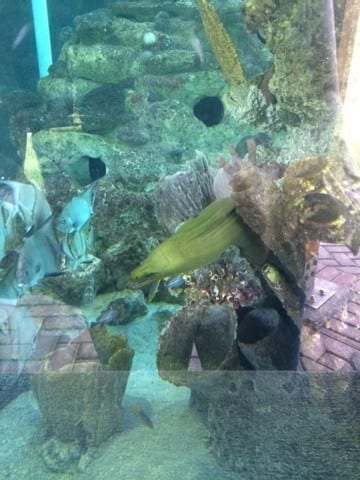 On our most recent visit to Gumbo Limbo Boca Raton, we discovered the "Elevation Tower".
One of the volunteers mentioned the long walk up the 39′ tower and how it would ensure a lengthy nap. Off we went (I may have sprinted)! Now THIS was cool!
There are different trails that you can walk (or run if you're  one of my boys) that are completely covered in nature and all the creepy crawlers it has to offer, they were obsessed with all the different spiders and webs.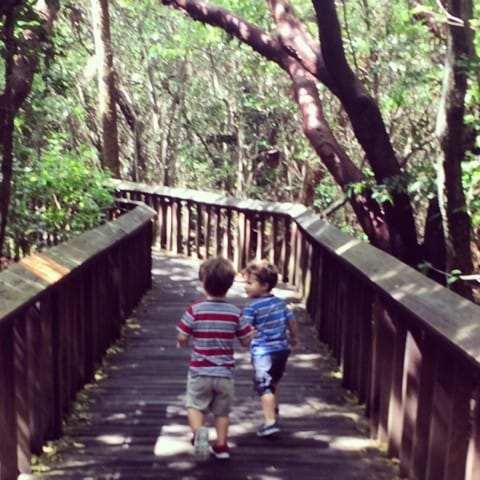 Once we hit the stairs we were climbing to the top! About halfway I heard a few complaints about needing a snack, but it was fairly easy to maneuver with two toddlers.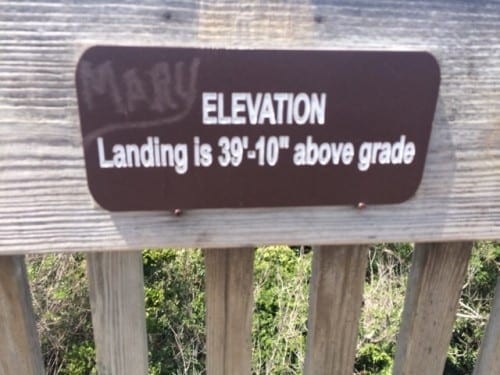 The view alone was well worth the wait! Couldn't help but get someone to snap a pic of us three musketeers, I so rarely make an appearance I'm so busy snapping away!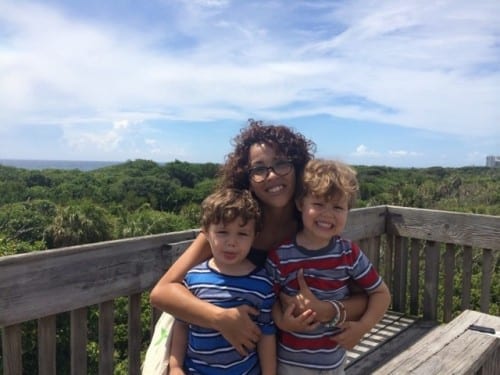 Everyone was happy and enjoying the breeze, a lovely reward after trekking in the hot Florida sun.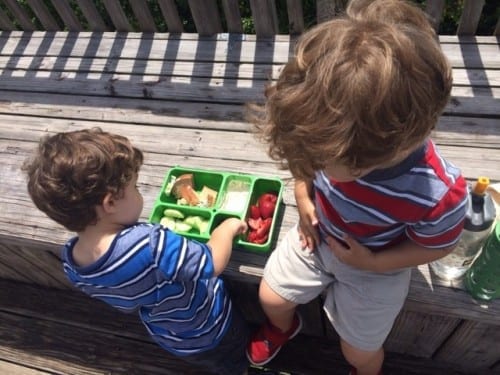 After snack and water, (totally not allowed up there) and a few too many scary "whoa I'm falling" games with a nervous mommy, we were ready to take the trip back down to solid ground. But not after taking in the moment and remembering to "just be". All too soon they will be grown up and busy with their own lives, I try to embrace all of these simple special moments and collect them. Finding local treasures like this has allowed us to do that.
As promised, when we hit the bottom level the boys were exhausted. I decided to head towards the exit/parking lot, but not before we hit up some more creepy crawler exhibits and activities.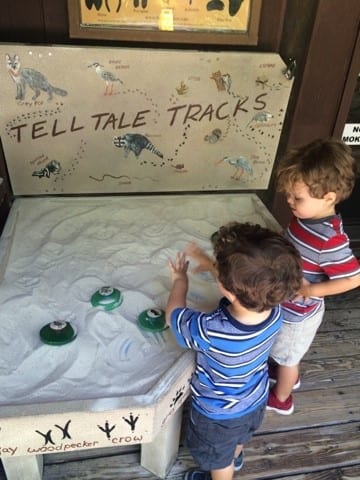 We didn't quite get the nap at home as hoped, but they did fall asleep in the car. At least it was long enough for this busy mom to eat a snack in the car before we were off on our next adventure.
Each time we go to the Gumbo Limbo Nature Center we discover something new. Can't wait to see what we find next time!
---
Erika is a Write-at-Home Mom of two boys, Evan & Nate. A self professed Bookworm and Advocate for Play, she created a blog called Essentially Erika that follows her journey getting back to basics and discovering what's essential.  
You can follow Essentially Erika on Facebook, Instagram & Twitter.