Every other summer or so, my family and I make the trek up to Maine to visit the grandparents by car. Seeing as it's a solid 24 hours on the road, we always stop somewhere along the way for a few days to break up the drive. A few years ago, we visited Washington, DC. Another year, we chose Charleston. But this time, we decided to stop in Old Fort, NC for two main reasons. 1) We had never toured The Biltmore Estate and 2) I heard that a nearby nature retreat had adorable North Carolina tiny home glamping cabins for rent on an idyllic creek.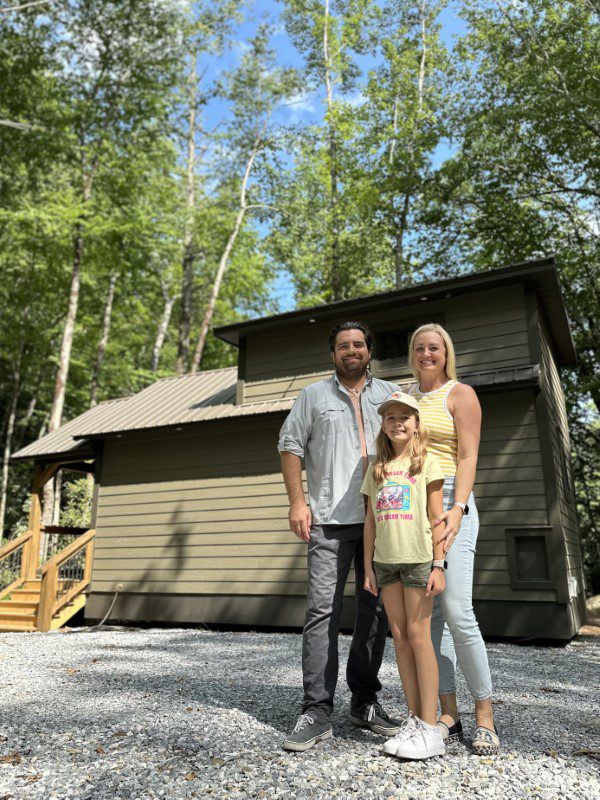 You see, I have a low key obsession with tiny homes. They fascinate me. So, short of taking the plunge into moving into one full time (perhaps during retirement?), I like to book them whenever available on our family vacations. And this was a GOOD ONE.
We were hosted by Indigo Nature Retreat in order to facilitate this review.
North Carolina Tiny Home Family Vacation Near Asheville
Installed in April 2023, this delightful North Carolina tiny home, located at Indigo Nature Retreat, boasts two twin beds that can easily be transformed into a luxurious King bed if desired. With a fully equipped kitchen, a full bathroom complete with a refreshing shower (the plumbing is strong!), and a cozy living room and kitchen nook, you'll have everything you need for a comfortable stay.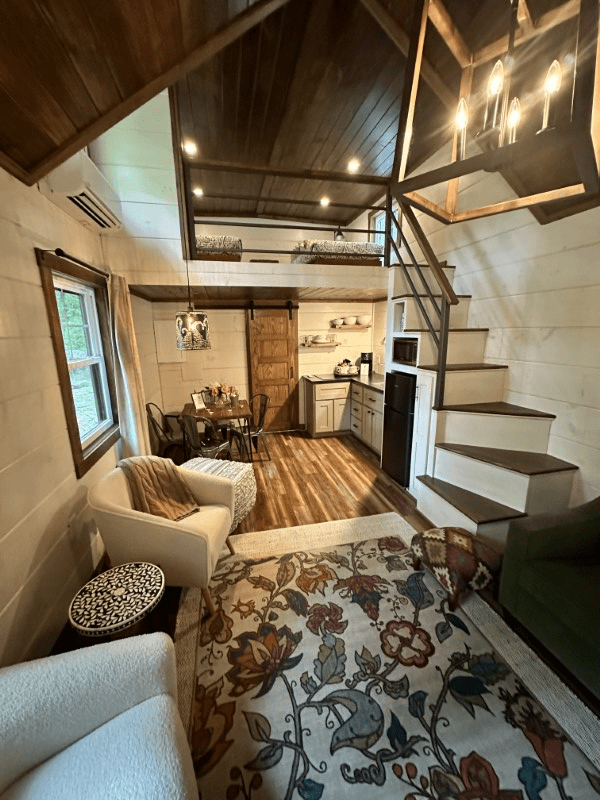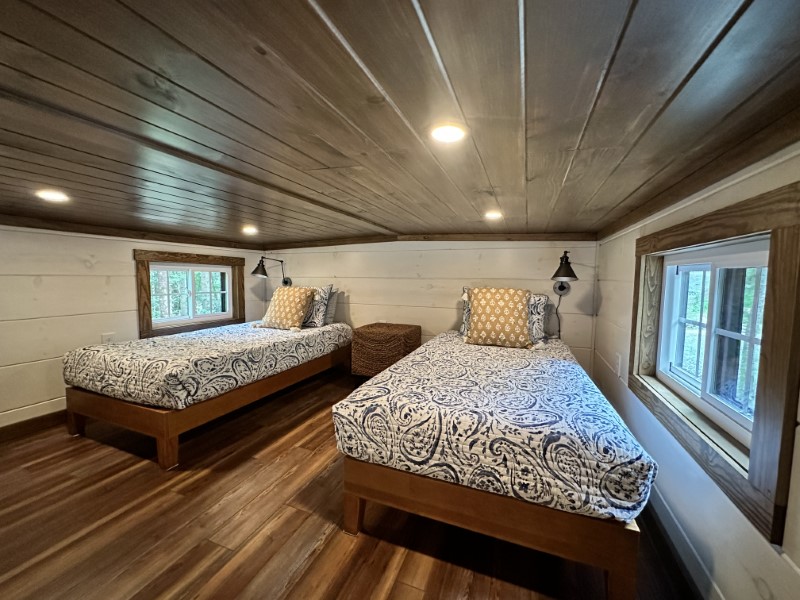 Despite the space being only 400 square feet, it felt very open and airy due to the ceiling height and is the perfect size for a family of 3 (the sofa bed on the ground floor sleeps 1 in a twin pull-out). And if your family happens to be a bit bigger than ours, they luckily have two tiny homes (Dancing Waters and Sundance) as well as other cabins available.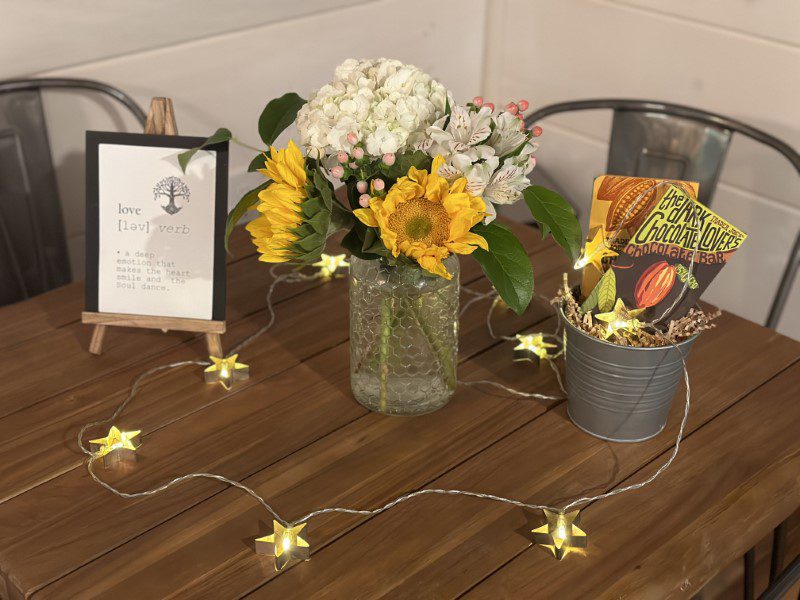 The tiny homes do not have TV's and high speed internet which help you to unplug a bit. However satellite internet is available for checking email, texting and planning your next local excursion. We even cooked dinner there one night because the kitchen is fully stocked with everything except for a dishwasher and oven.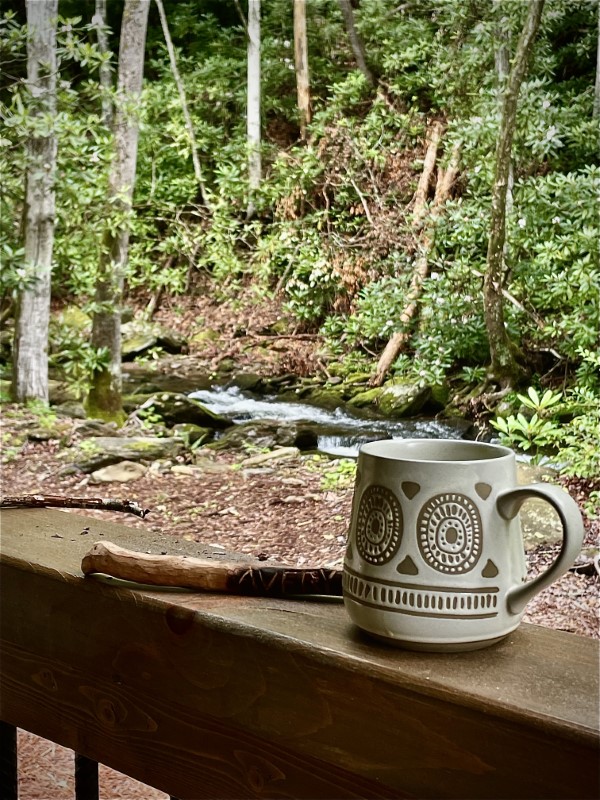 If you can, I would plan on bringing (the below contains affiliate links where if you purchase, I will make a small commission):
Firewood (they will provide it for a fee)
Wood Whittling Kit (there are so many sticks around to whittle and Avery really took a shine to this screen-free activity!)
Swimsuit and additional towels for the creek (we travel with these everywhere)
iPad with downloaded movies in case you want to have some family screen time 🙂
What We Loved Most About This North Carolina Tiny Home
I truly enjoyed the Pottery Barn furnishings and cozy personal touches such as the TESLA coffee. My husband and daughter LOVED cold plunging in the Newberry Creek that was literally in our North Carolina tiny home backyard. No, I did not plunge. 😉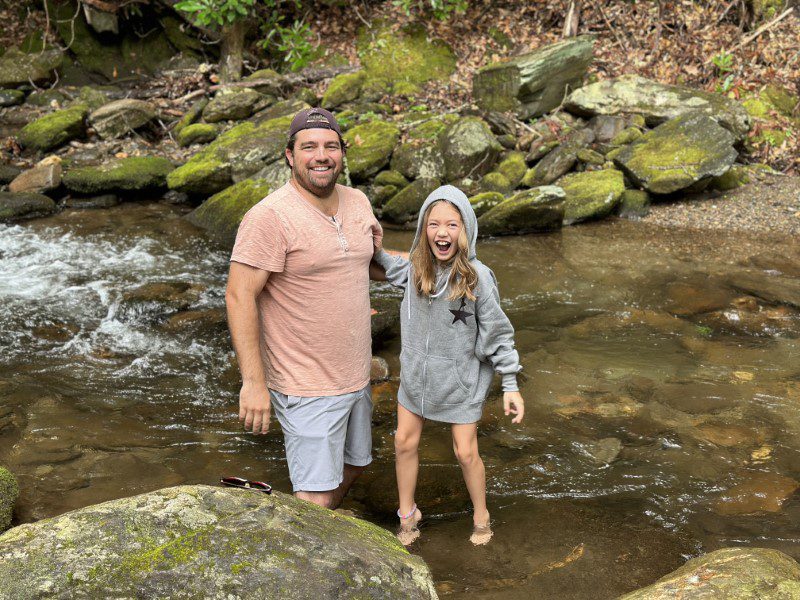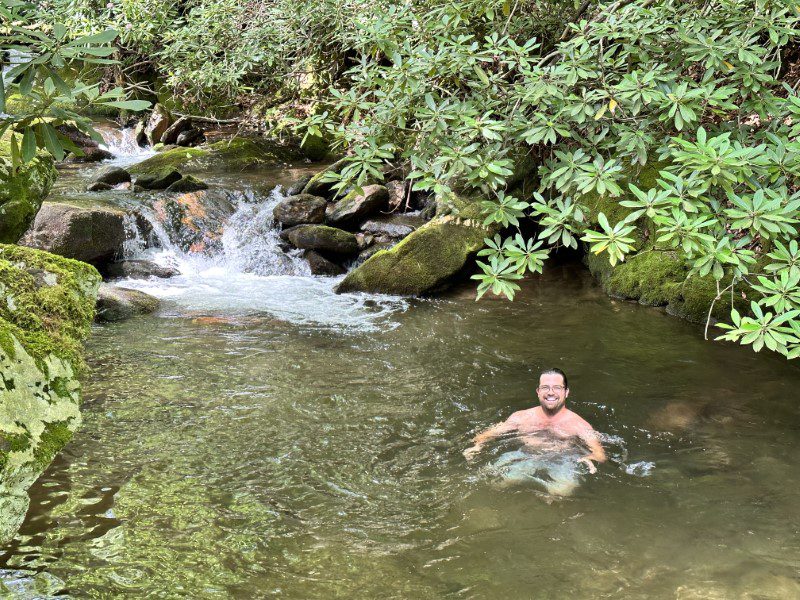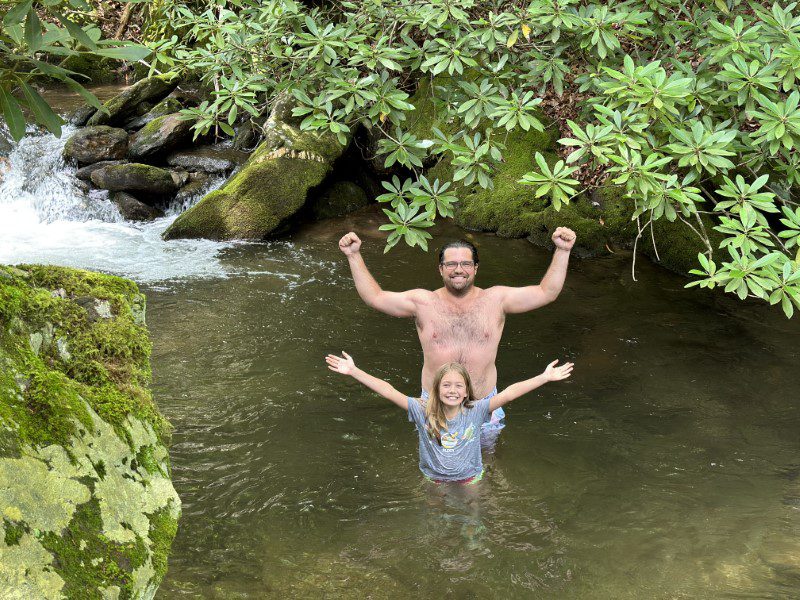 We took full advantage of the peaceful ambiance of the covered porch and spent a lot of time in the late afternoon and evenings gathering around the fire-ring to read, roast marshmallows and take in the picturesque views of the creek and Pisgah National Forest. It was glamping heaven (with a/c) to this mama.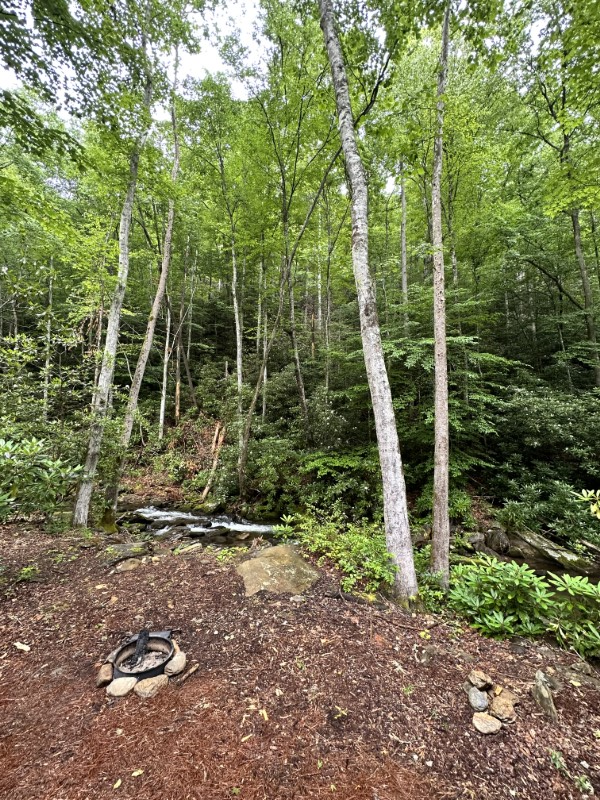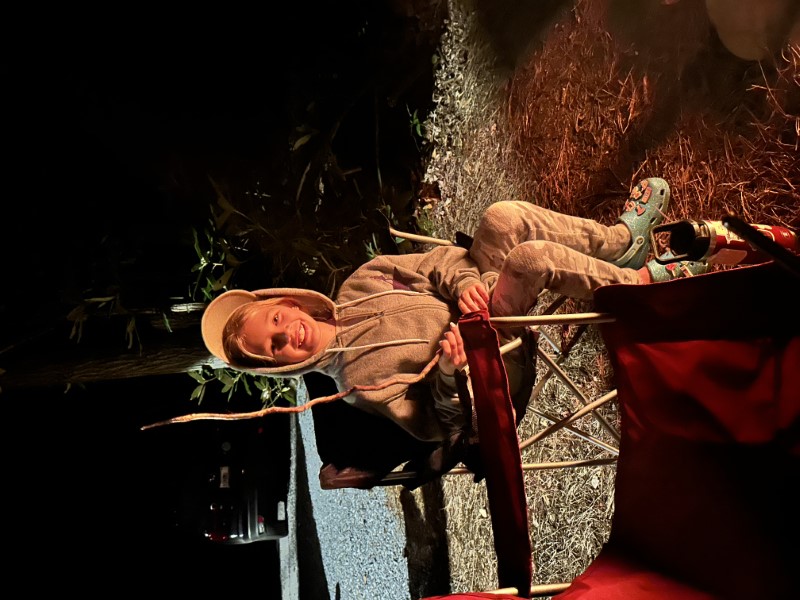 Where is this North Carolina Tiny Home Located?
1037 Newberry Creek Rd.
Old Fort NC 28762
The nearest airport is Asheville (AVL) Airport which is 24.3 miles away.
What is the Food/Drink Situation in Old Fort?
There is a small grocery store called Frisbee's just down the hill in Old Fort where you can pretty much get any food or supplies that you need. There are also some great restaurants a very short drive away including:

How Close is the North Carolina Tiny Home to The Biltmore Estate?
About 45 minutes by car.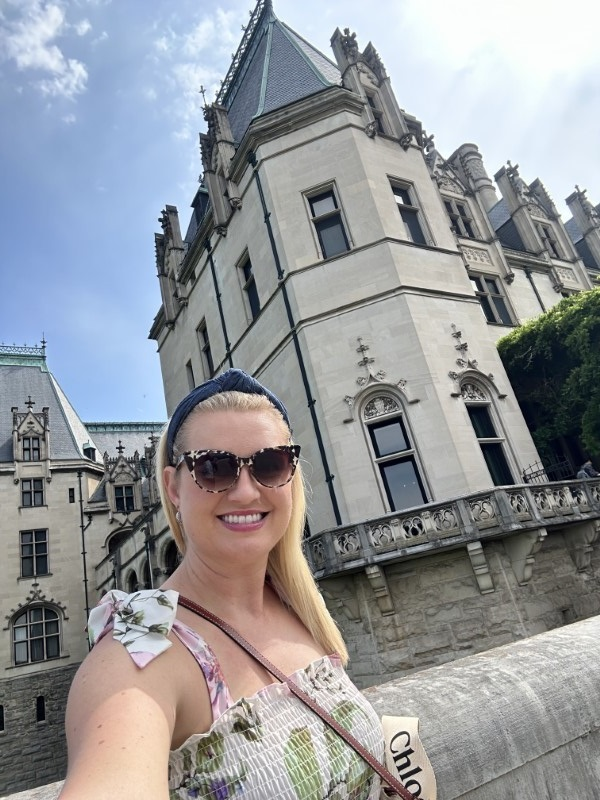 How Was The Biltmore in the Summer?
Visiting The Biltmore Estate in the summer is an enchanting experience in and of itself that will leave you and your family in awe of its grandeur and beauty. I mean, it is America's Largest Home® after all! As you step foot onto the sprawling grounds, you are greeted by meticulously manicured gardens bursting with vibrant blooms. Plus, the elegant façade of the estate is a perfect, picturesque backdrop for your family's Instagram photos.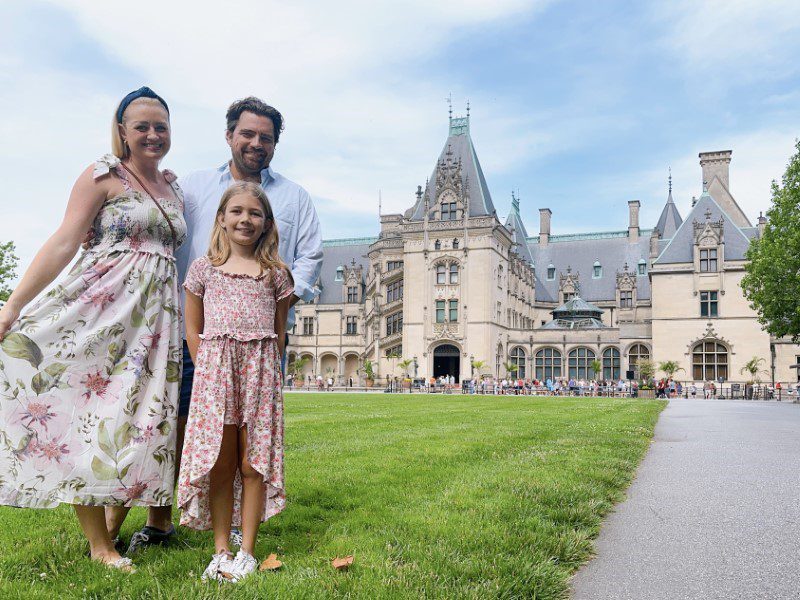 Inside the Biltmore House, you'll feel like you're transported back in time a la Downton Abbey or The Gilded Age as you explore the opulent rooms filled with exquisite artwork, antique furniture, and intricate details. The audio tours offer fascinating insights into the Vanderbilt family's rich history and their extravagant lifestyle. I highly recommend the kids' version of the audio tour with Cedric's Sniff-and-Seek Treasure Hunt. It was entertaining AND educational for our 10 year-old and kept her engaged.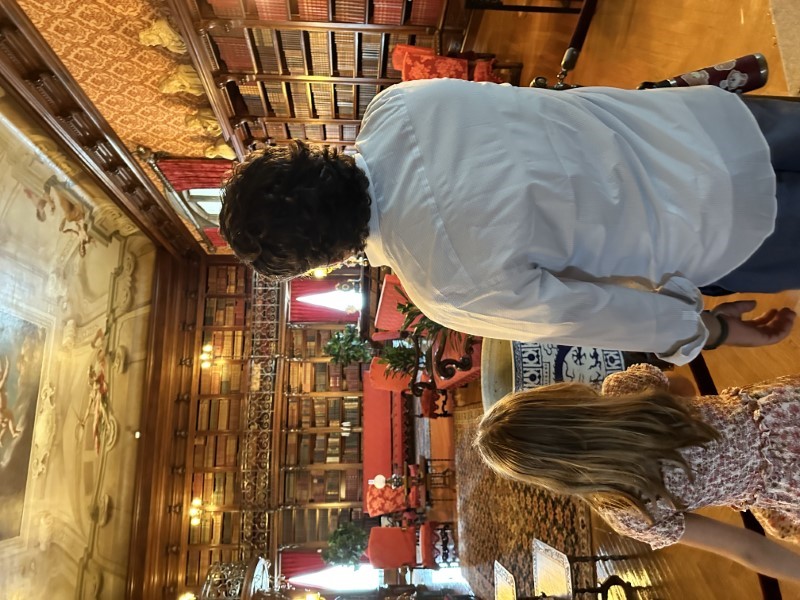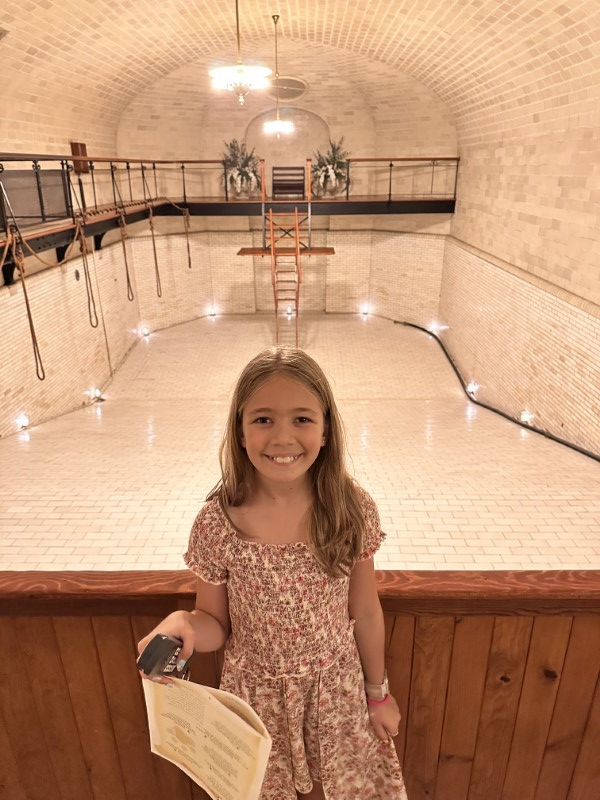 Don't miss out on taking a leisurely stroll through the many, many gardens and along the estate's scenic pathways, taking in the breathtaking views of the Blue Ridge Mountains. The forest you see is actually protected land.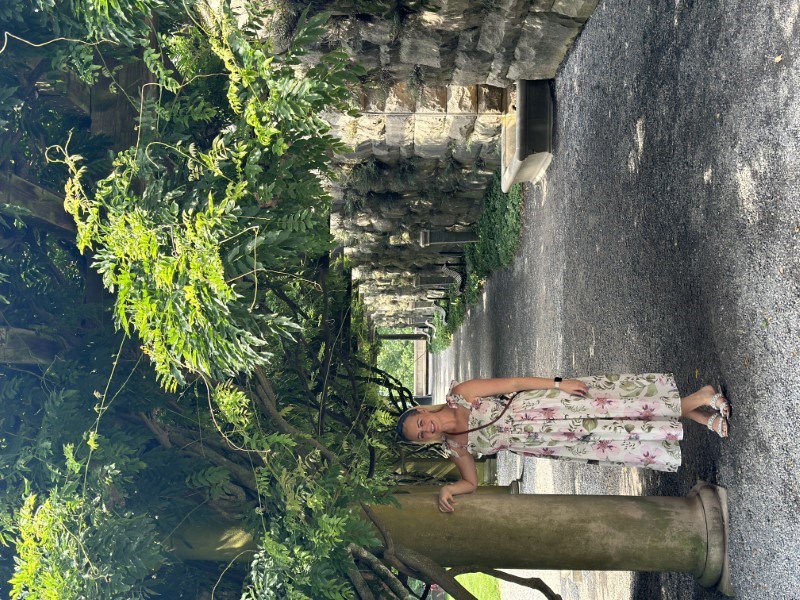 The Biltmore Winery
One of the highlights of visiting The Biltmore Estate in North Carolina for me was the opportunity to indulge in a wine tasting experience at the Biltmore Winery. With a vast portfolio of handcrafted wines, the winery offers complimentary tastings in their Tasting Room. You simply reserve a time slot online when you arrive on property.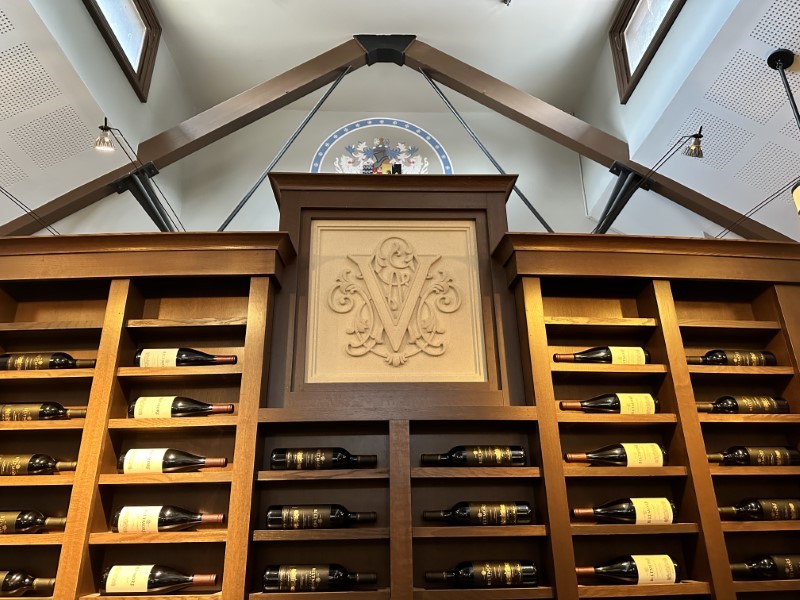 As you sip on the carefully crafted wines, you can appreciate the flavors and aromas that have been meticulously developed. The knowledgeable staff is on hand to guide you through the tasting, providing insights into the winemaking process and answering any questions you may have.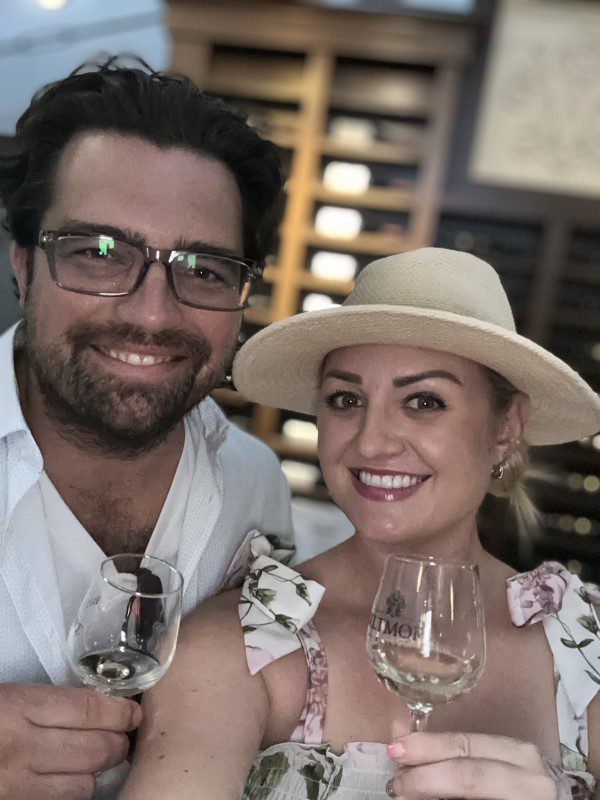 It was a lovely 3 day/3 night trip. I highly recommend renting a North Carolina tiny home if you are looking for an outdoorsy, yet cushy glamping adventure with the family. Now to plan a visit for the fall!