With more and more celebrations moving to "the great outdoors" these days, why not consider hosting a DIY boho pallet picnic for your next party?
All photos by Sweet Memories Photography
This post contains Amazon affiliate links. If you purchase from these links, I will make a small commission. Thank you for supporting MBM!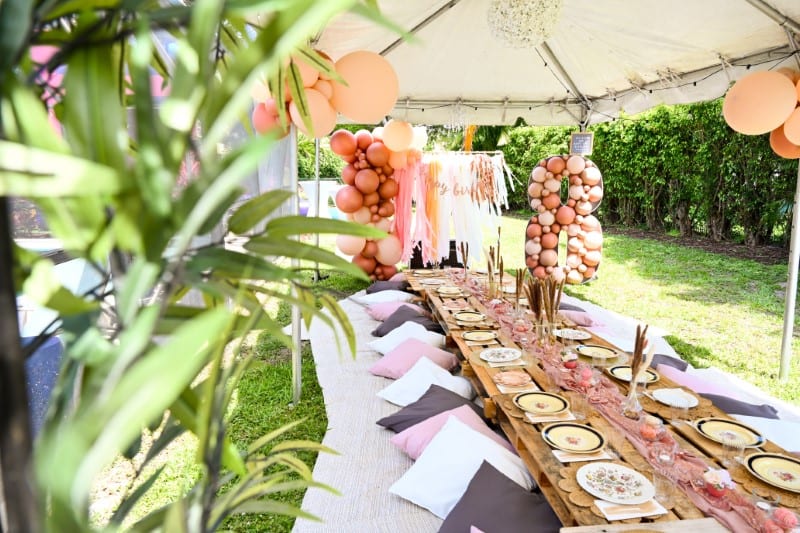 #dailybocaavery's first communion AND 8th birthday fell on the same day, so we decided to go all out with a big party. I wanted to keep guests outdoors as much as possible, so cue the pool, a bounce house from Premier Bounce N' Slide and…a bohemian-style picnic! Here was the caveat though: My husband and I wanted to do everything for this gathering on our own. 🙂
With a projected guest list of 30 people, he was luckily able to source 10 shipping pallets from a local tile vendor for the table. And, I was able to purchase or borrow everything else that we needed.
I'm sharing the complete party supply list and how to's below!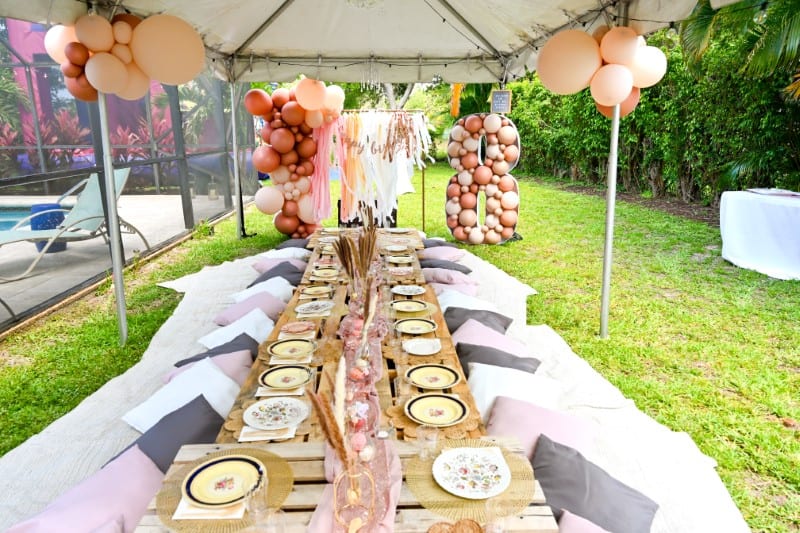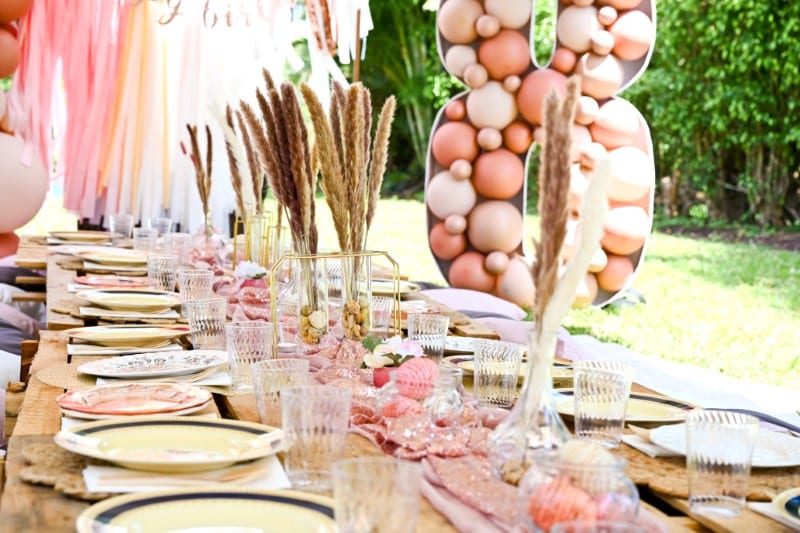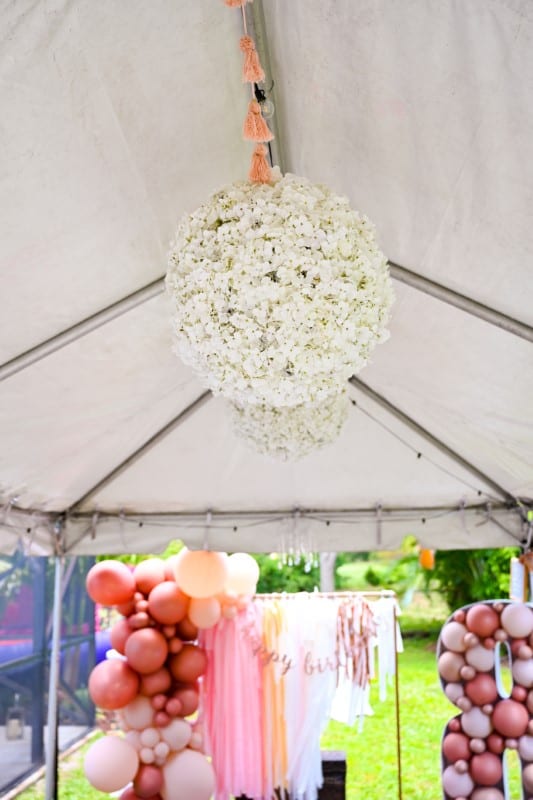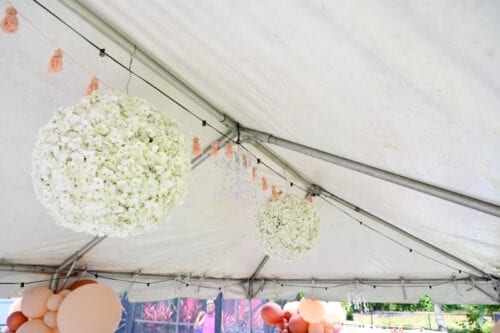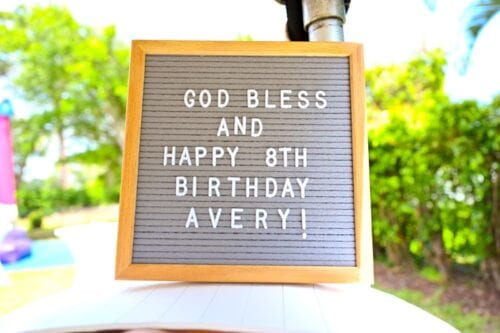 Letterboard Amazon Link HERE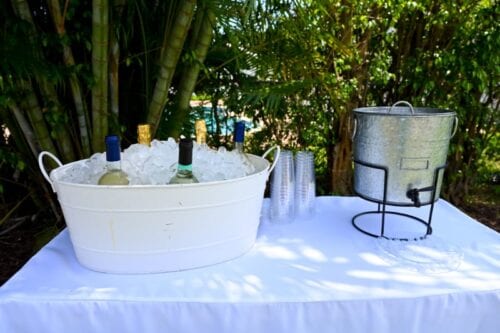 How to Create a DIY Boho Pallet Picnic
Step 1: Create your base and table
First, we purchased 10 rugs from IKEA and layered them under a 10×20′ tent that we rented from Premier Bounce N' Slide. Then, we stacked each pallet by 2 into a long row of 5 (10 pallets in total). That length is enough for approximately 27-30 guests.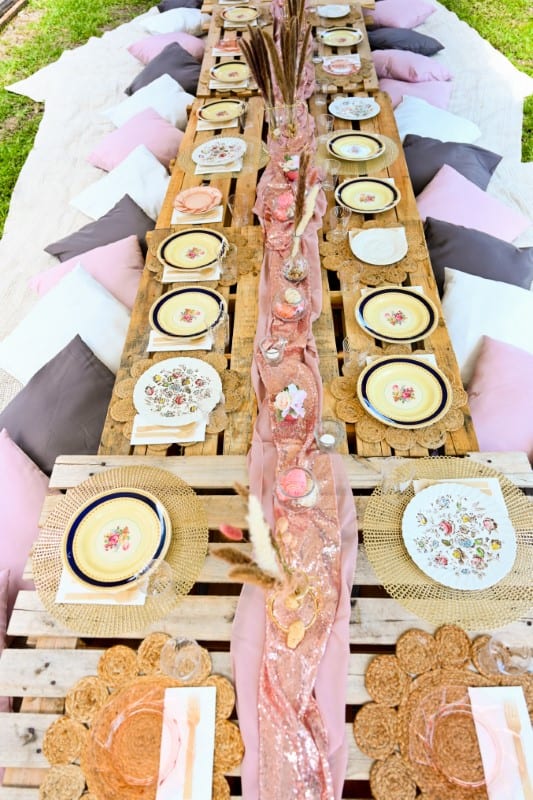 Step 2: Layer your table runners and centerpieces
To get started, I layered two table runners in two different styles from Amazon (3 sequin rose gold and 3 chiffon dusty rose) one on top of the other along the entire center area of the shipping pallets. It looks better if it's a little messy/draped.
Then, I added various sized vases filled with pampas grasses. Not to mention different candle holders with votive candles (mainly from IKEA) and even some silk flowers from the Target dollar spot. You could easily incorporate fresh flowers in your DIY boho pallet picnic as well!
MBMom Tip: If it's windy, add small rocks/stones to your vases to weigh them down!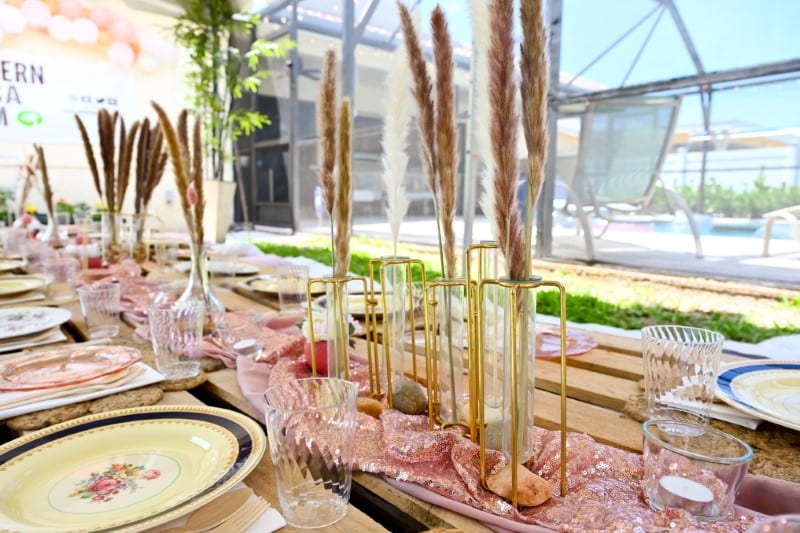 Step 3: Set up your place settings
For our DIY boho pallet picnic, I was lucky enough to borrow my grandmother's china. However, any fun floral placemats/plates/cups/cutlery will do! In addition to the china plates, I used plastic cups, white napkins and bamboo forks and knives.
Here are some suggestions that I found on Amazon:
<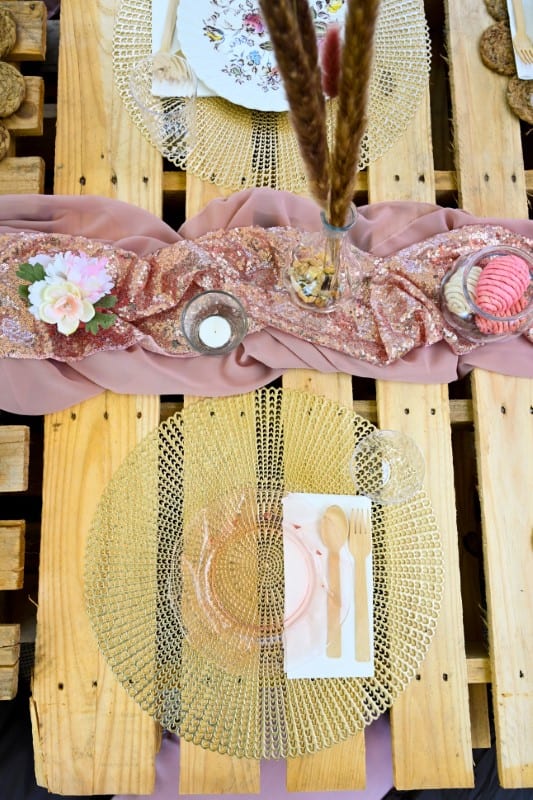 Step 4: Add pillows
I bought 30 of these pillows from IKEA in a mixture of pink, white and grey. They did the job and were very easy to wash after the party! So were the rugs, by the way…everything gets pretty dirty being on the ground (plus kids)–so fair warning!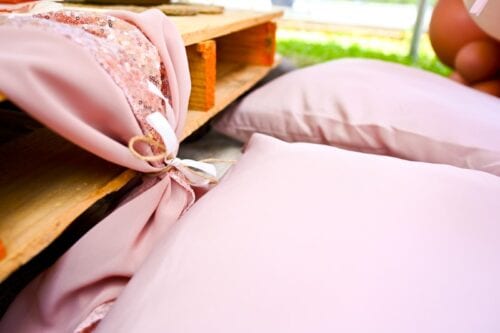 Step 5: Incorporate balloons and a backdrop
At first, I planned to DIY a balloon garland once a friend (thank you Ania!) lent me an awesome arch she created using copper pipes and vinyl fringe. HOW TO MAKE A DIY COPPER ARCH.
The rose gold "Happy Birthday" sign I used is available HERE. 
Luckily Aquarelle Event Decoration stepped in to partner with me after she saw what I was planning on Instagram and created these balloon masterpieces instead. I started squealing and clapping when I saw the 8! Everything she made was so lovely and looked unreal and amazing in Sweet Memories' photos. Thank you Liz!
Contact Aquarelle Event Decorations by filling out this form. You can also find and follow her beautiful work on Instagram.  #partner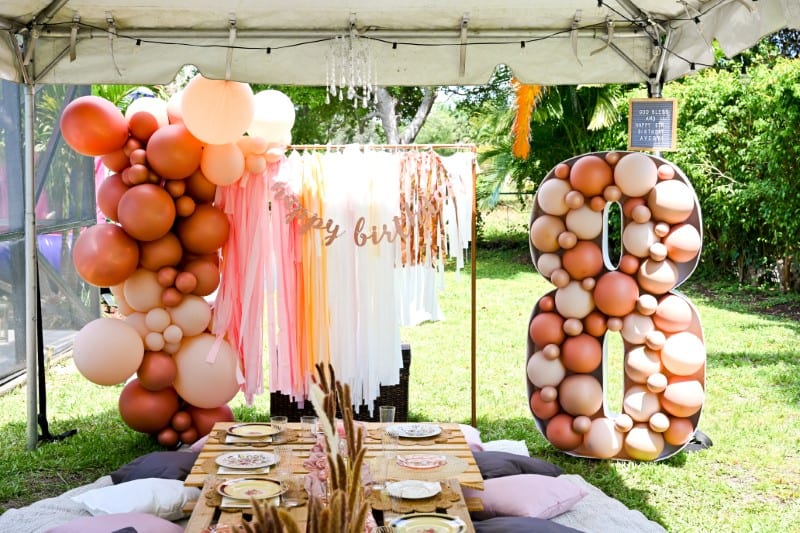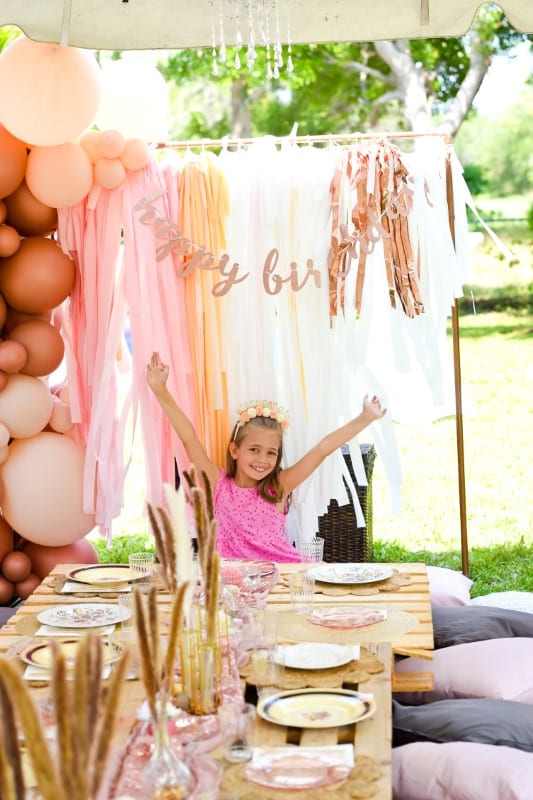 ---
Food & Entertainment for a DIY Boho Pallet Picnic in Boca Raton
We partnered with Chicken Salad Chick for picnic lunch part of the party and had them do the majority of the catering…with a few Publix platters thrown in for good measure. Everything was easy to eat and absolutely delicious!
Who knew chicken salad could be made and served so many different ways? And don't even get me started on the Chocolate Crispy Bites…yum!!!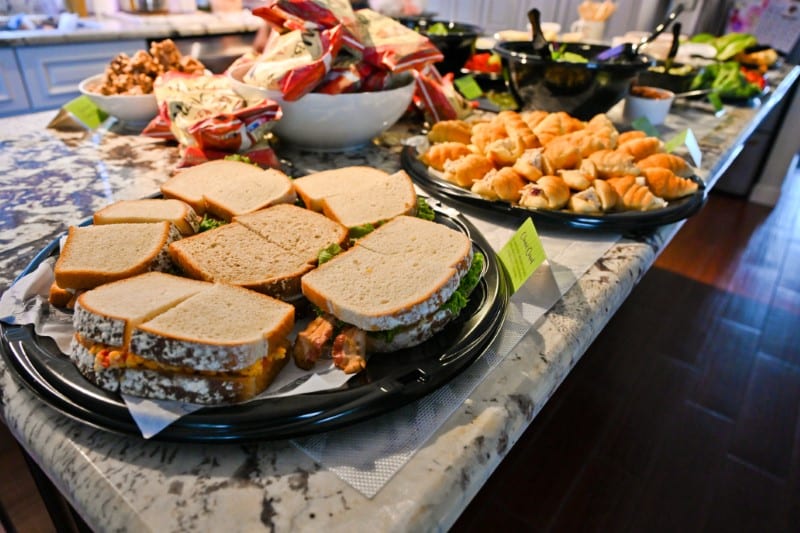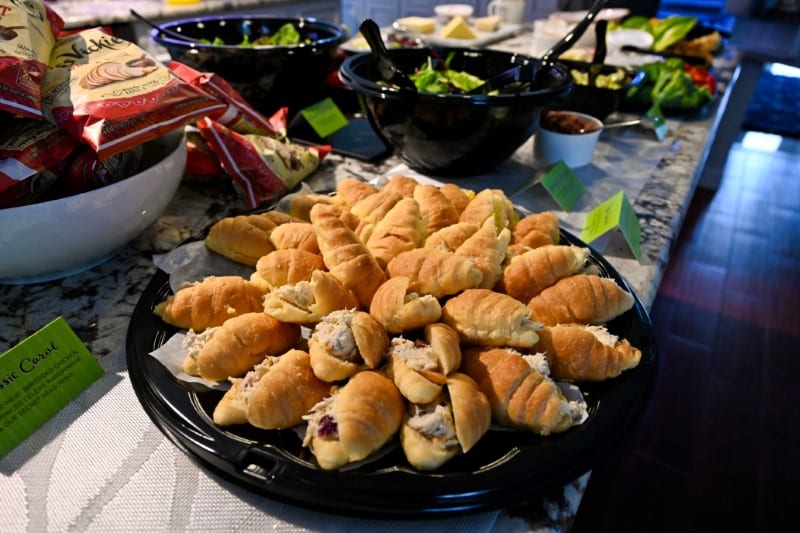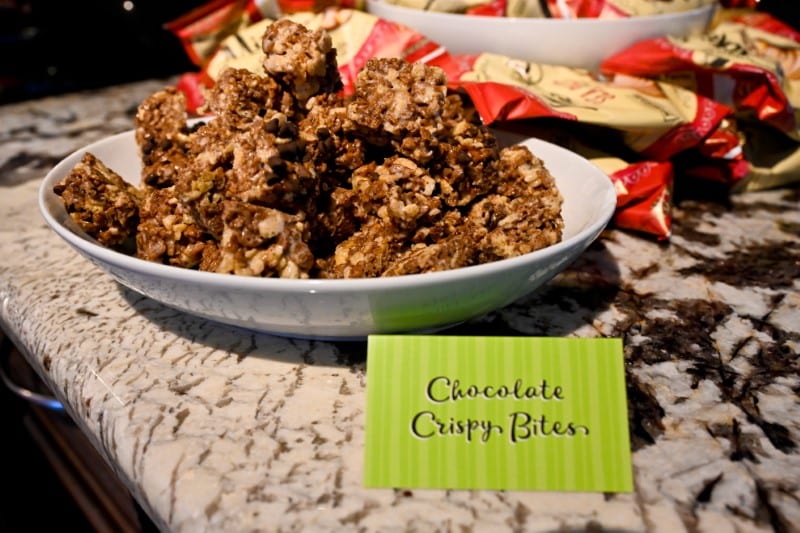 Flower Cupcake Arrangement by Brandy's Bites
I hate having to cut and serve a cake in the middle of a party. Cupcakes are easy to hand out and clearly can be styled in so many ways. Look at this beyond tasty masterpiece by Brandy's Bites!
Plus, she delivers!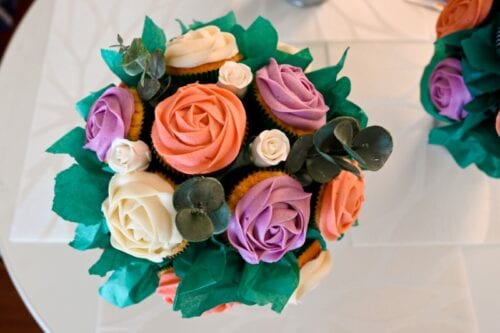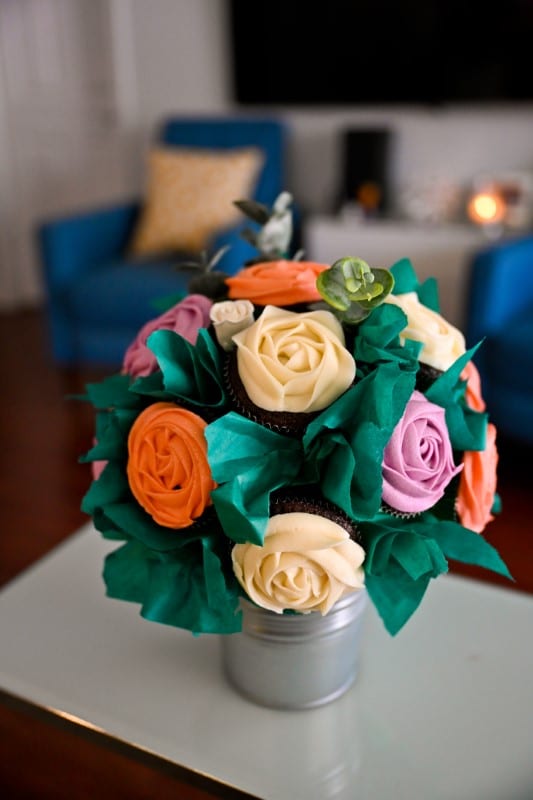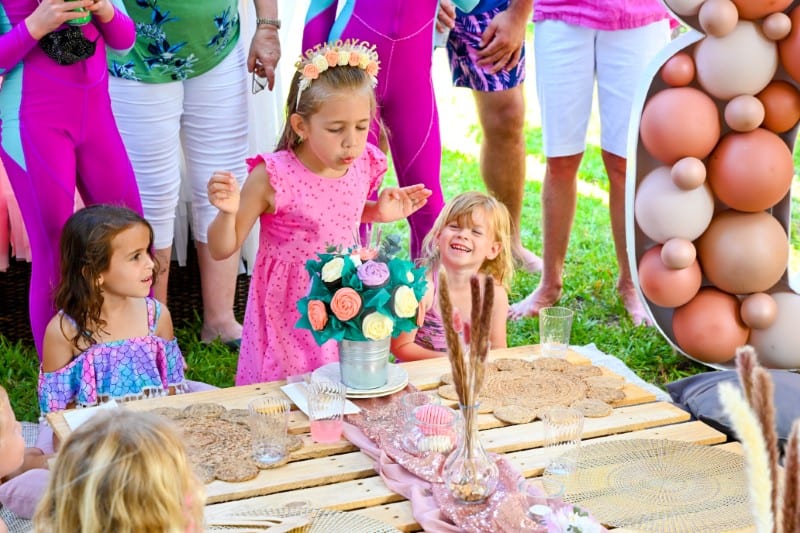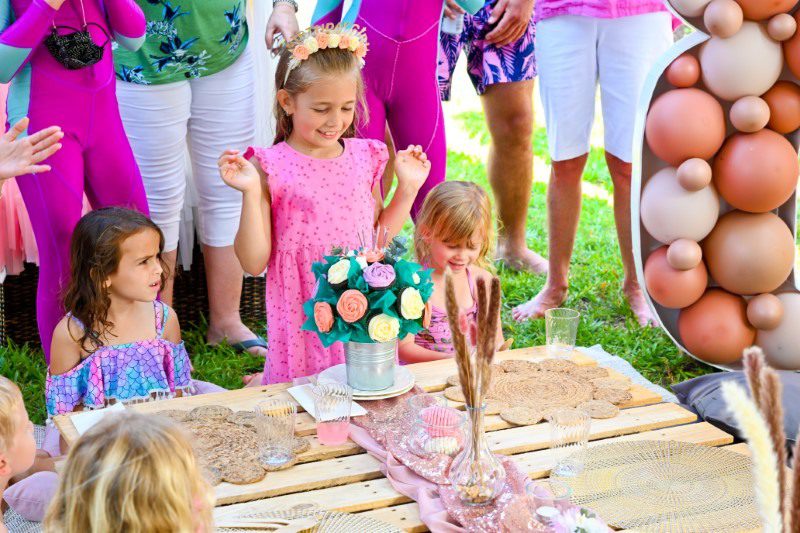 Cookie Favors by Sugar Cookies by Anne
I knew I wanted a creative (and delicious) party favor, so I reached out to Anne of Sugar Cookies by Anne on Instagram. I decided to let her have free reign to design her amazing confections for the party. All I had to do was share some photos of the party decor and she was off to the races! Look how cute theses boho cookies turned out!
And yes, they were VERY tasty. Highly recommend this local vendor. She also delivers!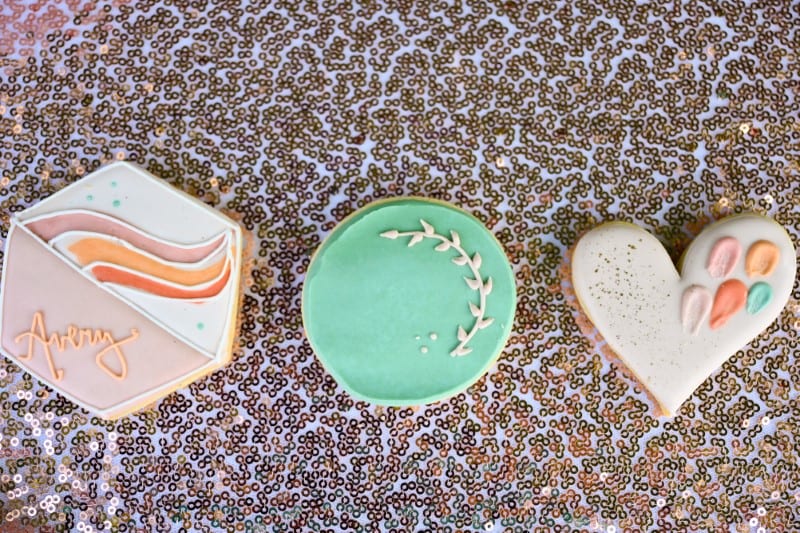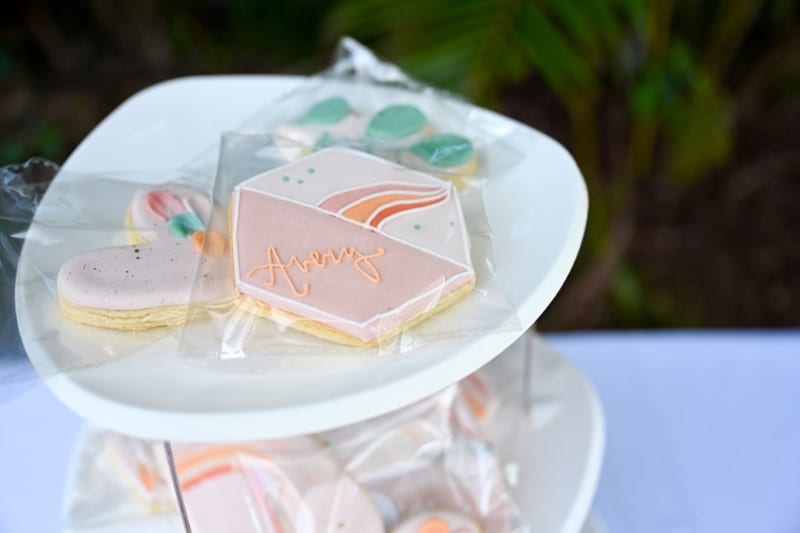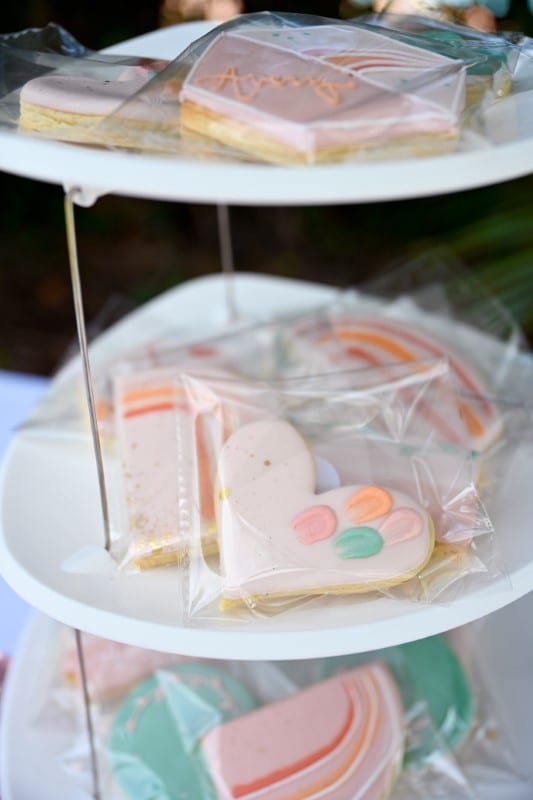 We are lucky enough to have a pretty good sized backyard next to our pool and patio. So, in addition to the tented DIY boho pallet picnic setup, we ordered a Disney Princess bouncy castle from Premier Bounce N' Slide. We use them for EVERYTHING! Love this local business. Their service is impeccable.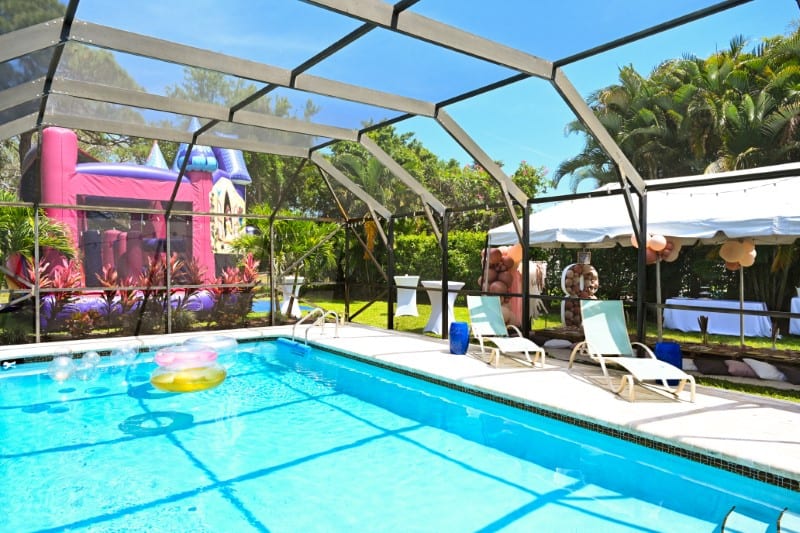 Can I tell you how happy I was that my big 8 year-old still wanted a sweet Disney princess bounce house? It made my heart swell.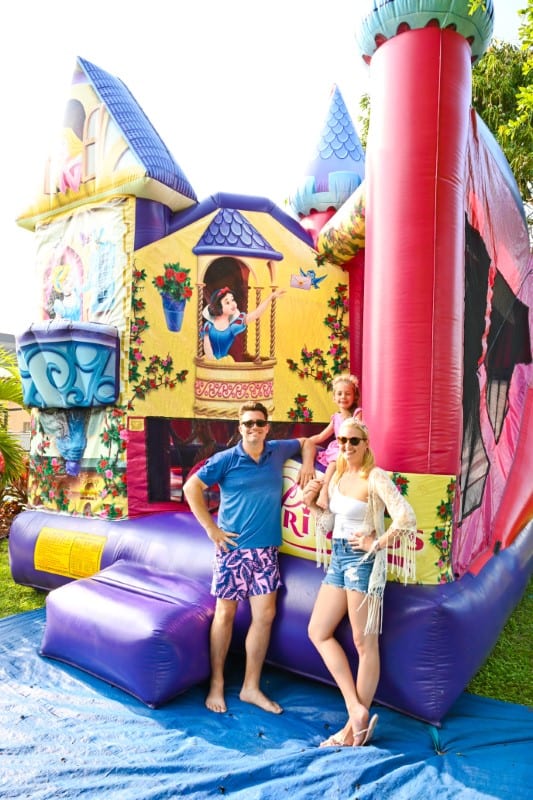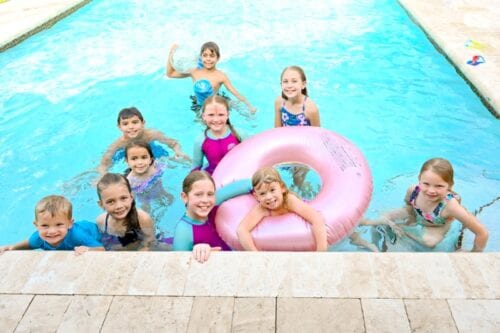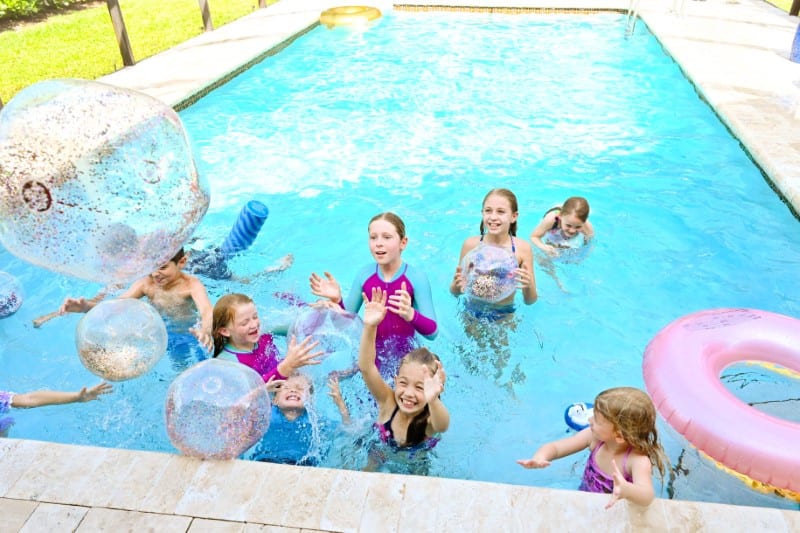 Live Music
I work at a local school and was able to hire one of our amazing Upper School music students to play acoustic guitar for us during lunch. Special thanks to Steven B.J. for coming out to entertain us!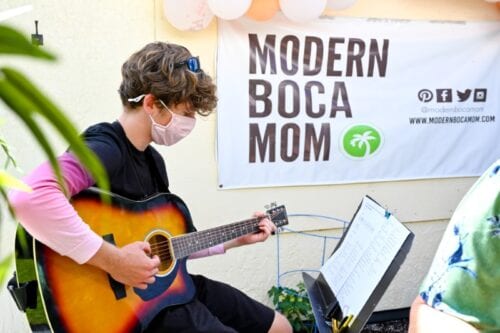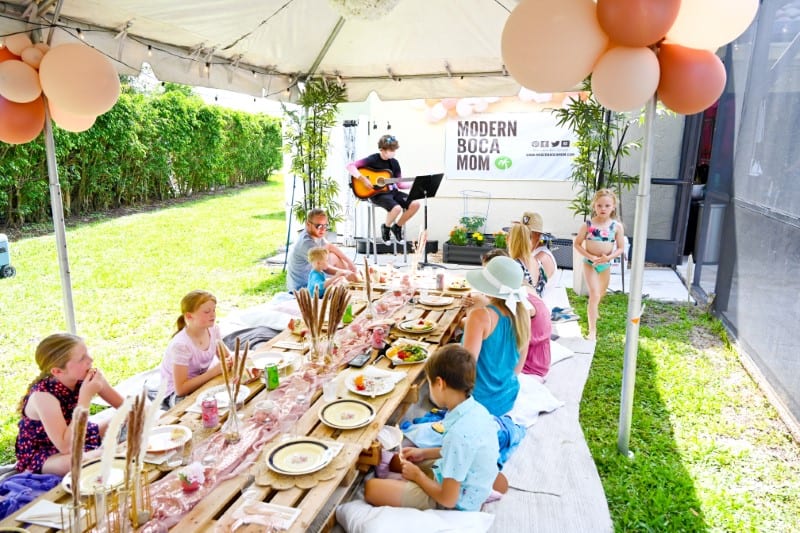 This may have been the most intense, yet epic party we've thrown at our home to date. I am pretty proud of our family! And, I'm even more excited that we were able to sell most of the items from this party on Facebook Marketplace to another local mama who will be using it for her baby sprinkle. Love that!
I also want to send out a special thank you to Naomi from Sweet Memories Photography for flying to Florida for this big weekend and capturing our family memories. MISS YOU!
But mostly…Happy Birthday and God bless you, #dailybocaavery!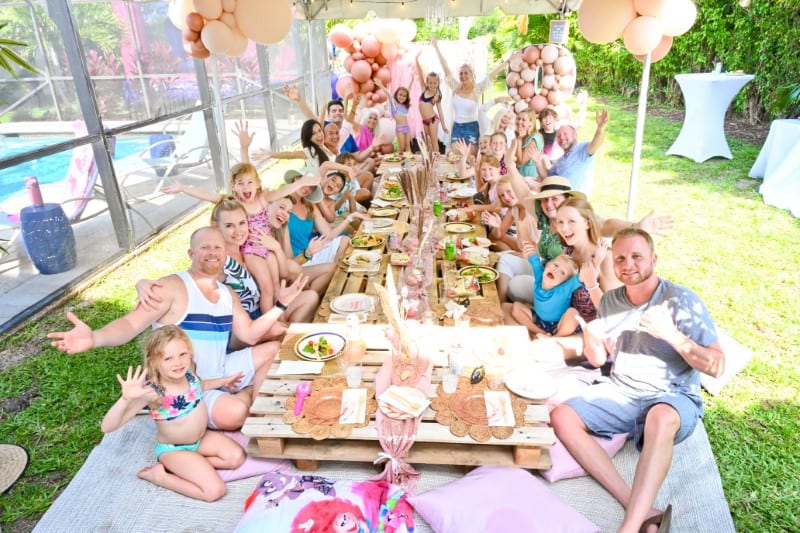 ---
Pin for Later!