Since the day #modernbocadad and I moved into our "forever home" in 2013, we wanted Boca Raton patio and pool makeover. Everything was built in 1981 and while our ages may be comparable, it was in much rougher shape initially.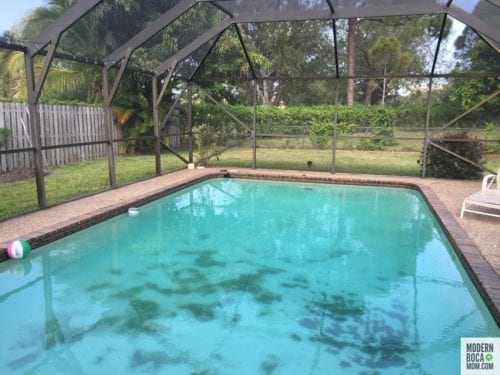 See all those spots? No matter how hard we tried to clean them, black algae would constantly settle in, especially during the hot, summer months. The pool's surface had worn away in many places due to its age and, in my opinion, was an eyesore considering it was a focal point of our house. Don't even look at our yard. That was a completely different makeover…
Part 1: Pool Resurfacing
In 2016, we solicited several bids for the resurfacing project and decided to work with Lee Johnson of Johnson Pool Plastering (954-804-5731/johnsonpool57@gmail.com) because they agreed to try to rehab the existing tile around the border of the pool. I loved it– it was retro! And, it was in surprisingly good shape despite a few missing tiles (which they happily replaced).
I was in this project for the long haul, thinking the pool resurfacing process would take several days or weeks. It was done in less than 72 hours.
Johnson Pool Plastering drained our pool overnight, gave it a little chlorine bath and scrubbed away the algae. Then, they re-grouted all of the tile and replaced the fittings around the jets and drain and patched potential crack/leaks.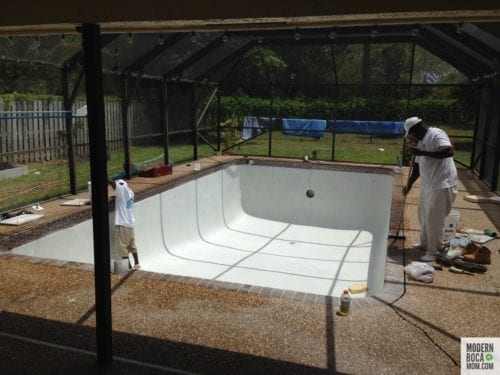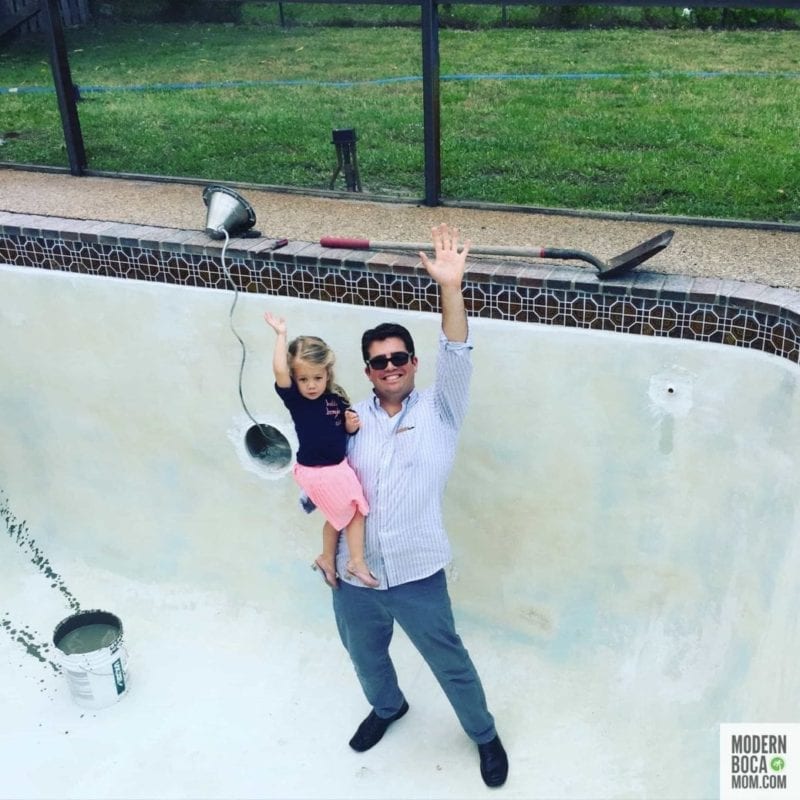 By the end of the first day, a bonding coat was applied to the pool and we were waiting for it to dry. Watching this process was better than HGTV for us.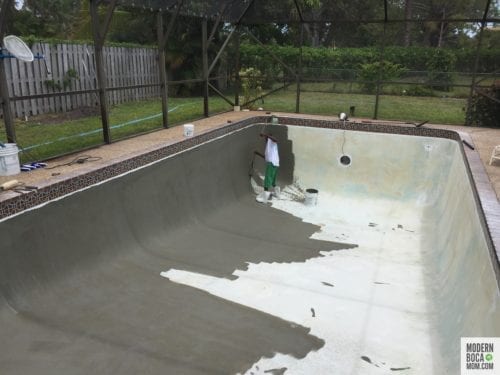 On day 2, they applied the surface we selected by hand. We selected Blue Gem. Cool huh?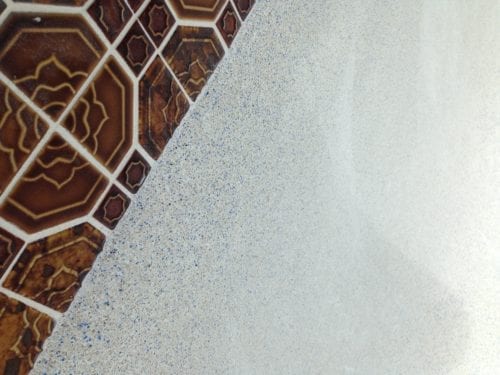 The end result? Beautiful.
Johnson Pool Plastering did amazing work. We hired a pool cleaning service to take care of the pool for the first several weeks. A new surface needs to be brushed a lot at the beginning and we didn't want to take any chances. It was a good investment.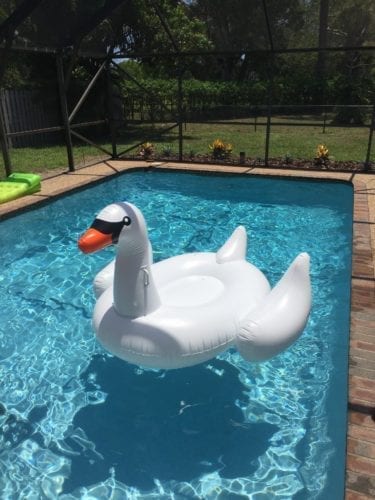 ---
Part 2: New Pool Deck
Once we had the pool finished, we toyed with the idea of redoing the deck as well (according to Lee, "everyone in Boca is doing travertine"). But, we ended up budgeting for it for fall 2019 instead.
And luckily, our pool screen enclosure was still in good/great/excellent shape, so we didn't have to do anything there besides the occasional screen replacement. My hubby, Handy Andy Boca, handles that and I have a local vendor on speed dial in case he can't (i.e. the really high ones).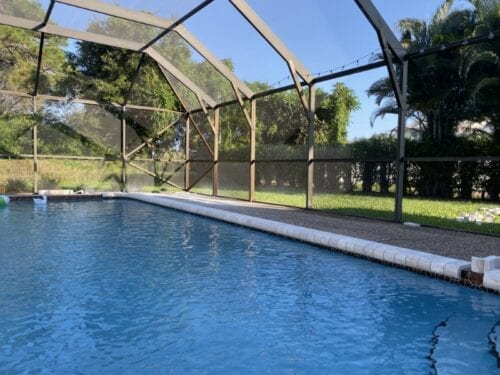 We received a couple quotes and chose to work with local company Wing Services Inc. (Rodney Wingester/954-520-4410) for this portion of our Boca Raton patio and pool makeover.
Travertine (yep, we're so Boca) was our material of choice and we chose to have it installed in a herringbone pattern RIGHT ON TOP of the existing deck. The coping is cemented over the edge of the pool and the rest of the pavers are secured in the pattern over modeling sand. That way, if one sinks or moves out of place, you can simply pull it out, smooth out the sand and put it back.
We also needed to make sure we had the drain replaced in between the covered part of the patio and the deck since pool and rain water tends to flow that way.
With new patio furniture coming via an ongoing partnership with Outer, I didn't want to take any chances! More on that shortly, but back to the deck…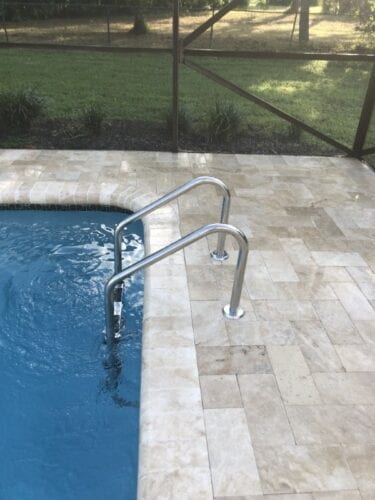 I also made sure to have a ladder installed in the deep end because of kids. Believe it or not, we purchased it right on Amazon and Wing Services simply installed it!
And how about this before and after? Bye bye Chattahoochee stone!!!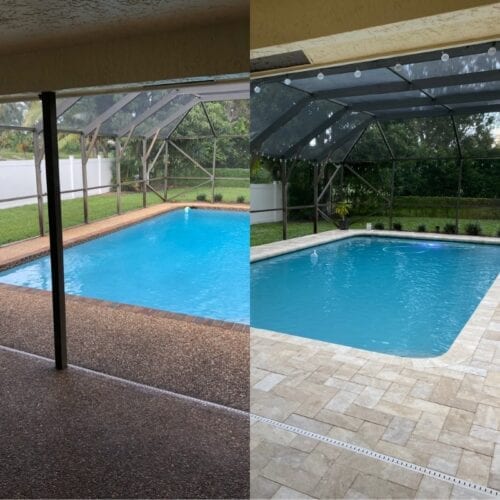 I fall more in love with it every day.
Part 3: Patio Furniture Makeover in Partnership with Outer
With a beautiful new deck, it was definitely time move forward with a little Outer patio furniture makeover…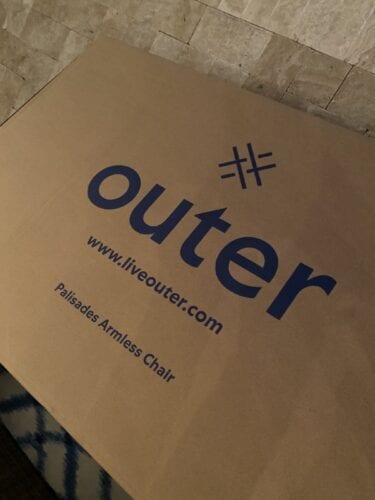 Outer (www.liveouter.com), an outdoor furniture company based in California, reached out to me about potentially becoming one of their Neighborhood Showrooms. They were expanding to the "Sunshine State" after hitting it big on Shark Tank and since they only sell their furniture online, they invite customers to make an appointment to visit a local Neighborhood Showroom to touch/feel/see their modular products in person versus a retail store. Pretty cool, right?
I jumped on the opportunity. Talk about motivation to get the patio in tip top shape!
BEFORE (2016)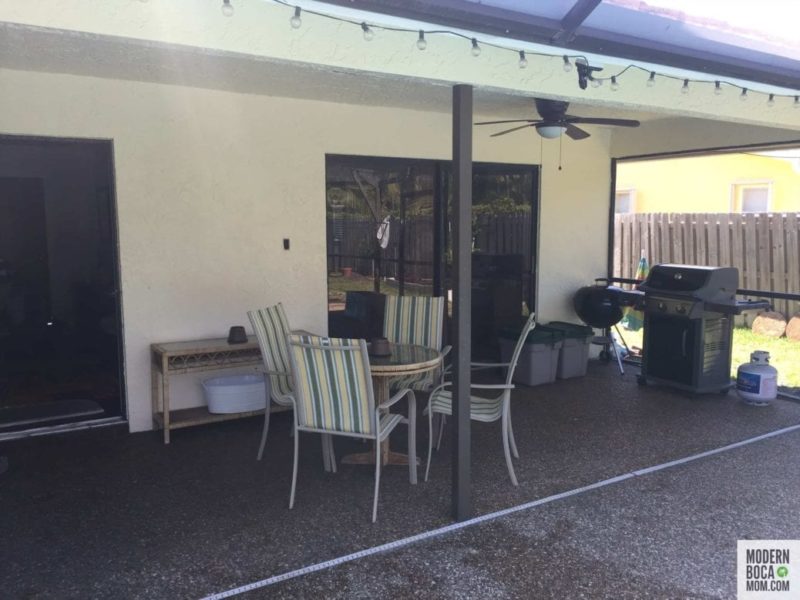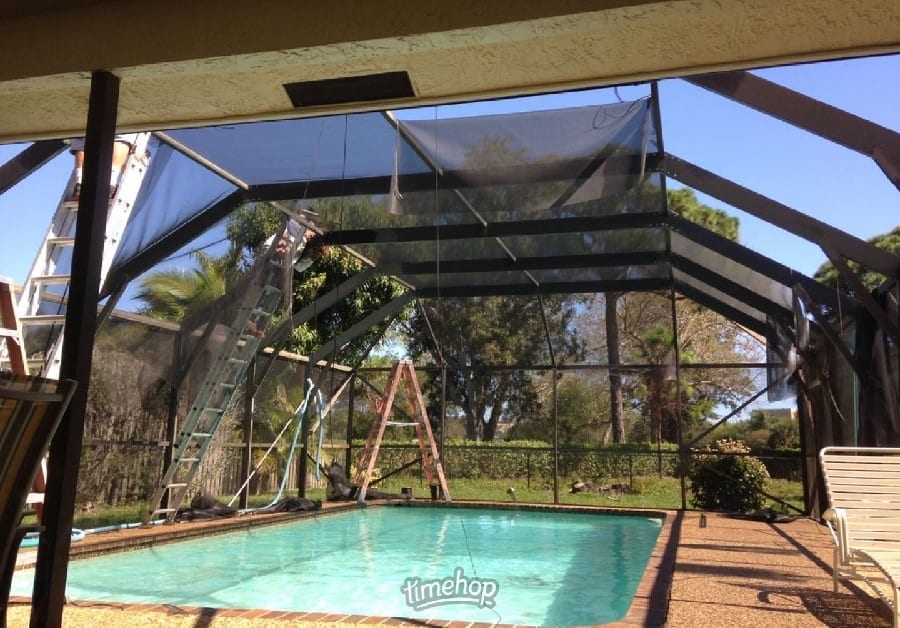 This 2016 Boca Raton patio setup did the job, but it was very basic. We inherited the wicker pieces from my parents and purchased inexpensive chairs and a nice grill at Home Depot when we moved in. I was just getting my business off the ground and had no budget.
AFTER (2020)
Photos courtesy of Outer patio furniture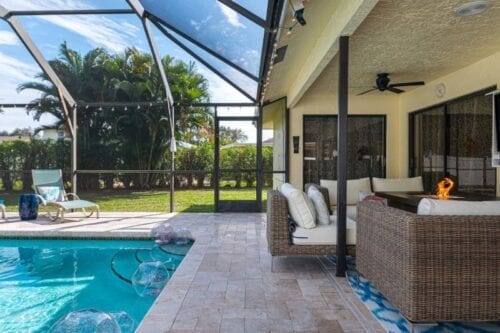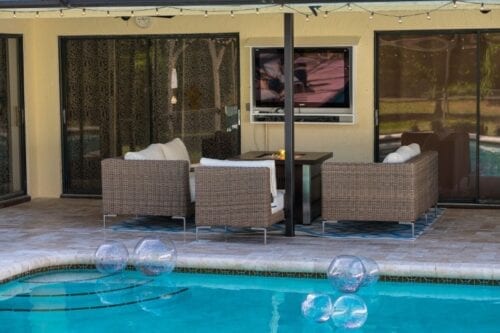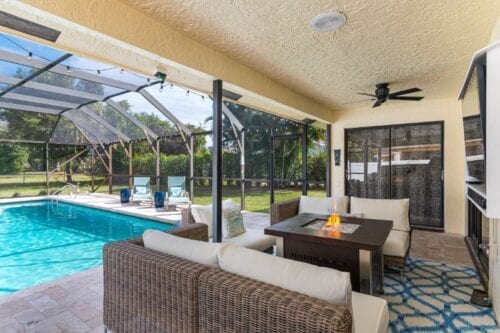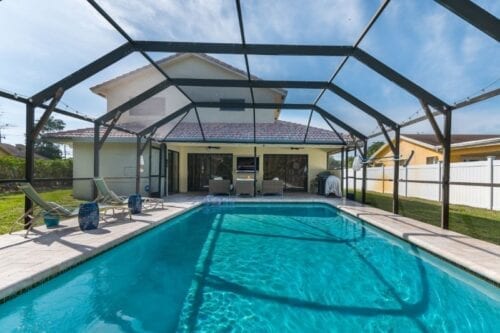 What do you think?! Amazing, right?!
Believe it or not, Handy Andy Boca built, painted and hung the outdoor TV cabinet himself. It's basic plywood! We purchased this mount on Amazon.com and hung the TV, so you can watch it from anywhere on the Boca Raton patio.
And we LOVE our Outer patio furniture!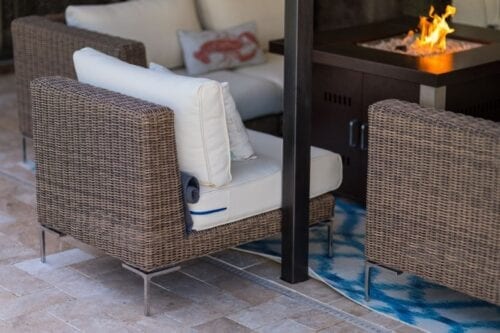 We went with the white cushion covers– they're machine washable and stain-resistant!
The water-resistant Outer shell is so easy to roll over the cushions to keep them clean and dry.
Did I mention the cushions are memory foam? So cozy! We plan to shift the current setup to a sectional during the summer, so we can face the pool and watch the kids swim.
I really wanted a nice rug that would make the blues of the pool pop. We even purchased a propane fire pit (this is pretty close to the one we have) that we use a lot during the winter.
And since my husband is from Maine, it's always "the summer of lobster" at our house, so I grabbed some cute lobster throw pillow covers to decorate our lounge chairs. I also snagged these adorable blue accent tables.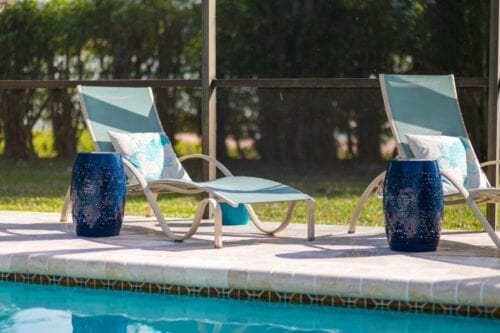 And who could forget these sparkly glitter beach balls featured during our Outer Boca Raton launch party? They are also from Amazon.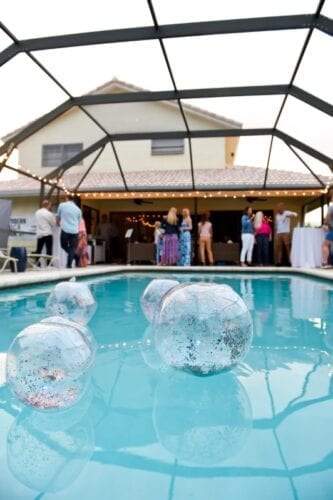 Now it's onto our next project… I hope you enjoyed our Boca Raton patio and pool makeover. We certainly plan on spending ever spring and summer going forward OUTDOORS!
And be sure to make an online appointment to see our Outer patio furniture and outdoor makeover in person! We'd love to have you.
---
This post contains affiliate links. If you click and purchase some of these items, I may be compensated. Please see this site's Disclosure for details.
We partnered with Outer patio furniture to help create their first Boca Raton Neighborhood Showroom. We will be compensated for showroom appointments made with us. Modern Boca Mom was also gifted a 5-piece Outer sofa for our Neighborhood Showroom as well as ongoing Modern Boca Mom promotion.
---
Pin for Later!