If you've read Modern Boca Mom for some time, then you're probably familiar with the fact that my husband, Handy Andy and I have been renovating our east Boca house for about…say…7 years now. We love a good home improvement project, but have been primarily focusing on interiors and our pool/patio. #priorities Being at home since March, however, I could clearly see that our front and backyards were craving a little TLC. They were in desperate need of an artist, a landscape designer to take them from drab to fab! Finding affordable landscaping in Boca Raton is no easy task, but I found a great company, mamas.
I am so thrilled to introduce you to Yards Plus and it's founder, Sayeed Aljamal, who I partnered with for this home makeover project!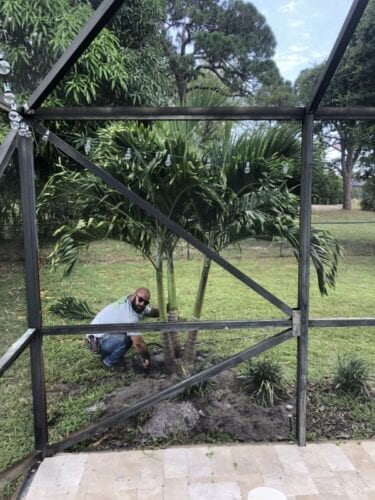 Yards Plus is Palm Beach County's premier landscaping specialists. Serving Boca Raton, Boynton Beach, and Delray Beach, they specialize in providing complete landscape planning, design, management, renovation and maintenance services.
They did a fantastic job on our yard. I have been especially thrilled with the customer service and post-project text follow up to make sure everything is going…er GROWING…ok! 
The Before Pictures
7 years ago, our house was pretty much a wreck. Everything needed to be done to it (just look at our pool cage!!!), so we had to prioritize our time and budget.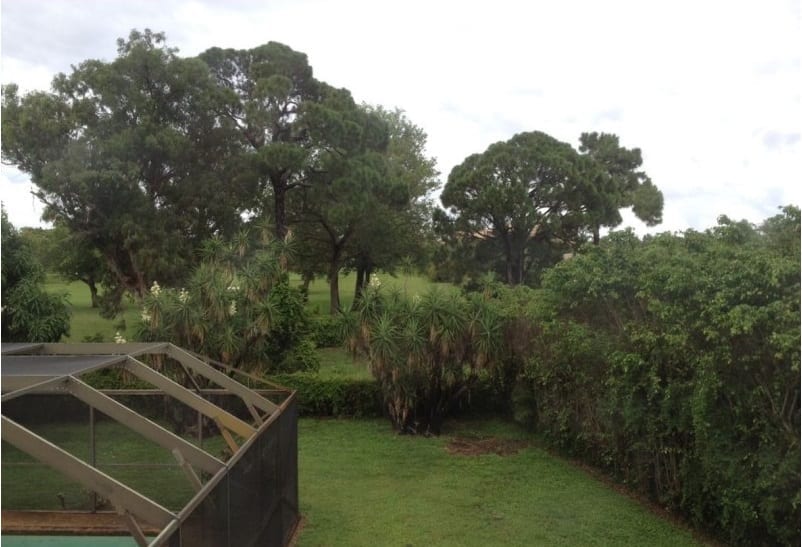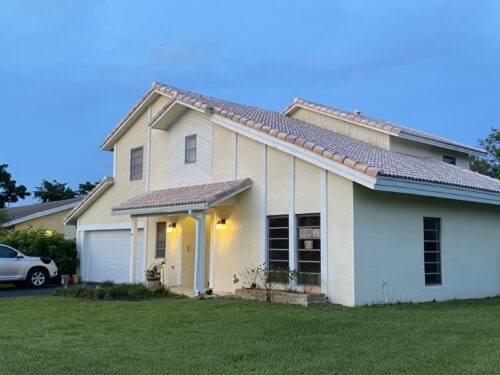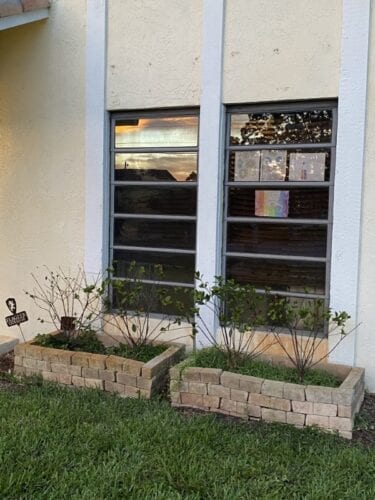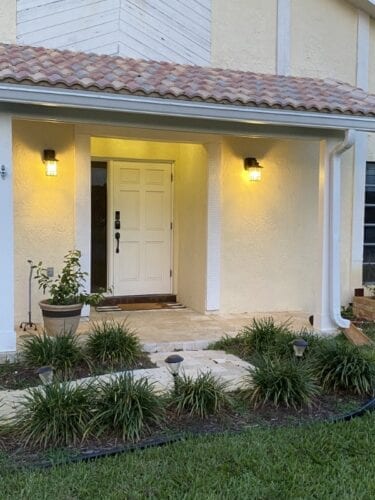 We definitely improved the front yard simply by adding new pavers to the entryway and an updated garage door. And, believe it or not, those DIY planters looked pretty good once upon a time! But now it was time for a change…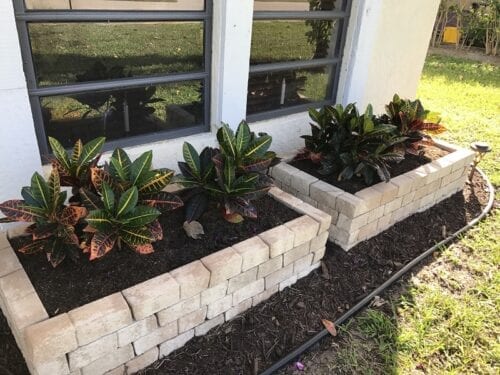 The Yards Plus Process | Affordable Landscaping in Boca Raton
Sayeed came by to discuss our vision and what we did and didn't like in terms of plants and ground cover (mulch, rocks, etc.). I have no idea what any plants are called, so I showed him pictures of what I liked from neighbors' homes and Pinterest.
We also talked about the cleanup we needed (ficus trees stink!) and any potential materials we could re-purpose in the new design. Believe it or not, those DIY planter bricks ended up becoming the border in our front yard design! And, we were able to re-use rubber edging from the front yard for the feature at the end of our pool enclosure. These types of hacks really help make affordable landscaping in Boca Raton actually affordable!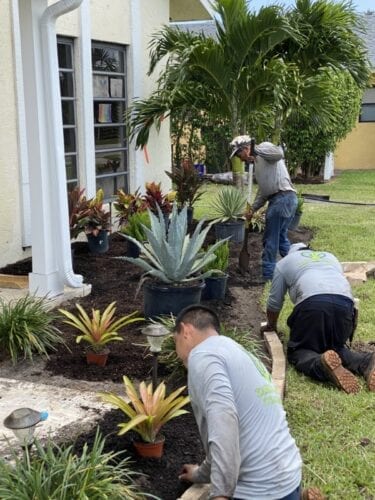 After your meeting, Yards Plus will send you a rendering of your landscape design (for a fee) and an estimated cost for services. I trusted that Sayeed knew how to make our yards beautiful, so after reviewing the line items and working out a budget, we moved forward and set a start date.
Spoiler alert: Yards Plus completed our project in a day.
The After Pictures
Just look at these improvements!!!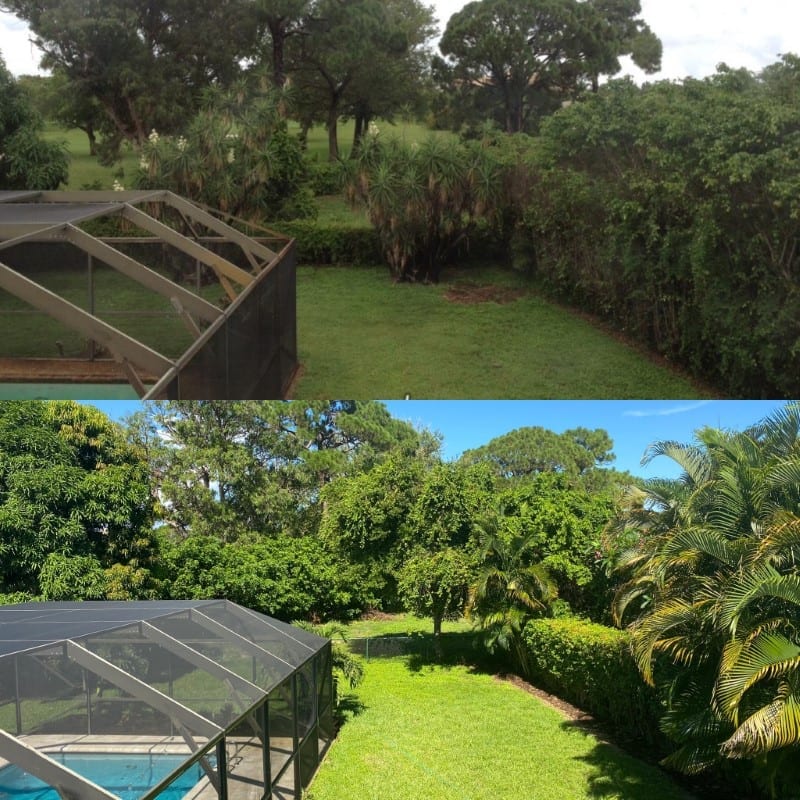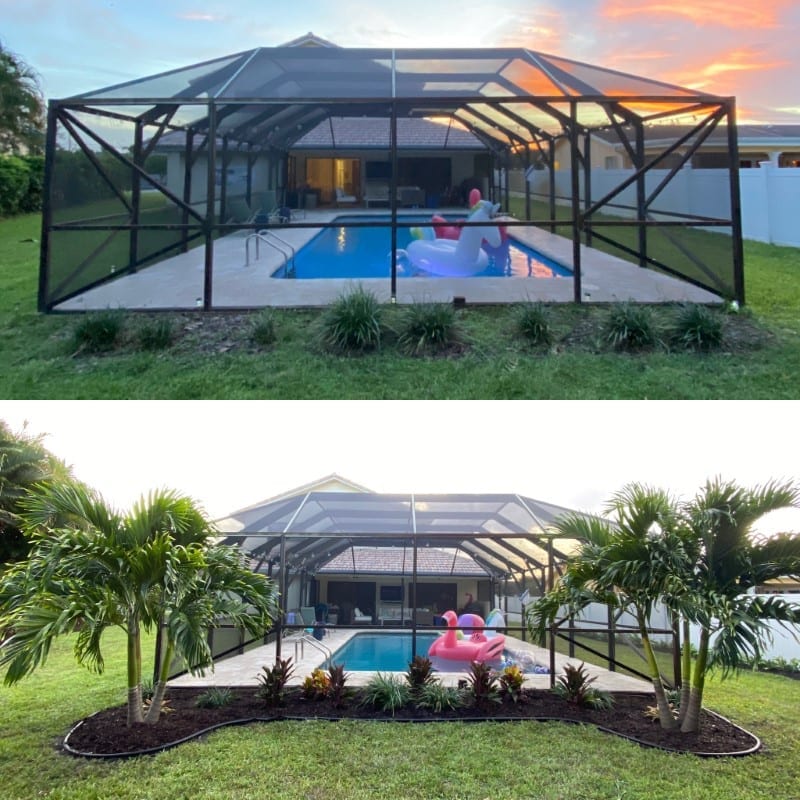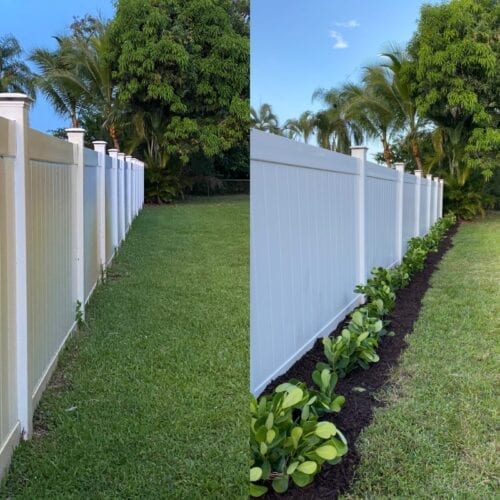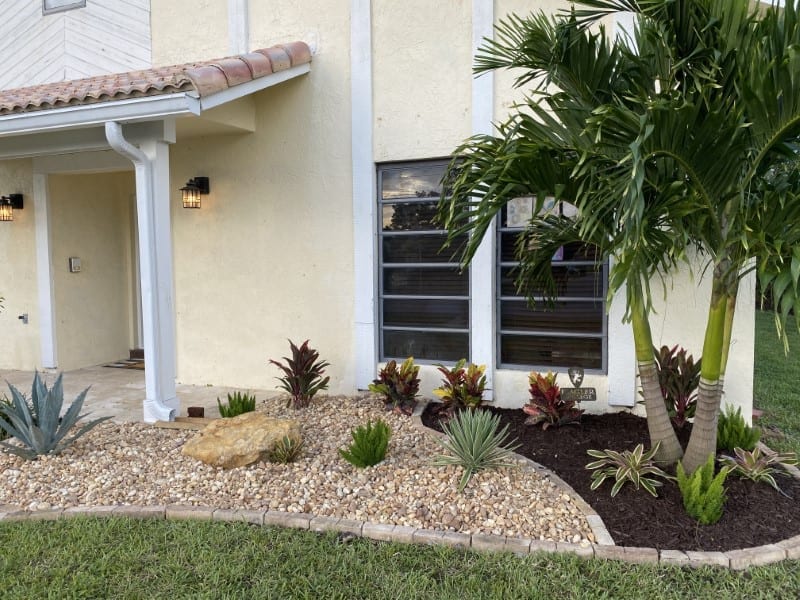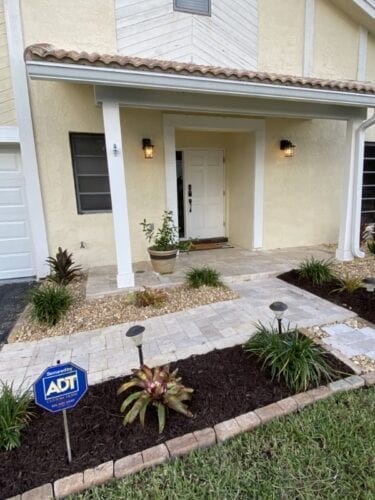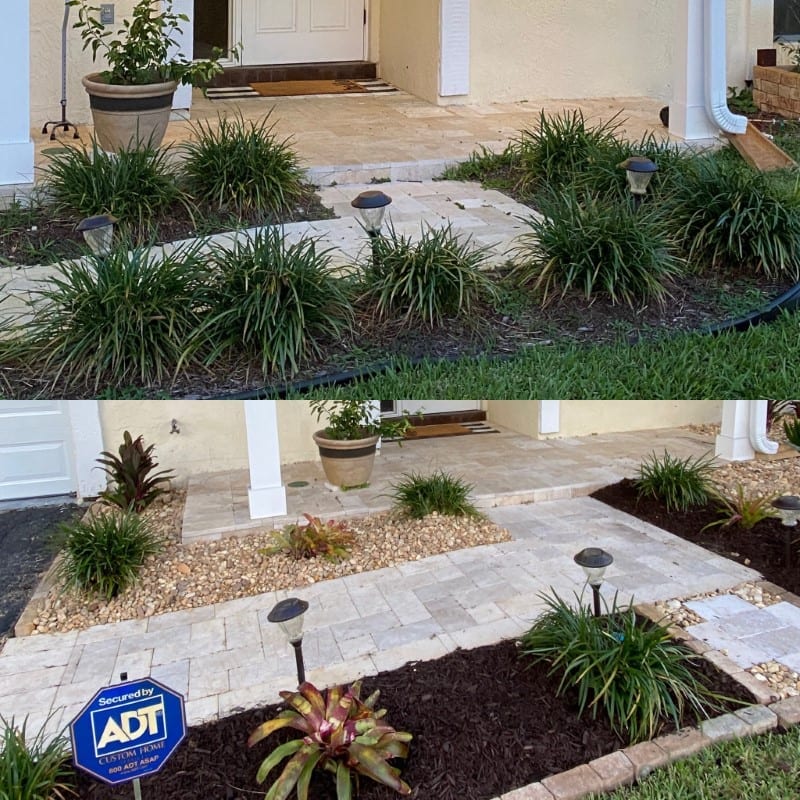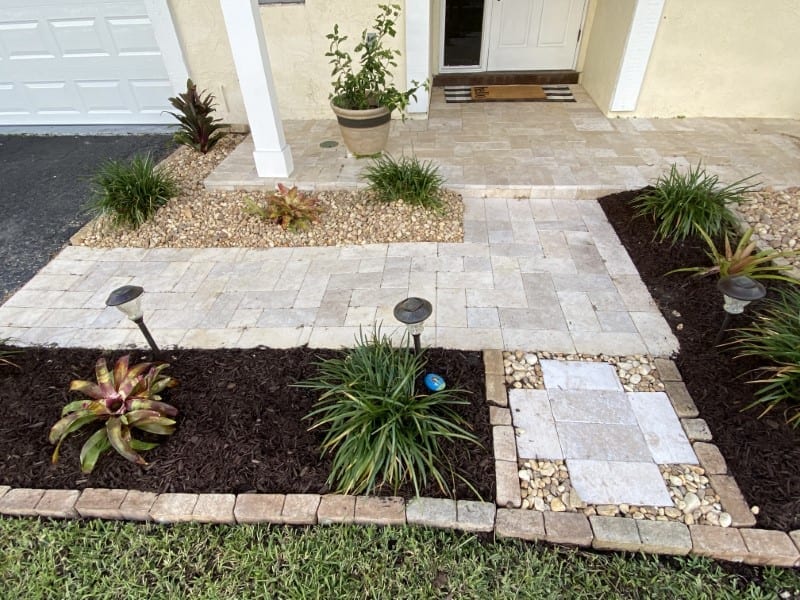 I couldn't resist adding a little stone pass-thru from the grass! I know my Amazon delivery drivers already use it a lot, 😉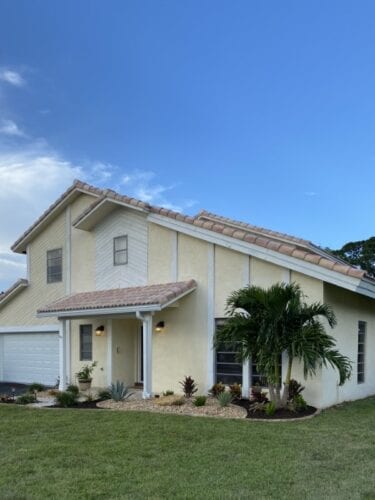 We are so pleased with the results! I still can't believe this is what I see when I drive up! And there's plenty of room to grow! Thank you Yards Plus!
Landscape Lighting
Once all of the plants and trees were in, of course I had to make sure they'd be seen at night! I decided to dabble in the field of landscape lighting design and did a ton of research (on Amazon) as to what would work best and be most cost effective for our new layouts. It turned out that solar would be the easiest to install and of course the lights would then be powered by the sun for free!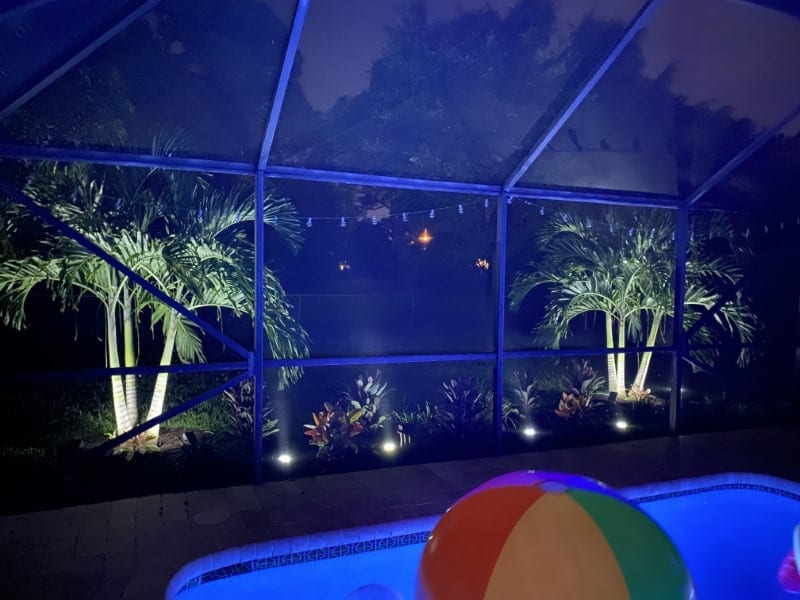 For the backyard, I purchased two "cool" tone solar spotlights to illuminate each palm tree and four white solar disc lights to accent the center plants. Our pool light is a cooler tone, so it matches nicely, as you can see.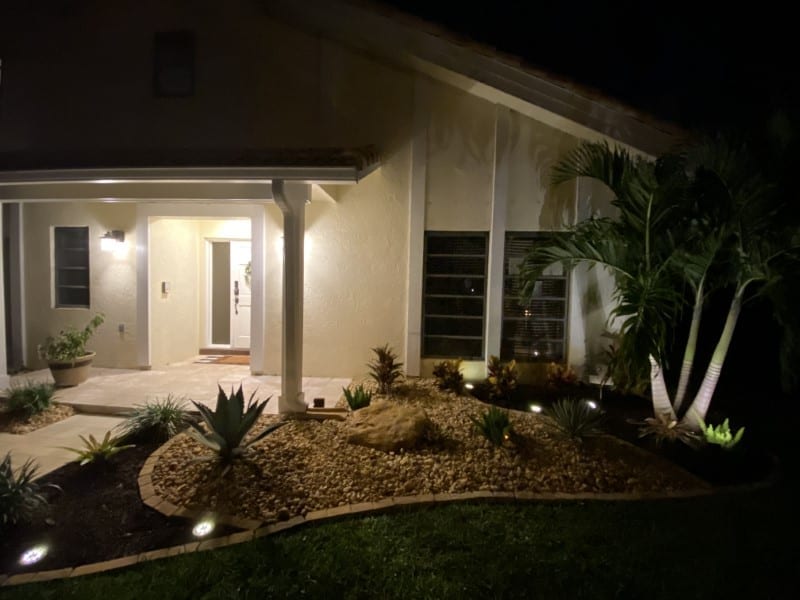 For the front yard, I purchased the same solar spotlights as the backyard except in a "warm" tone to match our front door lighting. I also purchased eight of the solar disc lights in warm white as accents…and a fairy house.
I couldn't resist. My daughter absolutely loves it and it lights up too!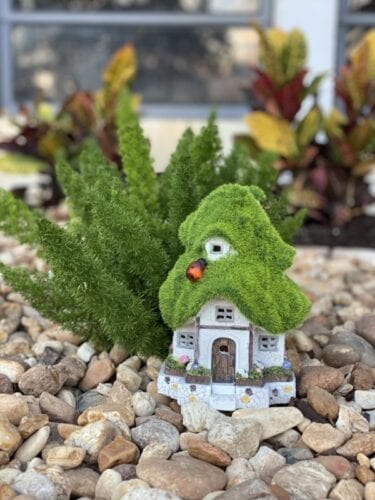 It just adds to the magic that our new landscaping brings to our home. I can't wait for our next project!
Contact Yards Plus
Email: YardsPlusSouthFL@gmail.com
Phone: 772-332-5935
---
This post contains affiliate links. If you click and purchase some of these items, I may be compensated. Please see this site's Disclosure for details.
We partnered with Yards Plus for this home landscaping project and received discounted services in exchange for review consideration. Any statistic, quote or other representation about a product or service should be verified with provider.
---
Pin for Later!