The beginning of summer was rough for my family. I'm always a bit burned out by the end of the school year since not only am I a mom, but I also work at a local Boca private school. But what complicated everything this year was that my grandfather (at age 92) passed away on June 1, 2019. Yes, I know it was his time and he lived a great life (especially being married to my grandmother for 70 years!!). But it also created a lot of extra work for my family. We had never planned a funeral before. Now we are experts…unfortunately… :/
So when an invitation to experience a fancy family trip to Miami came across my inbox, I was grateful for the break. And the timing meant I would leave directly after my grandfather's memorial service reception. It was perfect!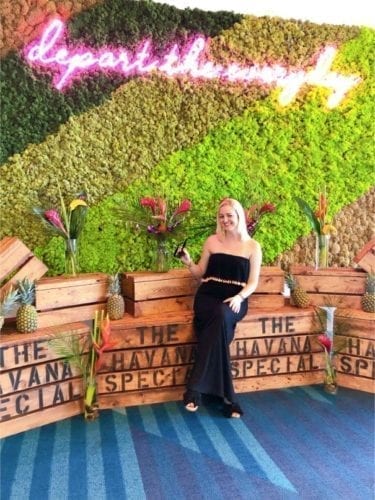 So are you ready to hear all about the fun, fancy things you can do with your own family just an hour south of Boca Raton? Let's go!
Fancy Family Trip to Miami Transportation: Take the Brightline
12/21/22 UPDATE: The Brightline station in Boca Raton is NOW OPEN! No need to travel north or south to get on the train any longer.
Initially, it might seem counter intuitive to travel north to West Palm Beach just to take a train south to Virgin MiamiCentral from Boca Raton. However, riding the Brightline (especially if you spring for SELECT tickets) is a fancy family travel experience in itself.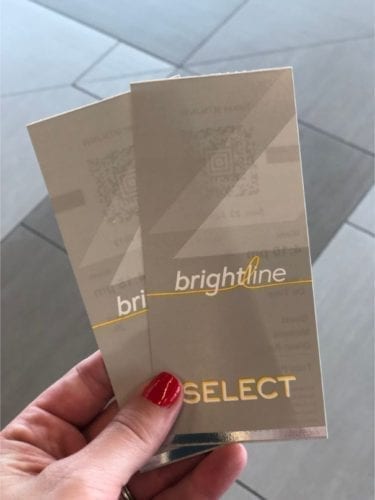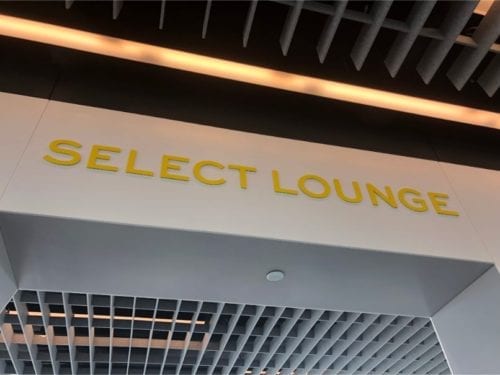 SELECT on Brightline is a first-class experience with all-inclusive amenities both at the train station AND on-board. We're talking a cool towel to welcome you to your seat, snacks, alcoholic beverages…and there's no limit! Each seat also has electrical outlets and there's complimentary WiFi. I didn't want to get off. The train drops your off at MiamiCentral. Then, you can take a quick car sharing service anywhere you want to go.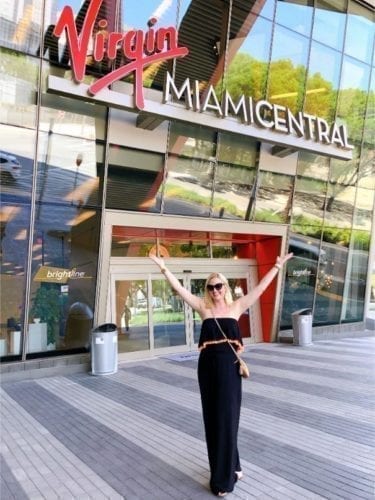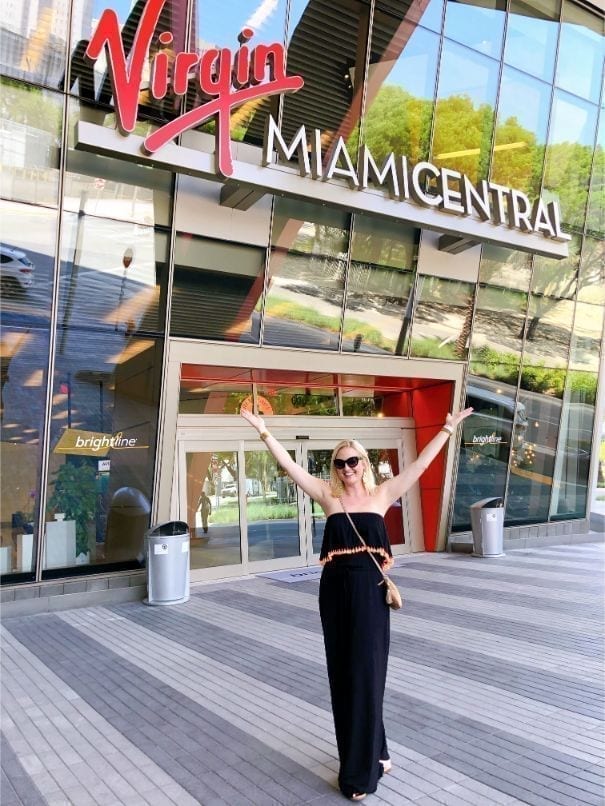 Might I suggest first checking in at the: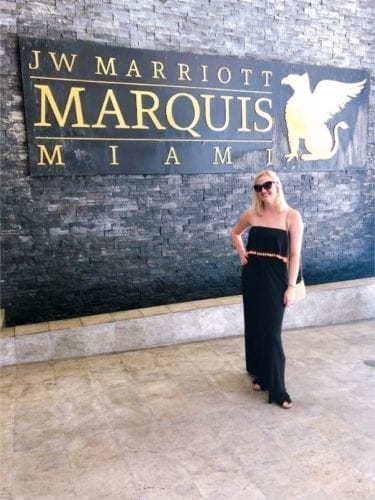 Fancy Family Trip to Miami Lodging: JW Marriott Marquis Miami
I was hosted for a night at the JW  Marriott Marquis Miami and boy, was it a treat! From the city/water views, bathtub and stainless steel sky pool, it is a fabulous luxury hotel in a convenient Miami location. It's located near the Wynwood Art District, the famed Perez Art Museum and new Frost Science Museum (which I'll get into later in this post).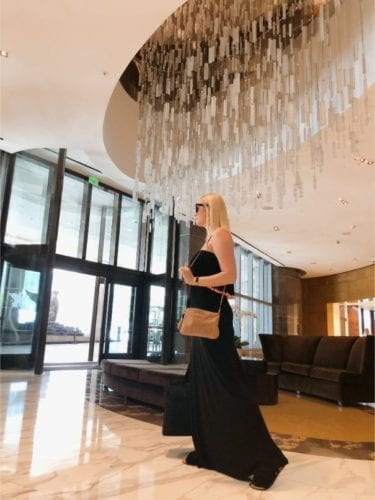 I was already a loyal fan to the Marriott Bonvoy brand, but the JW Marriott Marquis Miami's sleek and modern design really brought it home. The plush room was just what this tired mom needed. The bed and tech amenities were simply amazing. And I know my fancy family would love it too! Check out  my photos:
Fancy Family Trip to Miami Dining: Boulud Sud Miami
By now, your family might be a bit hungry. Luckily, if you're staying at the JW Marriott Marquis Miami, you won't need to go farther than the hotel lobby to get an amazing meal!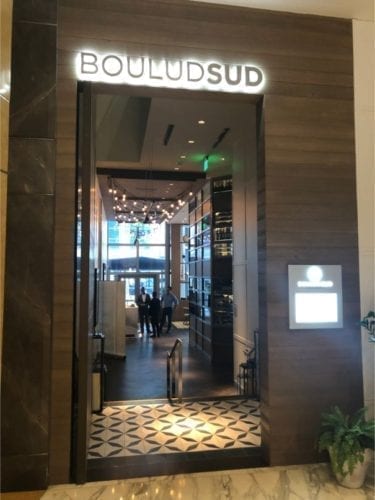 Daniel Boulud (yes, famed chef Daniel Boulud) renovated Boulud Sud Miami recently. It has become a delicious and fancy destination for either breakfast/brunch, lunch or dinner. Trust me, I tried a ton of the food– both appetizers and at brunch!
Drawing culinary inspiration from the coastal Mediterranean, the menu emphasizes regional flavors, featuring an abundance of fresh vegetables, seafood, grains and herbs. Their bar/lounge serves food continuously from noon on and features a happy hour from 5 to 8:00 p.m. as well (excluding weekends). I highly recommend it!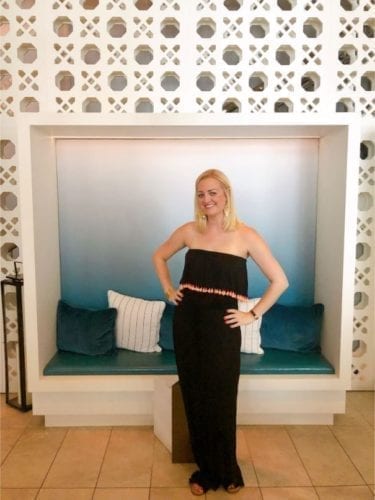 Fancy Family Trip to Miami Culture: Wynwood Walls and Phillip and Patricia Frost Museum of Science
Make sure you carve out some time during your fancy family trip to Miami to visit the Wynwood Walls. This outdoor graffiti art gallery is a must see…especially if you need some new Instagram content. 😉 While there, grab lunch or dinner at Bakan. They have a fun indoor and outdoor restaurant space that's sure to please both kids and parents. Plus…delicious Mexican food and people watching!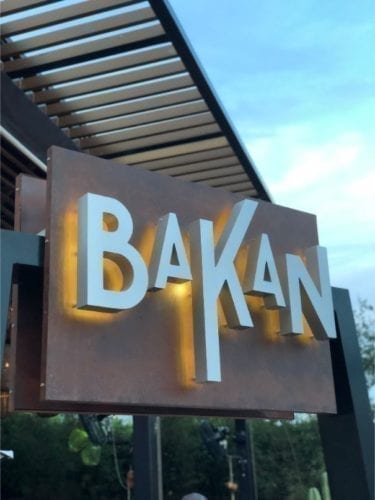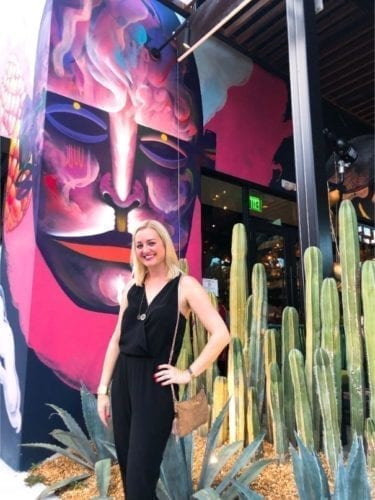 Bakan is a fun, festive and warm environment to enjoy a true Mexican experience-– from an open view kitchen allowing patrons to witness the art of handcrafted tortilla making to the four-tiered glass case filled with more than 500 fancy mezcals and tequilas. Yes, just yes…
Besides the yummy food and drinks at Boulud Sud, the highlight of this trip for me was FINALLY visiting the Phillip and Patricia Frost Museum of Science. Ironically (because this was a press trip), it was without #dailybocaavery. This place is no joke. The aquariums alone will leave you with your jaw open. There are so many educational things to see and do that you should probably plan to spend most of your day here.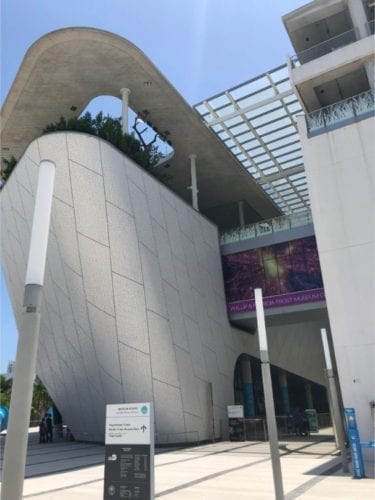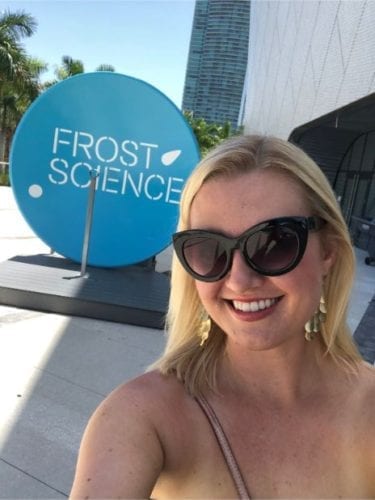 Here are just a few:
The 250-seat Frost Planetarium uses 16-million-color 8K projection, surround sound and a vast dome screen to take you on dazzling visual odysseys to outer space.
Follow the astounding story of flight—from feathered dinosaurs, to brilliant feats of human ingenuity to the adventure of future space travel.
Explore the amazing ways your body and mind work together, and how your daily choices can make it all work better.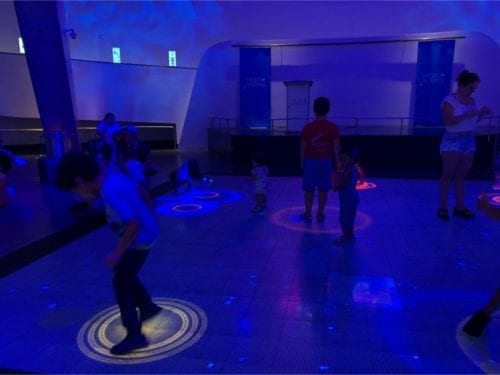 Part exhibition, part laboratory, Design Lab presents you with the challenges engineers face while putting your critical thinking skills to the test.
The wet, wild and mysterious River of Grass takes young explorers inside one of the most precious ecosystems on the planet, the Everglades.
Experience the power of the Sun as a renewable source of energy through several interactive solar-powered activities.
See what I mean?
From there, it's super easy to grab a ride share back to your hotel or to the Brightline to enjoy their SELECT service and head home. By the way, we stowed our luggage at the Frost no problem- FYI.
So what are you waiting for? Book that vacation with the family! Fun and fancy things await you in Miami!
---
Hosted: This blog post was hosted by Carma Connected. All opinions expressed in this blog post are my own and not influenced in any way by the sponsor. Any statistic, quote or other representation about a product or service should be verified with provider and please refer to this site's Disclosure for more information. I was given a complimentary weekend trip to Miami, but that does not impact my views or opinions.
---
Pin for Later!