Since the day #modernbocadad and I moved into our "forever home" 2.5 years ago, we have been wanting to make over our Boca Raton patio and pool. Our pool was built in 1981 and while our ages may be close to equal, it was in much rougher shape.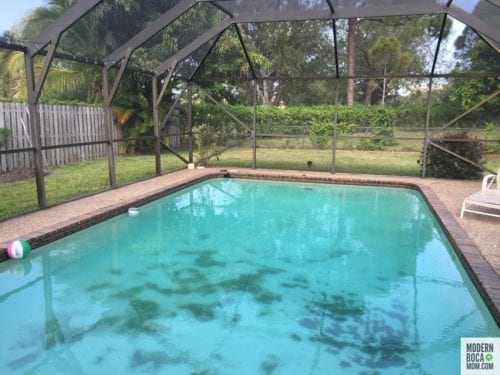 See all those spots? No matter how hard we tried to clean them, black algae would constantly settle in, especially during the hot, summer months. The pool's surface had worn away in many places due to its age and, in my opinion, was an eyesore considering it was a focal point of our house.
So, we solicited several bids for the resurfacing project and decided to work with Lee Johnson of Johnson Pool Plastering (954-804-5731/johnsonpoolfl@gmail.com) because they agreed to try to rehab the existing tile around the border of the pool. I loved it– it was retro! And, it was in surprisingly good shape despite a few missing tiles (which they happily replaced).
I was in this project for the long haul, thinking the pool resurfacing process would take several days or weeks. It was done in less than 72 hours.
Johnson Pool Plastering drained our pool overnight, gave it a little chlorine bath and scrubbed away the algae. Then, they re-grouted all of the tile and replaced the fittings around the jets and drain and patched potential crack/leaks.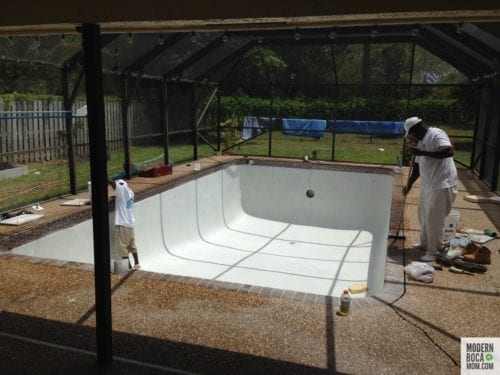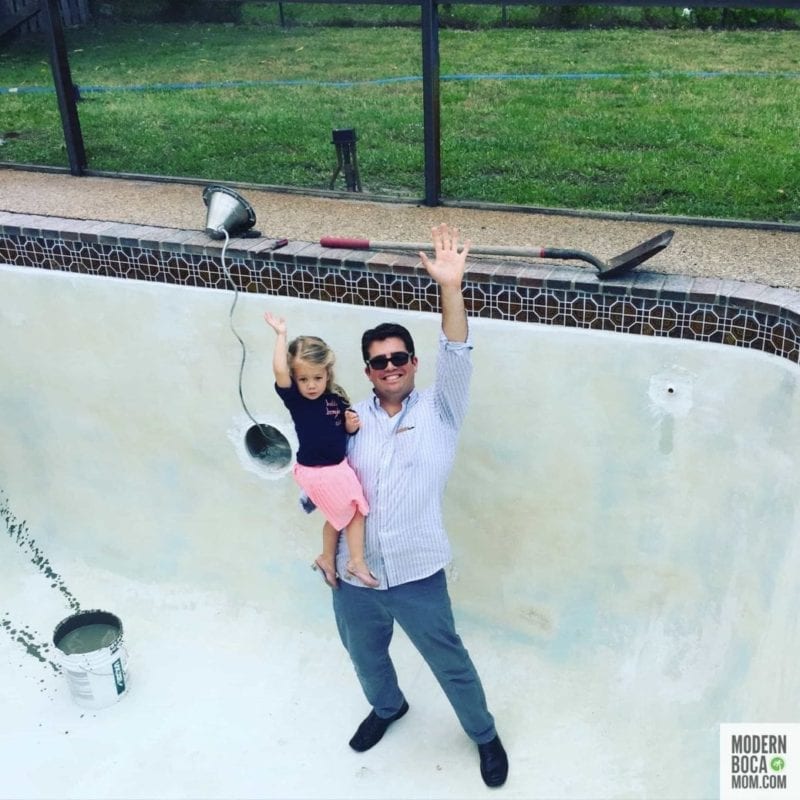 By the end of the first day, a bonding coat was applied to the pool and we were waiting for it to dry. Watching this process was better than HGTV for us.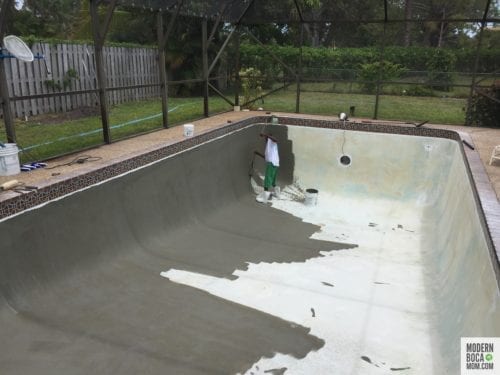 On day 2, Johnson Pool Plastering applied the surface we selected by hand.
We selected Blue Gem. Cool huh?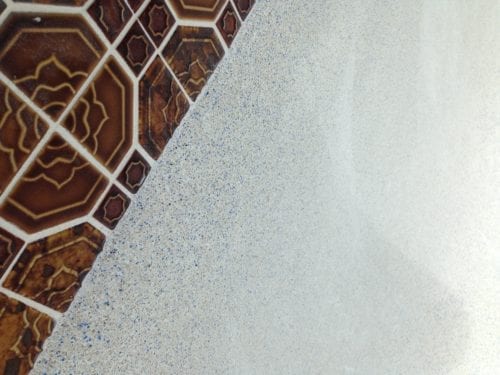 The end result? Beautiful.
Johnson Pool Plastering did amazing work. We hired a pool cleaning service to take care of the pool for the first several weeks. A new surface needs to be brushed a lot at the beginning and we didn't want to take any chances. It was a good investment.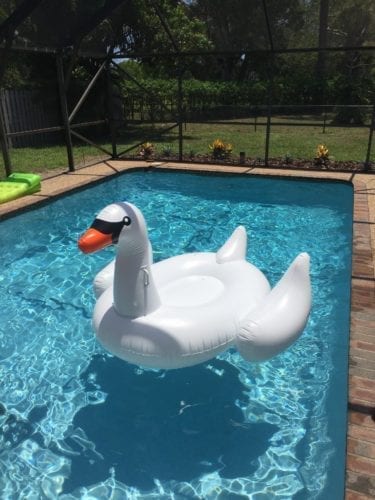 So once we had the pool finished, we toyed with the idea of redoing the deck (according to Lee, "everyone in Boca is doing travertine"). But, we ended up deciding to budget for it for spring 2020. Hey- you have to have some home improvements to look forward to, right? Our pool screen enclosure is still in good/great/excellent shape.
But that didn't mean I couldn't move forward with a little summer Boca Raton patio makeover…
Boca Raton Patio & Pool Makeover
BEFORE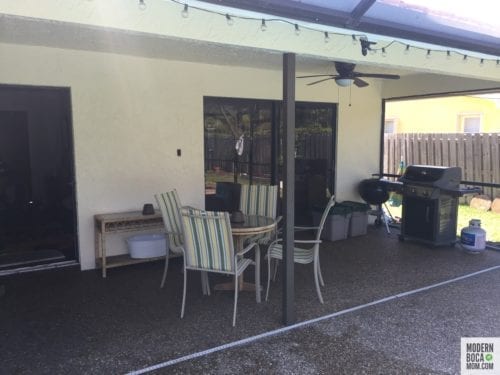 This Boca Raton patio setup did the job, but it was very basic. We inherited the wicker pieces from my parents and purchased inexpensive chairs and a nice grill at Home Depot when we moved in.
AFTER
What do you think?! Believe it or not, #modernbocadad built, painted and hung the outdoor TV cabinet himself. It's basic plywood! He also sprayed all of our existing wicker furniture with dark brown Rustoleum spray paint. Instant "new" accent furniture!
We purchased this mount on Amazon.com and hung the TV, so you can watch it from anywhere on the Boca Raton patio.
The indoor/outdoor area rug and runners are Safavieh from Overstock.com. Hey- I had to find creative ways to hide as much chattahoochee deck as possible. 😉
I really wanted wood/teak patio furniture, so we found this fabulous set online at Hayneedle.com. It has so many cute things! The sectional can easily be moved in pieces for many different seating layout options. We even purchased a propane fire pit.
Target has apparently dubbed this, "the summer of lobster", so I was able to grab so many cute pillows and doormats with lobster prints on them to decorate (#modernbocadad is from Maine, so I have become a little obsessed with the tasty crustacean).
The table lanterns are also from Target and I found some river rocks and electric candles to accent them at Bed, Bath & Beyond.
And who could forget Mr. Swan? He's from Amazon.com.
Now it's onto our next project…the living room. I hope you enjoyed our Boca Raton patio and pool makeover. We certainly plan on spending our summer this year OUTDOORS!
xo,
MBMom
---
This post contains affiliate links. If you click and purchase some of these items, I may be compensated. Please see this site's Disclosure for details.