In an effort to save our collective parental holiday sanity, MBMom has consolidated the BEST 2023 South Florida Holiday events, activations and Christmas events in Florida into a handy guide (***to be updated regularly***), with a star* next to the ones my family and I are making special efforts to attend.
They are organized from NORTH TO SOUTH and chronologically for your convenience. Happy Holiday SEASON MBMoms!
---
2023 South Florida Holiday Events Guide: West Palm Beach
Sponsored
WHEN: Saturday, December 9 from 4-7pm
WHERE: Tanger Outlets Palm Beach between Columbia and Forever 21
WHAT: Join for a jolly good time at Santa's Holiday Celebration! Discover all that is merry and bright with a festive afternoon including selfies with Santa, holiday craft station, live music, sweet treats, snowfalls, photo moments, giveaways, and more. Not to mention, visit with Elsa and Olaf, jump in a bounce house and have some hot cocoa!
---
Holiday Events At The Square in West Palm Beach
WHAT/WHEN: Join us Saturday, November 11th from 2-10:00pm to experience the spirit of traditions with an unforgettable holiday celebration at The Square.
Gift shop at the artisan market throughout the day before an evening of festivities emceed by Mister Trombone. Count down to the premier snowfall and lighting of The Wishing Tree starting promptly at 6:30pm, take in awe-inspiring holiday performances by Afrique Ngozi Dance and Drum and the Natural Movers Foundation, capture moments with Santa to last a lifetime, and more.
Pair the festivities with dinner at The Square and make your restaurant reservations in advance!
Please note: photos with Santa will be at The Workshop, located next to The Wishing Tree. Special event garage parking rates apply.
WHERE: 700 South Rosemary Avenue, West Palm Beach
---

Mounts Botanical Gardens Tropical Holiday Trees
WHEN: Saturday November 19-December 31
WHAT: Enjoy tropical trees at Mounts Botanical Gardens (similar to the one pictured above at the Tanger Outlets in West Palm Beach)
TROPICAL HOLIDAY TREES AT MOUNTS featuring three, framed, 8-15 foot trees designed by the Mounts Horticulture Team and installed with hundreds of colorful bromeliads, orchids, and other tropical botanicals.
WHERE: 531 North Military Trail, West Palm Beach
---
Tis the Season for Science At The Cox Science Center And Aquarium 
WHEN: Starting Friday November 24
WHAT: Spend Black Friday looking at the dark sky versus the sales. On Friday, November 24, the Science Center will present its Dark Sky Party for fellow stargazers to step into the mysterious world of the universe. From 6-9pm, guests can view the night sky and captivating astronomical objects through the new eVscopes. Attendees will also have stellar activities, including making galaxy goo, a constellation star chart, and astronomy trivia! The Astronomical Society of the Palm Beaches will be on-site to answer all your questions and intrigue.
'Tis also the Season for Science! Between November 24 and January 7, the Science Center will have a full schedule of holiday happenings, including Let It Snow Planetarium Shows, Laser Light Holiday Shows, Frigid Science Demonstrations and Winter Wonder STEM activities. The series will occur daily between 11am-3pm.
WHERE: 4801 Dreher Trail N, West Palm Beach
---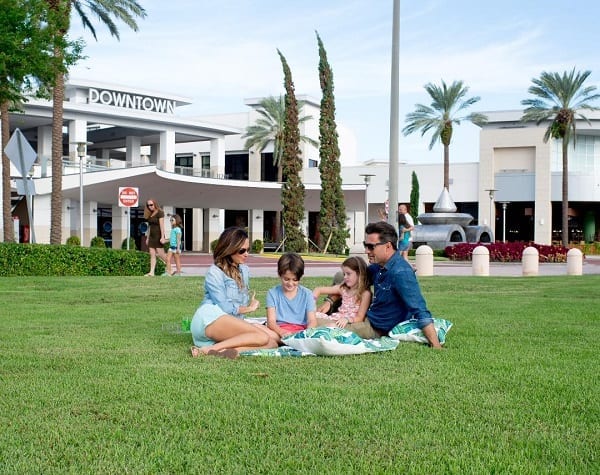 Downtown Palm Beach Gardens South Florida Holiday Events
WHEN: December 1-31
WHAT: Family-friendly Holiday events through the season
WHERE: By the waterfront at Downtown Palm Beach Gardens; 11701 Lake Victoria Gardens Ave., Palm Beach Gardens
---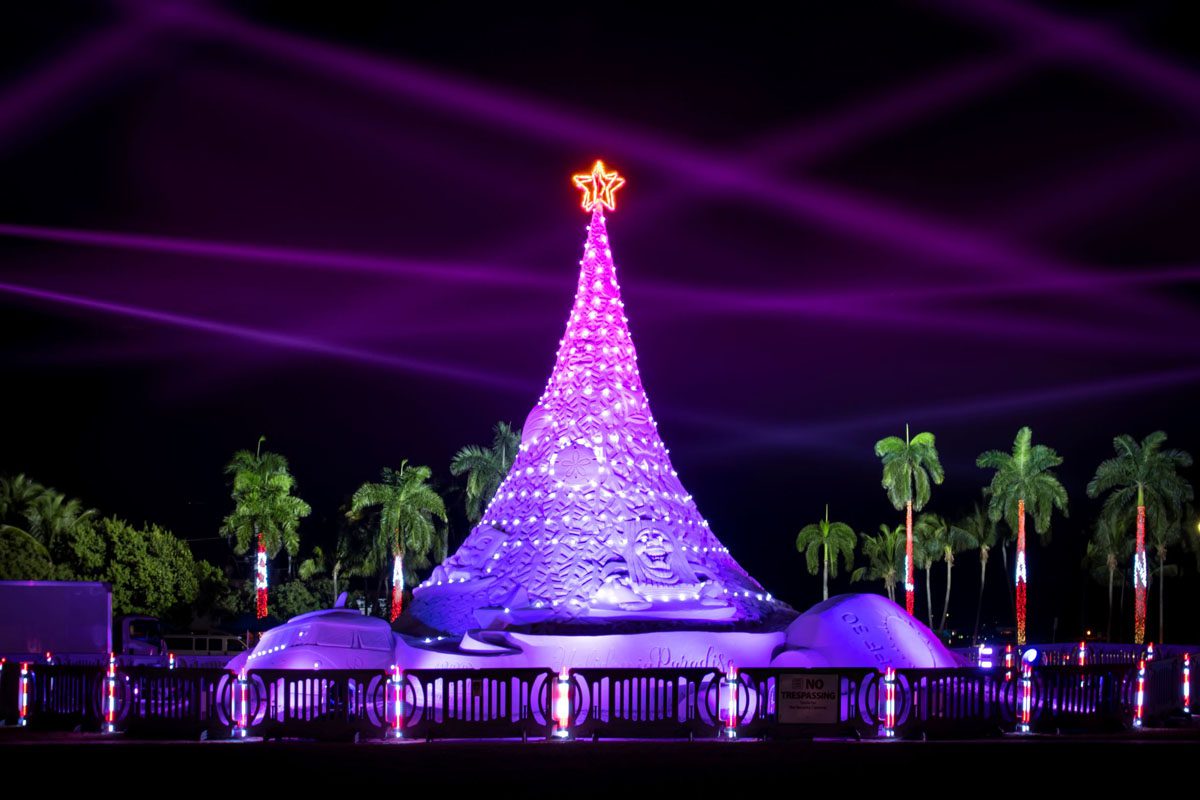 City of West Palm Beach's Sandi Tree, Ferris & Holiday In Paradise
WHEN: Starting Thursday November 30
When it comes to celebrating the South Florida holiday events season, the North Pole has nothing on The Palm Beaches in South Florida – not even snow!
WHAT: The world's only 35-foot, 700-ton holiday sand tree returns to the West Palm Beach waterfront. Mayor James and the City of West Palm Beach officially welcome the return of Holiday in Paradise.
The evening will include FREE entertainment, including live music, games, a holiday boutique in the Lake Pavilion, photos with Santa, and much more.  The featured band for the Clematis by Night Holiday Tree Lighting is The Music Machine. The band features five amazing singers and a powerful rhythm section bringing excitement, quality, and professionalism to every show. Their genre varies from the top 40s to classic rock, hip hop, '90s, and more. 
Starting November 30, Sandi and the surrounding area will feature synchronized nightly music and light shows through December 31 from 6 – 10pm (shows will be extended on New Year's Eve through midnight). Shows start on the quarter hour except during special events. 
This annual holiday tradition draws thousands of visitors to the waterfront and offers guests an enchanting opportunity to enjoy Sandi's magical music and light show and get in the holiday spirit.
WHERE: 100 N. Clematis Street, West Palm Beach
---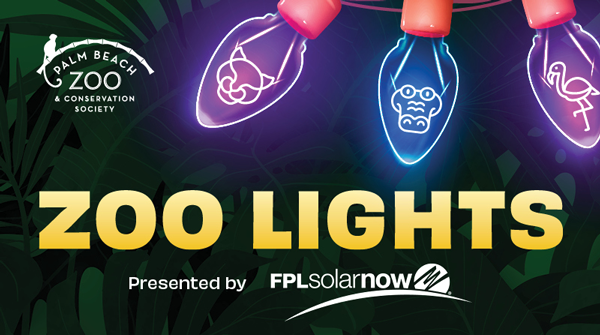 Zoo Lights at the Palm Beach Zoo
WHEN: Select Nights Between November 17th & January 7th – REQUIRED Timed Entry 5:30-7:00pm
WHAT: Zoo Lights presented by Florida Power & Light Company, FPL SolarNow has become a Florida holiday tradition for families and friends. While the animals slumber, Palm Beach Zoo is illuminated for the holidays with over one million eco-friendly lights.
Larger-than-life animal sculptures shedding light on the Zoo's efforts to save animals in the wild. Nightly entertainment with a 24′ animated Christmas tree and lights around Fountain Plaza choreographed to music and enjoy the wonder of Florida snow.. Shows multiple times per hour. Find out which list you made in Santa's Village with cookie decorating and more.
WHERE: 1301 Summit Blvd. West Palm Beach
---

Holiday Evening Tours at Flagler Museum
WHAT/WHEN: Tours begin at 6:00pm, 6:15pm, 6:30pm, 6:45pm. $50 for Adults $30 for Children ages 17 and under Advance purchase required; December 19-23.
Free for Legacy and Visionary level (2 tickets) and Whitehall Society Members (2 tickets) plus 2 children
For tickets, please call (561) 655-2833 ext. 10
During this beloved annual event, families tour Whitehall after hours and discover the origins of American Christmas traditions. Holiday Evening Tours begin with a special Docent-led holiday tour of Whitehall, followed by a reception featuring carol singers, refreshments, and holiday-themed activities. Guests have the rare opportunity to experience Whitehall by the glow of the 1902 light fixtures. Every visitor receives a traditional Flagler Museum Christmas Cracker following the tour. The H. M. Flagler & Co. Museum Store will remain open during the program for holiday shopping.
WHERE: One Whitehall Way, Palm Beach
---
Oscillation Art Exhibit at Kravis Center
By special arrangement with Creos, the Kravis Center for the Performing Arts is thrilled to bring the immersive, interactive travelling art exhibition, Oscillation, created by The Urban Conga to West Palm Beach. Oscillation, will be on display at the Kravis Center and will be operational daily from 7am to 11pm.
What is Oscillation?
Oscillation is an interactive touring installation that uses sight, sound, and movement to spark spontaneous community activity and social interaction through open-ended play. The installation reacts similarly to a Theremin, a musical instrument that you can play with movement without touching.
---
Holiday Festivities At Eau Palm Beach
WHEN: Various dates; must be a hotel or restaurant guest to participate
WHAT:
Kids Programming: 

 Kids holiday programming includes a Kids Pastry Decorating Class and a complimentary holiday ice cream toast at Melt ice cream shop on December 21; bedtime stories with Mr. and Mrs. Clause and kids eggnog and cookies on Christmas event on December 24; and reindeer games on the resort lawn.
Adult Programming: At Stir Lounge and Polpo Palm Beach adults can also take part in cooking classes including: Pastry Class and Holiday Cocktail Class on December 20; Oatnog Cocktail Making Class on December 22; Old World and New World Wine Class on December 26; and Holiday Cocktail Class on December 28.
WHERE: 100 South Ocean Blvd, Manalapan
---
2023 South Florida Holiday Events Guide: Boca Raton, Delray Beach, Boynton Beach & Lake Worth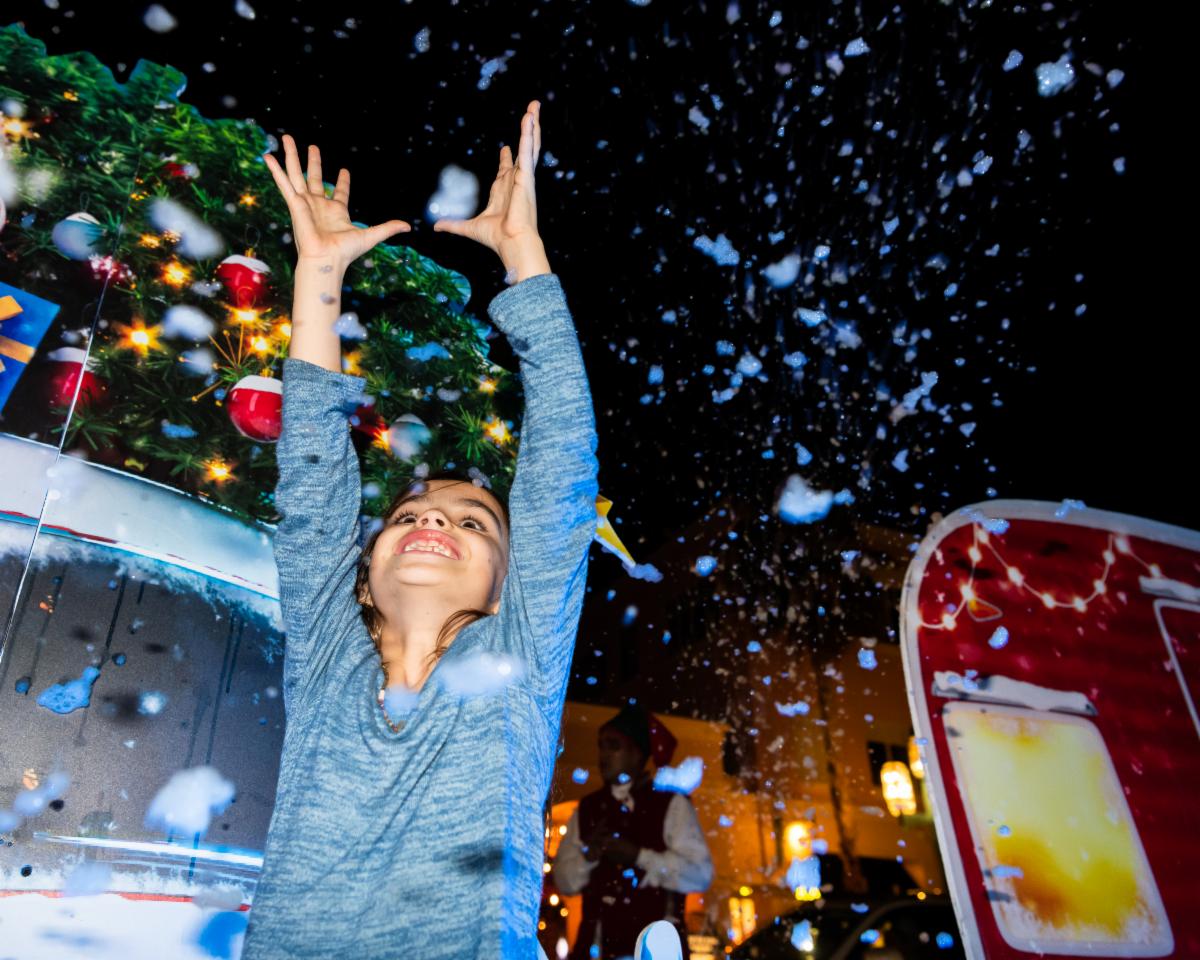 *Merry In Mizner Activities
Light Displays
Music Series
Dec. 8, 15, 22, 29 | 7 – 9pm
Stuff-A-Plush
Meet the Grinch
WHERE: Mizner Park Amphitheater 590 Plaza Real, Boca Raton
---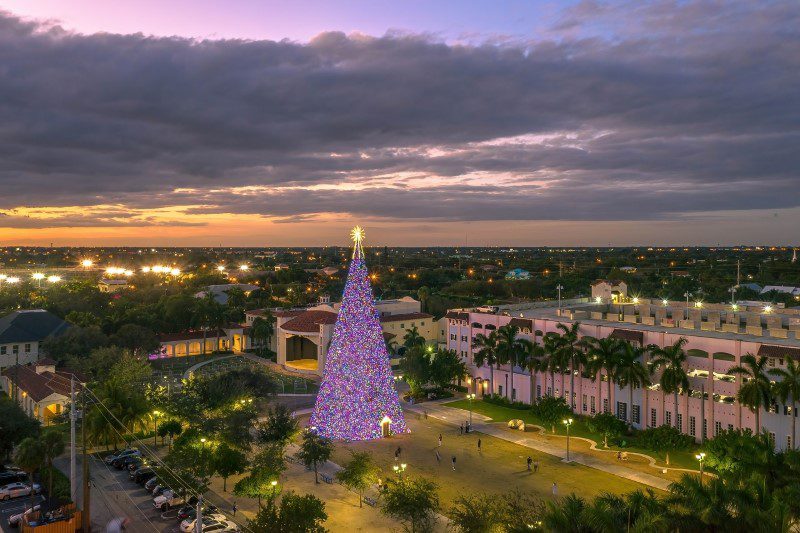 Downtown Delray Beach Holiday Events
*100 Ft. Tree Lighting
WHEN: Thursday, November 30; 6:00-9:00pm
WHAT: 100 Ft. Christmas Tree
WHERE: Old School Square Grounds & E. Atlantic Avenue Street Fest
*Holiday Village
WHEN:
Wednesday November 29-Sunday December 31
Welcome to the Delray Beach Holiday Village, where even in the sunshine, Delray has managed to create a winter wonderland that captures the spirit of the season! As the palm trees sway gently in the warm breeze, the Holiday Village transforms into a magical hub of holiday cheer at Old School Square!
WHERE: Old School Square Grounds
WHEN: Saturday December 9; 6:00-9:00pm
Join for the Delray Beach Holiday Parade along E. Atlantic Avenue from A1A to SE 5th Avenue. Experience the magic as the street comes alive with dazzling floats and festive cheer. It's a holiday tradition that's not to be missed!
Menorah Lighting
WHEN: Thursday December 7; 5:00-7:00pm
Join the City of Delray Beach for the lighting of the Menorah!
WHERE: Old School Square Grounds
WHEN: Friday December 8; 6:00pm
WHERE:
Deck 84, Del Fuego, Veterans Park, Knowles Park
Bridge Delays:
George Bush Boulevard – 7:45 PM
Atlantic Avenue – 8:00 PM
Linton Boulevard – 8:15 PM
AND MORE!
---
---
Winter Nights & Magic Lights in Boynton Beach
WHEN: December 1 | 5:00-9:00pm
WHERE: 120 E Ocean Ave., Boynton Beach
Join for an enchanted night of music, food trucks, a holiday market and help us Light Up Downtown Boynton!
The community is invited to join us for the annual tree lighting on Friday, December 1 at Centennial Park & Amphitheater in Downtown Boynton. The night will be full of holiday magic as we light our gigantic holiday tree. This free family-friendly event features an artisan market, food trucks, children's activities and more! Attendees are encouraged to bring chairs and blankets.
---
*Holiday Photos with Santa at Town Center at Boca Raton + NEW Signature Santa Experience
WHAT: Simon® is pleased to announce  Santa visits for families as part of the Simon Santa Photo Experience at Town Center at Boca Raton from November 16-December 24.
WHEN: Santa arrives on Thursday, November 16 and will be available for visits until Christmas Eve in Nordstrom Court.
Santa Hours: 'Tis the Season for Photos with Santa at Town Center at Boca Raton®
Signature Experience: November 16-December 15
Caring Santa: Sunday, December 3 from 9-10:30am
Pet Photos: Sunday, December 10
---

*Boca Raton Holiday Street Parade
WHEN: Wednesday December 6; 7:30-9:00pm
WHAT: This year's theme, "Holidays on the Silver Screen" will feature floats & community groups with dancing, lighting, and music in the heart of Downtown Boca.
WHERE: Downtown Boca Raton
---

WHEN: December 9 from 10am-9pm & 10 from 10am-6pm
WHAT: December is magical and this year the Boca Holiday Festival will be at the top of your list of feel-good events to attend. – A fantastic weekend of holiday and winter fun on December 9th & 10th at Mizner Park Amphitheater with festive activities, thrilling rides, photos with Santa, holiday décor, delicious food, gift shopping, live stage shows and entertainment for all ages!
WHERE: Mizner Park Amphitheater 590 Plaza Real, Boca Raton
---

Boca Raton Holiday Boat Parade
WHEN: Saturday December 16; 6:30-8:30pm
WHAT: As we gear up for our annual Holiday Boat Parade, we're facing a shortage of parade participants. To ensure the parade's success this year, we're reaching out to you for support!
SIGN UP BEFORE Nov. 21 at 5pm. Boat entry is free, $1,000 prizes for winners in 3 categories.
WHERE: Viewing Areas
Red Reef Park – 1400 N Ocean Blvd
Wildflower Park – 551 E Palmetto Park Rd
Silver Palm Park – 600 E Palmetto Park Rd
---
2023 South Florida Holiday Events Guide: Deerfield Beach, Coral Springs, Lighthouse Point, Pompano Beach, Ft. Lauderdale & Miami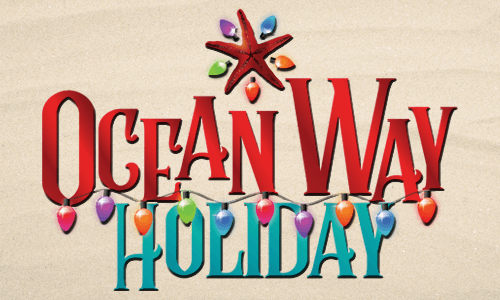 Ocean Way Holiday in Deerfield Beach
WHEN: Saturday, December 2 | 5:00-9:00pm
WHERE: Main Beach Parking Lot, 149 SE 21st Ave.
Join for the annual Ocean Way Holiday on Saturday, December 2nd, 2023 at the Main Beach Parking Lot. Join us to light up Ocean Way with live entertainment, Santa and his Reindeer, our giant interactive snow globe, ice skating, treats and more!
---

The CHAOS Greater Pompano Beach, Lighthouse Point, Deerfield Beach Holiday Boat Parade
WHEN: Dec 15 | 6:30 pm – 9:00 pm
WHERE: VIEWING AREAS
* RESTAURANT LIVE VIEWING 
Sands Harbor Resort & Marina, Sunset Catch by Mario, Two Georges at the Cove, Houston's (call them for info)
PUBLIC LIVE VIEWING AREA
*Alsdorf Park -2901 NE14th Street, Pompano Beach- (limited stadium seating) First Come First Served
* Sullivan Park- 1633 Riverview Rd, Deerfield Beach, FL 33441-Bring your own Chairs
PUBLIC SCREEN VIEWING AREA
* Mitchell Moore Park- 901 NW 10th St, Pompano Beach, FL 33060- Big screen with Facebook live – Bring your own Chairs
The 61st Annual CHAOS Pompano Beach/Lighthouse Point/Deerfield Beach Holiday Boat Parade will take place between the hours of 7 and 9:30 along the intracoastal waterway on Friday December the 15th, 2023. This year's theme is "A Salute to our First Responders". The Grand Marshals selected for 2023 are "Pompano Beach Fire Rescue & Ely Fire Cadets".
More than 50 boats, glowing with colorful lights, holiday decorations, music and merriment, thrill thousands of spectators that line the Intracoastal Waterway, as they float past decorated homes, hotels, restaurants and parks. The air will be filled with the spirit of the holidays as the community comes together in this wonderful annual event to kick-off and celebrate the winter season! And let's not forget "Mr. & Mrs. Santa Claus" will be making an appearance too!
---
---
Holidays at the Aventura Mall
From holiday installations and exclusive experiences, Aventura Mall offers exceptional shopping, dining, and entertainment, 'tis the season at Aventura Mall, which continues to stand as the most festive destination in South Florida this holiday season.
Holiday Events & Experiences at Aventura Mall:
Holiday Village 
Aventura Mall has unveiled a Holiday Village, enchanting and delighting guests, bringing the spirit of the season to everyone.  The Holiday Village is a bespoke shopping experience, offering a curated collection of local craftsmanship, delectable treats, holiday gifts, and heartwarming festivities. Visits with Santa are open for everyone to take their own photos – Black Friday from 10:00 a.m. to 8:00 p.m. and thereafter Fridays from 3:00 p.m. to 8:00 p.m., and Saturdays and Sundays from 12:00 p.m. to 8:00 p.m. from November 24 through December 24. The Holiday Village is located on the Lower Level near Bloomingdale's.
The FRIENDS™ Experience 
The FRIENDS™ Experience features several nostalgia-packed rooms, activations,  and re-created sets including Monica's kitchen and the iconic FRIENDS™ fountain. The interactive space provides opportunities to explore the show's history and revisit your favorite moments including posing in front of Rachel and Monica's purple door, relaxing in Chandler and Joey's recliners, and helping Ross with the famous sofa pivot. And of course, the space features a re-created Central Perk with the legendary orange couch. Click here for more information or to purchase tickets.
Dior Garden of Dreams 
Immerse yourself in the enchanting 'Dior Garden of Dreams' pop-up, bringing the magic of Tuileries Garden exclusively to Aventura Mall. Explore the snow-dusted garden and take advantage of Dior's Art of Gifting services for a truly special holiday experience, with the pop-up offering exclusive and exceptional pieces, and holiday limited editions, some of which are typically only available for purchase online. 
Visit with Santa 
Guests are invited to visit Santa at the enchanting Holiday Village! Those interested in capturing timeless moments can bring their personal camera and "sleigh" a photo with Santa and even bring their furry friends along for the ride! Visits with Santa take place in the Holiday Village November 24 through December 24 – Black Friday from 10:00 a.m. to 8:00 p.m. and thereafter Fridays from 3:00 p.m. to 8:00 p.m., and Saturdays and Sundays from 12:00 p.m. to 8:00 p.m. The Holiday Village is located on the Lower Level near Bloomingdale's.
The Aventura Market Special Editions 
For over 20 years, The Aventura Farmers Market has functioned in support of the local community, giving shoppers the perfect setting to explore exotic foods and handmade goods from local businesses. Today, the market showcases a diverse array of cuisine, fresh produce, and desserts – as well as handcrafted clothing, décor and accessories – from dozens of vendors. This holiday season, The Aventura Farmers Market will continue every weekend – plus, there will be special Black Friday and Holiday Edition market weekends to provide visitors with even more unique and locally sourced gifting options.
Holiday Favorites and Instagrammable Opportunities 
In addition to the Holiday Village, Aventura Mall is proud to present a host of other holiday-inspired attractions throughout the mall.
The Aventura Train Station
The largest and grandest model train in Florida, returns with its enchanting world of miniature marvels and awe-inspiring details. The 18-by-30-foot display spans over 100 scale miles of track and features more than 500 figurines, over a dozen animated accessories, a working drawbridge, a party yacht, towns with lighted buildings, and more. The Aventura Train Station is located on the Lower Level next to Macy's. 
Santa's Sleigh and Mailbox 
Snap pictures with the whole family in Santa's shiny red and gold sleigh, which is set against a bundle of frosted, lit Christmas trees, and next to a smiling, red-nosed reindeer and Santa's Mailbox, where kids are encouraged to drop off their letters! The installation is located on the Upper Level in front of Zara.
---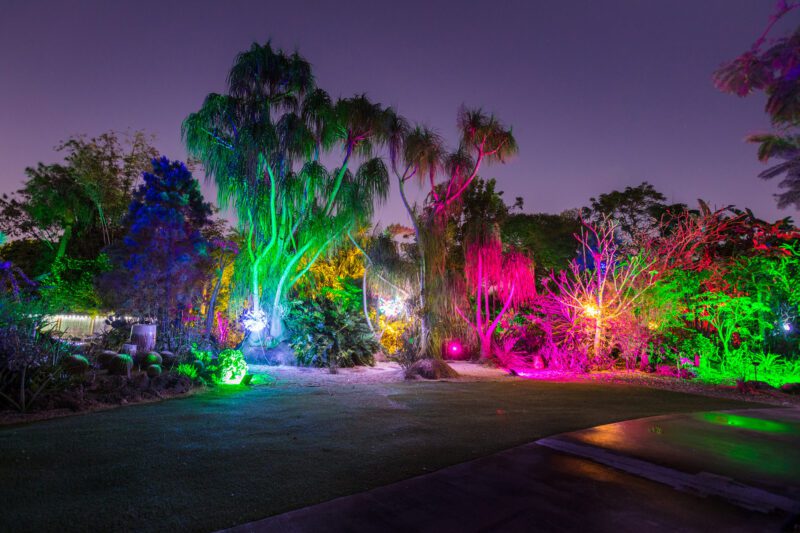 Nightgarden At Fairchild Tropical Botanical Garden in Miami
WHEN: Starting November 10
WHAT: Fairchild is brought to life with stunning illumination! Enjoy enchanted activities, interactive light and sound experiences and solve the mystery surrounding the FairyScope(TM) app.
WHERE: 10901 Old Cutler Road, Miami
---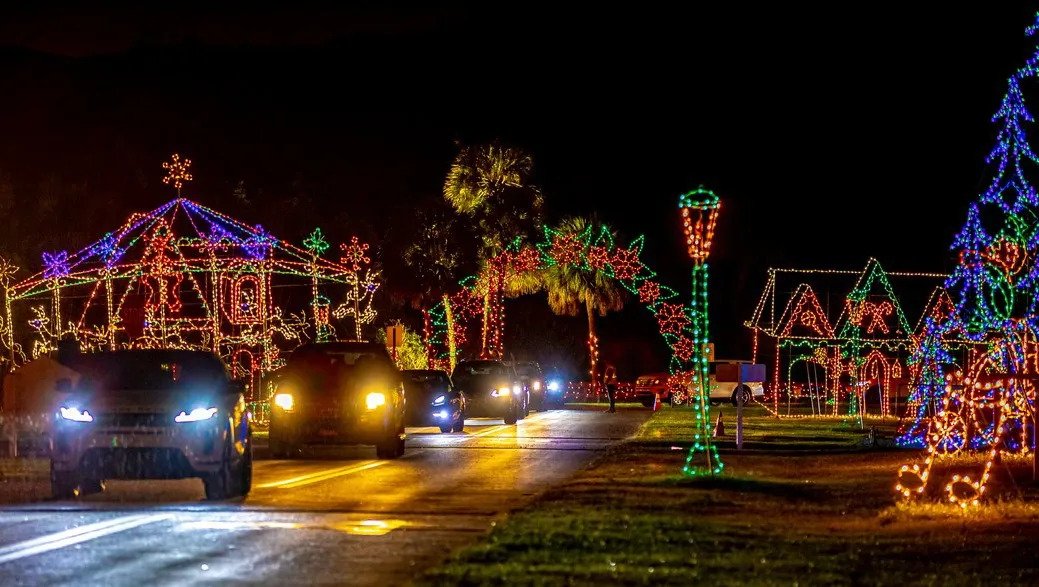 Holiday Fantasy Lights at Tradewinds Park
WHEN: November 22 through January 1; Open Nightly 6-10pm; Open Thanksgiving Day, Christmas Eve/Day, New Year's Eve/Day
WHAT: Celebrate the holidays with a spectacular drive through three miles of giant animated holiday displays and illuminated trees. Our 29th annual event is larger than ever and includes favorites from the past and exciting new creations!
WHERE: 3600 W. Sample Road, Coconut Creek
---
The LOOP Fort Lauderdale Wonderland Rink
WHEN: November 13-January 1
WHAT: Get ready to glide and groove under the sun, where sustainability meets fun!
Fort Lauderdale Beach has never been cooler with the debut of The RINK, a 4,000 sq. ft. eco-friendly, technological marvel that brings the thrill of ice skating seaside, under blue skies and swaying palm trees.
Join daily, November 13 through January 1, for a traditional wintertime experience that's perfect for all ages, ice skating novices, and pros alike.
WHERE: 3000 East Las Olas Blvd., Fort Lauderdale
---
Snow Carnival in the Aventura Mall
WHEN: November 23-January 7
Snow Carnival, the one-of-a-kind winter-themed attraction, is making its debut in sunny South Florida. This special attraction promises a dazzling, once-in-a-lifetime adventure, boasting an incredible 350 tons of real snow, a 'Mini-Matterhorn,' snowman crafting, sections for snowball fights, family-friendly treats, and an adults-only Snow Bar.
TICKETS: 
Ticket Link HERE
Ticket Pricing: $34.99 (children) and $39.99 (adults)
WHERE: Aventura Mall (9501 Biscayne Blvd, Aventura)
---
---
The Diplomat Hotel in Ft. Lauderdale Hosting Holiday Show: POMP, SNOW & CIRQUEumstance
WHEN: December 22-30
WHAT: This holiday season, South Florida will be the first to experience the world premiere and exclusive residency of POMP, SNOW & CIRQUEumstance at the Diplomat Beach Resort. The razzle-dazzle of Broadway meets the sparkle and pizazz of Hollywood at the highly anticipated new stage spectacular, immersive experience & holiday cirque show by renowned Broadway director and Cirque Dreams founder Neil Goldberg in collaboration with Capture Studio Group.
Adapted from the multi-award-winning book and film, POMP, SNOW & CIRQUEumstance is an exhilarating journey of holiday music, spellbinding magic and gravity-defying circus in a theatrical experience like no other.
You will first enter the POMP, SNOW & CIRQUEumstance IMMERSIVE UNIVERSE, an interactive holiday spectacle of dazzling lights, remarkable decorations, festive treats, showstopping characters and an array of Instagrammable moments.
The Great Hall Theatre, inside the Diplomat Beach Resort, will surround audiences with 360° animated projections while the show comes to life center stage, creating the ultimate immersive and unforgettable production marvel. An international cast of 30 acrobats, magicians, singers, dancers, and unique performers mesmerize in over 200 astonishing costumes with an original musical score. 
Aerial acts, gravity-defying performances, spellbinding magicians, skaters and cyclers in a world-class production makes this exclusive premiere the perfect holiday gift for theatergoers and cirque show lovers of all ages!
WHERE: 3555 S. Ocean Drive. Ft. Lauderdale