When you're sick of going to the same old restaurants (on Atlantic Avenue, downtown or throughout the mall), there just so happens to be a glorious cluster of fine and casual dining right at your fingertips (or taste buds?) in central Boca Raton that you may have overlooked. Located in a beautiful open air plaza, Boca Center restaurants feature a cuisine option for everyone in your family! Not to mention SO MUCH OUTDOOR DINING. And there have been a few recent additions you just may not have heard about yet.
Take a look at our complete roundup of the Best Boca Center Restaurants!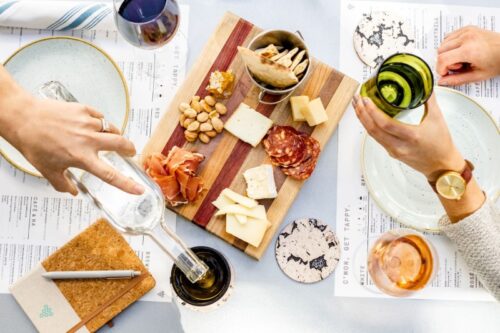 Transporting guests straight to wine country through its seamless indoor-outdoor design featuring high ceilings, local art and handmade communal tables, Sixty Vines invites guests to experience 'pinkies down' exploration of wine country culture and cuisine.
The 9,000-square-foot restaurant offers seasonal, locally sourced shared plates and entrées paired perfectly with 60 wines on tap. Because Sixty Vines believes wine should be fun, not complicated, it has created the ideal destination for guests to 'wine down' and enjoy pours and plates for every palate.
Sixty Vines' sustainable tap wine system offers the "closest from barrel" tasting experience possible outside of the vineyard. By building personal relationships with many of the most revered winemakers in the world, Sixty Vines' innovative bar program includes a curated list of wines on tap and by the bottle in addition to cocktails and local beers on tap.
Those enjoying a personalized wine flight on the outside terrace or hosting a business or nonprofit event in one of the private dining spaces will indulge in the abundance of Sixty Vine's starters, shared plates, salads, entrees, and desserts in true wine country fashion.
Suite 239
sixtyvines.com
Hours:
Monday – Thursday: 11:00AM – 10:00PM
Friday + Saturday: 11:00AM – 11:00PM
Sunday: 10:00AM – 9:00PM
---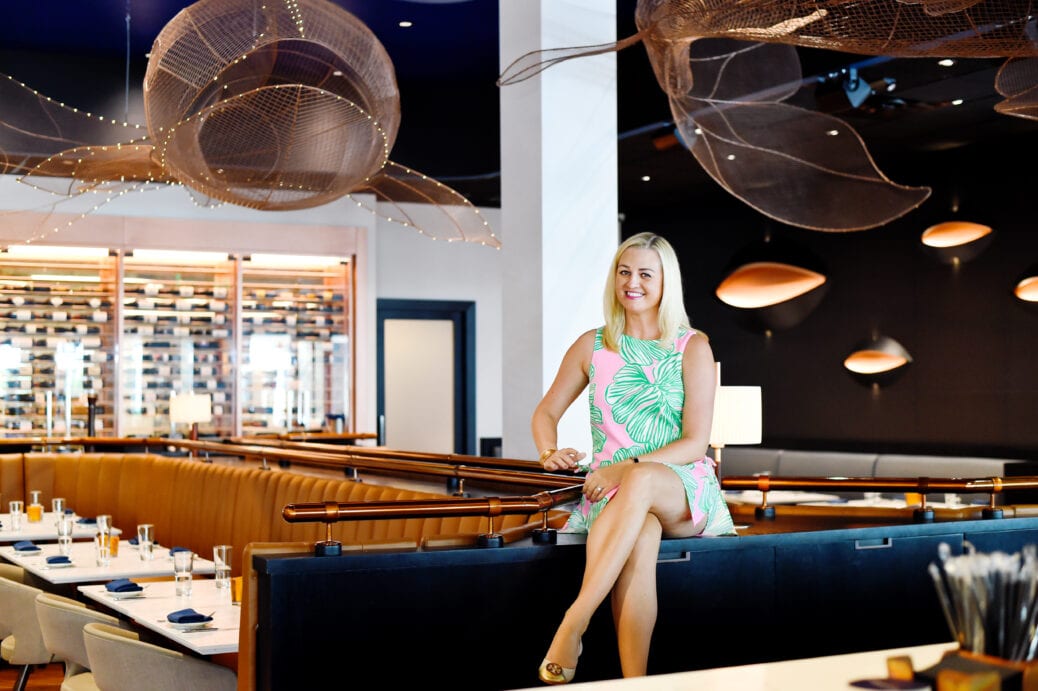 An often little-known fact about Copperfish Kitchen: It's completely family-owned and operated. Manuel Anagnostou (one of the family members behind the fish) says, "A lot of guests are surprised that we are hands-on owners but we love it! Our family has been in the restaurant business for four generations—and three generations are currently working at Copperfish! We are passionate about hospitality and serving real food that you can trace back to the source."  With a ceiling designed to mimic a water's surface and wall cages filled with shucked oyster shells, this restaurant is perfect for date night, happy hour or any family celebration (they even have a private room!). 
In addition to live music twice per week, they also have some sweet daily specials featuring major savings on their most popular menu items! Outdoor dining options available.
Suite 143
561-931-FISH (3474)
www.copperfishkitchen.com
Hours:
Monday – Thursday: 11:30AM – 10:00PM
Friday + Saturday: 11:30AM – 11:00PM
Sunday: 11:00AM – 9:00PM
---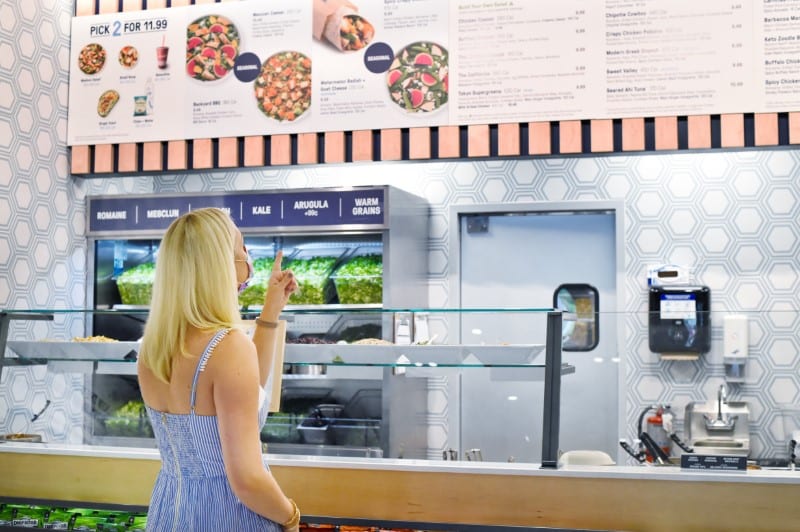 Just Salad was founded as an answer to a simple question: what's with the shortage of healthy fast food? The result was the development of health-minded recipes that could be made in a New York minute. Just Salad's mission today? Make everyday health and sustainability possible—from the Empire State to the Sunshine State, and everywhere in between. *Sustainability*–a trendy buzzword, but one that is becoming more and more important. "Sustainability is not a trend; it's a core value of our business. Just Salad is the home of the World's Largest Restaurant Reusable Program, saving over 100K pounds of plastic each year through its reusable bowl program," said founder, Nick Kenner. By the way, don't let the name "Just Salad" fool you. "We serve way more than just salad, with the freshest wraps, warm bowls, avocado toast + more!" Outdoor dining options available.
Suite 223
866-673-3757
www.justsalad.com
Hours:
Monday – Friday 10:30 AM to 9:00 PM
Saturday – Sunday 11:00 AM to 8:00 PM
---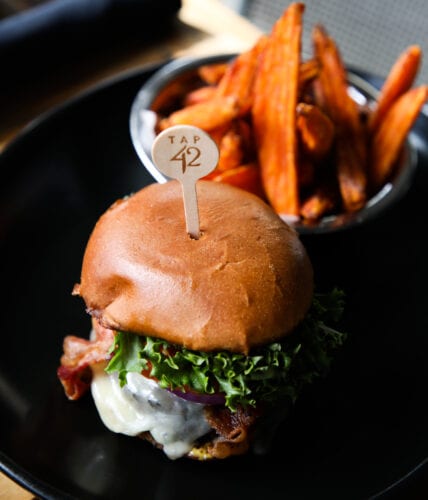 One of Boca Center restaurants best late-night hot spots, Tap42 has possibly the finest selection of American Craft Beers, Hand-Crafted Cocktails and Craft Beer Cocktails in South Florida. They have strived to be a pioneer in the Craft Beer Revolution and are committed to serving thoughtfully sourced craft foods, beers and cocktails. One of the things that makes Tap42 unique is that their menu revolves around the drinks. Foods are carefully prepared to bring out the best in your beverage, and vice versa. Not to mention, they have a great happy hour every day from 4-7! Outdoor dining options available.
Suite 245
561-235-5819
www.tap42.com
Hours:
Monday – Thursday: 11:30 AM-2:00 AM
Friday: 11:30 AM-3:00 AM
Saturday: 11:00 AM-3:00 AM
Sunday: 11:00 AM-2:00 AM
---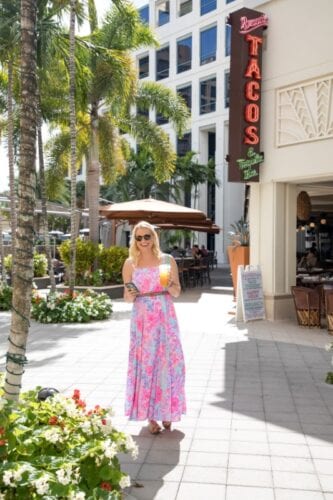 Rocco's Tacos has become a fixture in South Florida's nightlife. And it's easy to see why-– when you first step through the door of Rocco's Tacos at Boca Center you become a part of the casual, fun atmosphere, joining a diverse crowd enjoying flavors picked directly from Mexico. Experience guacamole prepared tableside with fresh avocados. Sample from Rocco's prized collection of 225 varieties of tequila. Or sit back and enjoy a margarita with a sour mix you'll taste nowhere else-– it's made right on the premises. Locals have come to love Rocco's diverse menu and distinct attention to detail. It's authentic Mexican food done the right way. Outdoor dining options available.
Suite 147
561-416-2131
www.roccostacos.com
Hours:
Monday: 11:30 AM-11:00 PM Bar Midnight
Tuesday: 11:30 AM-11:00 PM Bar 1:00 AM
Wednesday: 11:30 AM-11:30 PM Bar 12:30 AM
Thursday & Friday: 11:30 AM-12:00 AM
Saturday: 11:00 AM-12:00 AM
Sunday: 11:00 AM-11:00 PM Bar Midnight
---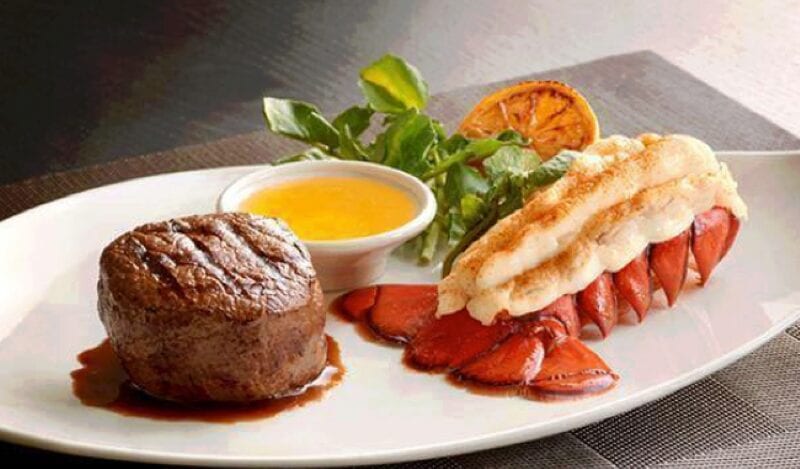 Experience what many have come to call the best steak in Boca Raton! Morton's The Steakhouse uses only USDA prime beef to make up its award-winning signature menu. One of the top wine spots in Boca, they regularly host fabulous tasting events along with offering a list of over 400 wine selections to choose from.
Relax and let Morton's take care of your next gathering! Their sophisticated environment and delectable menu provide the perfect setting for events from board meetings to anniversary dinners to holiday parties. They also have private room options available.
Suite 219
561-392-7724
www.mortons.com
Hours:
Bar
Monday – Saturday: 5:00 PM-11:00 PM
Sunday: 5:00 PM-10:00 PM
Dining Room
Monday – Saturday: 5:30 PM-11:00 PM
Sunday: 5:00 PM-10:00 PM
---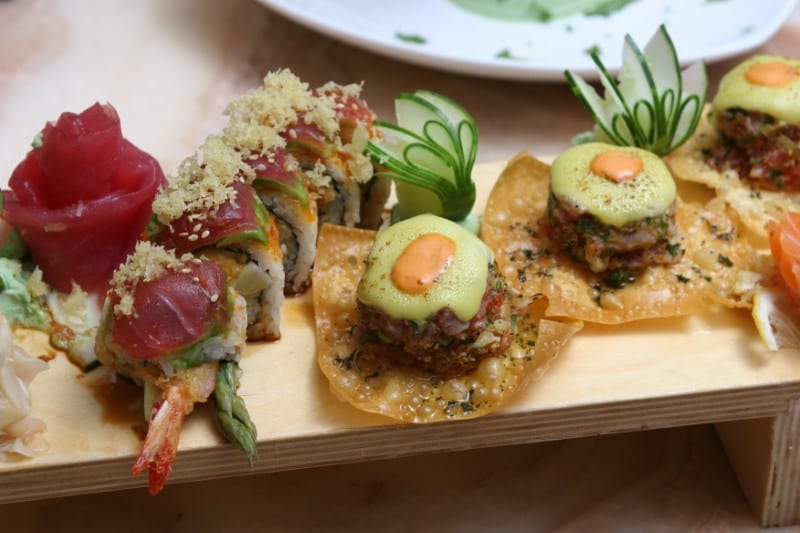 Ray, of Sushi Ray, is a Hong Kong native who came to the states in the 70's and worked his way up in the restaurant industry. He has been serving up amazing sushi in Boca Center for over 25 years!
Ray invites you to come have a cocktail or two at his beautifully designed lounge bar before dinner. Taste from his impressive collection of sake imported directly from Japan, as well as a unique collection of wines to pair with your favorite dish. Enjoy dining at their beautiful, softly lit onyx sushi bar where your personal sushi chef awaits to awaken your taste buds, crafting sushi masterpieces ranging from their delicious Tuna Tower to their signature Tripe S Roll. Or be entertained as you watch your personal Hibachi chef preparing your favorite dish in front of you. It's fun for the whole family! Outdoor dining options available.
Suite 111
561-394-9506
www.sushiray.com
Hours:
Monday – Friday: 11:30 AM-2:00 PM (Lunch)
Monday – Thursday: 5:00 PM-10:00 PM (Dinner)
Friday – Saturday: 5:00 PM-11:00 PM (Dinner)
Sunday: 5:00 PM-10:00 PM (Dinner)
---
Sponsored: This roundup of the best Boca Center Restaurants post was sponsored. All opinions expressed in this blog post are my own and not influenced in any way by the sponsor. Any statistic, quote or other representation about a product or service should be verified with provider. Please refer to this site's Disclosure for more information and I have been compensated, but that does not impact my views or opinions.