-Many SUMMER CAMPS are still happening, parents! Now, I have done my Modern Boca Mom research and found some great options for 2020 South Florida Summer Camps for every child! Whether you live in Boca Raton or beyond around South Florida…
If your child is into coding, dance, sports, gymnastics, art, STEM–you name it–we have a 2020 South Florida Summer Camps option for you! Check out our comprehensive directory below.
---
*** 2020 South Florida Summer Camps Featured Listing ***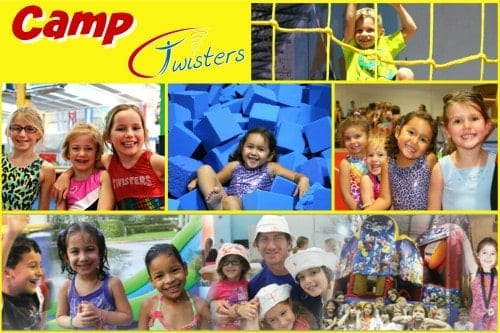 Camp Twisters: Summer 2020 | LIVE & EXTENDED THROUGH 8/28
At Twisters, we realize you have many choices when it comes to finding the best summer activity for your child ages 5+. If your child LOVES climbing, jumping, running and flipping, then they will have a BLAST at Twisters. Whether your child spends a session, a day, a week or the whole week at Twisters, their time here will be filled with loads of fun!
We are excited to offer a week of fun (following the Broward and Palm Beach County school calendars/starting June 1st) in our clean, state-of-the-art facility with our professional, safety-certified staff! Registration includes the fun day sessions of your choice, gymnastics instruction, arts & crafts, movie time, fun & games! Campers are required to bring their own lunch, snacks and drinks from home.
Twisters is proud to resume operating above and beyond state & local sanitation/physical distancing standards. Please review our guidelines here. 
3100 NW Boca Raton Blvd #308, Boca Raton
AND
6805 Lyons Technology Circle, Coconut Creek
Boca Twisters Camps: www.twistergymnastics.com
American Twisters Camps: www.twistergymnastics.com
CONTACT: Boca Raton- 561-750-6001 or Coconut Creek- 954-725-9199
---
*** 2020 South Florida Summer Camps Featured Listing ***
Join Us This Summer for a Sewing & Fashion Design Camp in Boca! LIVE & EXTENDED THROUGH 8/28
Petite Designers is happy to welcome all kids who love fashion, want to learn how to sew on real machines and spend an unforgettable summer with friends making lots of beautiful designs. Our campers drape on mannequins, sketch and create mood boards. They sew their own bags and accessories, stuffed toys and pillows, organizers and clothes for their favorite dolls. Every Friday, they have a fashion show on a real runway where Petite Designers can present their projects.
To adhere with state and local guidelines, there will be a limit of 10 children per camp. Join at our beautiful studio in Boca Raton's Royal Palm Place for a most spectacular and fashionable summer!
311 SE Mizner Blvd. #61, Boca Raton
WEBSITE/REGISTRATION: https://www.petitedesigners.com/boca-raton-summer-camp 
CONTACT: 954-465-0402 – info@petitedesigners.com
---
*** 2020 South Florida Summer Camps Featured Listing ***
CWS Camps in Boca and Delray | LIVE & EXTENDED THROUGH AUGUST
We are limiting enrollment to 8 campers for Water Sports Camp – Save your spot today!
Water Sports Camp – July and August Dates
This small group camp is the perfect place to try water sports for the first time. A week of camp provides includes days which include wakeboarding, kneeboarding, and tubing. All equipment is provided. Our ski boat is equipped with a training boom which accelerates the learning process and helps students learn proper technique. Beach days during the week include swimming and snorkeling!  Ages 5-16. Cost $335 per week.
Wakeboard Camp – August Dates
This camp is focused on all learning wakeboarding, kneeboarding or waterskiing. Other activities include tubing. Each day is spent on the lake. Our ski boat is equipped with a training boom which accelerates the learning process and helps students learn proper technique. Ages 5-16. Early bird price $395 per week. 
Fishing and Surfing Camp – August Dates
Activities include fishing and surfing.  Ages 5-16 $335 per week. 
Drop off and pick up at 2400 Yamato Road in Boca Raton
WEBSITE: cwscamps.com
CONTACT: Matt Corwin Call or Text (561) 271-8191; cwscamps@gmail.com
---
Summer Camp at ArtNest Delray AND Boca | LIVE & EXTENDED THROUGH 8/28
Let's Make Art!! artNEST DELRAY and BOCA both are running camps! Join us for weeks of fun exploring different mediums, artists and styles as your child taps into their naturally creative minds and lets it loose in our studio. Ages 3+ and no experience necessary.
DATES/TIMES: 9:00 a.m.-3:00 p.m. each week day every week of the Summer – Weeks of June 1st – July 27th. Sign up for just 1 week or all 9. Themes and projects are different each week.
Camps will only have 10 kids at a time. Safety procedures have been modified to reflect CDC guidelines and the overall health and safety of kids, parents and staff.
2275 S. Federal Hwy #340, Delray Beach
AND
9101 Lakeridge Blvd. #6, Boca Raton
WEBSITE: www.artNESTstudios.com
CONTACT: Stephanie Pitts- 561-562-8897
---
Summer was Made for Adventure at the South Florida Science Center | VIRTUAL and LIVE THROUGH 8/18
At this time, the Museum's daily visiting hours are temporarily suspended. We are now offering virtual and offsite programming, which allows us to continue connecting people around the globe to inspiring science – whether at home or in virtual classrooms.
We are currently still offering on-site camps through August 18. Our Virtual Camp Discovery programs are continuing along with many other opportunities, including super science shows and demonstrations, wild Creature Feature animal encounters, awesome avatar tours and private experiences, mind-blowing Makerspace labs, cool camps, unforgettable birthday parties, engaging field trips and STEM curricula, professional development workshops for educators, distinguished speakers, and more.
For Museum updates and innovative virtual experiences, please continue to check our website and sign up for our newsletter to see the coolest content first!
4801 Dreher Trail N.
West Palm Beach
WEBSITE:  www.sfsciencecenter.org/camps
CONTACT: Zary at 561-370-7707; zroque@sfsca.org
---
The Museum of Discovery & Science Camp Discovery
The Museum of Discovery & Science Camp Discovery has summer fun down to a science! Give your child a SCIENTASTIC SUMMER STEM experience at MODS' summer camp program, sponsored by Joe DiMaggio Children's Hospital, for children ages 6 through 12 and a special Ocean Explorers program for campers entering 7th and 8th grade.
At Camp Discovery, we've crafted the ultimate age-appropriate camp experience, providing campers with interactive exploration and hands-on learning opportunities in the coolest camp environment, including a weekly IMAX immersion* on South Florida's BIGGEST screen! Awesome themes abound at our two-day, three-day and five-day camps. From "Game On" to "Chillin' Like a Villain," "Born to Be Wild (Kratts)," "Hogwarts Summer School," and more. Your child will have a spectacular summer of science! Spring into summer before these spots fill up!
*IMAX immersion is for five-day camps.
401 SW 2nd Street, Ft. Lauderdale
WEBSITE: Visit mods.org/summerrsvp to register!
CONTACT: Call 954.713.0930 or email booking@mods.net
---
Miami Dolphin Virtual Football & Cheer Camps | VIRTUAL
Train like the pros from the comfort of your home. Join the Junior Dolphins Virtual Football and Cheer Camp. Junior Dolphins Football will offer four days of strength and conditioning workouts, and football drills along with a 30-minute current player Zoom call to wrap up the week.
Cheer will feature five days of cheers, chants and dances led by our very own Miami Dolphins Cheerleaders. Both camps include a bag, shirt and more! Register by May 30th for the early bird rate of $75.00 or $99.00 after that.
WEBSITE: www.juniordolphinsfootball.com
---
Marleen Forkas Camps – Camp at the J
at the Adolph & Rose Levis Jewish Community Center | VIRTUAL
Come join us on a new adventure at Marleen Forkas Camps – Camp at the J! Our Jewish Community Center known for providing children of all ages with unforgettable summers since 1986, offers 8 weeks of virtual camp for children ages 5 and up. Campers can enjoy a summer filled with some of the most-loved Camp at the J activities led by the camp team and specialists. The sessions will be held via Zoom and supply kits will be provided weekly so that each camper has all he or she needs for their fun-filled activities. 
The program is divided into three distinct groups: Upper Camp, Camp Kavod (for children and teens with special needs) and Theater Camp. Upper Camp and Camp Kavod meet Monday through Friday between 9:00 am and 12:00 pm and will feature activities that include Magic, Drama, Fitness, Yoga, Camp Games, Art, STEM, Cooking, and more. Theater Camp sessions meet Monday through Friday 9:00 am – 1:00 pm and offer "theater kids" opportunities to fine tune their singing, dancing, and acting skills, as well as learn about stage make-up, how to audition, writing plays, and more, in a small workshops environment.  
$240 per 2-week session, beginning June 15th 
 9801 Donna Klein Boulevard, Boca Raton
WEBSITE: www.levisjcc.org/camp/virtual 
CONTACT: Neal Buchholz, Camp Director; 561-852-5090; nealb@levisjcc.org
---
Science Academy Summer Camp | LIVE and VIRTUAL
Enroll your child in a Highly Appraised Science & Recreation Camp where everything is all-inclusive.
Our fun science labs consist of chemistry, physics, engineering, rocketry, biology, etc. Our fun clubs are Robotics Club, Legomation Club, High Tech Club, Minecraft Club and more!
Students will have FUN learning from accredited national board-certified teachers, instructors and aids. All students can also participate in fun outdoor recreation which includes sports and games at our playgrounds, sports fields, basketball courts and pavilions. It's ALL-INCLUSIVE!
MESSAGE TO PARENTS: Due to the current pandemic situation, and to address our parent's needs, we took measures to  create online programs and labs that include free science kits, robot kits, etc. from our Summer Camp Curriculum. These FUN and EXCITING Online Programs provide students with positive environments and activities that have the same Science Academy High Standards that many of you are familiar with. These online programs could never replace what we do in our classrooms, however it's a step in the right direction until we re-open our campus.
For information on our Summer Camp (Campus re-opening) or Online Programs click here or call (561)285-7552.
6201 Morikami Park Rd, Delray Beach
WEBSITE: CLICK HERE
CONTACT: Call or text (561) 285-7552 or email info@thescienceacademy.org.
---
iD Tech Camps | VIRTUAL
Virtual Tech Camps are the perfect, home-based option for students ages 7-19 seeking the collaborative spirit of our on-campus programs.
Structured, weeklong sessions with 2 hours of live instruction per day + 2 hours of self-paced project development. Curriculum in Python, Java, Minecraft, Roblox, AI, Unreal Engine, Adobe, 3D modeling, and more. 5 students max per instructor, blending personalized learning and team interaction. Save $100 with code TOGETHER as long as social distancing is in effect.
WEBSITE: Learn More and Register HERE
CONTACT: 1-888-709-8324
---
5 ArchiCamp Architecture Camp | VIRTUAL
5 ArchiCamp is a virtual architecture camp accompanied with the hands-on activity of model making. During our 5-day model building camp, we lead campers for a daily hour of creation. We will build an architectural model from a kit we mail to you. Model pieces are pre-measured and cut so campers are ready to start building. Campers will login to our pre-recorded videos at their convenience and we will walk them through step-by-step activities.
The camp is for children ages 7 and up. The models were designed as simple and straightforward structures and can be completed with little to no assistance from parents. Campers will only need skills they already have, such as gluing and assembly and we will build on those skills together. This is the perfect camp for anyone looking for creative play, the tinkerer, and little ones who love to build.
WEBSITE: Learn More and Register HERE
CONTACT: camp@5architecture.com
---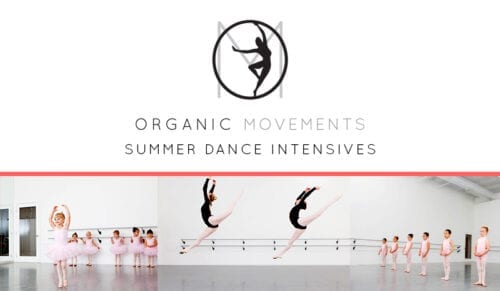 Organic Movements Dance School Summer Half Day and Full Day Dance Intensives | LIVE
Organic Movements Dance School in East Boca Raton offers Dance Intensives for intermediate and advanced classical ballet students. The program is taught in their state of the art, professionally appointed 5,200 sq ft facilities, which feature an in-house performance space, sprung floor, full-length mirrors, sound systems, kitchen and dressing rooms. COVID-19 health and safety precautions have been implemented and are being strictly enforced. A maximum of only 12 students will be accepted each session.
Dance Intensive Details
Each morning is devoted to classical ballet, pre-pointe/pointe and variations, while afternoons are comprised of post-modern contemporary, jazz, strength & conditioning training. The programs strongest focus is on classical ballet, yet each session will also focus on introducing, exposing and educating students in different dance disciplines to help create well-rounded dancers. Intermediate and Advanced levels only due to COVID-19 restrictions.
Summer Session 1: TECHNIQUE ONLY- June 8 – June 26
10:00 a.m – 4:00 p.m. Full Day Intensive (Must be evaluated if not a current Organic Movements student)
Summer Session 2:  July 13 -July 31 | TENTATIVELY BASED UPON COUNTY, STATE AND CITY COVID-19 RESTRICTIONS.
For more information please contact  us directly at hello@organicmovements.com.
2400 NW Boca Raton Blvd., Suite 12, Boca Raton
CONTACT: 561-395-6111; hello@organicmovements.com
---
Teen Tribe National Mentorship Program | VIRTUAL
Sometimes grades aren't enough. This course will give each teen the tools to stand out, and look back at this chaotic time and be proud of what they created. Teen Tribe is open to high school students ages 14-18. In addition to leadership lessons, students will gain new friends and service hours.
Students will meet virtually once a week for 6 weeks to learn more about topics including networking, presenting to adults, and goal setting. Students will meet with Rayna Rose twice, and by the end of the course publish something depending on their strengths- a podcast, article, speech, children's book, etc.
Rayna Rose supports leaders who want to increase their confidence through social impact and conversation. She is passionate about people leveraging their skills and talents to make a difference in the world therein empowering themselves. Over the years, Rayna has mentored hundreds of students all over the country, and in the last decade has spoken to over 100,000 people of all different ages and backgrounds.
DATES: July 5th-August 9, every Sunday at 12pm ET
WEBSITE: Learn More and Register HERE
CONTACT: Rayna Rose Exelbierd, Rayna@therosegrows.com, TheRoseGrows.com , 813-641-4579
---
Taylor Made Dance & Theater
We believe in education. Period. The foundation of a performer starts with just that, a solid foundation. There is no fast track; it takes time, focus and a dedicated teacher to help each student achieve their potential. Our teachers are just that – dedicated teachers that are invested in the future of the performing arts.
I believe in my students and believe that each one of them has a talent that is uniquely theirs. As educators, it is our job to help them realize that talent, give them the discipline to succeed, and encourage the spirit and belief in themselves to love what they do. Our summer dance classes are an ideal way for potential students of all abilities to get a taste of what Taylor Made can offer, please check our website for details and registration!
Led by Gail Marshall, one of Palm Beach's finest educators, the children's summer program offers experiences for students ages 5 to 10 in a fun, interactive environment. Professional teaching artists lead the students in acting, singing, dancing and art activities all based around weekly themes. The Taylor Made children's summer program is an opportunity to instill the values of our school in younger students and hopefully create the next generation of Taylor Made performers!
WEBSITE: Learn More and Register HERE
CONTACT: taylormadedanceandtheatre@gmail.com, 561-809-8165
---
Real Connections SoFla for Kids! VIRTUAL/HYBRID
This Virtual camp will keep your kids CONNECTED to themselves, their friends, the community and nature. Kids need PLAY & STRUCTURE! The camp is for KIDS ONLY!
Monday- Friday, Amanda, Veronica, and Keyla will engage your children with live ZOOM classes in order for your children to be interactive with the counselor and their campmates. The online subscription will also include a Facebook Group where you and your family can post any work/ projects they've created and use the forum as a way to interact and communicate with other families. For June we are virtual but our virtual camp is going to be so fun and engaging your kids will want to come back for more!
Real Connections SoFla wants to give all parents an opportunity to continue their self care and keep working, so all the videos will be recorded and sent via email and Facebook. Therefore if you have a meeting, errands to run, or a yoga class to take you will have an array of 30-45 min recorded classes you can set your child up with and then independently participate. The classes will include cooking, eco art with crafts, yoga, scavenger hunts, book reading, and much more! For $147 each month, pay as you go for June, July and August. The subscription includes Facebook Group membership, access to interact with the 3 teachers, and 5 Master Classes from Real Connections SoFla Holistic Community online so parents can also get connected. OR you can choose the drop in rate $10/ class.
WEBSITE: Learn More and Register HERE
CONTACT: Jess Pfeffer 561-331-1990 realconnectionssofla@gmail.com / www.realconnectionssofla.com
---
Grandview Summer Camp 2020- CANCELLED
Keep your kids off their screens and send them to Grandview's weekly summer day camp for ages 3 through 10. Give them the fun, messy camp experience you had as a kid! Individual screen time will not be permitted during our summer fun. Lunch and snacks are provided on our nut-free campus.
***Register by May 25th for early registration pricing! Get an EXTRA $20/week off when you mention Modern Boca Mom* (*for non-GPS students; ends 5/25/20).
336 Spanish River Blvd. NW, Boca Raton
WEBSITE/REGISTRATION: CLICK HERE
CONTACT: Desiree Tobin at dtobin@grandviewprep.net
---
Summer Camp & Programming at Sugar Sand Park- CANCELLED
Sugar Sand Park Community Center is the place to be this summer, with over twenty full and half-day programs available for children ages 5-15. With everything from rock camp to future veterinarians, drama & cheerleading, digital arts, cooking, science, fitness, art, film-making and more, kids are sure to find something they like. And our Afternoon Kids in Action Extended Program keeps the fun going until 5:30 p.m.!
300 S. Military Trail, Boca Raton
WEBSITE/REGISTRATION: Goes live 3/2/20 | CLICK HERE
---
Sponsored: This 2020 South Florida Summer Camps Roundup was sponsored by the camps featured. All opinions expressed in this blog post are my own and not influenced in any way by the sponsor.  Any statistic, quote or other representation about a product or service should be verified with provider. Please refer to this site's Disclosure for more information. I have been compensated, but that does not impact my views or opinions.
---
Pin for Later!