When we re-did our kitchen in 2017, we had to nix our dream of building a 'home bar' to stay on budget. We had so many cabinets and pricey counter tops to buy, I just couldn't justify the additional cost at the time. But then I got the itch…that home renovation craving to do a project this fall. Can you blame me? I'm married to Handy Andy Boca after all! I'm the queen of the ongoing honey-do list. 😉 But I'll be honest. It was also fueled by NewAir (remember their amazing 19 bottle wine cooler??) shipping us a ridiculously cool (pun intended) 126 can Newair Home Beverage Fridge to try out.
I mean, how could I NOT include it our dream/future home bar?
With the capacity to hold up to 126 standard cans, you can fit all the drinks you want inside — without having to make room for a larger appliance. That's over 20 full six-packs, so you'll never be left high and dry in the middle of a party or with your thirsty children.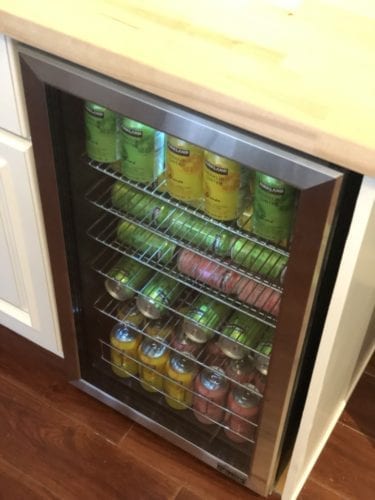 It's a beauty. 🙂
As a refresher, here's the Handy Andy Boca home bar design we initially started with: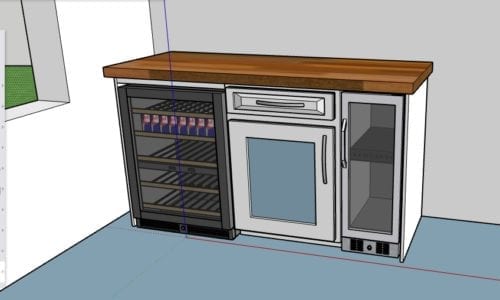 In this rendering, we placed a NewAir Wine Cooler on the right hand side, a 24″ semi-custom cabinet in the center and the NewAir 126 Can Freestanding Beverage Fridge in Stainless Steel on the left.
Some of the great features of the NewAir Home Beverage Fridge (AB-1200):
Powerful refrigeration chills drinks all the way down to 34 degrees.
Roomy design holds 126 cans in an attractive, stainless steel design (that matches our NewAir Wine Cooler!)
Removable storage racks create space for cans, bottles and more.
Set-and-forget-it thermostat comes with 7 custom settings.
Quiet 35dB compressor is ideal for homes, offices, dorm rooms and more.
DEAL ALERT: NewAir is giving Modern Boca Mom readers a great 20% off promo, so you can purchase your own NewAir 126 Can Freestanding Beverage Fridge in Stainless Steel!
Just CLICK HERE and use my code: ModernBoca20
---
But back to the home bar design…
I sought out some inspiration on Pinterest for the overall look of the bar. The main difference between the inspo and real life is that ours was always going to be freestanding.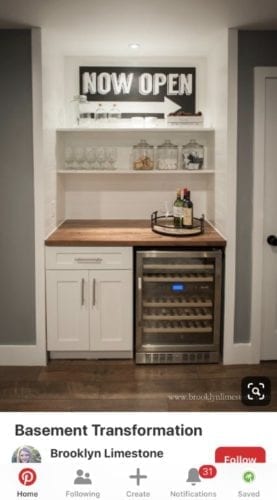 I also loved the light up shelves and knew we had to have those.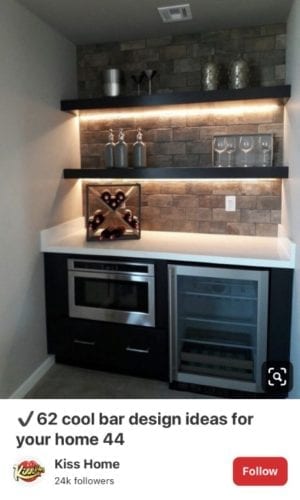 So after delays that included a wrong cabinet delivery and a major hurricane (that just missed us)…drum roll please…
Here's the home bar we actually built: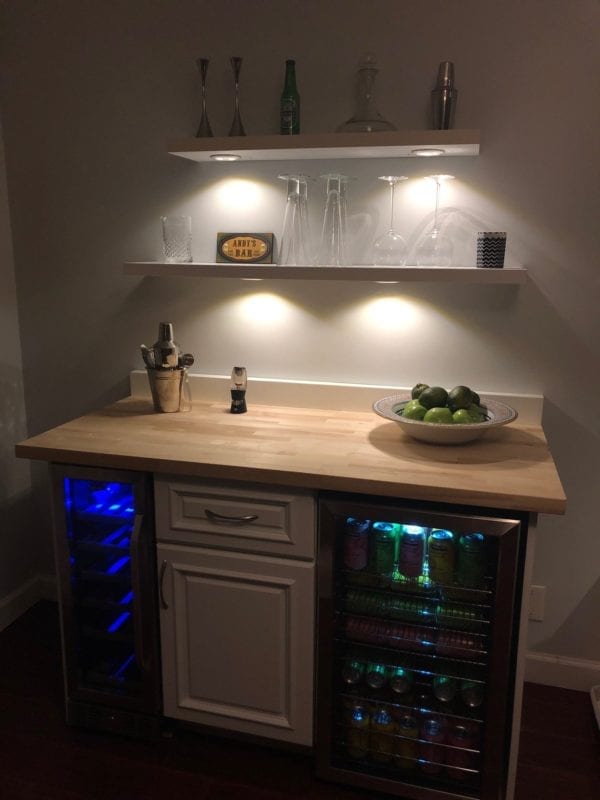 Pretty swanky right? I'm not going to say this project was easy DIY. Handy Andy would definitely agree with me there!
But, it also wasn't impossible, especially if you order a pre-made cabinet like we did, special paint for the plywood shell and a butcher block counter top from Home Depot.
We snagged the white light up shelves from Amazon in 48″ and 36″ (affiliate link). The touch lights are battery powered, so I keep joking that our home bar will be the one place that has light during a hurricane!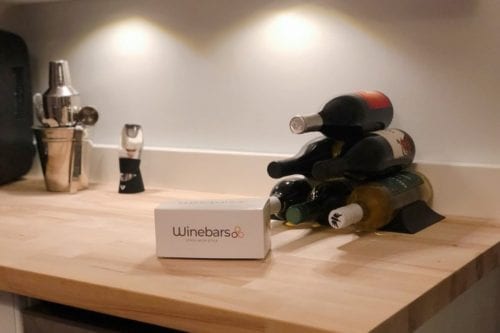 I also styled it with some Winebars. Winebars are stylish, chic bookends for wine! The bars themselves are small enough to fit in a purse, making them easy to display anywhere in your home—even inside the fridge or a cabinet. The company is getting ready to launch a Kickstarter project, so I wanted to show them off a bit. They are really great to have, especially if your wine rack and wine cooler are full!
We could only be so lucky…
So what do you think? Comment below with any NewAir or home bar design questions!
---
Sponsored: This post is in partnership with NewAir. All opinions expressed in this blog post are my own. They are not influenced in any way by the sponsor. Any statistic, quote or other representation about a product or service should be verified with provider. Please refer to this site's Disclosure for more information. I have been gifted the NewAir 126 Can Freestanding Beverage Fridge in Stainless Steel | AB-1200, but that does not impact my views or opinions.
---
Pin for Later!