Did you know that Boca is basically the birthplace of the luxury movie theater experience? I guess I've just been spoiled my whole life having access to The Premiere at Cinemark (formerly Muvico) and the gorgeous IPIC Theaters in Mizner Park. It's truly a treat going to the movies with my family in Boca Raton! Now, your entertainment experience is about to get even better with the opening of IPIC Delray just in time for upcoming spring and summer blockbusters!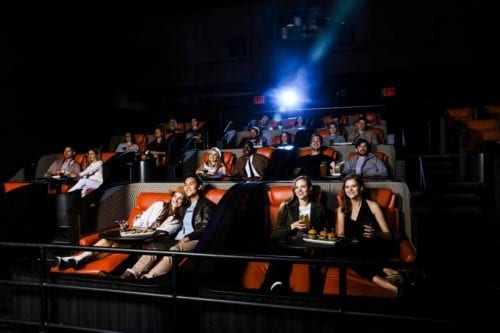 IPIC Delray Location
Located just south of Atlantic Avenue (50 SE 5th Ave. Delray Beach), Modern Boca Mom was invited to get a sneak peek of IPIC Delray before its grand opening on March 7, 2019! We screened Green Book and were able to taste many of the amazing CIPI wines and craft cocktails available; not to mention the delicious "Dine in the Dark" menu by Chef Sherry Yard. I was so excited to meet her a few years back at Boca Raton's Tanzy!
IPIC Delray marks the sixteenth location for IPIC Entertainment, which has quickly grown with 123 screens in nine states since 2010. This particular location has been 6 years in the making!
The IPIC Delray Experience
Boasting a 4-level upscale social destination, IPIC Delray is an 8-screen, 429-seat luxury movie theater. It features revolutionary movie-watching comfort with reclining leather POD seats equipped with:
Personal swivel table
Service call buttons
Pillows and blankets
Complimentary unlimited popcorn
Cup holders
Shelves for bags/purses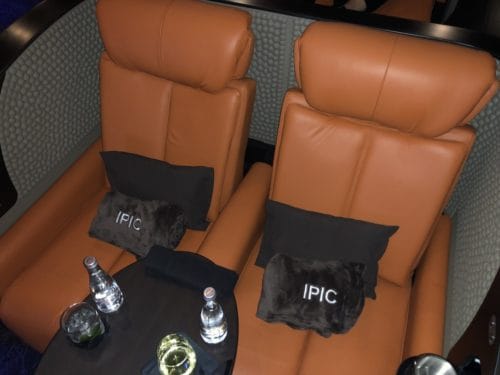 A lot of my readers with kids seem to be concerned about the POD seating. Well, here's what I would recommend based on my experience: make this your date night entertainment destination. OR, you can try to book the ADA row in the theater that has the standard Premium Plus seating (like Mizner Park). Your third option? Book two pods. The walls aren't that high and honestly, would you really mind a little separation from your kids for two hours? 😉
The building itself
IPIC Delray is the city's first movie theater to be built in over 40 years, presenting the historic downtown area with its only luxury entertainment destination. It is a sight to see, especially with all of the art on display!
IPIC Delray also has their own parking garage where theater-goers can park for just $1 (for 3.5 hours)!
Get your tickets today!
All seats can be reserved ahead of time at IPIC.COM. Or like me, you can download the IPIC App for a simple, one-step transaction process. And don't forget about their IPIC ACCESS Membership Program!
Gold Members pay $45 annually and receive:
Member-only ticket pricing*
10% off food and beverage*
Free Premium Plus birthday ticket
Earn 1 point for every $1 spent
And more
*Restrictions apply
Silver Members pay nothing and receive:
Subscription to IPIC ACCESS newsletter & showtimes
Earn 1 point for every $1 spent
See you at the movies, mamas!