After having my daughter in swim lessons for quite a few years, I've realized something. INDOOR is the only way to go when searching for a swim school in Boca Raton! It might seem obvious given the amount of environmental factors we're up against in South Florida. But, not to me! Mom brain.
Luckily, the folks at Florida Swim School are a lot smarter than me when it comes to knowing all the answers to the questions parents (should) ask when shopping for swim lessons for their child.
Because learning to swim is a NECESSITY, not a LUXURY in our area.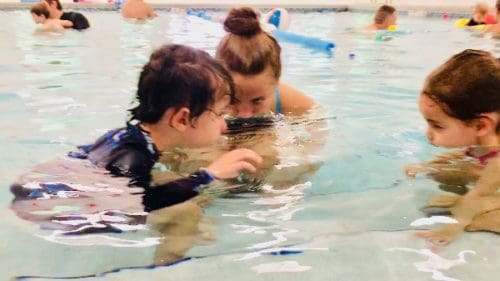 Founder, Kara Cassidy, has taught swim lessons and water safety to thousands of people of all ages. In 2005, Kara founded Saint Andrew's Swim School. In 2013, Saint Andrew's Swim School became Florida Swim School in Boca Raton, which is nationally recognized as a premier learn-to-swim program for all ages. Florida Swim School opened the area's only indoor swim school in June 2015 and still provides lessons at Saint Andrew's School for their students.
Kara Cassidy's passion is to educate on the importance of learning to swim as a life-saving skill in a safe environment using a nurturing method that builds confidence.
Let's have a little Q&A with our newest partner: Florida Swim School!
What makes your indoor facility different than another swim school in Boca Raton?
Our swim school in Boca Raton has state of the art UV system that removes 99% of harmful chemicals or bacteria every 3 hours. Our pump room system automatically balances the water, keeping it clean and safe. There is also a dehumidification system that keeps the air quality as clean as the pool water. This system circulates the air constantly, using the humidity from the air to keep the pool at a warm 90 degrees and also resulting in zero condensation.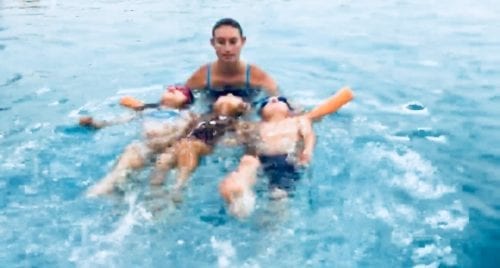 When parents are looking for the right swim school for their family, what questions should they be asking?
How much training is required of the teachers?
How do you handle a crying child? Teachers should be nurturing and provide comfort to crying children. Parents should be invited to join the class of a child who is upset. The swim lesson should not cause crying. Normally it is separation anxiety. Crying children should never be submerged.
Can you observe classes prior to registration? There is no reason not to allow this unless there is something to hide.
Does the swim school in Boca Raton carry liability insurance? Although we do not expect injury, accidents happen. If someone is coming to your home to teach, their liability insurance will be able to list your address on a Certificate of Insurance. Homeowner's Insurance does not cover liability.
What are make up and cancellation policies?
When it comes to private vs. group lessons, is one better than the other?
Children under two are encouraged to start with Baby & Me Classes where an adult must be in the class with each child. This allows the adult to learn and understand the skills being taught and these skills may be practiced at home. These group classes also provide for bonding time with baby in addition to social time with others the same age.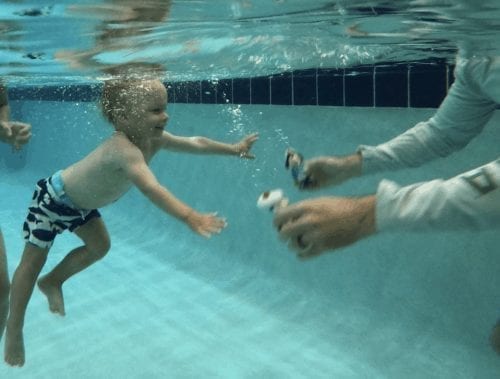 It is not mandatory to do group classes and some parents prefer not to get in the pool.  In this instance, private lessons will be productive.
After children are showing independent swimming at age 3 (or younger for advanced) we suggest group classes without a parent so that they are learning with peers. Those uncomfortable in water at any age should begin with private lessons until showing independent swimming. Independent swimming suggests that children are able to jump into the pool, go under water, turn around, and swim back to the wall unassisted.
Those not showing this skill should be in Child & Me Group Classes or Private for safety purposes.
How often should children take lessons at a swim school in Boca Raton?
The more often a child takes swim lessons, the quicker he or she will learn. I offer this explanation: More is beneficial, but one is better than none. We understand that schedules are busy so we do not require a specific number of classes per week. Learning to swim is a commitment from families and teachers!

CONTACT:
FIND US: 

1082 S Rogers Circle, Boca Raton, FL 33487

CALL US: 

561-288-3817
---
Sponsored: This post is sponsored by Florida Swim School. All opinions expressed in this blog post are my own. They are not influenced in any way by the sponsor. Any statistic, quote or other representation about a product or service should be verified with provider. Please refer to this site's Disclosure for more information. I have been compensated for this post, but that does not impact my views or opinions.
---
Pin for later!