If you are lucky enough to reside in Boca Raton, Florida and have our town's pristine beaches at your disposal year-round, it's hard (at least in my opinion) to justify going on a "beach vacation" with your family. Nine times out of ten, I'd rather spend my holiday budget on a cruise, Disney World or a country residing on the other side of the Atlantic. But after my first visit to Beaches Turks and Caicos for the 2018 Social Media on the Sand Conference (SMOTS), call me a convert!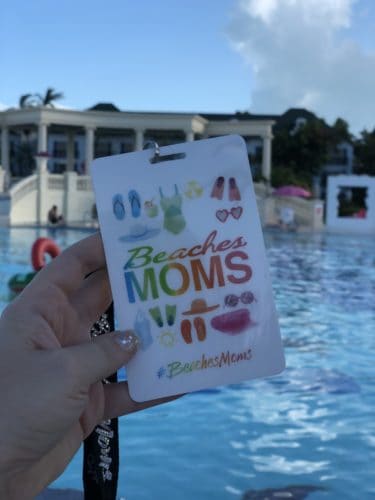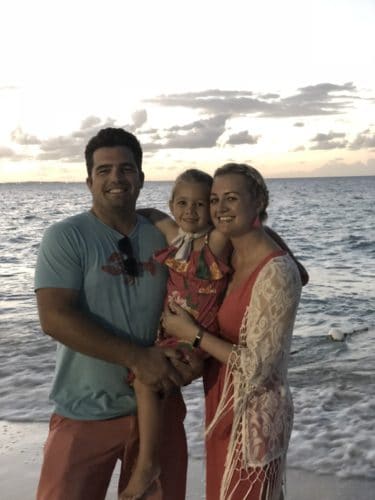 There is something simply amazing about an all-inclusive beach resort in paradise, catering to your family's every need! It actually feels like a real vacation vs. a "trip with kids." I didn't even know that was possible! But that being said, the size of the property utterly overwhelmed me for the first two days of our trip. There are 4 villages and 21 restaurants serving 5 Star Global Gourmet. It's HUGE. And of course you want to do ALL THE THINGS. Everything's included after all…
But after some guidance from Beaches veterans and #modernbocadad memorizing the resort map, our first visit to Beaches Turks and Caicos evolved from a super fun vacation/conference to a travel research mission for me.
And now, I'm sharing with you my Beaches Resorts for Beginners Guide, handy tips and tricks to make your first family vacation there a smashing success!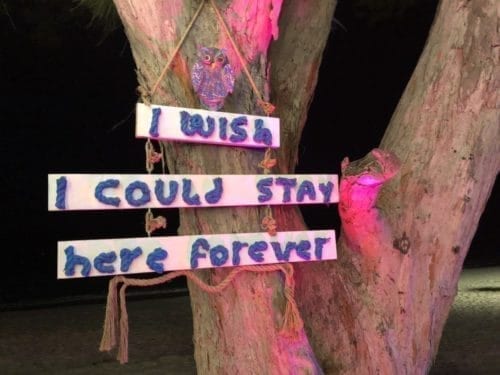 Beaches Resorts for Beginners | 10 Valuable Tips for Your First Trip to Beaches Turks & Caicos
1. Pack a pen
"I don't need a pen, I have an iPhone." That's what I told myself going into this trip. Then of course I found myself filling out customs forms in-flight with my daughter's homework pencil and having to RE-DO them at the airport with a borrowed pen. Don't make this mistake. Pack a damn pen!
2. Invest in sun protection
And I'm not talking JUST about sunscreen, although that is really important (we used SunBum pretty much the whole trip- thank you for the gift bag)! The sun is really intense in the Turks and I found a sun shirt to be essential for our whole family. I was super grateful to Lands' End for gifting #dailybocaavery and I with some extra ones.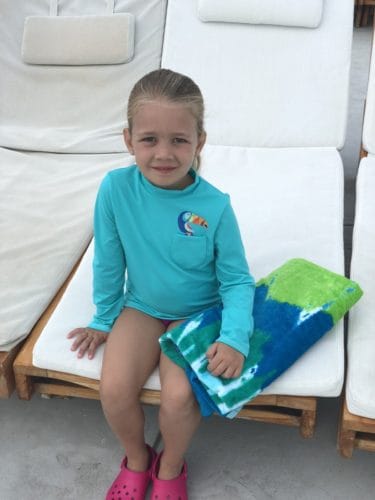 Plus HAPARI, the official swimsuit sponsor of Social Media on the Sand, sent us a gift card prior to the conference so we could shop. I am obsessed with my black palm tree rash guard and tankini! Thank you so much to both SMOTS supporters. This mom is now a customer for life!
3. Ground floor rooms in the French Village have a bonus
There are 5 villages at Beaches Turks and Caicos with rooms/suites/villas at pretty much every price point. We were booked in the French Village, which is very central (and the best, location-wise if you ask me). It's probably on the moderate side when it comes to pricing, but here's a little tip. If you request a ground floor room, you get a bonus PATIO and direct access to the pool. 🙂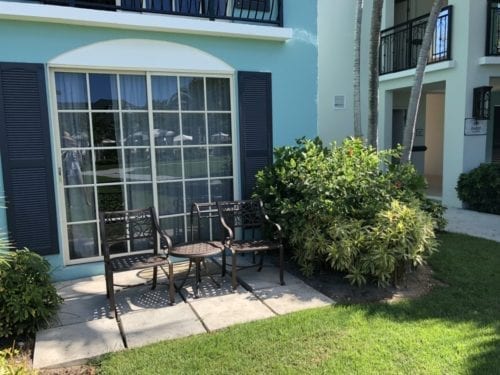 Our room had a king bed (a doubles option is available of course) and an awesome sofa with a trundle for Avery. The accommodations were large. There was a big bathroom with two sinks, plus a bar that Beaches staff will stock and re-stock for you with complimentary water, beer and wine. All you need to do is ask!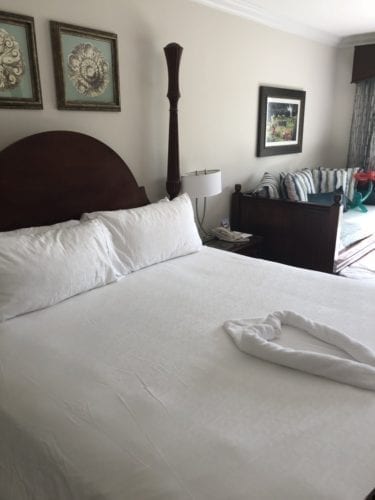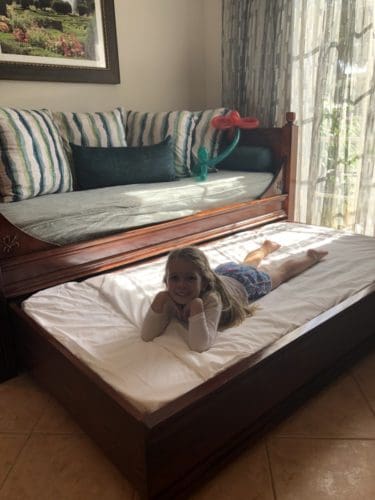 4. There's only one restaurant that requires reservations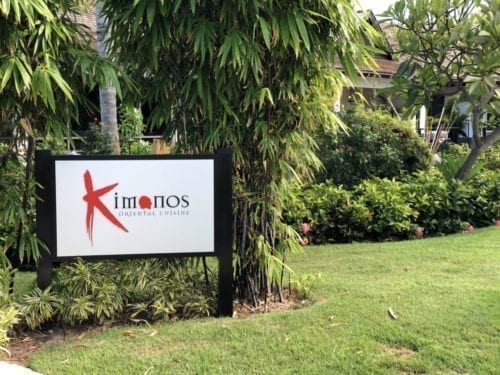 I was so excited when the conference booked us for dinner at Kimonos, the popular hibachi restaurant on property. Hibachi can get pricey, so I am all about eating it at an all-inclusive! 😉 Not to mention the attached sushi restaurant, Soy, where I actually learned to make a sushi roll with my fellow #BeachesMoms. We had multiple meals there during our visit and the chefs are so talented! Hi Cookie!
A tip from me to you- make sure you book a reservation in advance if you want to eat at Kimonos. This is the only restaurant on property that books reserved tables because of space limitations. And it's yummy. Take note!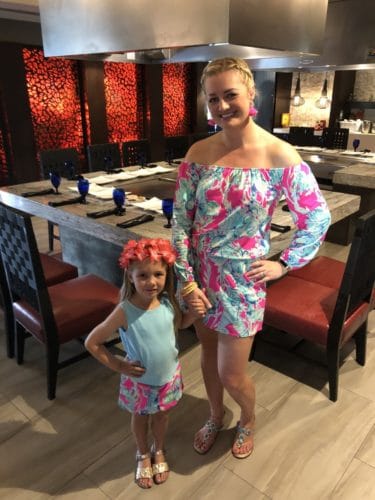 5. Go green while drinking frozen libations
Like I mentioned, the sun in the Turks is intense. It gets pretty hot there even for us Floridians! So why not pack a thermal cup and re-usable straw in your suitcase to keep your (free) drinks cold on your vacation?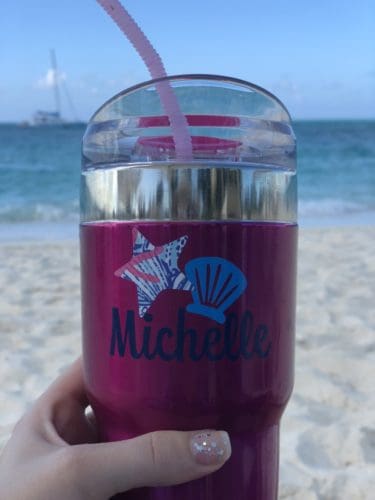 I brought mine and used it a TON. Sure, you can use Beaches' cups, but they are small and Sandals as a company is eliminating single-use plastic straws ASAP. Sip, sip, hooray!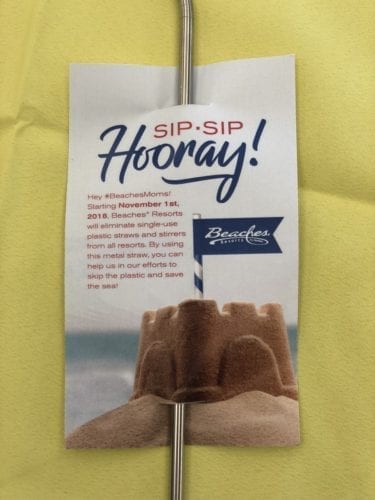 6. Get ready to walk…a lot
"Mommy, can we take a golf cart?" was the question I heard from my daughter each time we left our room. If it's your first visit to Beaches Turks and Caicos, you'll want to plan accordingly when it comes to moving your children around the property. We made Avery walk everywhere, with the exception of a few special golf cart rides. But, we saw a ton of parents rockin' their strollers all over the Resort. It's big! And if you're staying at one of the villages at either end (Key West and Caribbean/Seaside), it's a hike to the center where all of the main attractions are located.
P.S. There is an amazing Sesame Street trackless train that runs regularly between the villages. We didn't have time to take it this trip, but it looked adorable and fun!
7. Do good on vacation
Have you heard of volun-tourism or impact travel? It's basically doing good on vacation. And, guests are encouraged to do just that through the Sandals Foundation, the non-profit arm of Sandals Resorts and Beaches Resorts.
Our conference group brought school supplies from School Specialty over to Beaches Turks and Caicos to donate and several of us even went to a local school to paint murals and renovate learning spaces one morning. A lot of local places have suffered after Hurricane Irma!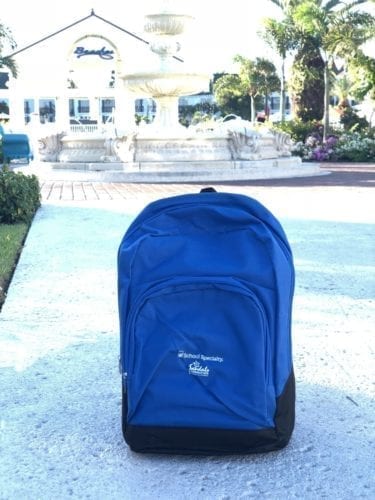 Will you join me in supporting the Sandals Foundation's "Rebuild lanthe Pratt Primary School" fundraiser on Facebook. We are trying to raise $10K before the end of November (2018)! The funds will go directly to purchasing needed supplies and materials to complete the school's playground, theater area and main recess area. Be sure to include "Modern Boca Mom" in the notes section of your donation as the one who directed you there because there might be a little prize at stake. 😉
The Sandals Foundation is a 501c3 that seeks to help fulfill the promise of the Caribbean community through investment in sustainable projects in Education, Community and the Environment which improve people's lives and preserve our natural surroundings. 
8. Sign on for Sesame Street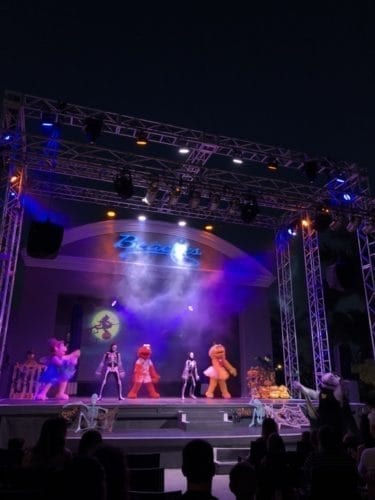 Disney may have Mickey, but Beaches Turks & Caicos has the entire Sesame Street gang! I wasn't sure if my 5 year-old would still be into Sesame Street during our first visit to Beaches Turks and Caicos (unlike my toddler nephew who is obsessed). But, I was pleasantly surprised!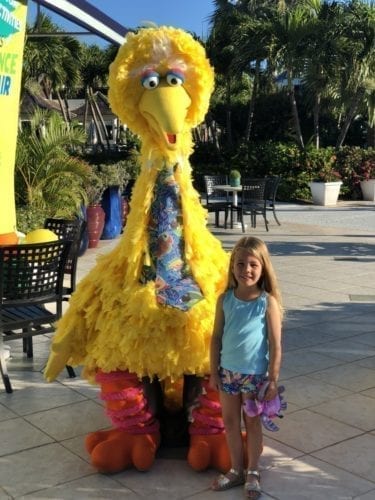 #dailybocaavery jammed out at every stage show, loved the Caribbean parade and had a blast at the Sesame Street Character Breakfast! This is something that you will need to book at an additional charge- FYI. But, it's WORTH IT. There are also some fun upgrades available that we didn't have a chance to take advantage of this trip such as having Elmo come to your room to tuck your children into bed. Adorable right?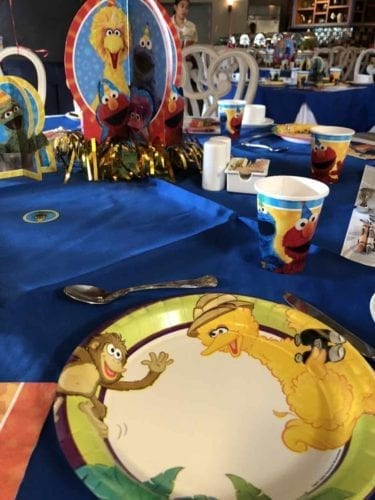 If you happen to be an autism family, this will be especially valuable information for you. Beaches Resorts works tirelessly to create a positive vacation experience for all children, including families with special needs-by developing unique activities and events, as well providing trained and certified staff.
Sesame Street brings awareness to the unique qualities and similarities that all children possess to help build empathy, respect and understanding among all kids. They have even introduced a new character named Julia. She's a a sweet and curious 4-year-old girl with autism and joins Beaches Resorts this fall to show that all kids are amazing and that all kids can be friends! Bravo Beaches!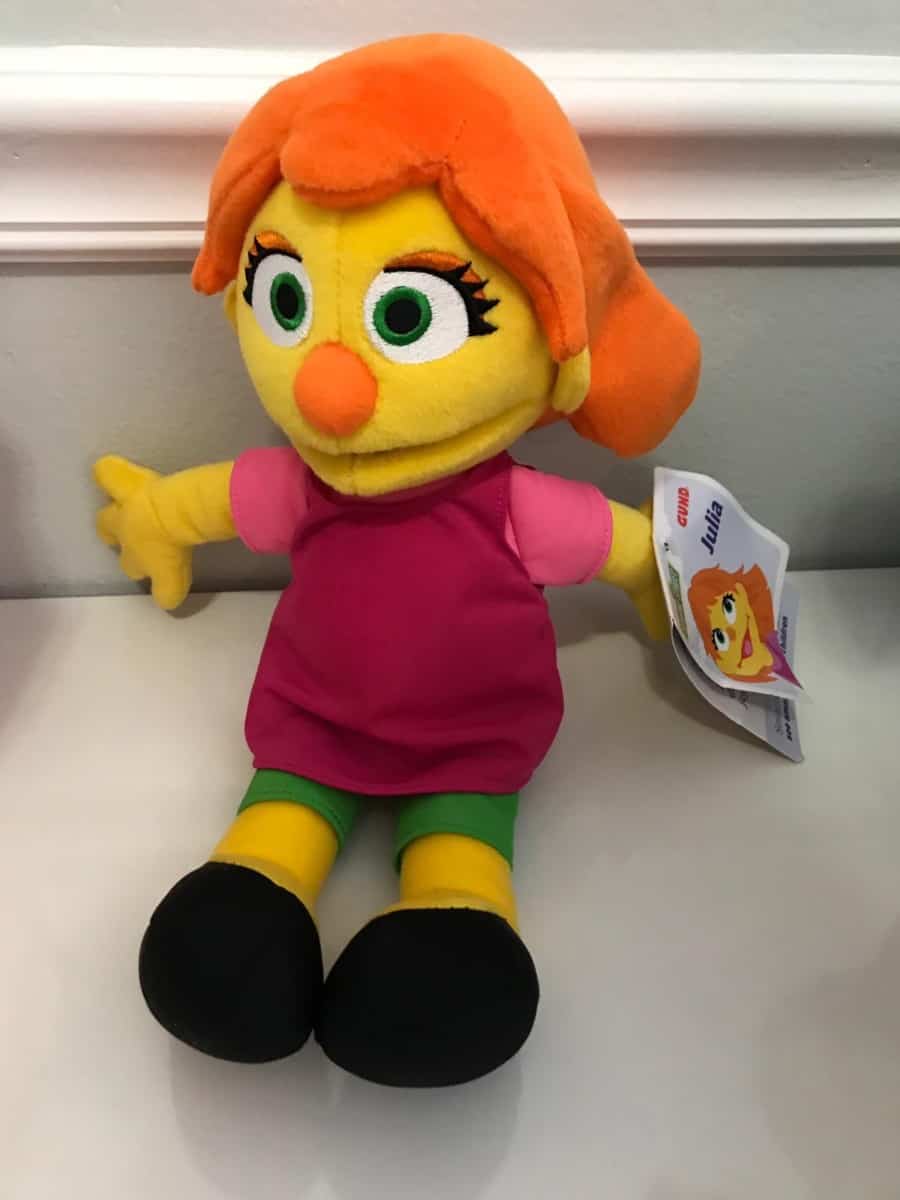 9. Your kids won't want to leave the Kids Camp…
I'm just going to say this now, so you are prepared. Your kids won't want to leave the Kids Camp at Beaches Resorts. I can't tell you how many parents told us they went to pick up their kids and they were told by their spawn to go away.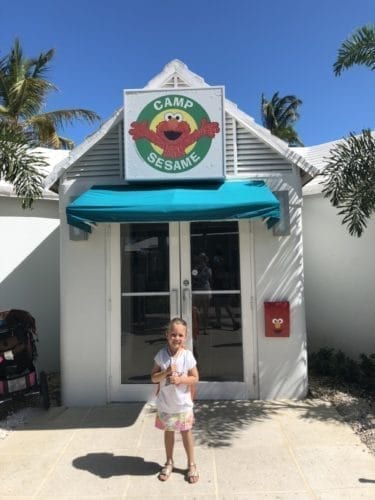 On our first visit to Beaches Turks and Caicos, we used the Kids Camp a few times. #dailybocaavery was one year too old for Camp Sesame, so she hung out with the bigger kids (ages 5-9) at the pirate-themed program. They played games and went swimming. We dropped her off and had a peaceful couples beach afternoon one day and an adults-only dinner the next night. It's open 9am-9pm most days, so you have a lot of options. She definitely had fun and the best part? It's all included in your stay. FREE CHILD CARE!
You can also book a private nanny or a sitter for an additional charge- FYI.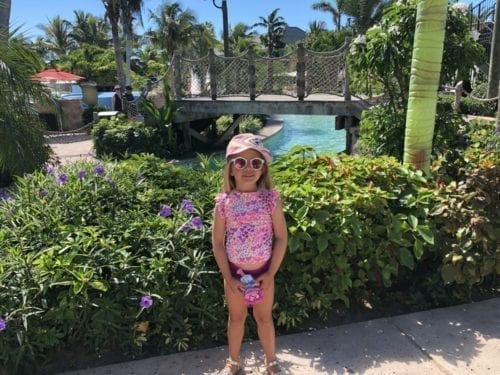 10. The ocean is unreal
I thought our ocean in Boca Raton was beautiful and then I took one look at Grace Bay on our first visit to Beaches Turks and Caicos. Holy smokes. The turquoise blue is almost indescribable and it's so calm! My pictures don't do it justice! Voted the World's #1 Best Beach by TripAdvisor's Travelers' Choice awards, Grace Bay is 12 miles of sweeping white-sand beach on the north shore of the island of Providenciales.
I'm typically more of a "pool gal", but after spending a few minutes on Beaches' private stretch of sand, I changed my tune and took advantage of the awesome rafts, cocktail service and free towels and hunkered down by the water. It was heaven.
There is so much that you won't be able to cover during your first visit to Beaches Turks and Caicos. And it's okay! You can always go back! 😉 It's only a 90 minute flight on JetBlue from Ft. Lauderdale International Airport. Super easy to get to.
Besides the 21 restaurants on property, there are food trucks, swim up bars (which Sandals invented, by the way), the Red Lane Spa, a Build-A-Bear, FREE water and land sports, water parks and so much more. We stayed there for 5 days and could have easily enjoyed another 5.  Our family had a blast and hope we can return next year!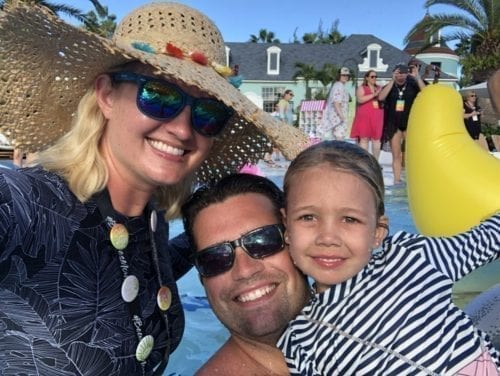 ---
Partner: Modern Boca Mom is a conference partner of Beaches Resorts and BSM Media/Social Media on the Sand. All opinions expressed in this blog post are my own. They are not influenced in any way by the sponsor. Any statistic, quote or other representation about a product or service should be verified with provider. Please refer to this site's Disclosure for more information. I have been given exclusive experiences and a discounted resort stay for our first visit to Beaches Turks and Caicos, but that does not impact my views or opinions.
This post also contains affiliate links. If you make a purchase such as booking your first visit to Beaches Turks and Caicos through links in this post, Modern Boca Mom will be compensated. Thank you for supporting this blog!
---
Pin for later!