I'm not made of money. I know– I'm sure it's an absolute shocker coming from a fellow Boca Raton resident. Especially with our town's stellar reputation for financial success… 😉 But as a small business owner and mom of one, money tends to walk out the door quickly these days. Even though I 100% believe in investing in myself and my business, I have to be rather choosy about what events and conferences I attend on behalf of Modern Boca Mom. After all, I'm "just" a hyperlocal blogger.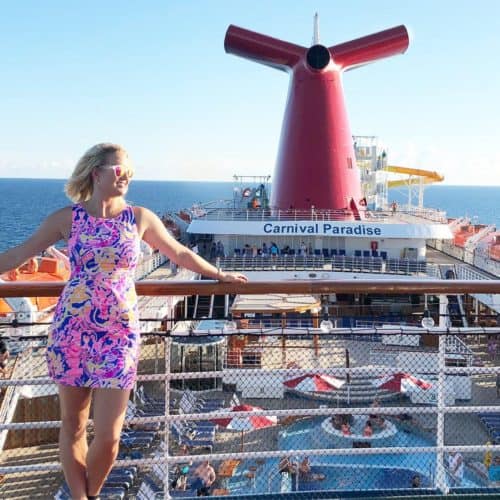 If you're not familiar with the blogging world (and I certainly don't expect you to be), there are tons of blog conference options out there for you to learn, grow and connect with potential sponsors. If you're a blogger with a large or growing national audience, it definitely makes sense to find a conference or two in your niche (parenting, lifestyle, health, design, the list goes on…) to become more visible in your industry and increase your bottom line.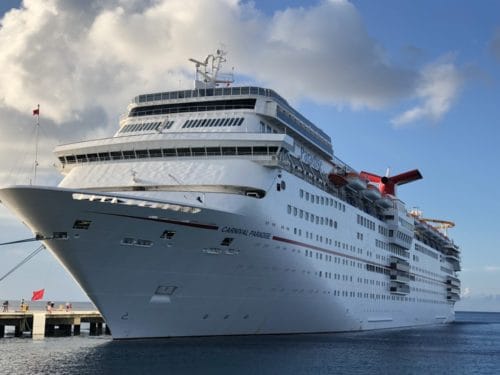 But they cost money. And for me, my hyperlocal blogger audience is primarily Palm Beach and north Broward County moms. Some dads too. 🙂 I'm reaching about 30,000 parents per month. Meanwhile, some of my national counterparts are up in the 100k range (and bravo to them)! So, when I was invited to attend the recent Permission to Hustle Retreat aboard the Carnival Paradise, I had to pause and think about it. Because I have been to some conferences where unfortunately, there was zero ROI.
Would I meet bloggers who would elevate me personally and professionally?

Could I learn valuable strategies for my blog that I could apply

locally

?

Would my blogging flame get re-ignited so I could hit the ground running in Q4?
Even though I wasn't totally sure when I sent my conference fee in, the answer to all of the above ended up being a resounding YES.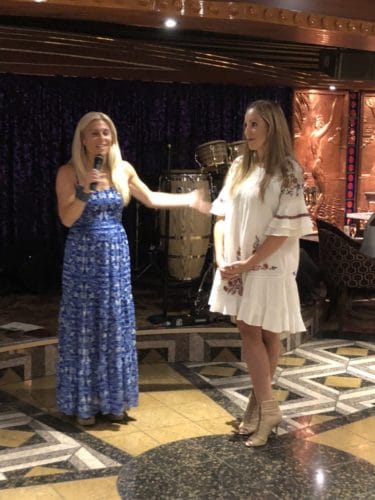 Permission to Hustle (or PTH) started out as a Facebook Group founded by two amazing influencers that I actually knew from my NYC PR days: Audrey McClelland and Vera Sweeney. They are some of the blogging OG's. Audrey and Vera have put lifestyle and mom blogging on the map and I (and many others) really look up to them. Their PTH Facebook group has grown and become an active resource for professional ladies in all different industries looking for support, a sounding board or sometimes, good ol' fashion validation. It's great!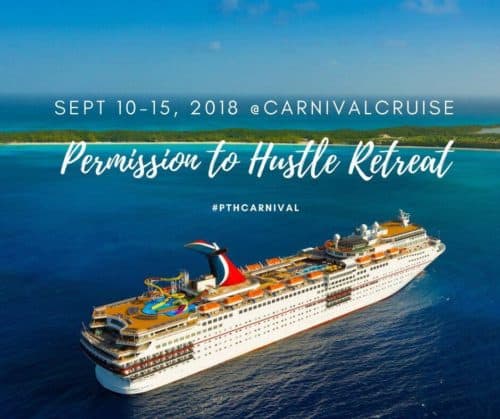 This year, they wanted to take PTH on the road. That's how the Permission to Hustle Retreat was born! With their cruising partner Carnival, 40 bloggers were able to deep dive into topics in a casual (but fun!), no pressure setting. I learned about Pinterest, SEO, pitching, affiliate marketing and social media. AND, I really asked the questions that matter to a hyperlocal blogger like me. I got answers! It was great and I can't recommend this retreat enough.
Not to mention, we had a little fun with Carnival along the way…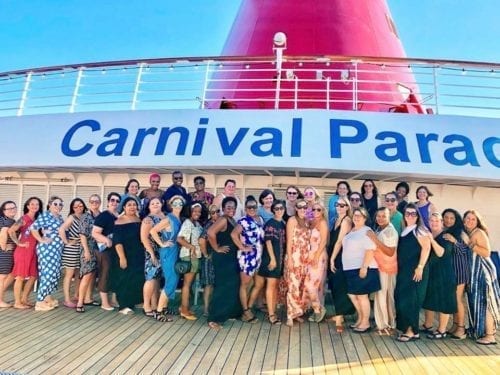 The Carnival Paradise left from Tampa,FL and had a Western Caribbean itinerary stopping in Grand Cayman and Cozumel.
I managed to check off a few bucket list items on this trip:
Carnival invited our group to swim with the stingrays in Grand Cayman. It was my first time to the island AND swimming with these amazing creatures! We rode on this gorgeous catamaran to/from and enjoyed the gorgeous water. I was definitely nervous at first, but these creatures are absolutely amazing! So gentle and used to human life visiting them (and feeding them) each day.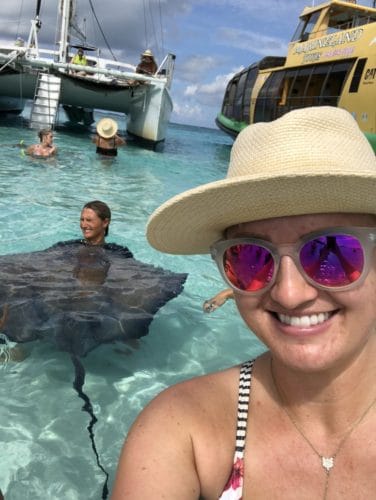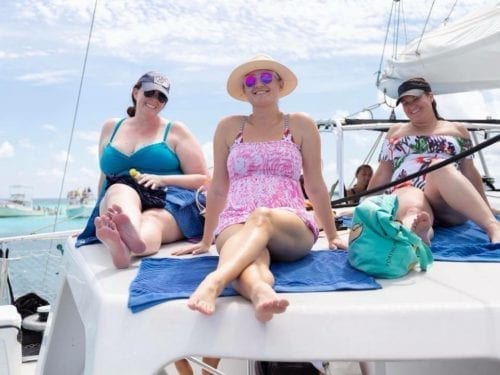 I visited Chichen Itza in Mexico! This marvelous piece of ancient Mayan architecture has been on my bucket list for quite some time. I loved every minute of this excursion (which I paid for myself). It was top notch. We had a fabulous tour guide and rode in a Mercedes Sprinter Van to/from the archaeological site. It was a bit of a journey from Cozumel, but I wouldn't have spent my day any other way!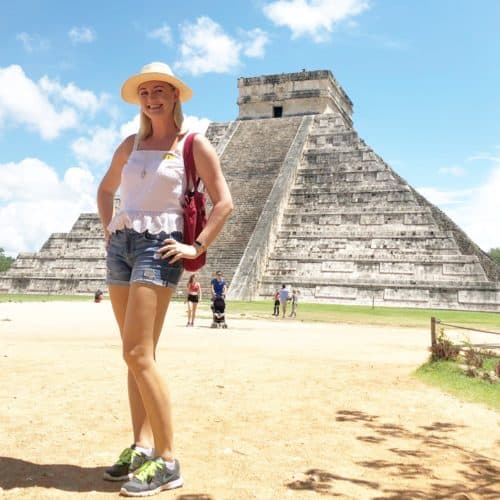 Not to mention, we enjoyed some of the Carnival Paradise's on-board amenities:
The gym- I know, working out on "vacation"! But I was there to work. Plus, the views were great and the equipment/space was top notch. I read my book and got some cardio in at the same time!
The pool deck- need I say more? There's even a Serenity Adult Only retreat, so you can spend some quiet time away from the kids on ship. Plus #cocktails.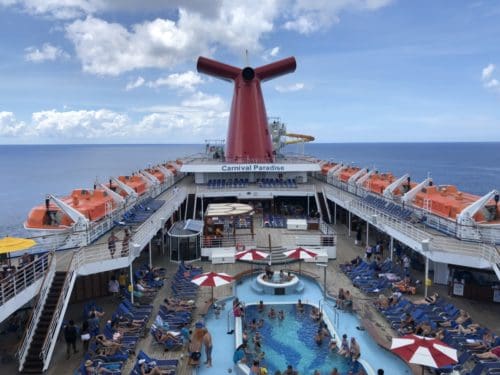 Speaking of kids…I didn't bring my family on this trip, but I think #dailybocaavery would definitely have enjoyed it because of the water slide…and Seuss at Sea! Kids are invited to enjoy an extra-special experience on the Carnival Paradise as the fantastical world of Dr. Seuss comes to life around them. There's a special on-board character parade, interactive story time, arts & crafts activities, character breakfast featuring their favorite Dr. Seuss friends and more. We caught them setting up for it after dinner one night!
I came away from the 2018 Permission to Hustle Retreat renewed and ready to work. And, I'm so happy I can lean on my fellow attendees going forward. I think there was a special bonding that took place and this hyperlocal blogger can't wait for the next one!