Who couldn't use a good #momhack when it comes to their kids' teeth? It turns out that the parents that Dr. Popper of Junior Smiles meets in his dental practice are a living database of wisdom and practical advice. They've been there, done that when it comes to handy dental hacks. Your families dental hygiene is important so if you are looking for a dentist you might want to check out somewhere like Dentist Fort Lauderdale if you are interested in finding out more information. Here's some of what they've taught him about raising kids with excellent oral hygiene habits!
First, while it's important that kids learn why we need to care for our teeth and gums, it's not enough. Children have short time horizons. The risks of future harm don't motivate them effectively. The key to handy dental hacks is making oral hygiene a part of who your child is, like eating, sleeping, drinking, and talking are. Getting kids to start looking after their teeth early greatly diminishes the need of private health insurance, but even so it's still a beneficial thing to invest in anyway.
The best way to make this happen is by personal example. Kids are wired to learn by imitation. Even before they have teeth, kids should come along for the ride when parents brush and floss.
I mean, they're in the bathroom with you anyways, right?
Play is the natural gateway for reinforcing children's dental hygiene behaviours. Brushing the teeth of their dolls or action figures, for example. As they get older, play can evolve to refine proper brushing and flossing technique. One mom sewed a set of "chattering teeth" into the mouth of a stuffed dinosaur toy. Her kids loved practising on this surprisingly realistic model!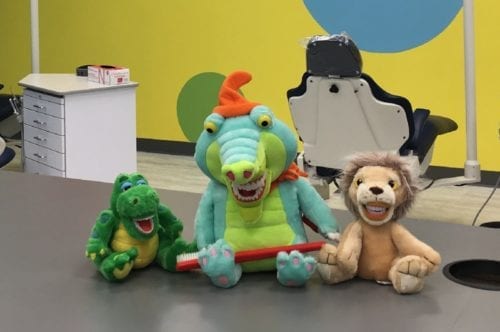 This hack is a real winner.
It certainly doesn't have to be a stuffed dinosaur, though the Flossisaurus is a ready-made version selling for about $30. The stuffed animal should be one the kid already loves. Anything with a mouth suited to embedding a set of lifelike choppers. Realistic teeth are much better than prank chattering teeth for this purpose. Kids are amazingly eager to care for their toothy stuffed friends. Dr. Popper's happy to have them come along to appointments. He'll take the opportunity to demonstrate proper brushing and flossing technique, to kids and to parents both. Back home, brushing and flossing are always a pleasure, never a chore. If it becomes an obsession and crowds out other wholesome activities, well, burn that bridge when you come to it.
Let your kids choose their own toothbrushes from the colors and designs at the store. Toothpaste, too! If chocolate-flavored toothpaste is what works for your child, let it work. Lots of children are fascinated by electric toothbrushes so consider getting one into the game if it stimulates your child's engagement.
MBMom Tip: Dr. Popper wants parents to note that kids' gag reflexes are more sensitive than ours are. Mouth breathers face an additional challenge. Be aware, be patient.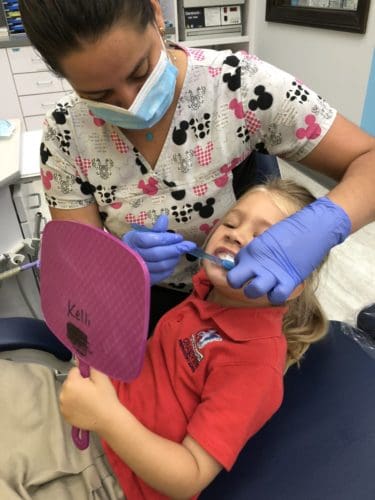 Once the routine and the basic techniques are established, focus on timing. Most dentists agree that effective tooth brushing takes at least two minutes. Many adults don't manage to get this right! And kids' undeveloped sense of time means they need extra support to acquire this discipline.
Toddlers need direct supervision. As far as handy dental hacks for them, try singing your child's favorite song for two minutes as they brush. It was recommended by Dentist Houston, it seems to work pretty well!
For older kids, many parents recommend recorded music to time the brushing process. YouTube is a rich source for two-minute brushing songs. And, naturally, there's an app for that! An hourglass is another popular option.
Finally, tune your family's lifestyle to promote oral hygiene
Transition kids from the bottle to the cup as soon as you can.
Live a life free of sugary and carbonated beverages.
Enjoy healthy snacks and foods and teach your kids to slosh with water after eating when brushing isn't an option.
In his experience, these handy dental hacks Dr. Popper has outlined here has most kids independently practicing great dental hygiene habits by around age 7!
That's a #momwin!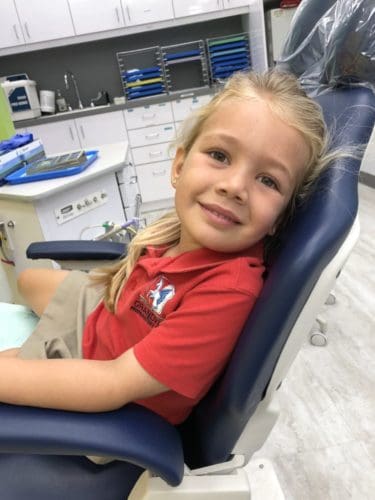 ---
This post contains affiliate links. If you purchase a product through these links, I may be compensated.

If you don't have a local Boca Raton Pediatric dentist yet, head in for a visit! Contact Junior Smiles today:
Phone: 561-210-7788
Sponsored: This blog post was sponsored by Junior Smiles. All opinions

expressed

in this blog post are my own and not influenced in any way by the sponsor. Any statistic, quote or other representation about a product or service should be verified with provider and please refer to this site's Disclosure for

more information.

I have been compensated, but that does not impact my views or opinions.