When you're an annual passholder at Walt Disney World, there's no weirder feeling than going to the parks without your kid(s) and all their "stuff" in tow. Alas, that's just what I did before Thanksgiving when I was invited to unwrap the holiday magic at Disney with a fabulous group of media friends. I still haven't told #dailybocaavery. What she doesn't know can't hurt her, right?
---
We were hosted at the fabulous Walt Disney World Swan Hotel, Convention Center and they gave us the 5-Star treatment. The newly renovated rooms were so cozy and the Starwood hotel is in the final phase of a $140 million renovation, the largest in their history, with a $12 million lobby transformation to come.
I'm getting ahead of myself here, but the farewell breakfast they served us on the last day of the trip? I'm still thinking about it. YUM. But, back to the subject at hand…
---
Our mission: To preview all of the holiday happenings including all-new attractions and entertainment that will make the 2016 season of cheer unlike any other in the history of Walt Disney World Resort.
Mission accepted. And gleefully, I might add. Here's where I netted out in terms of my top #disneyholidays recommendations after the trip…
---
When it comes to holiday magic at Disney, here are 6 things you can't miss this season at the Magic Kingdom and Disney's Hollywood Studios:
1. Jingle Bell, Jingle BAM! at Disney's Hollywood Studios
Think Magic Kingdom is the only park decked out for the holidays at Walt Disney World? Think again! Hollywood Studios is bringing the entertainment factor this Christmas with the all-new nighttime spectacular "Jingle Bell, Jingle BAM!"
The facade of the Chinese Theater comes alive with state-of-the-art projections, and guests will experience special effects, fireworks and even snow on, above and around the theater. We watched the spectacle from a private dessert party. Talk about holiday magic at Disney…wow! Here are a few shots from the festive evening.
"Jingle Bell, Jingle BAM!" will run to Dec. 31, 2016.
---
2. "A Frozen Holiday Wish" at Disney's Magic Kingdom
Guess what, MBMoms? Anna and Elsa aren't going anywhere anytime soon. In fact, they're the ones in charge of transforming Cinderella Castle into a glimmering, shimmering ice palace for the holidays. It's pretty much breathtaking!
Your kids won't want to miss this special performance before Mickey's Very Merry Christmas Party takes over the Park (which is an extra special ticket for purchase- FYI).
---
3. "Once Upon a Time" Castle Projection Show at Disney's Magic Kingdom
Projections are the name of the game now when it comes to holiday magic at Disney and it's the best technology has to offer. Be sure to make plans to witness the dazzling new "Once Upon a Time" projection show playing out on Cinderella Castle.
The show uses projection-mapping technology to produce a dazzling three-dimensional effect that fits every nook and contour of the Castle. It also lets guests relive some of their favorite moments from classic Disney stories. The show is pretty amazing…and of course, magical. Watch the video I took below!
---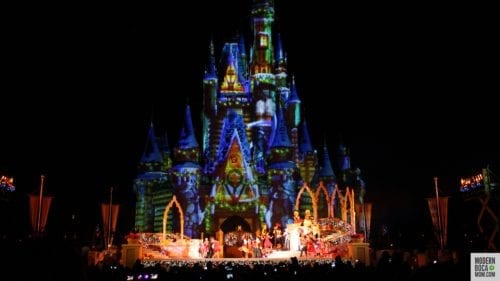 This new stage show gives families the opportunity to crash a Christmas party at Mickey's house! Isn't that on your holiday bucket list? Just me? Ok…
Mickey and his pals host some of their friends for an unforgettable party on the Castle forecourt stage in "Mickey's Most Merriest Celebration." Holiday songs, castle projections and merrymaking builds to a sensational, snowy finale. Disney brings out some of the characters we don't see that often, so I really enjoyed this show…and its cheeky nod to technology and texting that is engrained in our lives now.
---
5. Holiday Wishes – Celebrate the Spirit of the Season at Mickey's Very Merry Christmas Party, Disney's Magic Kingdom
I've seen the show "Wishes" at Magic Kingdom a few times now this year, but it's taking a backseat to "Holiday Wishes" during the season. If this show doesn't get you in the holiday spirit, I don't know what will.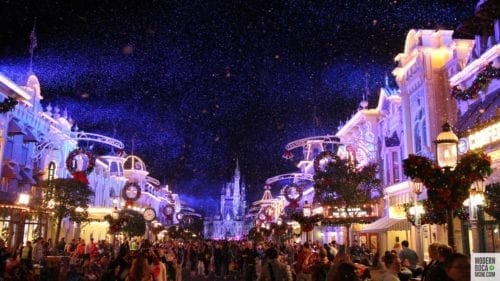 The night sky literally bursts with color high above Cinderella Castle with this holiday fireworks spectacular…and more projections. 🙂
---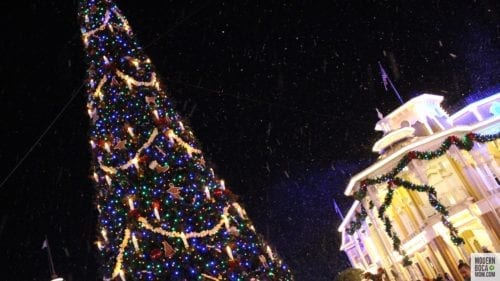 6. Mickey's "Once Upon a Christmastime" Parade at Mickey's Very Merry Christmas Party, Disney's Magic Kingdom
I'm no stranger to parades at Disney's Magic Kingdom. I already miss the Electrical Parade. Memories… But this parade was one for the books. I had never attended Mickey's Very Merry Christmas Party before, but had heard the parade was nothing short of spectacular. I don't even know how to narrow down the images that I managed to capture while experiencing this special seasonal performance.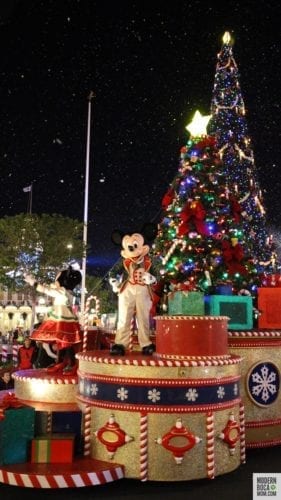 The enchanting holiday parade transforms Main Street, U.S.A. into a snowy paradise. April Golightly and I watched in front of Tony's Town Square Restaurant, which provided an amazing vantage point.
Santa Claus, gingerbread men, elves, reindeer, toy soldiers and other friends from the North Pole join Mickey and his pals on fantastical floats.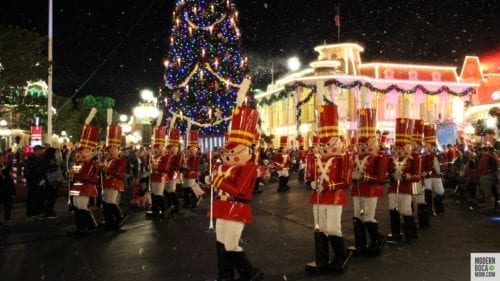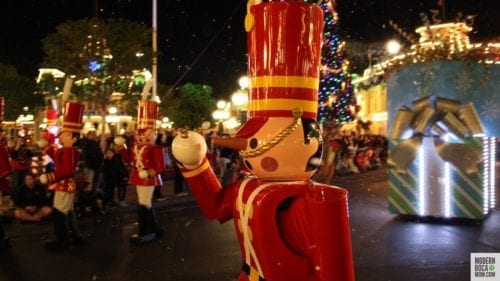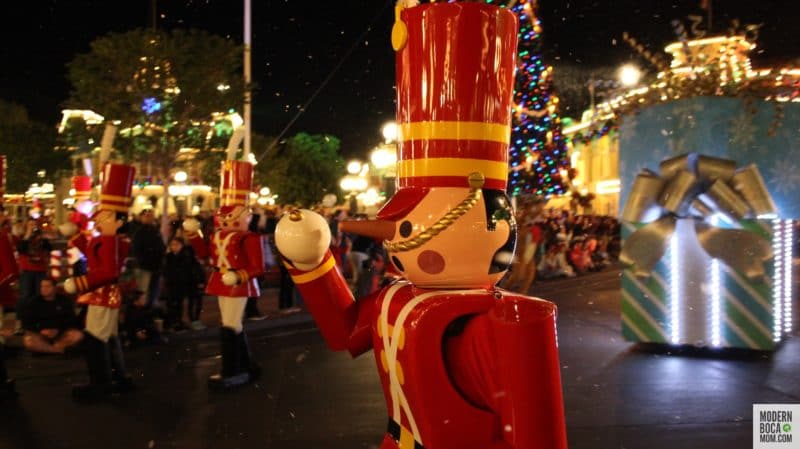 Anna, Elsa, Kristoff and Olaf from "Frozen" also join in the fun! SO. MUCH. FUN.
---
But there's more…
In addition to all of the seasonal entertainment and holiday magic at Disney, which will keep you super busy at Mickey's Very Merry–trust me, several rides have been "Christmas-fied" including the Jungle Cruise (dubbed the "Jingle Cruise")!
You can also head to a variety of locations throughout the park to enjoy complimentary holiday treats. The hot chocolate and snickerdoodle cookies at Tortuga Tavern in Adventureland® are to-die-for! Allergy-friendly and alternative healthy options are available upon request too.
There's just so much holiday magic at Disney World this season! I haven't even covered all of the fun at the NEW Disney Springs yet, just wait. We are so lucky to live in South Florida, just a few hours from Walt Disney World Resort.
Will you be planning a trip to the 'happiest place on earth' with your family this holiday season? We already have our calendars marked for the Candlelight Processional at Epcot in December. Stay tuned for more information on that.
Wishing you and your family tons of holiday magic this season!
---
Hosted: This post was hosted by Walt Disney World. All opinions expressed in this blog post are my own and not influenced in any way by the host.  Any statistic, quote or other representation about a product or service should be verified with provider. Please refer to this site's Disclosure for more information. I was invited on a complimentary media trip with park tickets, meals and accommodations, but that does not impact my views or opinions.