If you follow MBMom's toddler travel on Instagram, then you probably saw about a million Maine vacation snaps throughout the month of July.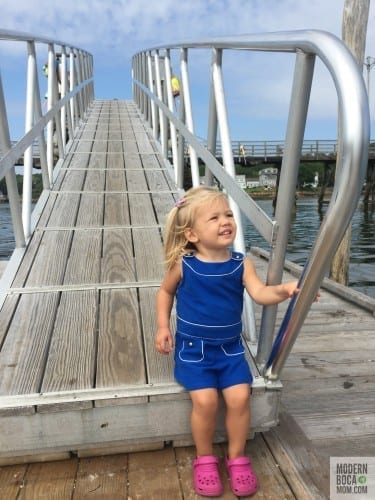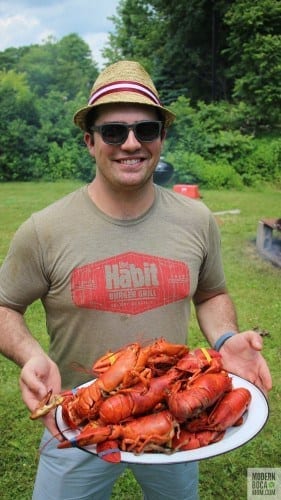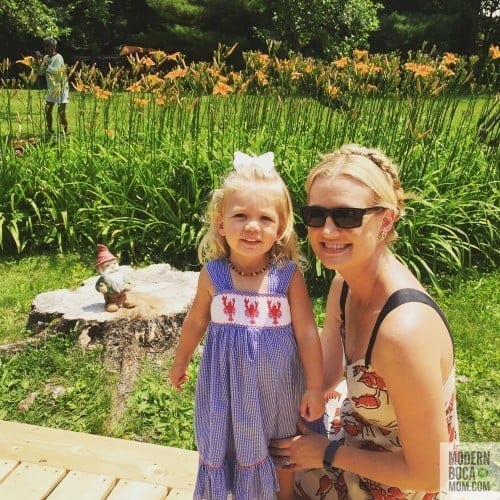 Sorry not sorry?
It was pretty darn nice to cool off for a couple weeks up north and #dailybocaavery got to spend some quality time with her Daddy's family, cousins et al. But getting ready for this trip was unique. You see, it was the first plane ride where I actually had to purchase Avery her own ticket.
You mean, I could finally bring my car seat on board and strap my daughter in for the whole flight?! Perhaps have an overpriced cocktail and read a few pages in the new Judy Blume book? (FYI- SUCH A GOOD BOOK, but don't read it on a plane. Trust me on this…)
But how to do toddler travel? I was traveling ALONE. My car seat is HUGE. What do I do with the STROLLER? How will I keep my daughter OCCUPIED for two flights and a layover?
I've done the toddler travel research and now I'm sharing my key learning with you, MBMoms!
---
Your Guide to Surviving Toddler Travel:
#1: Buy this amazing contraption aka the Brica Roll 'n Go Car Seat Transporter and check your stroller. It's only $63 bucks and turns your car seat and toddler into a stylish piece of luggage. #winning
There's also a handy video on Amazon.com that shows you exactly how to use it.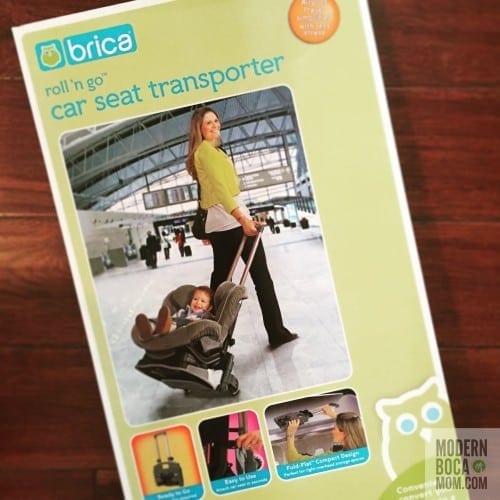 MBMom Toddler Travel Tip: In retrospect, I should have worn a backpack versus a shoulder diaper bag. Ouch.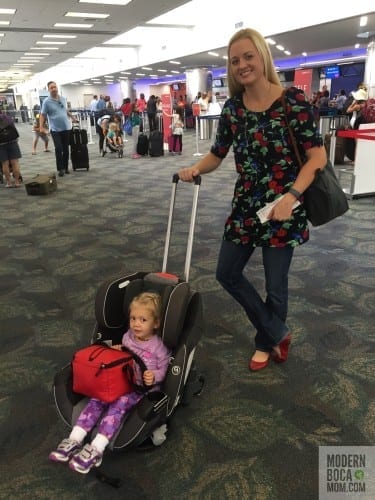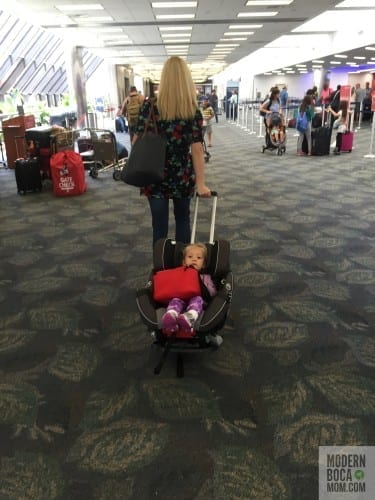 #2: Protect your gear. I don't know about you, but my stroller was not cheap and I don't trust the baggage handlers at Delta…or any airline for that matter. Since I was committed to checking my stroller, I made sure to get the Angel Baby Travel Gate Check Bag for Umbrella Strollers.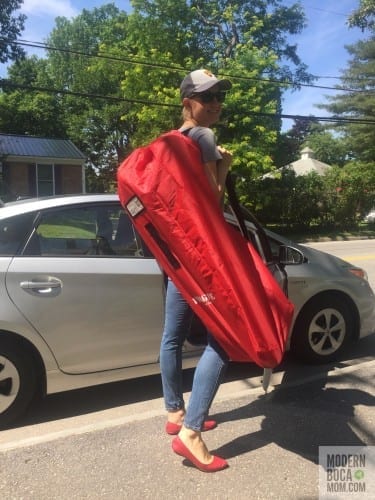 MBMom Toddler Travel Tip: Angel Baby also sells one for car seats that you can use if you decide not to carry on.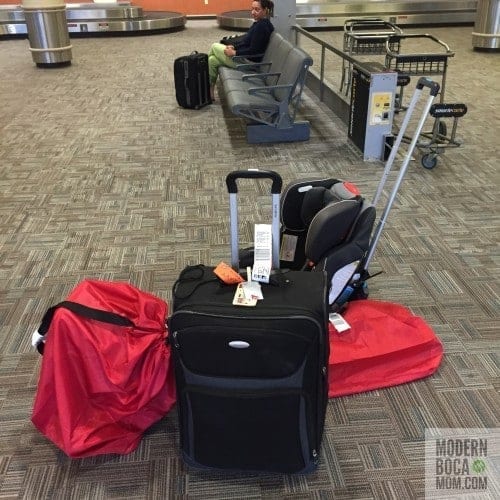 They are great for toddler travel because the bags are durable, a bright color (aka easy to find on the baggage carousel) and have multiple handles to…well, handle them. The bags also fold up as small as a paperback book when you aren't using them for easy storage!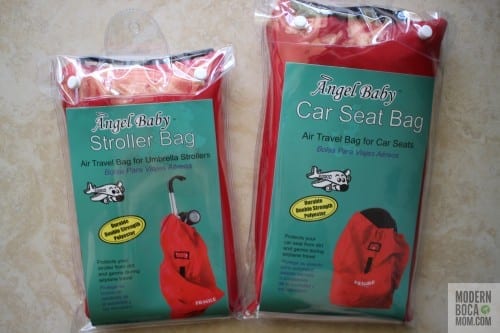 #3: Pack snacks and distractions. If you have an iPad, you obviously want to charge it, stock it and bring it on-board (with headphones preferably), But, there are other options for toddler travel entertainment too! Like the AWESOME Melissa & Doug Water Wow books!
It's a no-mess paint book that uses water to melt away the "paper" on the book, showcasing the colored designs underneath. Then the paper dries in minutes and you can paint the pages with the re-fillable brush all over again.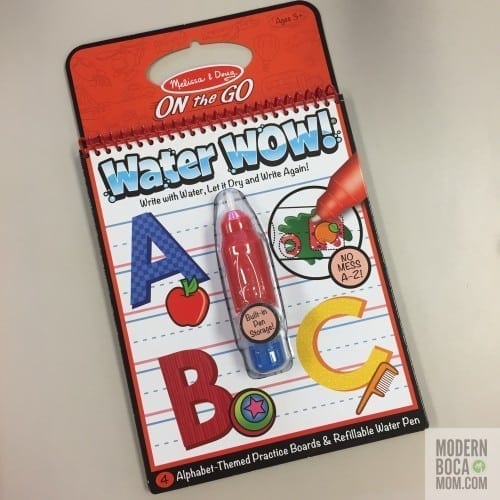 I also brought along coloring books, triangle crayons (so they didn't roll away) and a few random surprises to keep things interesting.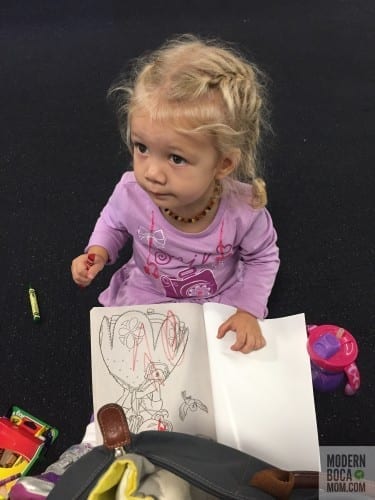 MBMom Toddler Travel Tip: Your toddler car seat will prevent the use of the plane's tray table. Make sure all activities can be done on your child's lap in-flight.
#4: When in doubt, take selfies. Hey, you know your phone will keep your toddler happy…at least for a few minutes. Let the vacation selfies rip!
#5: If your luggage gets lost…make sure your child's most beloved comfort toy is in your carry-on.
Yep, we didn't follow this toddler travel tip. Lesson learned.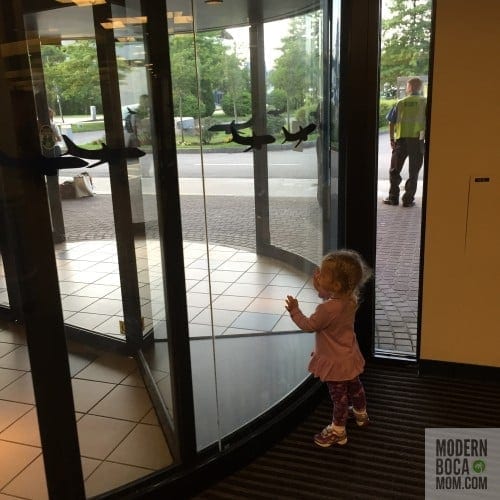 Safe travels MBMoms!
---
What are your essential toddler travel tips, MBMoms? Comment below!
---
Disclosure: I was given samples of both Angel Baby travel bags for review. All opinions expressed in this blog post are my own and not influenced in any way by the sponsor. Any statistic, quote or other representation about a product or service should be verified with provider. Please refer to this site's Disclosure for more information. I have been compensated or given a product or service free of charge, but that does not impact my views or opinions.
The links in this post are affiliate links. I will receive a percentage of the sale if you make a purchase by clicking thru to Amazon.com.