Special guest post from Modern Boca Mom, Paige Axel: What to Do at Nickelodeon Hotel Orlando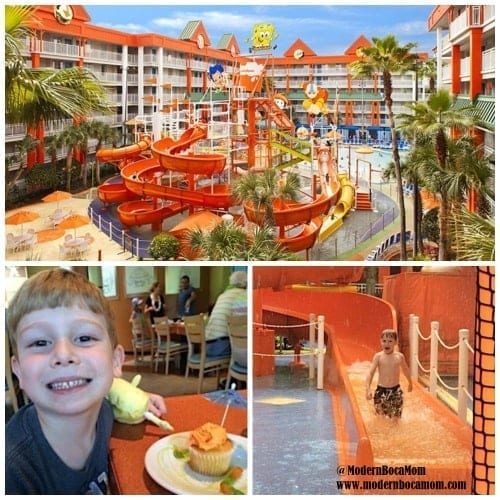 ---
When my son said he didn't want a party for his 6th birthday, I was ecstatic. The elation lasted for about 30 seconds before he informed me that he wanted to go to "The Nick Hotel" instead. (Congratulations, advertising executives… Putting that commercial on heavy rotation worked.) But, what to do at Nickelodeon Hotel?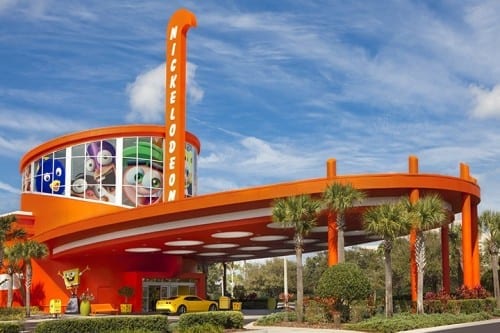 We hear Spongebob's irritating laugh around here on a daily basis. My first thought was, "How am I going to survive an entire weekend?" Being the freelance Modern Boca Mom I am, I changed my attitude once I realized that the effort on my part would be limited to a simple reservation online.
Compared to weeks of party planning, I figured this would be a piece of cake.
So the morning before his birthday, we loaded up the car and were off. Two pit stops and about 100 "How much longer?" inquiries later, we arrived at our destination. We couldn't have missed the oh-so-familiar orange Nickelodeon Suites Hotel. It's 24 acres and 777 suites are kitted out like Bikini Bottom. Dora, Diego, the Teenage Mutant Ninja Turtles and other Nickelodeon regulars made their presence known as well.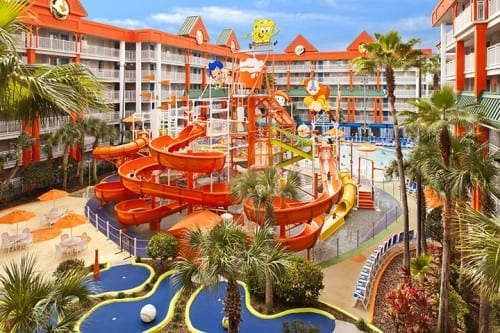 What to Do at Nickelodeon Hotel?
Beyond the Nicked-out lobby, the hotel centers around the Lagoon Pool. Complete with two water parks that feature 13 slides and plumes and a water playground, this is also the home of twice-daily mass slimings. After reassuring my son that we would be hitting the Lagoon Pool the next day, we arrived at our two-bedroom suite. It naturally had Spongebob, Patrick and the gang wherever you looked.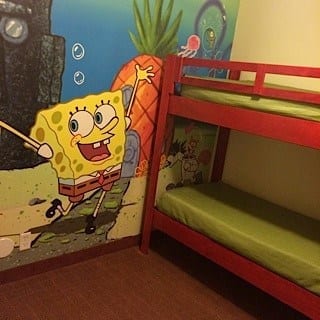 The Rooms
The kids' bedroom had bunk beds that my son could not wait to sleep in.  Maybe that's the secret to getting him to go to bed without a fight? The grown-up bedroom and bathroom were a decent size. The kitchenette was great for stowing the snacks and drinks we brought from home. Since I happened to mention it was our son's birthday, we were also welcomed with a big-old bag of Spongebob paraphernalia. It definitely kicked off our stay on the right foot!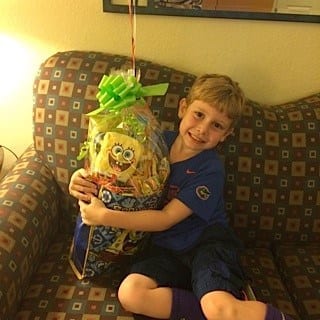 After going off-campus for dinner, we headed back to the hotel for Double Dare.
Yes, Double Dare.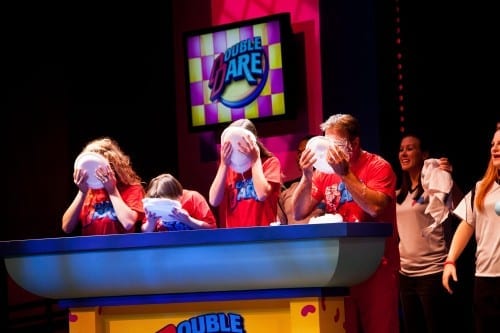 We felt like ballers in our front row VIP seats and had a bird's eye view of the action. The best part: They rolled out 4 obstacles from the original show (remember that giant nose you have to "pick" to find a flag?).  After that we were bushed, so we headed back to our room for a night filled with dreams of Bikini Bottom.
Character Breakfast
We were up bright and early for the Character Breakfast, as Sawyer couldn't wait to meet Spongebob, Patrick, Sandy, Mr. Krabs and Squidward. In addition to making the rounds to each table for requisite picture taking, the characters also put on a performance. In between acts, we hit the buffet.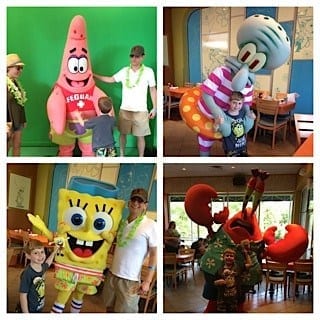 What to do at Nickelodeon Hotel? Food Options
If you're a Modern Boca Crunchy Mom, I recommend bringing food from home and taking advantage of that kitchenette in your room. If you're not, then you might be OK. Let it be known that the hotel also has a food court that offers Subway, Antonio's Pizza and dessert/ice cream shop called Cravings that (thankfully) stocks Starbucks. Our breakfast was topped off with a birthday cupcake. Cupcakes at 10:00 a.m. are totally OK when it's a birthday celebration weekend.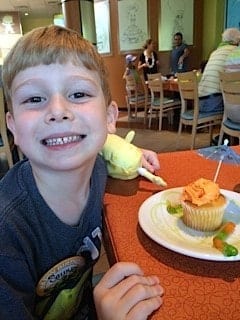 The Pool
Then it was pool time… We decided to get a poolside cabana for the day so we didn't have to stress about our stuff. This added a little dose of luxury as well. With a table and chairs, 2 chaises, a fridge, a television with DirecTV (watching Spongebob while at the Nick Hotel was so meta) and privacy, it made for a great day.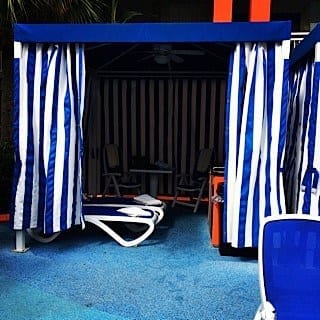 When the clouds rolled in, we headed over to the Mall section of the hotel. After dropping a pretty penny in the 3,000-square-foot arcade, stocking up in the gift shop, checking out the Kid's Spa and its menu of manicures, pedicures, hair wraps and temporary tattoos—and a trip to the bar (obviously my husband and I were the only ones imbibing)—it was time for us to bid adieu to the Nickelodeon Suites Hotel.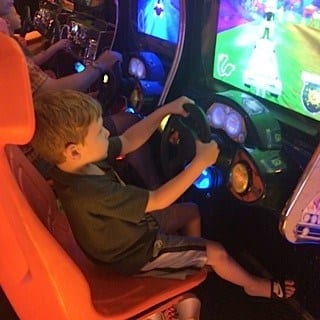 Full disclosure: We had a room at another hotel for the remainder of the weekend. I think this is a great way to give the kiddos the experience they want while giving Mom and Dad a bit of a vacation as well.
All and all, it was a birthday treat our son still hasn't stopped talking about. And, it was without any of the stress associated with party planning. Everyone wins!
P.S. If you like my family vacation musings and you're into skincare, makeup and all things beauty, be sure to check out my blog, InsiderBeautyBuzz.com!