Happy Weekend Modern Boca Moms and Dads! Here are all of the great MBMom-recommended Boca kids activities and weekend family fun in South Florida for August 16th-August 18th, 2019!
---
Weekend Family Fun in South Florida
Friday, August 16th:
FREE Admission in August to the Boca Raton Museum of Art

DATE: All Month Long!
COST/TIME: FREE Admission
501 Plaza Real

Boca Raton
---
Jurassic Quest Expo At The Fairgrounds This Weekend ONLY!

DATE: Friday, August 16th-18th
COST/TIME: Purchase Tickets Here!
Jurassic Quest is the largest exhibition of life size, moving, museum-Quality Dinosaurs in North America! Our guests will walk through the Cretaceous period, the Jurassic Period and The Triassic period and experience for themselves what it was like to be among living, breathing dinosaurs.
From the very small, to the gigantic, sky-scraping dinosaurs that can only be seen at our events, Jurassic Quest has over 80 true-to-life size dinosaurs in its show. In collaboration with leading paleontologists, each dinosaur was painstakingly replicated in every detail. In addition to the life-like Dinosaur Exhibits, there are many attractions and activities for all kinds of dinosaur fans. At Jurassic Quest, you'll meet and interact with Baby Dinosaurs and adolescent Walking Dinosaurs. Our guests can dig up fossils like a real paleontologist, they can ride on the back of a huge 24ft T. Rex, or the spiky, overgrown, Carnotaurus among others. There are countless dinosaur themed rides throughout the event and a Dinosaur Petting Zoo where little ones can pet dinosaurs that are more their size. Our little Questers can even do crafts and explore Dino Science stations, Visit the fossil area in our Dinosaur Museum and see real dinosaur fossils dating back over 60 million years.
9067 Southern Blvd.
West Palm Beach
---
Saturday, August 17th:

Pound Fitness at Organic Movements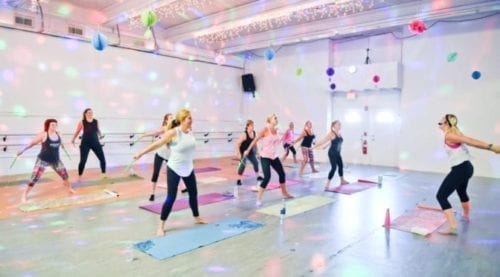 DATE: Saturday, August 17th
COST/TIME: 9:05 a.m.
POUND® is the world's first cardio jam session inspired by the energizing & sweat-dripping fun of playing the drums. POUND fitness Boca Raton transforms drumming into an incredibly effective way of working out.
Instead of listening to music, you become the music in this exhilarating full-body workout that combines cardio, conditioning, and strength training with yoga and Pilates-inspired movements.
2400 NW Boca Raton Blvd
Boca Raton
---
Take a Class at Showtime Performing Arts Theatre & Open House!
Sponsored
503 SE Mizner Blvd.- Royal Palm Place
Boca Raton
---
Sunday, August 18th
Outdoor Marine Aquarium Feeding at Gumbo Limbo

DATE: Sunday, August 18th
COST/TIME: FREE 12:30 p.m.
What is the connection between mangrove and coral reef communities? How do fish use these habitats? Learn about the fascinating behaviors of native fish, stingrays, and other marine life during these free daily presentations. Meet at the outdoor marine aquariums.
1801 N. Ocean Blvd

Boca Raton
Be sure to "LIKE" MBMom on Facebook and follow on Instagram, Pinterest and Twitter for all of the latest updates and weekend family fun in South Florida!
SUBSCRIBE to our Weekly MBMom Email Roundups including weekend family fun in South Florida and be in the know for your Boca kids by clicking here.Modern Boca Moms are the BEST…especially if they share our website with friends and other local South Florida mommas! Have a fabulous weekend and enjoy!