Happy Weekend Modern Boca Moms and Dads! Here are all of the great MBMom-recommended Boca kids activities and weekend family fun in South Florida for TBD.
---
Weekend Family Fun in South Florida
Friday, TBD:
---
Saturday, TBD:
Pound Fitness at Organic Movements Boca- CANCELLED UNTIL FURTHER NOTICE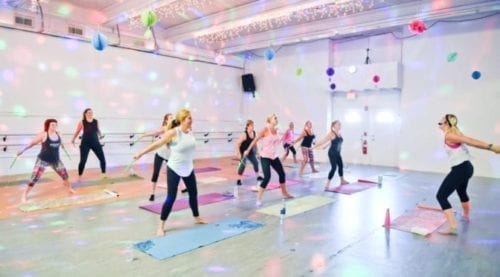 DATE: Saturday, X
COST/TIME:  First class free! 9:05 a.m.
POUND® is the world's first cardio jam session inspired by the energizing & sweat-dripping fun of playing the drums. POUND fitness Boca Raton transforms drumming into an incredibly effective way of working out.
Instead of listening to music, you become the music in this exhilarating full-body workout that combines cardio, conditioning, and strength training with yoga and Pilates-inspired movements.
2400 NW Boca Raton Blvd

Boca Raton
---
Take a Class at Showtime Performing Arts Theatre- CANCELLED UNTIL FURTHER NOTICE 
Sponsored
503 SE Mizner Blvd.- Royal Palm Place
Boca Raton
---
CANCELLED: West Palm Beach GreenMarket
DATE: Through April 18th
COST/TIME: 9:00 a.m.-1:00 p.m. FREE
One of the largest markets in the region, the GreenMarket features a variety of products, including fresh produce, exotic plants and flowers, herbs and spices, baked goods, gourmet and specialty foods, coffee and teas, and much more.
The GreenMarket also features live music, unlimited mimosas for $10, free activities for kids, plus plentiful green space and seating for a morning of fun and relaxation. This Saturday morning ritual in downtown West Palm Beach is the place to see and be seen! The GreenMarket is dog-friendly and always FREE.
100 Clematis Street

West Palm Beach
---
Sunday, TBD:
CANCELLED: Artisans & GreenMarket
DATE: Sunday, March 15th
COST/TIME: 11:00 a.m.-5:00 p.m.
Another great reason to visit Mizner Park! A new Artisan & Green Market. Stop by for fresh fruits, veggies, and artistic creations.
327 Plaza Real

Boca Raton

---
CANCELLED: Outdoor Marine Aquarium Feeding at Gumbo Limbo

DATE: Sunday, March 15th
COST/TIME: FREE; 12:30 p.m.
What is the connection between mangrove and coral reef communities? How do fish use these habitats? Learn about the fascinating behaviors of native fish, stingrays, and other marine life during these free daily presentations. Meet at the outdoor marine aquariums.
1801 N. Ocean Blvd

Boca Raton
---
Be sure to "LIKE" MBMom on Facebook and follow on Instagram, Pinterest and Twitter for all of the latest updates and weekend family fun in South Florida!
SUBSCRIBE to our Weekly MBMom Email Roundups including weekend family fun in South Florida and be in the know for your Boca kids by clicking here.Modern Boca Moms are the BEST…especially if they share our website with friends and other local South Florida mommas! Have a fabulous weekend and enjoy!