Happy Weekend Modern Boca Moms and Dads! Here are all of the great MBMom-recommended Boca kids activities and weekend family fun in South Florida that are now OPEN!

---
Weekend Family Fun in South Florida
Sponsored
The Good Earth Farm Children's Zoo & Animal Sanctuary is OPEN on Sundays!
DATE:  Every Sunday
COST/TIME: 11:00 a.m.-1:00 p.m.
Over 280 animals and birds are available to pet in the zoo
Group hayrides
Bring up to 6 people in your group and have a  picnic lunch at the tables and benches
Travel with your group around the horse park
All outside and very socially distant
Masks and sneakers required
Make a reservation and pre-pay by Friday for the Sunday's Children's Zoo  (Call 561.792.2666 and ask for Nancy)
2141 B Road
Loxahatchee
---
Cason United Methodist Church 25th Annual Pumpkin Patch
DATE/TIME:  Through October 31
Open on Saturdays from 9:00 a.m. – 6:00 p.m.; Sundays 12:00 p.m. – 6:00 p.m.; and Mondays through Fridays from 12:00 p.m. to 7:00 p.m.
The pumpkin patch will showcase a variety of pumpkins…from baseball-size pumpkins to monsters that will take two people to carry…as well as pumpkins and colorful gourds of every size and description.  There is a large range of pricing.
Special events include:
·         Saturday, October 24 from 9:00 a.m. to Noon.
Family photo sessions with a professional photographer ($20 to include a 4"x6" print); story time and coloring station
·         Sunday, October 25 from 2-4:00 p.m.
Pet photo sessions with a professional photographer ($20 to include a 4"x6" print); Blessing of the animals; story time and coloring station
·         Friday, October 30 at 7:00 p.m.
Drive-in family movie night with Halloween animated classics.  $10 per car.  Space is limited.  Visit www.casonumc.org to pre-register.
·         Saturday, October 31 from 4 p.m. to 6 p.m.
Family photo sessions with a professional photographer ($20 to include a 4"x6" print); story time and coloring station; Trunk or Treat Drive Through at 5:30 p.m.
Attendees are encouraged to bring non-perishable and canned food goods to benefit CROS Ministries pantries.
Social distancing guidelines in place and volunteers and guests will be asked to wear masks and gloves.  Pumpkin pickers can pre-order at www.casonumc.org for curbside pick-up or delivery. 
342 N. Swinton Avenue

Delray Beach
---
Tunnel Of Terror-One Night Only!

DATES: October 30
Looking for a frighteningly fun way to enjoy Halloween while social distancing, AND getting your car washed AND supporting a great cause (Brain Bowl Events)…. tickets are limited and must be purchased in advance for those BRAVE ENOUGH TO ENTER…
Tickets can be purchased online at https://future-wash.square.site or www.bestshinecarwash.com click on the Tunnel of Terror link top left. You can also purchase on site at the wash. This event supports Brain Bowl and organization that supports Alzheimer's awareness and cure.
1301 Summit Blvd.
West Palm Beach
---
Trick-or-Treating on The Ave

DATE/TIME:  Through October 31 11:30am-2:00pm
Families are invited to join us for a day of outdoor trick-or-treating on the Ave in Downtown Delray Beach!
This year will feel a bit different but still provide our local families the opportunity to create memories as children go store-to-store to collect candy from our Downtown Delray Beach merchants.
* Masks or Facial Coverings are required for all participants & parents. Please keep the facial coverings on throughout the entire trick-or-treating time as our sidewalks are not wide enough to allow for sufficient physical distancing.
* Merchants will be providing candy OUTSIDE only! Please do not go inside of a shop for candy, all participating merchants will be in front of their location.
* All merchants will be using either gloves or tongs to pass out candy while wearing facial coverings.
Downtown Delray Beach
---
Fall In Love With The Palm Beach Zoo
DATES: October 30-31
Grab your masks (facial coverings), and put on your costume! On October 30 and 31st, the Zoo will feature a daytime, not-so-scary, socially-distanced Halloween event, Boo 2020!
A DJ will be playing family-friendly hits each day in the Fountain Plaza. Children are encouraged to wear their costumes and take part in costume contests. Prizes include Zoo Lights tickets and family memberships. Please note: Due to CDC recommendations, Boo 2020 will not include candy trick or treating. Boo 2020 is included in regular daytime admission, and Zoo members are free. Become a Zoo member today to enjoy all the benefits at www.palmbeachzoo.org/membership.
Fall Treats
In October, the Tropics Cafe concessions window and food carts will feature fall-inspired treats such as apple cider and seasonal brews. The animal residents will also get in on the fall festivities with special enrichments prepared by their zoologists. The animals will enjoy spiced up enrichments including pumpkin playtime and snack time.
Fall Happenings
The carousel and train are ready to welcome back riders with social-distancing and mask requirements. Nature Play is open as well as both gift shops. Tropics Cafe indoor dining is available for seating at 50% capacity.
Animals notice the changing winds and milder temperatures just like humans. The Malayan tiger cub trio are five months old and becoming even more active. They have taken to "greeting" visitors at the front of the habitat. These adorable siblings are learning skills from their mom, Api, that will teach them to hone their natural instincts. They are often spotted playing "tag" with mom, stalking and pouncing on each other.
1301 Summit Blvd.
West Palm Beach
---
Legacy Place Gets "Creepy" With Halloween Event
DATE:  October 24th
COST/TIME:  Doors 5:30 p.m. Movie to start promptly at 7:30 p.m.

Admission is $15 per car load (non-refundable) to be paid at the time of your family's movie reservation at https://legacyplaceaddamsfamily.eventbrite.com. Upon arrival, attendees (one per vehicle) will receive a $10 gift card redeemable at a Legacy Place restaurant. No-shows will not receive a gift card.  Capacity is limited and per-car reservations are necessary.
In partnership with the City of Palm Beach Gardens and Busch Wildlife Sanctuary, will host a Halloween-themed drive-in movie night on the top level of the garage at dusk.
Arrive early to get "spooked" with a Creepy Critter Crawl from 6:00 p.m. to 7:00 p.m. The Busch Wildlife Sanctuary will bring a variety of critters including alligators, snakes, owls, opossums and skunks that will be strolling by the parked cars. Due to COVID-19 restrictions, touching of animals is not permitted and all must stay in parked cars.
Attendees are invited to dine in at Legacy Place restaurants prior to the movie, pick-up or order food to be delivered at their cars. COVID-19 guidelines must be followed. Masks are necessary when out of your vehicle, social distancing must be observed and no sitting on top of cars.
Participating restaurants include Five Guys, The Great Greek, Moe's Southwest Grill, Sal's Italian Ristorante, Chili's Bar and Grill, Cool'a Fish Bar.
11290 Legacy Place Avenue
Palm Beach Gardens
---
South Florida Fairgrounds Hosting Home Improvement Show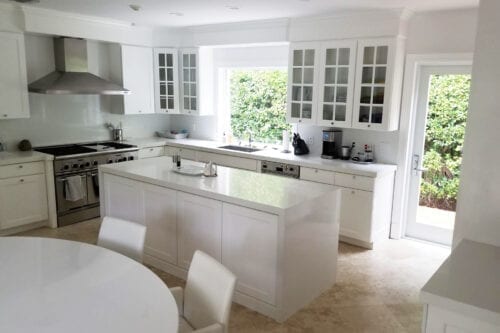 DATE:  October 23-25
COST/TIME:  FREE Admission & Parking
There will be more than 60 vendors representing various areas including impact windows, kitchen, bath, water filtration, patios, doors, landscape, security, remolding, hot tubs, roofing, gazebos, household items, art, jewelry, window treatment, decks and patios, screens, tree services, home fitness, marble and granite, and automotive.
Some of the businesses will be offering specials only available at the show. Fair organizers decided to produce the show after recognizing the high demand for home improvement, renovation, products and services.
9067 Southern Blvd

West Palm Beach
---
Not So Spooky "Car-lloween" At Gulfstream Park Village
DATE:  October 30
COST/TIME:  6:30-8:30 p.m.

To make Halloween festivities even safer for families and kids, Gulfstream Park Village will be hosting 'Not So Spooky' Car-lloween, a socially-distanced and safer alternative to neighborhood trick-or-treating. This drive-thru event will offer a ghostly good time for families and kids of all ages. Kids are encouraged to dress in costume as their families drive through Gulfstream Park Village to collect candy and sweets from 10 spook-tacular stations. Each station will bring a small bag of candy and drop it in the trunk of the car. For more information, click here.
901 S. Federal Highway

Hallandale Beach
---
DATE: October 23-31
COST/TIME: Drive-through event from 6:00-9:00 p.m. Sunday through Thursday and 6:00-10:00 p.m. Friday and Saturday.
The cost is $25 per vehicle. All passengers must be safely wearing seat belts. Children will be able to enjoy a slow cruise as they enjoy friendly faces, familiar songs, Halloween vignettes, actors, dancers, and lots of candy, while staying in the safety of their car the entire time.
Known as one of the best family-friendly Halloween events in the Palm Beaches, the event will operate much like the Fair Eats Drive Thru events that the fair offered in July and September. The difference is that this drive through will come alive with entertainment, not-so-spooky décor, and costumed volunteers who will be offering treats and big smiles to the children as they pass by in their cars.
9067 Southern Blvd

West Palm Beach
---
Haunted Drive & Drive and Treat Benefiting the Museum of Discovery & Science!
---
DATE: November 15th
TIME: 12:00pm-5:00pm
In the spirit of Thanksgiving,
a portion of our net proceeds will benefit local charity.
For just $30 and a temperature check, you're all in… including all you care to drink German and domestic beer, domestic wine, soft drinks and a heaping plate of German and American fare.  Additional meals will be available for purchase for $10.
We will have physical distancing and sanitizing protocols in place to ensure the safety of our volunteers and guests.
Best of all, live German Music, Beer and Brats!
** Face masks are required
when not eating and drinking at your table. **
**TICKETS ARE LIMITED
TO ENSURE THE HEALTH-SAFETY OF OUR GUESTS.**
We STRONGLY encourage advance ticket purchase as this event will sell out.
For questions or to purchase tickets by phone,
please call our club reservations line at (561) 967-6464, ext. 2.
5111 Lantana Road

Lantana
---
Swank Farms Farmers Market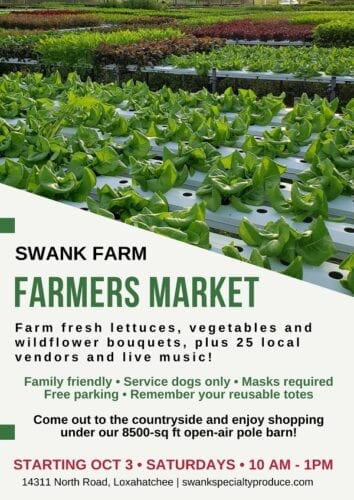 DATE: Saturdays
COST/TIME: 10:00 a.m.-1:00 p.m.
Celebrating Florida's diverse agriculture out in the countryside, Swank Specialty Produce is kicking off their weekly Farmers Market on Saturday, October 3rd.  The event will take place every Saturday in season from 10am – 1pm featuring farm fresh lettuces, vegetables, herbs and wildflower bouquets from Swank Farm, along with live music and fantastic goods from 25 local vendors. Guests can enjoy socially distanced shopping under Swank Farm's 8500-sq ft open-air pole barn rain or shine.
The diverse vendors will offer something for everyone including fresh fish and seafood, organic meats and eggs, gourmet cheeses, homemade pasta, decadent baked goods and breads, delicious prepared foods, imported oils and vinegars, teas, ice cream, flavored honey, jellies and jams, an assortment of plants, succulents and orchids, and much more.
The Swank Farm Market is family friendly and service dogs are welcome. Masks are required, and the Swanks request that everyone please respect social distancing while shopping. Onsite parking is free and convenient.
14311 Loxahatchee Road

Loxahatchee
---
Pound Fitness at Organic Movements Boca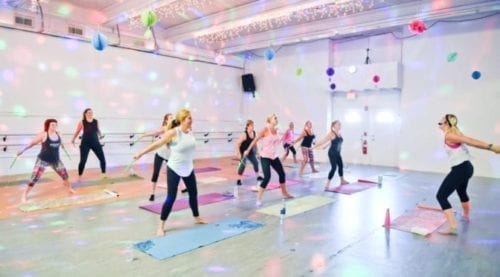 DATE: Saturdays
COST/TIME:  First class free! 10:00 a.m. Call to reserve your spot: 561-395-6111 or text 904-806-4441
POUND® is the world's first cardio jam session inspired by the energizing & sweat-dripping fun of playing the drums, socially distanced of course. POUND fitness Boca Raton transforms drumming into an incredibly effective way of working out.
Instead of listening to music, you become the music in this exhilarating full-body workout that combines cardio, conditioning, and strength training with yoga and Pilates-inspired movements.
2400 NW Boca Raton Blvd

Boca Raton
---
Sign Your Child Up for Amazing Athletes Weekend Classes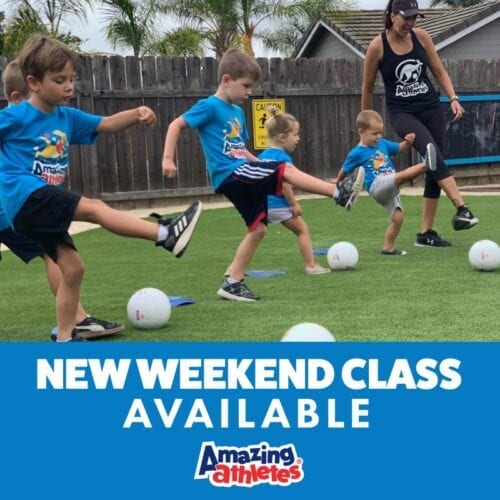 Did you know studies show structured physical activity helps develop the brain as well as the body? It also improves mood and lowers anxiety and stress. Amazing Athletes, the sports enrichment program endorsed by child development experts, introduces the fundamentals and mechanics of 10 different sports in a non-competitive environment that develops self-esteem, teamwork and healthy habits.
Scroll down to South County Regional to look up different class options such as:
Amazing Tots for 18 mo – 2.5 years old
The Amazing Athletes- 2.5-5 years old
Amazing PE for 5-12 years old
Modern Boca Mom followers will receive $10 off Amazing Athletes and Amazing PE (50 Min classes). Or, $10 off Amazing Tots price (25 minute class). You'll get a FREE t-shirt too!
REGISTER HERE and use code: MODERNBOCA10
---
City of West Palm Beach Green Market is Back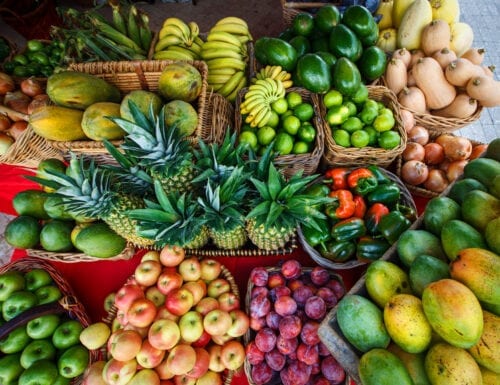 DATE: Saturdays
There will be several initial changes this year including the suspension of activities for kids, additional café seating, live music, food samples, and bottomless mimosas. Single mimosas will be available for purchase for $4 at the entrance. Merchant tents will be placed 10 feet apart.
Attendees must wear masks to enter, will need to follow a path, and are encouraged to shop quickly. Hand sanitizing and hand washing stations will be placed throughout. Pre- and post-shopping, attendees are encouraged to patronize the multiple downtown restaurants' Dining on the Spot locations.
***The City will amend West Palm Beach GreenMarket COVID policies as local restrictions are lifted.
101 S Clematis St.
West Palm Beach
Be sure to "LIKE" MBMom on Facebook and follow on Instagram, Pinterest and Twitter for all of the latest updates and weekend family fun in South Florida!
SUBSCRIBE to our Weekly MBMom Email Roundups including weekend family fun in South Florida and be in the know for your Boca kids by clicking here.Modern Boca Moms are the BEST…especially if they share our website with friends and other local South Florida mommas! Have a fabulous weekend and enjoy!