As parents, we all know how important summer learning is. The Boca Raton Public Library is launching its annual Summer Reading program with the theme, "Imagine Your Story!" Generously supported by Friends of the Boca Raton Public Library, this year's fairytale-themed program will inspire all ages to discover the magic of reading.
Residents are also welcome to participate in the over 100 programs and classes for all ages at the Boca Raton Public Library (BRPL). I can definitely appreciate some FREE summer fun!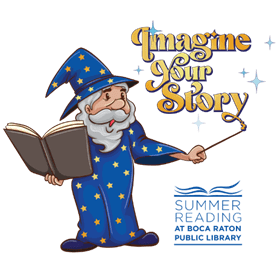 Imagine Your Story
Summer Reading 2023 enrollment begins on May 1st for kids, all ages through the READsquared mobile app or online.
Children from babies through Grade 5 will receive a reading log. They are encouraged to read (or read together) twenty minutes a day (or 100 minutes a week) and visit the Library to claim a weekly prize beginning the week of June 5.
Tweens and teens in Grades 6–12 will receive wireless ear buds when they enroll, as well as an enamel pin from TeeTurtle after reading 400 minutes (while supplies last). Once they've logged 800 minutes of reading on READsquared, they'll be entered into a raffle to win a Nintendo Switch Lite or an Imagine Your Story Beach Bag with Bluetooth speaker and beach towel.
Adults are eligible for an end-of-summer drawing for book lovers' gift sets when they log the books they read online (three winners).
Everyone who signs up for Summer Reading in the Library's READSquared app receives an "Imagine Your Story" tote bag (while supplies last). By registering for Summer Reading, participants will also be invited to attend a Magical Forest Bubble Party in June and a Happily Ever After Party in July.
Prevent the "Summer Slide"
Public libraries play a critical role in providing a bridge for academic skills for students over the summer months. This is to help prevent the "summer slide," during which students may lose educational achievements made over the previous school year. To combat this, the Boca Raton Public Library is presenting an exciting summer of educational initiatives!
The Boca Raton Public Library is a place of learning and discovery for residents of all ages. Adults are also encouraged to participate in Summer Reading to set a good example for their Boca kids. Reading helps adults improve memory, learn new things and enhance well being. We can all use that, right?
Get your kids signed up today, Boca moms! We all need something to do when it's raining outside, right?
Sign up for Summer Reading 2023 through the Boca Raton Public Library website at bocalibrary.org or visit the Downtown or Spanish River Library. Install the READsquared mobile app through Google Play or the Apple Store and look for "Boca Raton Public Library."