The City of Boca Raton has announced a series of complimentary Boca Raton summer events, bringing music and outdoor fun to our downtown throughout the 2023 season!
Celebrate the sounds of summer with a line-up of free tribute concerts with nods to Elvis, Prince, the Beach Boys and more, starting Friday, June 2nd and continuing most Friday nights starting at 8 p.m. through August 4 at the Mizner Park Amphitheater, located at 590 Plaza Real. The Boca Raton summer events season heats up even further with several scheduled ticketed concerts with such artists as Walker Hayes, Brit Floyd, the Goo Goo Dolls with OAR, and Jason Mraz.
"Our Summer in the City series was created to celebrate a range of genres and generations," said Amy DiNorscio, Amphitheater and Community Events Manager for the City of Boca Raton. "We are excited about this year's line-up that will culminate with the 3rd Annual Battle of the Bands, showcasing our own amazing talent."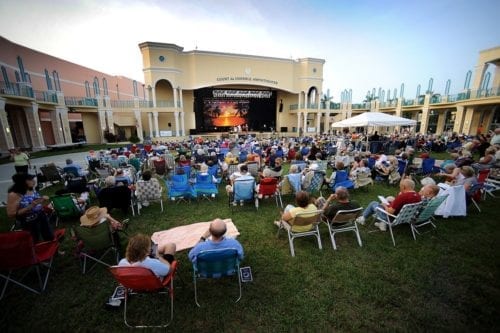 Boca Raton Summer Events Lineup for free Summer in the City concerts includes:
Friday, June 2             The Elvis Presley Experience with Matt Stone
Friday, June 16           The Beach Buoys:  A Tribute to the Beach Boys
Friday, June 30           The Symphonia and FAU Summer Concert Band Presenting Movie Soundtrack Favorites
Friday, July 7              Best of Both Worlds: A Tribute to the History of Van Halen
Friday, July 14            Purple Madness:  A Tribute to Prince
Friday, July 21            We are Yacht Rock (soft rock hits from the late 70s – early 80s)
Friday, July 28            Neil Diamond Tribute Show featuring Rob Garrett
Friday, August 4         3rd Annual Battle of the Bands Competition
Ticketed shows include:
Friday, June 10           Walker Hayes
Friday, June 23           Brit Floyd
July 26                          Goo Goo Dolls & OAR
August 12                      Jason Mraz
For more information on these Boca Raton summer events and links to purchase tickets for the ticketed shows, visit www.mizneramp.com.