In my line of work, I talk to a lot of moms. A LOT of moms. And a topic that comes up often is the "Boca Raton preschool."
Which one is best? Can I afford a Boca Raton preschool? Does it have aftercare? Can my child handle it full time or should he/she only go part time?
I would like to think I'm slowly becoming an expert on the topic, having chosen #dailybocaavery's a few years ago. And the decision is never easy for any family– I see that. But I've found that very few people even realize that the one we chose for her even has a Boca Raton preschool. There's no way to state it other than bluntly:
Yes, Grandview Preparatory School has a Boca Raton preschool and my kid loves it. I'm spreading the word!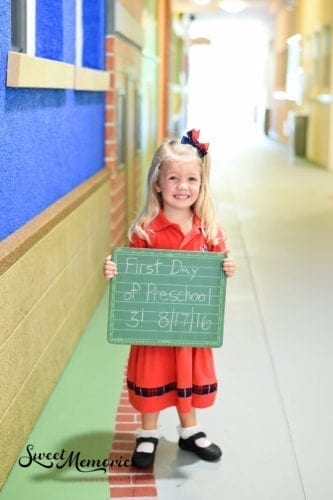 Yes, your 3 or 4 year-old will wear a uniform (it's too cute) and participate in most of the programs and activities the rest of the school does, which I think is awesome. It goes up to grade 12 by the way…
Many of my readers get a taste of Grandview before their child turns 3 by joining our "Modern Boca Mommy & Me" program for babies and toddlers. That's how my own daughter started and now she's beyond comfortable on campus having taken yoga and music classes there.
What I really like most about preschool at Grandview…
…is the class size. My child received the personalized attention she wanted…and deserved. There are less than 12 kids in a preschool class at Grandview! Few Boca Raton private schools can boast that.
The Early Childhood program at Grandview emphasizes growth in social interaction and allows your child to progress through developmental milestones at an individual pace. Through core academics and classes in art, music, dance and physical education, the children experience a balance of play, discovery, manipulation, and participation to lay the foundation for lifelong learning.
This is key, especially as they work towards Kindergarten.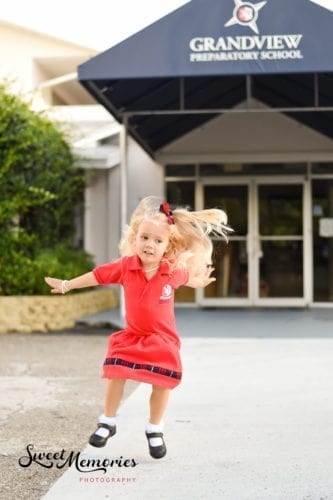 What about early drop off and aftercare?
Grandview's Early Childhood program offers flexible drop off and pick up times to accommodate family schedules. (Early Childhood students may be dropped off from 7:45 – 9:00 AM.  Dismissal is between 2:30 – 2:45 PM.) Extended Day/Aftercare is available for students until 5:30 PM. This is ideal for working parents.
As a parent with a child currently at the school, I encourage you to contact Grandview Admissions to take a tour to learn more about Early Childhood. It's never too early if you have a child on the verge of preschool age (starting earliest at age 3)!
CONTACT:  (561) 416-9737 ext. 1304 or email admission@grandviewprep.net.
Hope to see you on campus!
---
Sponsored: This post was sponsored by Grandview Preparatory School. All opinions expressed in this blog post are my own and not influenced in any way by the sponsor.  Any statistic, quote or other representation about a product or service should be verified with provider. Please refer to this site's Disclosure for more information. I was compensated for this post, but that does not impact my views or opinions.