Of all the house projects I tackled during the 2020 pandemic, who knew my Boca Raton laundry room would be my favorite one. Yes, I have officially fallen victim to making the workhorse room of our house look worthy enough for the 'gram. Good thing I married a handyman! And P.S. I'm not alone. If you search the hashtag #laundryroommakeover on Instagram, you'll find drool-worthy laundry stations featuring everything from trendy floral wallpaper and custom shelves to cheeky signs and ornately stenciled floors.
But of course now that I have this gorgeous laundry room, why in the world would I want to mess it up by actually…doing laundry? 😉
I'm only half kidding, but you moms know what I'm talking about!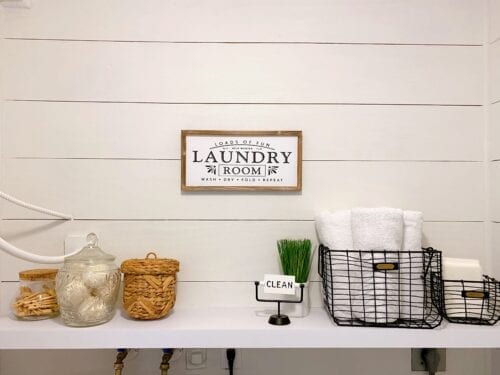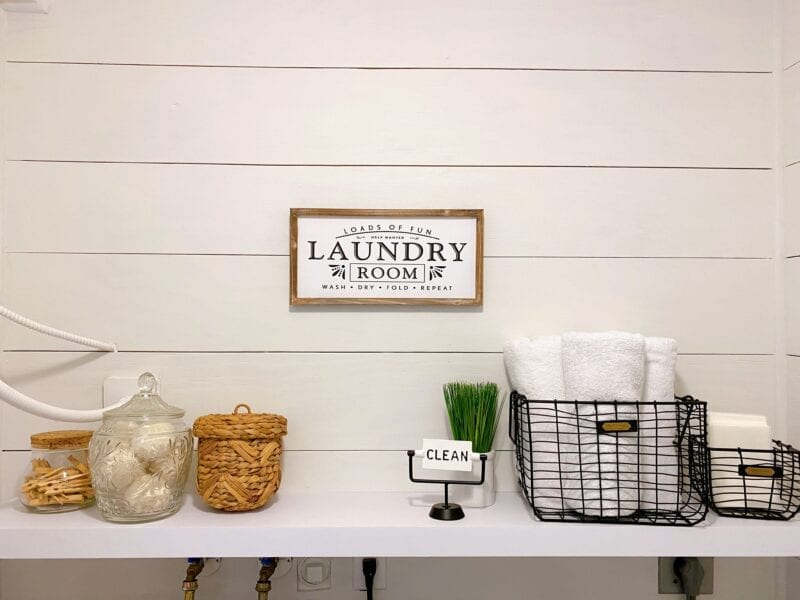 Sometimes, the laundry process can be arduous. Tedious. Overwhelming. I have no idea how my family creates so many dirty clothes every week–and I only have ONE KID!!! That's why I'm so excited to introduce you to HappyNest, the Boca Raton laundry service us moms never knew we needed.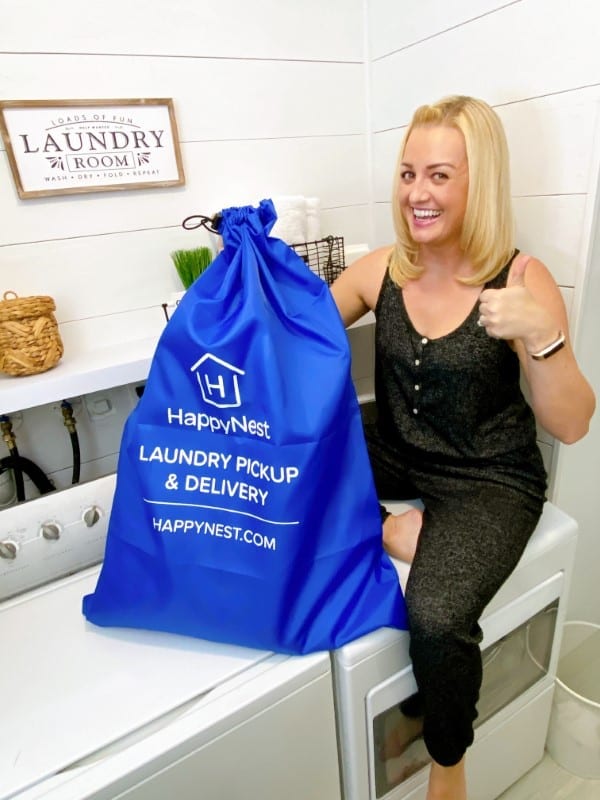 As a former Manhattanite, sending out the laundry was a common practice. Most of the apartments I lived in never had a washer or dryer. When we moved back down to Boca, I'm not sure why I got so excited about having a laundry area (not even a room, yet!) in my house. Having someone else handle it was so much easier!
And it STILL is. Here's how Boca Raton's laundry service, HappyNest, works.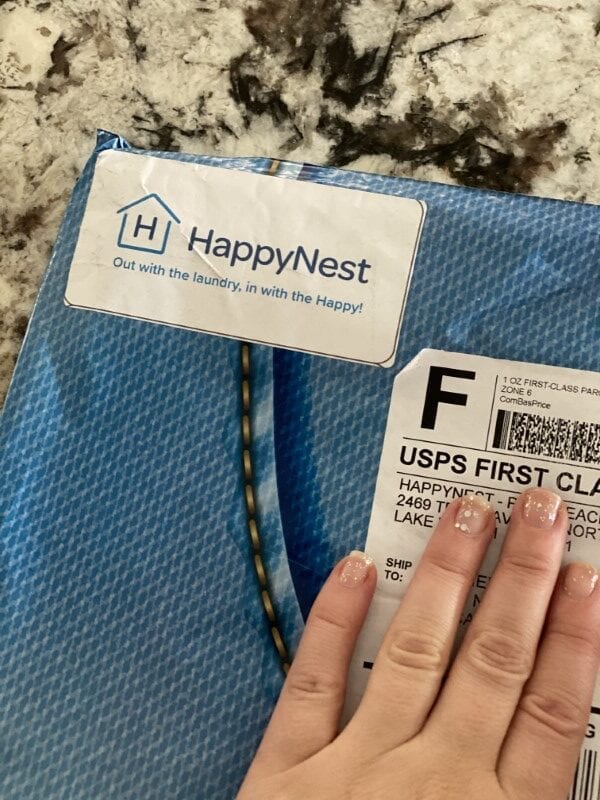 Set up an account with HappyNest and simply let them know what type of Boca Raton laundry service you would like. You can have regularly scheduled pickups, or you can have your laundry picked up on request. The choice is yours!
Then, you'll tell them how you'd like your clothes cleaned. There is a huge selection of detergents and fabric softeners so your family's laundry will be handled exactly the way you like.
Ours came back the softest it's ever been- FYI. Heavenly.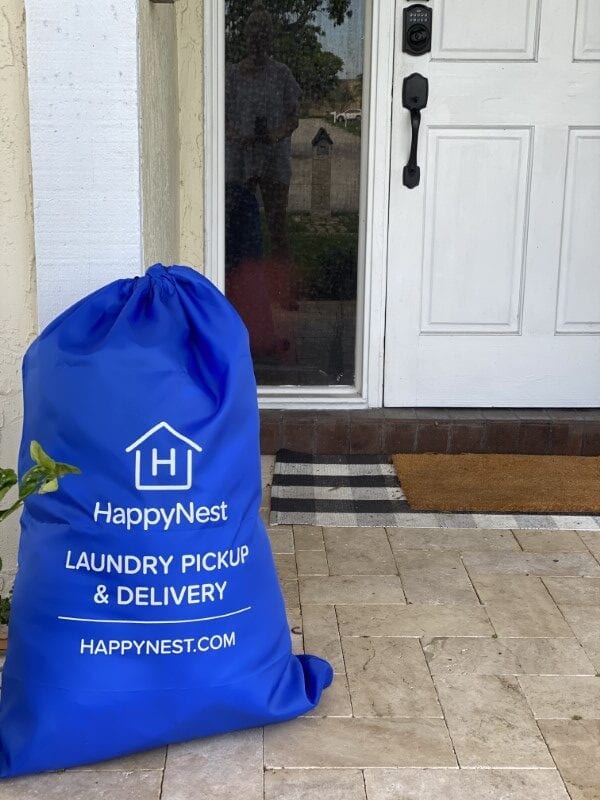 On laundry day, leave your laundry out in their custom pickup and delivery bag (that's mailed to you in advance) and let HappyNest do the rest! They'll deliver (with a mask and a smile!) your cleaned and folded laundry back to you the very next day.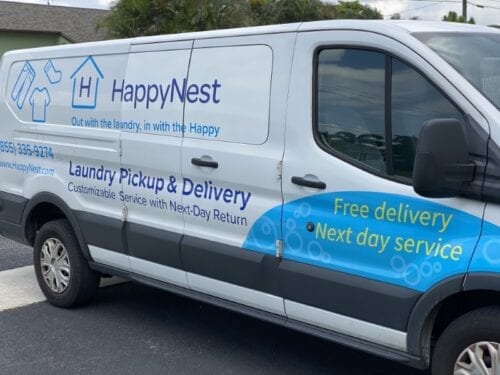 What about pricing and bulkier items like bedding?
I had this question too! Pricing, just like it was back in NYC, is by the pound and can be found by entering your zip code on the HappyNest website.
As for bulky comforters, bed spreads and pillows, HappyNest offers pricing by the item. You'll even get a nice discount if you sign up for their weekly service! Here's what my order ended up costing, as an example.

Now let's see that laundry room!
Twist my arm, why don't you? I think I captured some great before and after photos of our Boca Raton laundry room makeover.
First, we actually had to build a wall to close the laundry room off from our hot garage, We knocked out the back wall of a closet to create an indoor entrance in addition to adding a separate door leading out to the garage.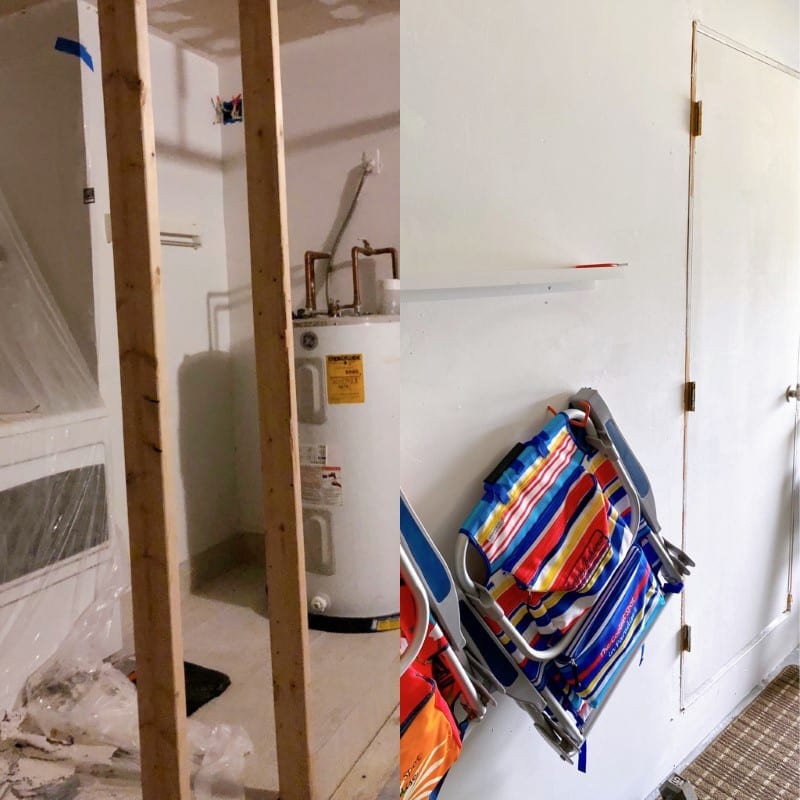 Indoor entrance view
This is the view from our new indoor entrance. One of my pet peeves about ironing is having to get the bulky board out. Now, all I have to do is pull it down from the wall, plug my iron in and I'm good to go! We also snagged a great wall mount to keep my iron stowed out of the way.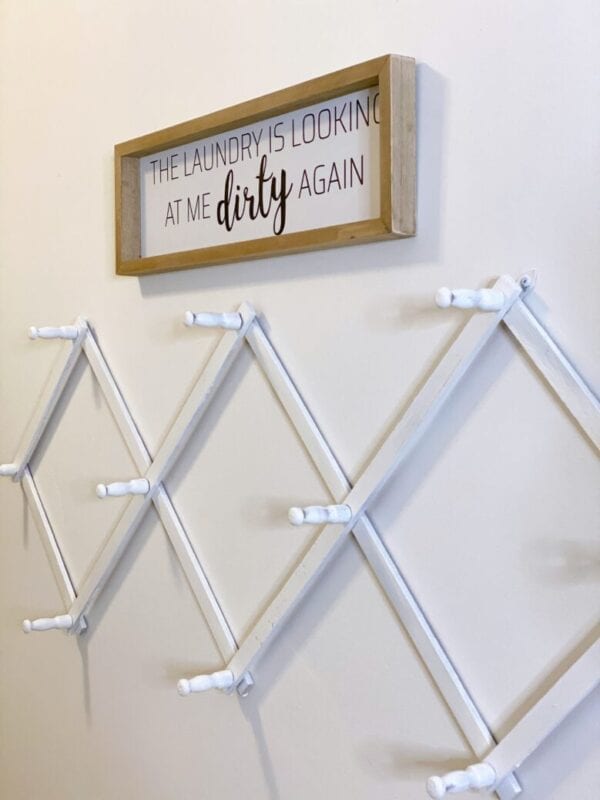 I fell in love with this hilarious, "The Laundry is Looking at Me Dirty Again", laundry room sign from Amazon and decided to hang it over our freshly painted wooden hooks.
Feature wall with shelf
Modern Boca Dad/Handy Andy hung up faux shiplap to make a feature wall above our washer and dryer. It was not an easy project working around existing tubes, plumbing and electrical outlets, but I LOVE how it turned out.
We also mounted a 60″ white floating shelf to hold laundry supplies as well as all of my cute Target finds. That Hearth & Hand brand is adorable!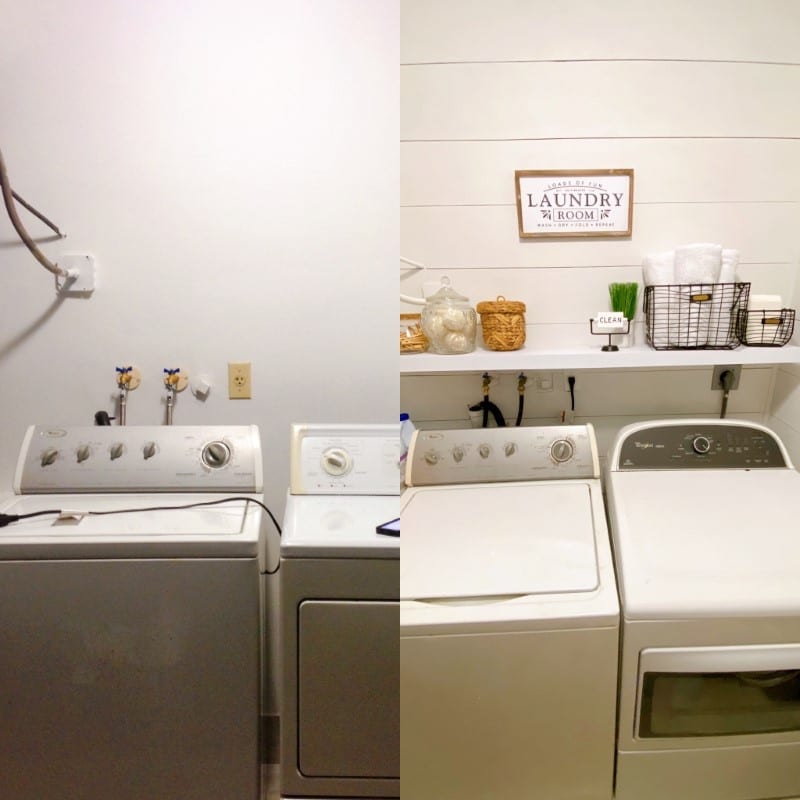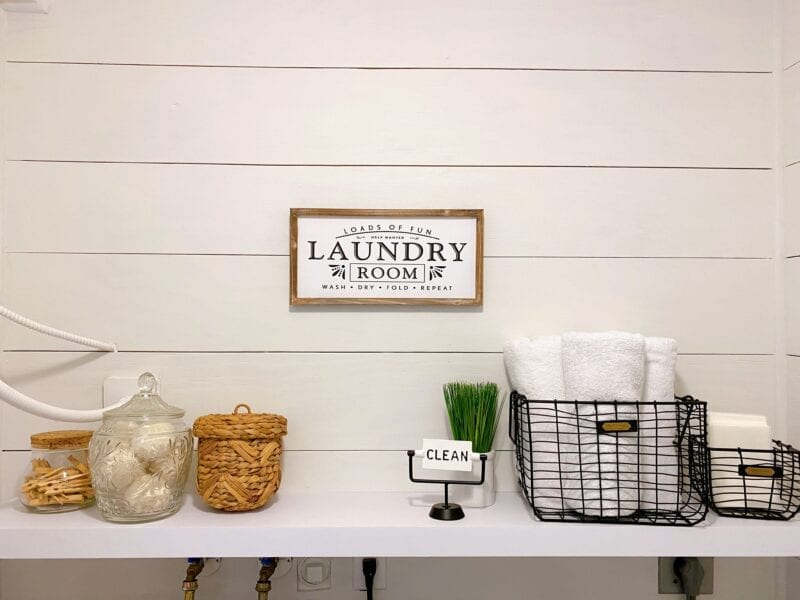 This post contains affiliate links. If you click and purchase some of these items, I may be compensated.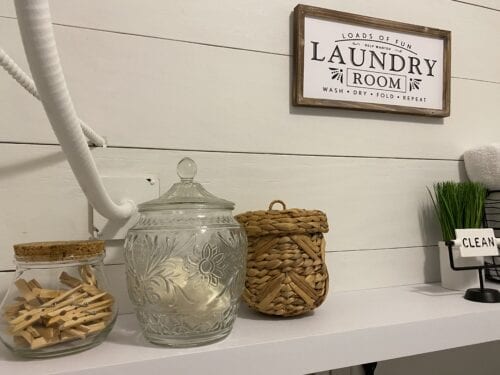 Hiding the HVAC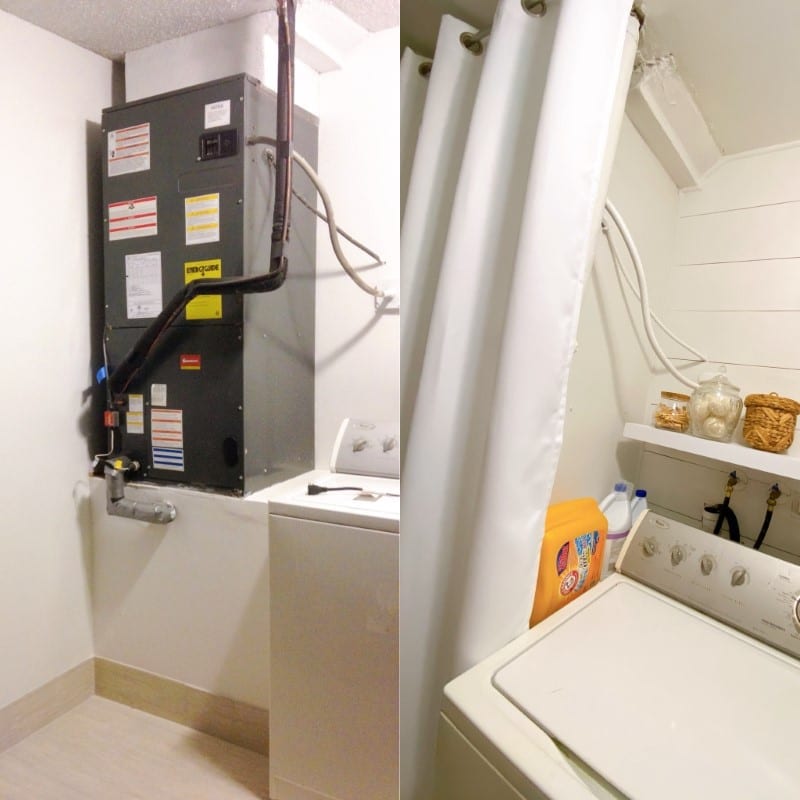 Another improvement we made was hiding our HVAC unit behind a white curtain. We hung it from this really cool "pipe" rod from the ceiling. It makes a huge difference!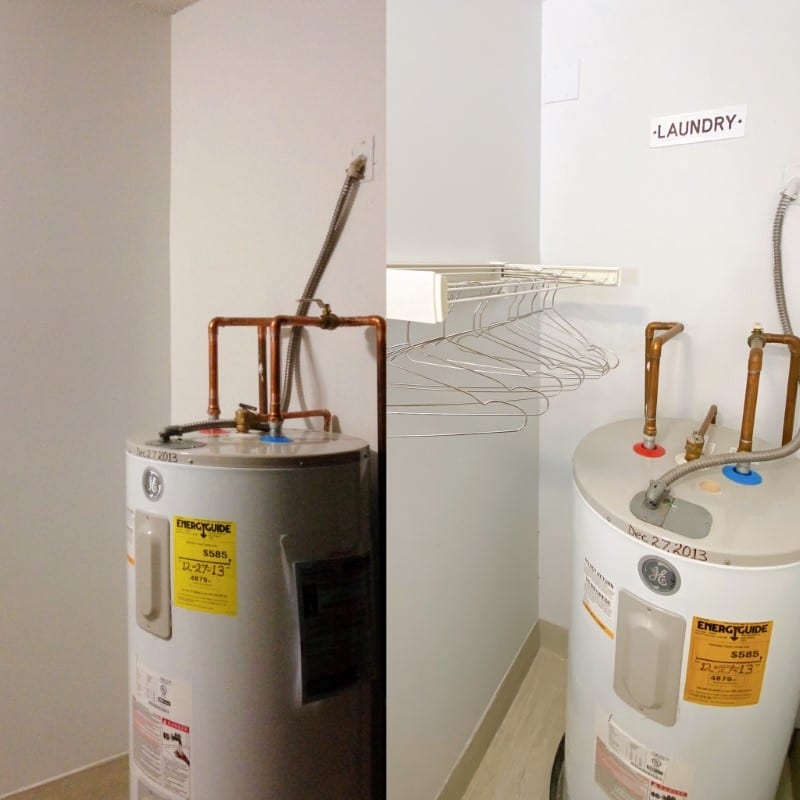 Unfortunately, there was no clever way to disguise our hot water heater (trust me, I looked). But, I do love the metal laundry sign I found at Target. It cleverly matches the one on the shelf that flips between clean/dirty.
We also purchased a fold-away clothes drying rack from Wayfair and added stainless steel hangers to hang up things that need to be air dried regularly.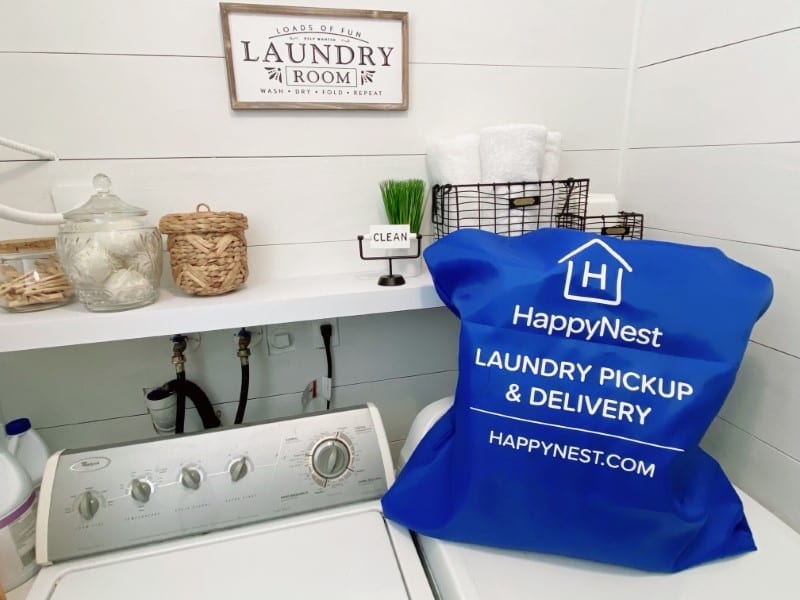 I love the way our Boca Raton laundry room turned out, but I have to tell you this. The BEST view of the new space is when there's a full HappyNest laundry bag ready to head out the door!
---
I have a great offer for my readers below: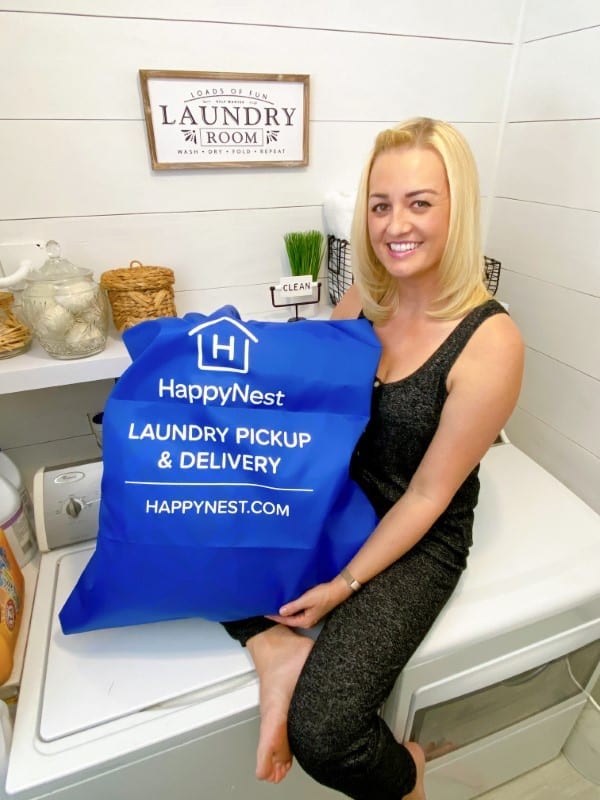 ---
Sponsored: This blog post was sponsored by HappyNest. All opinions expressed in this blog post are my own and not influenced in any way by the sponsor. Any statistic, quote or other representation about a product or service should be verified with provider and please refer to this site's Disclosure for more information. I have been compensated, but that does not impact my views or opinions.
This post contains affiliate links. If you click and purchase some of these items, I may be compensated.
---
Pin for Later!