So…I took my 3 year-old SKYDIVING. Indoor skydiving in Fort Lauderdale that is, at iFLY!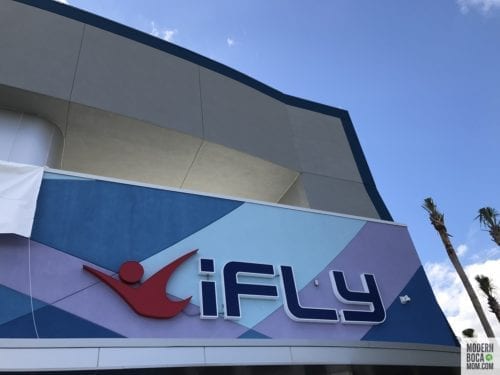 Judge me if you will (try not to though), but it was one of the most amazing family activities we've ever done together! Indoor skydiving was exhilarating, totally unique…and you pretty much look ridiculous doing it together. As a parent, I call  that #WINNING whether you have a toddler or a teenager!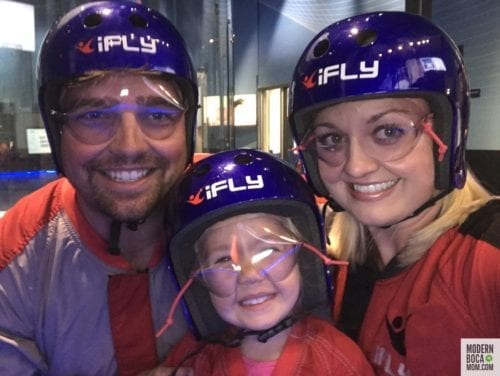 Indoor Skydiving in Fort Lauderdale: iFLY
iFLY, the world's largest indoor skydiving operation, is now delivering the dream of flight to adventure seekers age 3 to 103 in South Florida. With iFLY, people of all ages and abilities can experience human flight in a safe, comfortable and fun environment without having to jump out of an airplane.
PTL because I ain't doing THAT. Nor am I letting any close family members do THAT.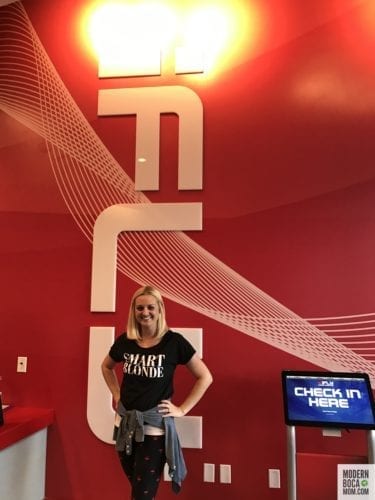 iFLY is a marvel of engineering that replicates the sensation of freefall, creating conditions that allow you to fly on a smooth cushion of air.
In layman's terms: you hover over a giant fan in a big, glass tube.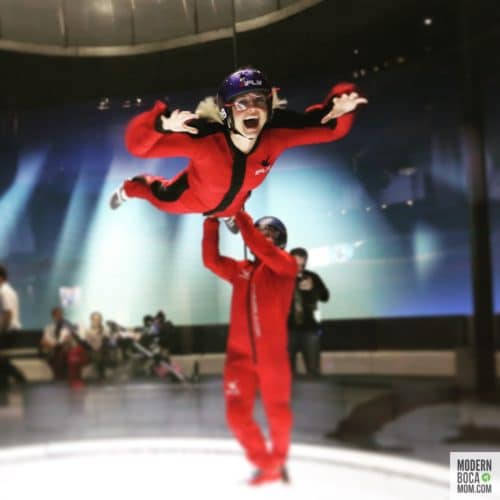 How does it work?
To prepare for your indoor skydiving in Fort Lauderdale flight experience, you'll complete a short training class guided by one of iFLY's flight and safety instructors. Then, you'll suit up in your flight gear, including goggles, helmet and flight suit, and enter the flight chamber.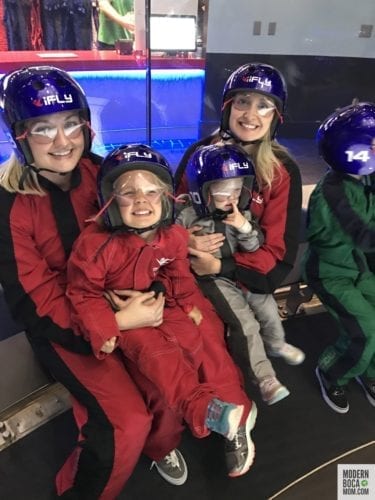 MBMOM TIP: Mommas, put your/your child's hair in a low bun or braid if you can. I can't tell you how many intense tangles I had in my (short) hair post-flight! I also recommend going for the full face helmet as it helps restrict the airflow around your head. This momma drooled like crazy, LOL! Real cute.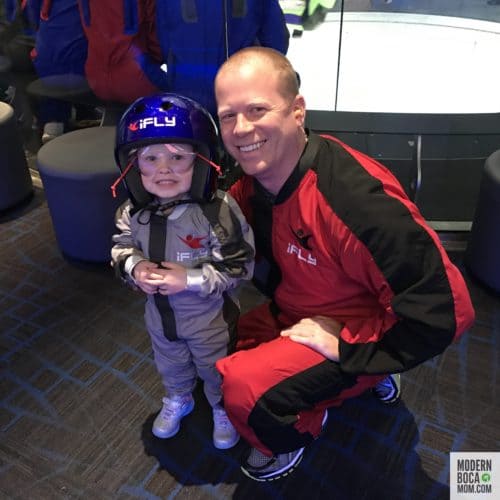 With the help of iFLY certified flight instructors, you'll actually learn to fly and control your body in the air. And it is tricky!
We each flew 2x for one minute each time. The first flight…you're pretty much getting your bearings. It's shockingly a lot of core work and frankly just feels weird. The second time, you can add a "high flying upgrade" to your family flight package and really soar! I definitely recommend it as you'll feel more comfortable the second time around AND have a lot more fun knowing what to expect.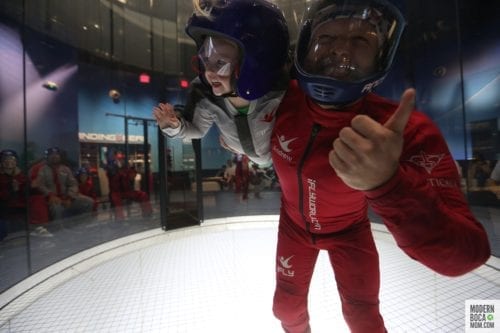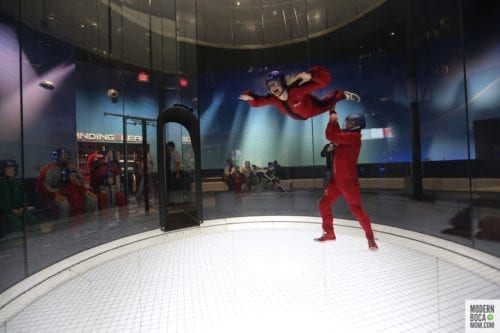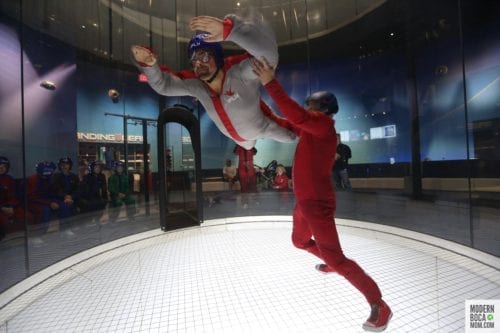 MBMOM TIP: After donning all the flight gear, my daughter started to get a little nervous. I told her she only had to try it once and she totally did it…but only once. Make sure you get all of your photos/video on the first try in case your kiddo chickens out of round 2. iFLY also takes amazing professional photos and videos that you can purchase for a small fee at the checkout kiosks post-flight.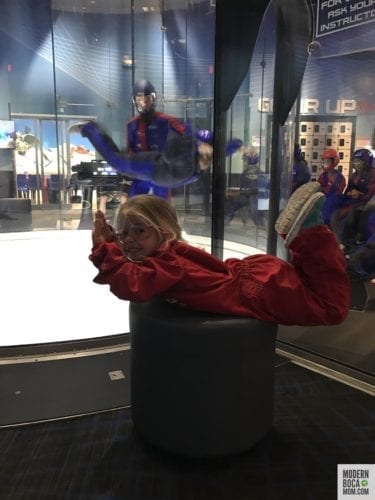 All flight packages include training, flight gear, and flight time with an International Bodyflight Association (IBA*) certified instructor.
You can read all about the iFLY packages available to you HERE.
Birthday Parties at iFLY Fort Lauderdale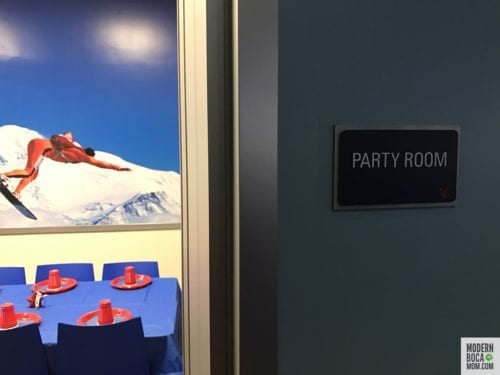 Did you know you can also host your next adult indoor skydiving in Fort Lauderdale celebration or BIRTHDAY PARTY at iFLY?! Not to mention, send your child's class on an awesome STEM field trip.
The party rooms are amazing and guests can watch all of the high flying action courtesy of flat screen TV's in each room. CLICK HERE for more events info.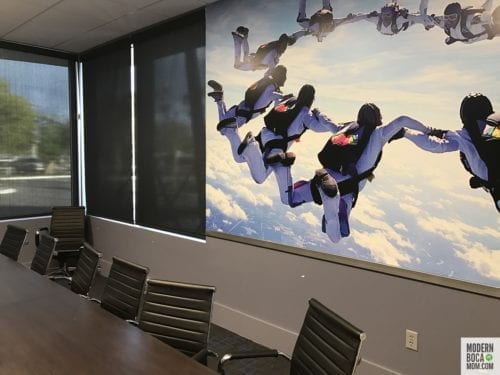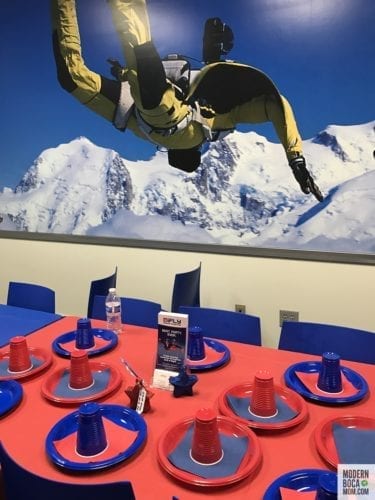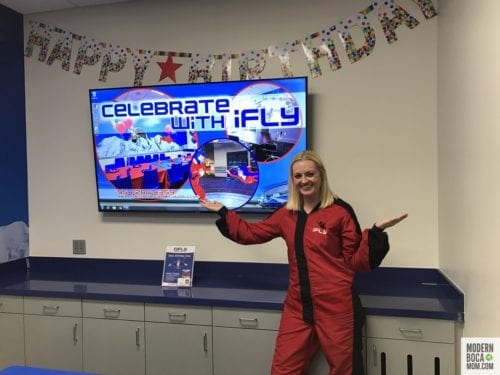 11690 West State Road 84 in Davie
---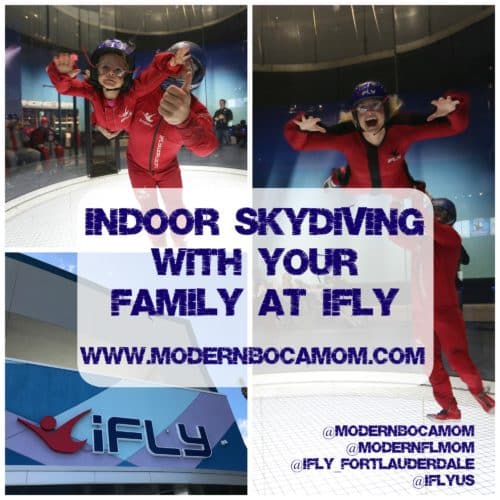 *The IBA established the gold standard for training and safety standards for indoor skydiving in Fort Lauderdale instructors. All iFLY instructors meet or exceed IBA standards. 
---
Hosted: This indoor skydiving in Fort Lauderdale post was hosted by iFLY. All opinions expressed in this blog post are my own and not influenced in any way by the sponsor. Any statistic, quote or other representation about a product or service should be verified with provider. Please refer to this site's Disclosure for more information. I was given complimentary flights and media for this review, but all opinions are mine.