We live where you vacation. I love to say that to non-Floridians, especially when a summer holiday weekend is on the horizon. 😉 And now after our third visit, I've decided there are few places better to stay-cation during a Boca holiday weekend than at the Waterstone Resort and Marina.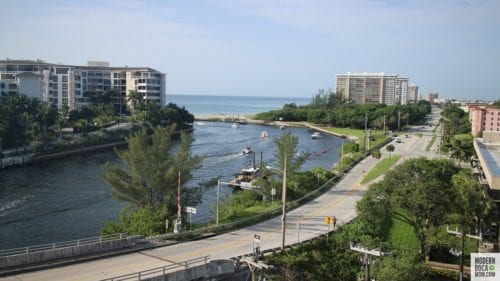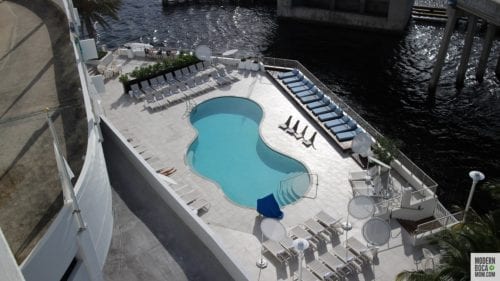 I mean, the daily champagne reception from 4-7PM should be reason enough in itself!
Like I mentioned, my family and I have stayed at the Waterstone Resort & Marina before, but Boca holiday weekend times are my absolute favorite because you get that little bonus day to enjoy the resort's MANY amenities.
This visit, we were invited to bunk in a suite. It is so much easier when we have a separate snoozing space for #dailybocaavery, so us parents can hang out after she goes to sleep. Game of Thrones isn't going to catch up on itself.
This room was so freaking beautiful. That bathtub…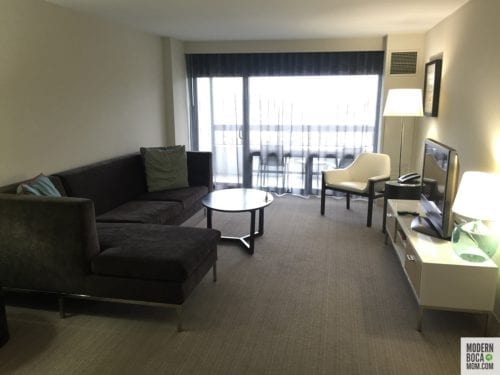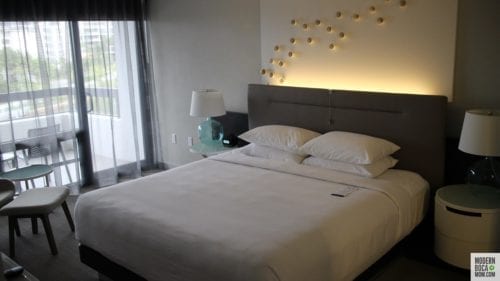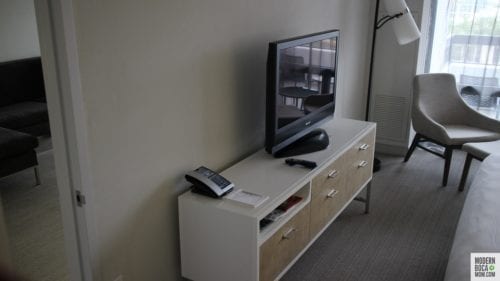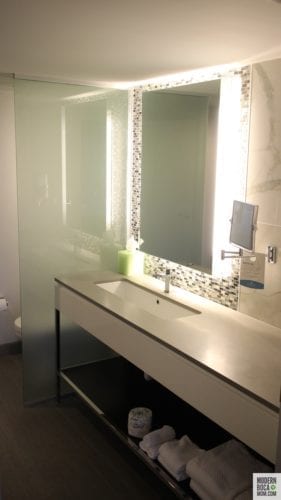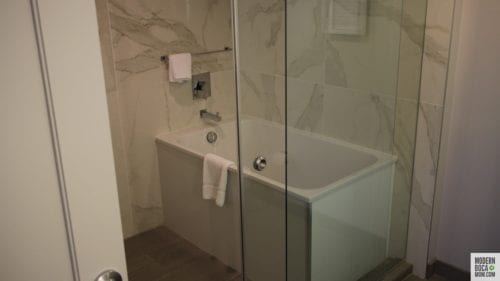 Avery easily fell asleep on the suite's pullout couch, snuggling with Morty, the Waterstone's manatee mascot…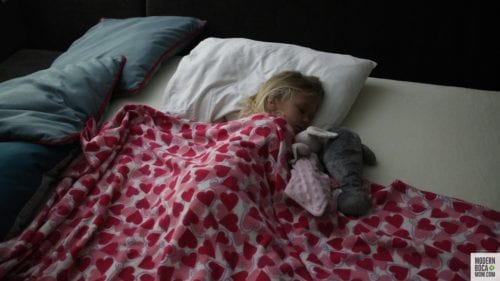 …while we enjoyed the welcome spread. Ok fine, we did share the cookies and milk with our daughter.
---
We had a big Boca holiday weekend itinerary ahead of us at the Waterstone!
First up: BREAKFAST
Whether you're eating inside at Boca Landing or outside with a view, the Waterstone's buffet breakfast has something for everyone.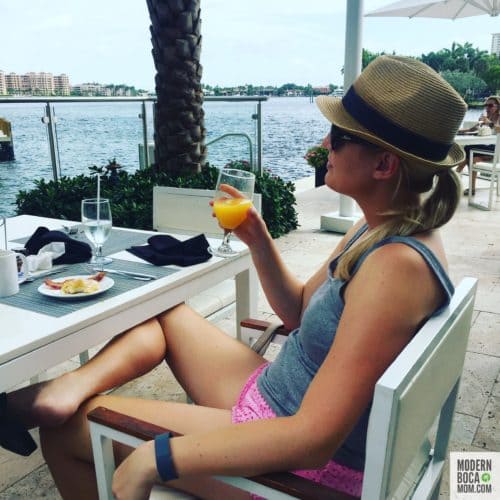 You can also eat breakfast and lunch out by the pool or order food to bring up to your room. SO NICE when your kids need an a/c break.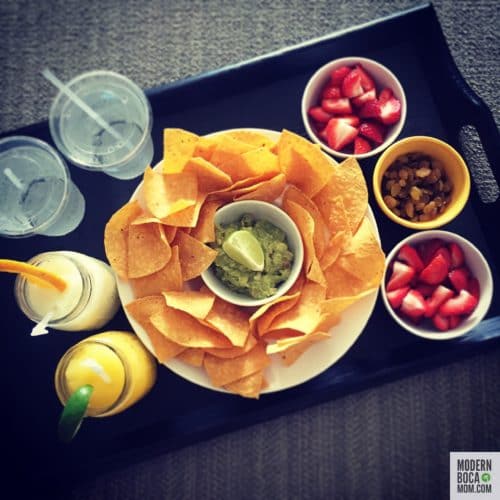 Next up: POOL TIME
The Waterstone's pool has a front row seat to the Boca Raton bridge and intracoastal waterway leading out to beautiful Lake Boca. It's the perfect setting to enjoy a frozen cocktail or two with friends and celebrate a Boca holiday weekend!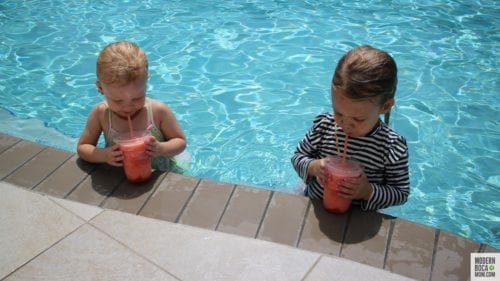 The weekend we stayed happened to be Father's Day weekend. Let's just say that I scored major points towards my birthday in August with this fabulous stay-cation…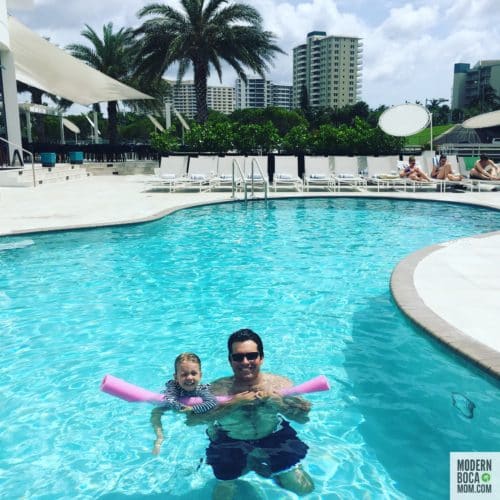 Next up: BOCA HOLIDAY WEEKEND BOATING
Our Boca holiday weekend at the Waterstone overall was absolutely amazing. But, I would have to say that my favorite part was renting and taking out their electric boat on Lake Boca. It was so much fun!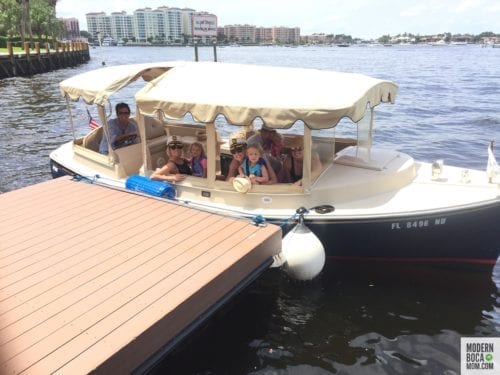 #modernbocadad was obviously the captain of our vessel (even though us moms sported the captain's' hats). We grabbed some drinks and snacks and hopped aboard!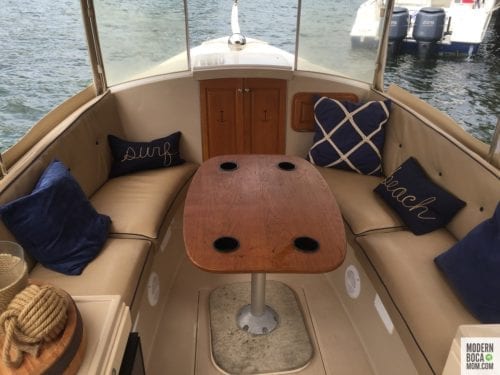 The boat was really easy to maneuver (I promise- not complicated at all!) and we were even able to find a cool spot to let the kids swim around in the lake. It was hot, so they were really excited to cool off.
You can find more information about boat rentals at the Waterstone HERE.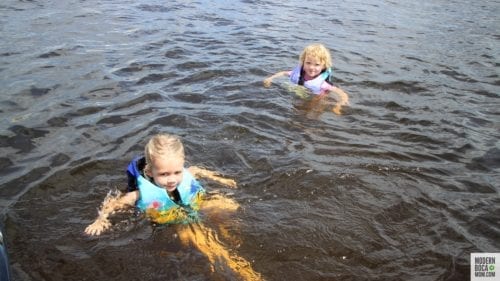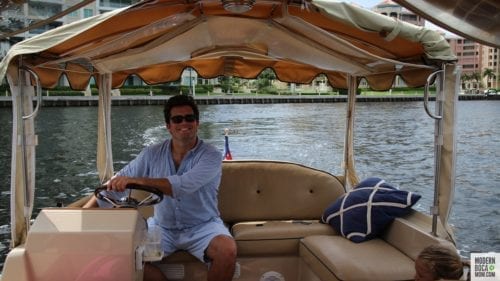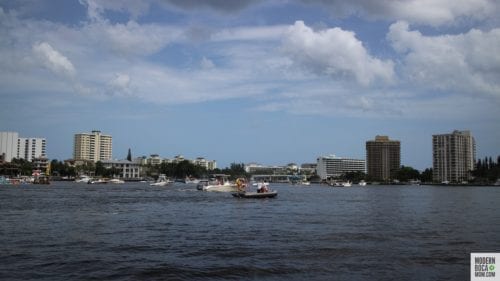 After our boat ride, it was time to cool off in the pool and get ready for dinner. My mom's Father's Day gift to my husband was watching our daughter that night, so we could have an adults-only dinner at Boca Landing. However, we could have also very easily eaten as a family outside at Waterstone Bar & Grill.
Next up: GOURMET DINING
Ever eaten a lionfish? How about the freshest fish dip in South Florida? You can find it all at the Waterstone's modern on-site restaurant, Boca Landing.
We indulged in so many wonderful dishes including a peanut butter & jelly cake finale (yum!) featured in the gallery below:
It was hands down, the best Father's Day weekend we've ever spent together. And that's the best part– we spent it TOGETHER as a family at a beautiful resort close to home in our own little vacation paradise: Boca Raton. Thank you Waterstone Resort & Marina.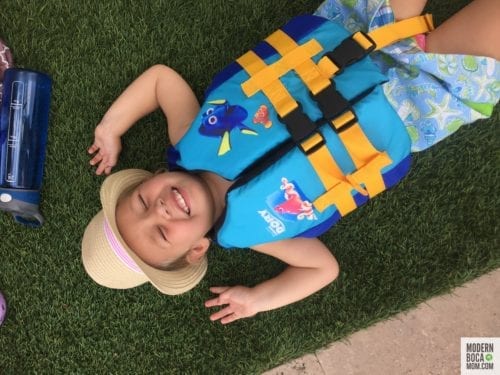 ---
Sponsored: All opinions expressed in this blog post are my own and not influenced in any way by the sponsor.  Any statistic, quote or other representation about a product or service should be verified with provider. Please refer to this site's Disclosure for more information. I was given a complimentary weekend stay at the Waterstone, boat rental, food and beverage gift cards and dine at Boca Landing, but that does not impact my views or opinions.
To experience the various dining options at Waterstone Resort & Marina – A DoubleTree by Hilton, call 561.368.9500 or for more information visit www.waterstoneboca.com and www.bocalanding.com and find them on Facebook, Twitter, Instagram and Pinterest.