From our contributor: Modern Boca Crunchy Mom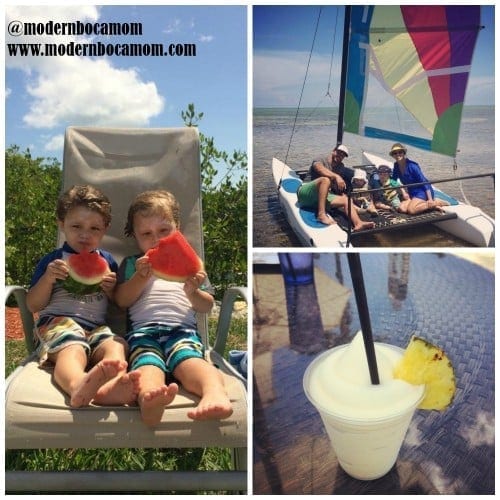 ---
If you follow me on Instagram @essentiallyerika, then it's no secret we just came back from our summer family Islamorada vacation!
As I've mentioned in the past (maybe only once or fifteen times), I'm a native New Yorker and my idea of a vacation is somewhat skewed.
Living in Boca Raton, I've felt like it's a very laid-back lifestyle (Florida in general gives me that feeling). I've even referred to it as "country". Whenever I speak to southerners, they always refer to Boca Raton as "busy" or "city life". Well, now I understand.
It wasn't until I ventured further south that I can fully appreciate "remote living". My family and I were lucky enough to win a wonderful 3 day / 2 night stay at the wonderful Guy Harvey Resort in lovely Islamorada Key.
This. Place. Rocks.
We stayed in the Bayside Townhomes, 2 King Beds / 2 Bath units right on the Bay!
When I first told the boys we would be going on vacation, all they asked was "Are there trains there?"
Voila!
There is PLENTY to do here. Just footsteps from the pool /grill area– did I mention it was right on the Bay?
The hammocks were my favorite!

We kept ourselves busy basking in the Islamorada sun and lounging at the pool with great food and plenty of Bob Marley tunes to set the mood.
This quaint little property has some of the best sunsets in Islamorada, I was thoroughly impressed!
Staying at the Islander Bayside Townhomes allowed access to the "sister" resort less than a mile away, The Guy Harvey Islander Resort. There's more fun to be had there!
Here you can park it under a shady tree on the beach, relax and enjoy the breeze.

There's also a huge pool with bar and grill for your lunch and beverage needs
I couldn't resist…
One of the best parts about the Islander is the versatility. There is enough to stay busy in that Islamorada sun all day! (Don't forget your sunblock! That sun is brutal in the summertime…)
We were lucky enough to have enough wind to go sailing; what a cool experience in these crystal clear warm waters! We stood pretty shallow with the boys and all, so we were really able to just relax and "be", we took in every moment…
"Don't ask me big bro…"
The WaterSorts shack offers all types of water activities such as paddle boarding, kayaking, motor boat rentals and fishing!
We couldn't pass this up, so off we went on another #naturetrackers adventure
This was a special moment for all of us. I know I remember the first time I went fishing with my dad. I'm sure they will remember this as the first of many fishing experiences with their father.
(Skipping stones with their dad, just love my guys!)
Islamorada is known for its fishing and music. There are tons of places to grab some food and drinks, or even to play pool! (Insert finger sprain here, don't ask. Thanks for the good times Hog Heaven!)
It seemed wherever we went, we were met with kind faces and great food. I must say one of my favorites was Marker 88, hands down THE BEST key lime pie I've ever tasted, not to mention MORE beautiful views!

(I feel like all of these places have sunset competitions, to see who has the best view)
To sum it all up, I get it.. Islamorada was a win on every level and I can certainly see the allure. Driving back home to Boca Raton was bittersweet. And I thought to myself, it seems so crowded, like CITY LIFE?!?!! Could it be?? This self proclaimed city slicker has gone (dare I say it) FLORIDIAN??
There is something to be said for disconnecting and just taking in the moments slowly and savoring them. Sitting back relishing in life's simple goodness, the beauty in the ordinary. Salty sea air on your lips, warm summer winds in your hair. Letting time skip away with the ones you love, dropping your inhibitions and losing yourself in "child's play".
Sometimes I feel we can get so wrapped up in keeping our children busy, or filling up their schedule so there is no idle time for them to get bored. Being bored as a child at times forced me to come up with some of the best or most creative thoughts, ideas and games. This serves as a reminder to just enjoy "organic" moments if you will.
Those moments where not much is going on and it doesn't have to. Some of our best memories as kids were summertime with no plans, nowhere to be, nothing to do but to let your day manifest on its own. To just "be" with your kids in nature soaking up the Vitamin D (safely, of course) and letting the day just drift away in unstructured play. It's good for the "crunchy" soul! I think it teaches us a bit about learning to lie back and enjoy the journey and teaches our children to include this sort of "freedom" in their lives.
We are very grateful to the people of Islamorada and The Guy Harvey Resort, but most of all to Sunflower Creative Arts. (This is where we won this awesome trip!)
Essentially Yours,
Modern Boca Crunchy Mom
---
Have you set some unstructured time together with your family this summer? Tell us where! We'd love to hear all about your experiences in the comments section below.