I'm not quite sure if this qualifies as a guilty pleasure, but this Modern Boca Mom, as of late, has become a HUGE fan of the ABC television show, Shark Tank.  Even summer products made in florida!
If you haven't seen the program before, essentially businesses (large and small) pitch their product or service to the "sharks" and ask for a monetary investment in exchange for a stake in their business, so they can (hopefully) grow by leaps and bounds utilizing the sharks' money + connections.  It's fascinating!
I constantly think about how I could take ModernBocaMom.com on the show and ask Mr. Wonderful to invest in my "genius" blog idea to take it national…global!  Who knows?!!
Big MOMpreneur dreams.
Anyhow, I've recently come across three NEW products for summer that I personally think would be AMAZING on the show.  But, I have a feeling these entrepreneurs are going to do just fine on their own.  And, the best part?
ALL of these products are BASED IN FLORIDA and these summer products made in Florida.
1. shadepop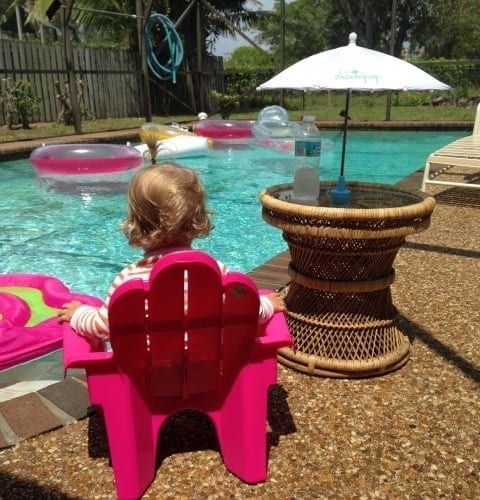 Yes, that's #dailybabyavery sitting by the pool…rockin the shadepop
The shadepop story, from its inventor:
Whether it's relaxing by the pool, at the beach, or on the porch, I'm always happiest outside. One day, while laying by the pool, I reached under my chair for my drink and knocked it over … for the last time. I started thinking there's got to be a better way to keep everything within arms reach and shaded. I wanted to make relaxing, well, a bit more relaxing. So I found a small umbrella, glued metal washers to the bottom, added a magnet and made my first prototype. It was perfect. I began my research and decided to start the patent process. After going down many different roads, I decided to have it manufactured, and peddle my brilliant invention myself. I mean who wouldn't want the ultimate in lounge level shade?
I have to admit that I was skeptical when shadepop reached out to MBMom.  But, after trying the product today, I have to admit it's kind of genius.  I like drinking my sippy cup of white wine out by the pool and it IS super annoying when it heats up due to South Florida's lack of shade…or me not drinking fast enough, apparently.  
All you have to do is take the umbrella out of its handy case, open and secure it to a table using the magnets provided.  DONE!  Your drink stays cool and so does your phone (I'm definitely one of those people that hates leaving my iPhone out in the sun).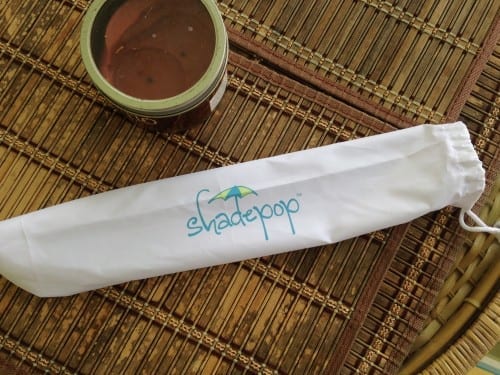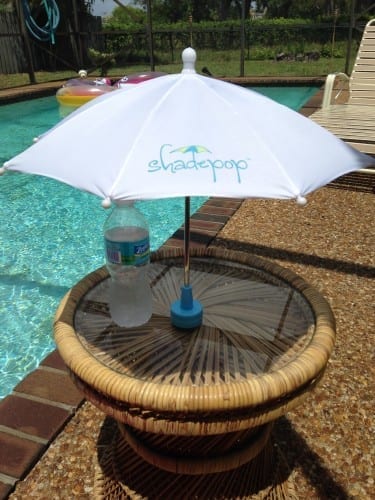 For $24.99, your poolside possessions can be cool too!  www.shadepop.com

2. Bronze Buffer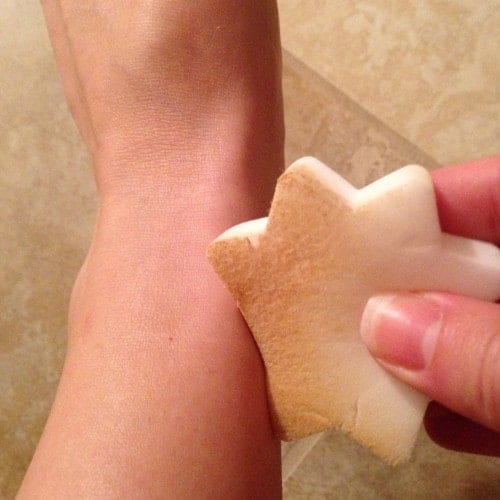 Yes, this little guy can save you from a sunless tanning "mishap"
The Bronze Buffer story:
The invention of Paige Herman-Axel, a former beauty editor turned freelance beauty blogger (and fellow MBMom!), Bronze Buffer was developed to help "fix" sunless tanning mistakes or boo boos, even after the tan has developed. This innovative, sun-shaped sponge instantly removes unwanted sunless-tanner streaks and buildup.  The sponge is especially ideal for areas of the body where color can collect such as knees, ankles and elbows.  It can even be used to tone down a tan that's too dark.
Full disclosure…I used to work with Paige back in my NYC Beauty PR days and she is one of the nicest and most down-to-earth people you'll ever meet.  When I first moved back to Boca Raton, I was so excited to find out she was based here and was all ears as she explained her new business venture.  I have tried Bronze Buffer multiple times now on my less than perfect sunless tanning applications and it is even fantastic if you need even out leg makeup (Sally Hansen Airbrush Legs anyone?).
Picture "a deodorant sponge for your skin" and thank goodness someone finally invented that.  The only safe tan is a sunless tan and it's a challenge to get the perfect one each time!  www.bronzebuffer.com
Guess what?  You can buy Bronze Buffer at Sephora. These Summer Products Made in Florida!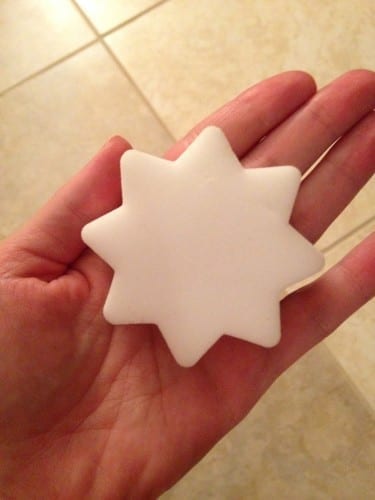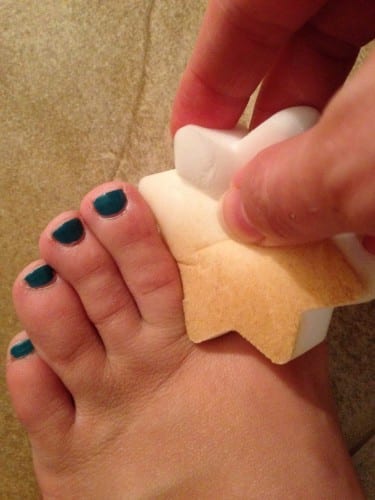 3. safeHands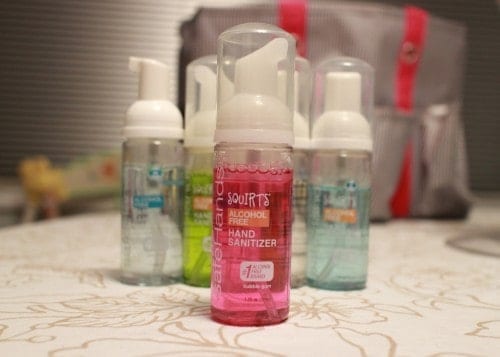 The safeHands brand began as a dream of Founder & CEO, Dr. Jay Reubens (known as "Dr. J" and inventor of the first touch-free dispenser) when he set out to develop a safe and effective alternative to alcohol-based hand sanitizers.  Dr. J's goal was to ensure that his foam-based hand sanitizer not only killed over 99.99% of germs – but that it helped soothe, nourish and preserve the skin's natural oils. It dawned on Dr. J, as he successfully tested the product with his friends and family, that a sanitizer that could be used frequently throughout the day without the harsh effects of alcohol on the skin, would be a product that people would love to use, would use more frequently and would in turn, lead to a decrease in the escalating infection rates. As safeHands products became a reality, it has become Dr. J's mission to educate about the benefits of alcohol free hand sanitizer, one hand at a time.
As a mom, hand sanitizer is my LIFE.  Between changing diapers, blowing little noses and various other not-so-cute parental duties, I take every measure to make sure my hands are germ-free…yet moisturized.  I thought in Florida that I would no longer need hand cream like I did in NYC!  I was wrong. All of these are Summer Products made in Florida.
These hydrating, skin-soothing, foam-based, non-toxic hand sanitizers kill more than 99.99% of germs on contact and are scientifically proven to be as effective as alcohol-based hand sanitizers. safeHands battles germs, not your skin, so you can sanitize while keeping your hands silky smooth.  
I appreciate the concept.  I'd certainly rather have the alcohol in my cocktail, not on my skin.  It also smells good and is non-toxic.
safeHands is based right here in Boca Raton, FL!  www.safehands.com
You can purchase the products by searching for a local retailer HERE.
Here's to Summer MBMoms and summer products made in florida!
---
Disclaimer: Modern Boca Mom was given complimentary product samples for review.  As always, all opinions are my own.