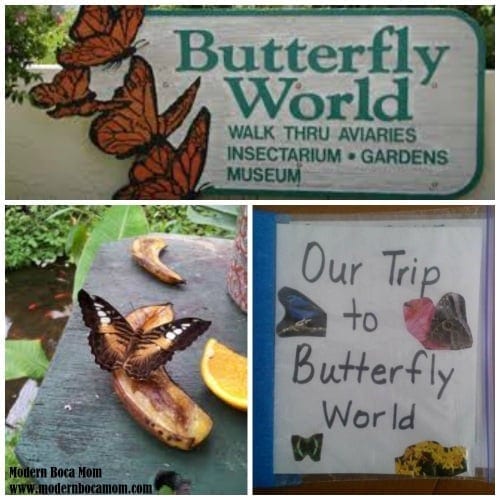 ---
I've lived locally for quite some time and had never been to Butterfly World in South Florida until recently.
With approximately 20,000 butterflies on display and over 150 species, it is a site to see!
Butterfly World in South Florida
The butterflies were absolutely lovely and there were so many of them! So many different colors and various sizes from as little as your thumb to as big as both of your hands! With the main exhibit created like a rain forest, it's hard not to get lost among the mist and foliage and of course the magical butterflies that encircle you.
My little one definitely took notice of the fluttery creatures and began pointing to them shouting "OOOooh!" (she's not of the speaking age, yet) The ambiance of Butterfly World in South Florida is quite "zen," that my baby who rarely naps, slept for a good hour as my friend and I perused the gift shop and such.

Luckily, there are promotions and coupons for entry, which makes the cost much easier on the wallet. (Plus, children under two are FREE!)
But, why pay for something that your baby won't remember?
It's true that little ones do not typically begin making memories until about two or three years old, but as parents we can provide them with experiences.
As part this "Modern Boca Teaching Mom's" mantra of finding the teachable moments in everyday life, I decided to recollect this really fun and exciting day and create a DIY book titled "Our First Trip to Butterfly World."

You can do this with just about anything that you would like your child to remember…that first trip to the petting zoo or a summer road trip. All you need are some brochures, magazine pictures, real photos or printed images from the computer.
You can place the pictures in a cheap 4×6 album or in plastic baggies (which you must staple and tape the edges), add some text and "poof" there's your memory book!
No need to upload photos and send away for a book that you're nervous about your little one tearing up– these types of books are durable, memorable and cheap!
Click here for a step by step guide to make an easy memory book: http://www.pinterest.com/EmbracingEd/

We are great at taking photos with our cell phones and posting the pics to social media, but whatever happens to those pictures? Do they ever become concrete or are they just a memory saved to a SIM card?
Children learn and grow from the experiences we provide them. Can you think of an experience that you would like to have made a memory book for? Comment below!
---
 Tips for visiting Butterfly World in in South Florida:
Go early to avoid the heat. Doors open at 9 am.

I used my stroller, but it would be much easier wearing a baby carrier, only because of the many doors between exhibits. (I went with a friend and her baby, so we helped each other out.)

Sunscreen is a MUST for you and your little one. The exhibits are quite shady and screened in, but I actually burned a little bit.

Don't forget to look for coupons or promotions, otherwise it can be a pricey outing.

---
And I wouldn't be the "teaching mom" without some recommended children's books to pair with your Butterfly World in South Florida outing:
Butterfly Colors and Counting, by Jerry Pallotta 
Butterfly Butterfly: A Book of Colors, by Petr Horacek  
Your partner in education,
Kristine, The Modern Boca Teaching Mom