SUMMER CAMPS are going all out this year, parents! I have done my Modern Boca Mom research and found some fantastic options for 2023 South Florida Summer Camps for every child! Whether you live in Boca Raton or beyond…
Here are the dates for 2023 summer break by county:
Palm Beach County Summer Break – May 29, 2023
Broward County Summer Break – June 8, 2023
If your child is into coding, dance, sports, sewing, gymnastics, art, STEM–you name it–we have a 2023 South Florida Summer Camps option for you! Check out our comprehensive directory below.
Pin for Later!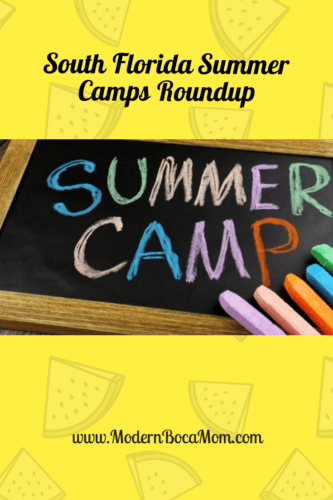 ---
*** 2023 South Florida Summer Camps Featured Listing ***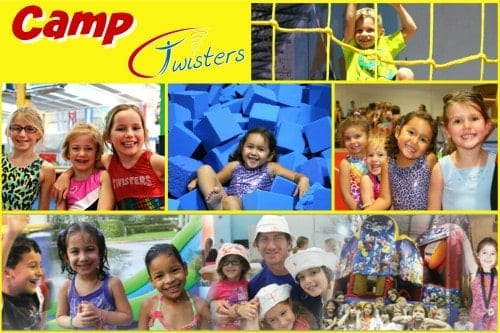 Camp Twisters: Summer 2023
At Twisters, they realize you have many choices when it comes to finding the best summer activity for your child ages 5+. If your child LOVES climbing, jumping, running and flipping, then they will have a BLAST at Twisters. Whether your child spends a session, a day, a week or the whole week at Twisters, their time will be filled with loads of fun!
They are excited to offer fun (following the Broward and Palm Beach County school calendars) in their clean, state-of-the-art facility with professional, safety-certified staff! Registration includes the fun day sessions of your choice, gymnastics instruction, arts & crafts, movie time, fun & games! Campers are able to purchase hot lunch or they can bring their own. Register today!
3100 NW Boca Raton Blvd #308, Boca Raton
AND
6805 Lyons Technology Circle, Coconut Creek
Boca Twisters Camps: www.twistergymnastics.com
American Twisters Camps: www.twistergymnastics.com
CONTACT: Boca Raton- 561.750.6001 or Coconut Creek- 954.725.9199
---
*** 2023 South Florida Summer Camps Featured Listing ***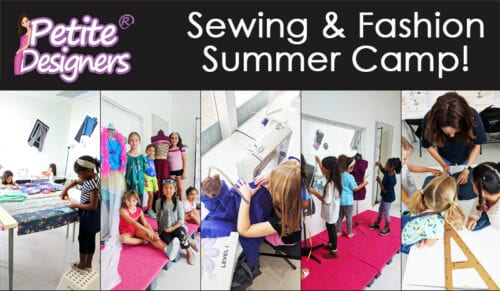 Join This Summer for a Sewing & Fashion Design Camp in Boca! 
Petite Designers is happy to welcome all kids who love fashion, want to learn how to sew on real machines and spend an unforgettable summer with friends making lots of beautiful designs. Their campers drape on mannequins, sketch and create mood boards. They sew their own bags and accessories, stuffed toys and pillows, organizers and clothes for their favorite dolls. Every Friday, they have a fashion show on a real runway where Petite Designers can present their projects.
Join at their beautiful studio in Boca Raton's Royal Palm Place or at their studio in Parkland for a most spectacular and fashionable summer!
311 SE Mizner Blvd. #61, Boca Raton
AND
7517 N State Road 7, Parkland
WEBSITE/REGISTRATION: https://www.petitedesigners.com/boca-raton-summer-camp 
CONTACT: Call 954.465.0402; info@petitedesigners.com
---
*** 2023 South Florida Summer Camps Featured Listing ***
CWS Camps in Boca / Delray | Summer Water Sports Camp
Sign up for fun in the sun! CWS Water Sports Camp provides a variety of water activities where kids can learn something new or enhance an existing skill.  Activities include wakeboarding, boogie boarding, water skiing, fishing, group games, knee boarding, surfing and snorkeling.  Through the week campers take field trips to the beach, lake and marine biology center.  A great way to have fun and make new friends with no experience necessary.  Groups are divided by age, siblings can be kept together upon request. Weekly and daily registrations available.  Summer camp begins May 29th and runs until August 18th.
Hours 9:00 a.m. to 3:00 p.m.
Ages 5-15
Drop off and pick up at 7500 E Country Club Blvd., Boca Raton
WEBSITE: cwscamps.com/watersports
CONTACT: Matt Corwin call or text 561.271.8191; cwscamps@gmail.com
---
Summer Camp at ArtNest Delray AND Boca
artNEST™ has camps and they are being offered each week during the Summer in both the Boca and Delray locations starting May 30th. Join for weeks of fun exploring different mediums, artists and styles as your child taps into their naturally creative minds and lets loose in the studio. There will be a variety of art projects, games, dance parties and more to keep your kids engaged and active.
There are 2 different programs – One is their general camp for ages 3-8 and their epic Tween Camp for kids ages 9-12. No experience necessary, just an open mind and a desire to have lots of FUN!
DATES/TIMES: 9am-3pm each weekday with lunch and snacks included.
They take a limited amount of kids in each camp week, so sign up soon! Check out their website for dates, details and registration for their 2023 South Florida summer camps!
2275 S. Federal Hwy #340, Delray Beach
AND
9101 Lakeridge Blvd. #6, Boca Raton
WEBSITE: artneststudios.com/camps
CONTACT: Emily at 561.562.8897
---

Boca Raton Museum of Art School
Immerse your child in our creative environment where they will learn to express themselves in new ways. Our school approaches art as a way for children to rethink the world around them by encouraging them to release their imaginations through a variety of projects in our safe, supportive studios.
Our 2023 South Florida Summer Camps sessions are led by an impressive roster of credentialed and award winning art faculty. A broad variety of drawing, painting, character & jewelry design, even handmade journal making and cartooning classes are available, so there's something for everyone and all skill levels will feel welcome.
Let the Boca Raton Museum of Art School help you balance your hectic schedule while encouraging your child to approach life with creative enthusiasm through the wonderment of art. Four age-appropriate groups and new projects each day!
801 W. Palmetto Park Rd.
Boca Raton
WEBSITE: CLICK HERE
CONTACT: camp@bocamuseum.org; T: 561-392-2503
---

Ladybug Yoga Summer Camp
Ladybug Yoga Camp is a fun filled camp for girls and boys ages 3-10 years old. Activities include Yoga, Arts & Crafts, Drama, Karate, Dance, Sports, Playground, Water Play, Movies & Much More! Their camp is different than all other camps as they instill positivity and encourage all kids to be caring and sharing towards each other! *Space is limited*
DATES/TIMES: Summer Camp: June 5th – July 28th from 9am-3pm; Aftercare available 3pm-6pm
8411 W Palmetto Park Rd. Boca Raton
WEBSITE: Register now at https://theladybugyoga.com/camp/
CONTACT: ladybugyoga@gmail.com or call 754.244.5596
---

Bricks Bots & Beakers STEAM Summer Camp!
Come explore their FUN & UNIQUE STEAM themes! Their interactive, engaging programs allow children to discover different STEAM careers through exciting hands-on experiments and simulations.
They've created 11 weeks of age-appropriate STEAM fun that will promote critical thinking, communication, collaboration, creativity, and problem-solving. Each inspiring week offers hands-on exploration on a variety of STEAM careers. The days are packed with interactive lessons, scientific experiments, educational simulations, themed games, and time in our one-of-a-kind play area. All the fun will be led by their amazing crew of wonderful, skilled staff just waiting for your summer adventure together. Fun STEAM themes are waiting to be discovered!
DATES/TIMES: 9:00 a.m. – 3:00 p.m.  Aftercare available: 3:00 p.m. – 5:30 p.m.
Enroll for 1 week or the whole summer, themes are different each week:
Wizards Potions Lab Camp (5/30-6/2)
Future Chemist Camp (6/5-6/9)
Star Science Camp     (6/12-6/16)
Super Hero STEAM Camp (6/19-6/23)
Fairytale Engineering Camp (6/26-6/30)
Super Slime Lab I (7/5-7/7)
Wizards Potions Lab II Camp (7/10-7/14)
Gross Out Chemistry! Camp (7/17-7/21)
Science Detectives Camp (7/24-7/28)
Future Veterinarian Camp (7/31- 8/4)
Super Slime Lab II (8/7-8/9)
5% early bird discount (enroll by 3/31/23), 5% sibling discount automatically applied at checkout. Limited space, enroll today!
Bricks Bots & Beakers (B3) STEAM Career Exploration Center
499 NE Spanish River Blvd. Suite 2 
WEBSITE: visit www.bricksbotsbeakers.com/southfl to register
CONTACT: Call (561)235-0917; southfl@bricksbotsbeakers.com
---

Financial Launchpad's Financial Freedom 5-day Summer Camp
Financial Launchpad is bringing two interactive financial summer camps to Boca Raton! The Money Game is for grades 8-10 and will change the paradigm through which children view, think, and handle their personal finances. This program puts students into a real-life simulation through game play where they can experience hands-on what adults encounter when making financial decisions daily. It is the perfect way to expose our youth to the world of finances in a safe manner and teach them ways to build financial freedom. It is the gift that keeps on giving!
Moving Out! For Teens is a financial literacy curriculum that focuses on how teens can create an income for themselves, how they can effectively and efficiently manage the money they make, and teaches them how to live on their own without financial regrets. The curriculum includes apartment hunting, the ins and outs of purchasing a car, understanding interest payments, paying utility bills, grocery shopping, credit score, applying for jobs, creating side hustles, and so much more. Whether your child is considering university, a trade school, or entering the job force, this program will help prepare them for life after high school.
8185 Via Ancho Rd #880616, Boca Raton
WEBSITE: More details and registration at https://financiallaunchpad.com/enroll
CONTACT: financial.launchpad@gmail.com or call 561.320.2563
---

Summer Camp at the J!
Summer is all about friendship, laughter, and FUN, and no one does it better than Levis JCC Marleen Forkas Camps. Whether you are in the water, on the fields, or inside their facilities, there are so many adventures to enjoy—from go karts, trapeze, and sports, to swim, science, and drama, they've got it all! Their teen travel program gives teens the ability to experience all that camp has to offer plus, off campus adventures with local day trips and exciting 3-day overnight trips to special Florida destinations.
At the Levis JCC, they've been providing children of all ages with unforgettable summers since 1986. Their dedicated, caring team is committed to making the 2023 South Florida summer camps experience the best it can be for every child, every summer. Their full-day camp program offers stimulating activities, convenient schedules and experienced staff for summers of fun, well-being and friendship. They welcome campers from all backgrounds to join for non-stop fun, all summer long. Join for a summer filled with adventure at Camp at the J!
SPECIALTY CAMPS INCLUDE: 
Baby & Me • Early Childhood • Theater • Kavod (Special Needs) • Leaders in Training • Counselor In Training
9801 Donna Klein Blvd., Boca Raton
WEBSITE:  Learn more or register today for Levis JCC Summer Camp!
CONTACT: Jason Tomaszewski | Camp Director | 561-852-5090 | camp@levisjcc.org
---
The Museum of Discovery & Science Camp Discovery
Give your child a SCIENTASTIC SUMMER experience at MODS' 2023 South Florida summer camps program, presented by Joe DiMaggio Children's Hospital. They've crafted the ultimate South Florida summer camps STEM experience for children ages 6 – 12 (grades 1 – 6). Campers will have interactive exploration and hands-on learning opportunities in the coolest camp environment, including a weekly IMAX immersion! Awesome themes abound from Inspiration Takes Flight to Expedition: Dinosaur and It's Shocking to MODS Magical Camp for Witches and Wizards and more.
401 SW 2nd Street, Ft. Lauderdale
WEBSITE: Visit mods.org/summercampdiscovery to register!
---
Woodmont Summer Camp at Grandview Preparatory School
Woodmont Summer Camp is relocating to Grandview Preparatory School starting the summer of 2023. Families in the Boca Raton area will have more opportunities for summer, after-school, and day camps for students grades Kindergarten through 8th as well as a CIT program for high school students.
Woodmont, with over a 28-year history in offering South Florida summer camps, after school programs and holiday camps designs programming with fun and family flexibility in mind. Grandview Preparatory School, founded in 1997, is located in east Boca Raton, Florida, and is recognized for innovative and customized independent school academic programs for students in Early Childhood through grade 12.
Woodmont Summer Camp also features field trips, special events, guest appearances, and a talent show. The TEEN/CIT program is available for older students entering high school. Extended care and enrichment programs are also available.
336 NW Spanish River Blvd., Boca Raton
WEBSITE: Visit their website here to register!
---
Summer was Made for Adventure at the South Florida Science Center
Summer is made for adventure! For young scientists ages 5-12, each exciting week of camp offers hands-on exploration on a variety of STEM topics. The days are packed with interactive lessons, exhibit exploration, crafts and outdoor activities led by our expert Science Educators.
Stay tuned for more 2023 South Florida Summer Camps info!
4801 Dreher Trail N., West Palm Beach
WEBSITE:  www.sfsciencecenter.org/camps to register
CONTACT: Call 561.832.2026; programs@sfsciencecenter.org
---
Summer Camp at ArtSea Living
ArtSea Camp is a small camp geared towards building skill & self-esteem through art and original ideas. Campers will create 2-3 unique and creative projects each day. They work with many mediums and surfaces (ceramics/pottery, canvas painting, acrylics, enamels, watercolor, mixed media, wood art, glass painting, jewelry making, clay, chalk, mosaics, shell art, and more).
DATES/TIME: 10:00 a.m.-2:00 p.m. or 3:00 p.m. for their 2023 South Florida summer camps program.
412 East Ocean Ave. Studio #1, Boynton Beach
WEBSITE:  www.ArtSeaLiving.com
CONTACT: Call 561.737.2600; ArtSeaLivingTeam@gmail.com
---
Kids Spanish Summer Camp
¡Hola! Looking for a fun and educational activity for your kids this summer? Enroll them in our Kids Spanish Lessons Summer Camp! Our 2023 South Florida summer camp is designed for children ages 7 to 11 and is led by native Spanish speaker teachers who are passionate about teaching Spanish to kids. Your child will learn through interactive games, songs, and storytelling, making the learning experience engaging and fun.
Our program is perfect for beginners and advanced students alike. Your child will develop their Spanish speaking, listening, and reading skills in a supportive and inclusive environment. Plus, your child will make new friends and learn about Spanish culture. Don't miss this opportunity for your child to have a blast this summer while gaining valuable language skills. Spaces are limited.
33 SE 4th St., Boca Raton 
WEBSITE:  https://spanishlessonslunita.as.me/schedule.php
CONTACT: Call 561.685.7272; Email: Spanishlessonslunita@gmail.com
---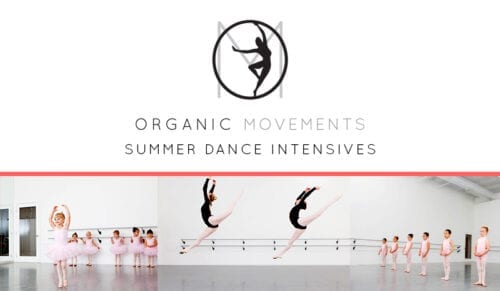 Organic Movements Dance School Summer Half Day and Full Day Dance Intensives
Organic Movements Dance School in East Boca Raton offers Dance Intensives for intermediate and advanced classical ballet students. The program is taught in their state of the art, professionally appointed 5,200 square foot facilities, which feature an in-house performance space, sprung floor, full-length mirrors, sound systems, kitchen and dressing rooms.
For more information about their 2023 South Florida summer camps, please contact directly at hello@organicmovements.com.
2400 NW Boca Raton Blvd., Suite 12, Boca Raton
CONTACT: 561-395-6111; hello@organicmovements.com
---
Fuller Center Summer Camp for Any Income Level
Designed to enable kids of all income brackets the opportunity to experience superior, personalized education, the Fuller Center, a not-for-profit organization focused on early childhood development, has space available in its summer camp program.
The Out-of-School-Time Program is also enrolling students for afterschool and summer camp on both campuses. It provides a safe and enriching environment for children in kindergarten through 5th grade. The afterschool program is open Monday through Friday from 2:30 p.m. until 5:30 p.m. and from 8:30 a.m. to 5:30 p.m. on non-school days, spring, summer and winter break.
The South Florida Summer Camps and Out-of-School-Time Program provides a healthy snack, dinner, homework assistance, and extracurricular activities like fishing, ballet, computers, music, and field trips, along with year-round academic support and mentoring. Afterschool transportation is available to the East Campus from JC Mitchell, Boca Elementary, Addison Mizner, and AD Henderson and to the West Campus from Whispering Pines, Coral Sunset, Morikami, Sandpiper Shores Elementary, Sunrise Park, and Waters Edge Elementary. Children attending Morikami must board the bus at Whispering Pines for transportation to West Campus.
East Campus: 200 N.E. 14th Street, Boca Raton
West Campus: 10130 185th Street South, Boca Raton
CONTACT: Mio Vasquez at mvazquez@fullercenterfl.org or at (561)-482-3006, ext. 124
---
Sponsored: This 2023 South Florida Summer Camps Roundup was sponsored by the camps featured. All opinions expressed in this blog post are my own and not influenced in any way by the sponsor.  Any statistic, quote or other representation about a product or service should be verified with provider. Please refer to this site's Disclosure for more information. I have been compensated, but that does not impact my views or opinions.