In an effort to save our collective parental holiday sanity, MBMom has consolidated the BEST 2022 South Florida Holiday events, activations and Christmas events in Florida into a handy guide (***to be updated regularly***), with a star* next to the ones my family and I are making special efforts to attend.
They are organized from NORTH TO SOUTH and chronologically for your convenience. Happy Holiday SEASON MBMoms!
---
2022 South Florida Holiday Events Guide: West Palm Beach
Holiday Events & Kickoff At The Square in West Palm Beach
WHEN: Saturday, November 12th
WHAT:
Holiday Kickoff from 2-10 PM:A festive and merry beginning to the South Florida holiday events season and one of the largest celebrations of the year.
4-6 PM: Nostalgic Yuletide Carolers
6-10 PM: Musical performances by: Mister Trombone & The M.T.E Band; SoFlo Brass Band; DJ Nick Flash; David The Drummer
6:30, 7:30, 8:30 PM: Snowfalls – A beloved favorite, a canopy of sustainably-made snow drapes over the neighborhood
6:30, 7:30, 8:30 PM: The Wishing Tree Light Show – A 26-foot-tall banyan tree installation with a total of 100,000 full-color-spectrum LED lights reveals a spectacular display
Photos with Santa from 6-8 PM (+ Nov. 12-Dec. 23 (Fridays and Saturdays from 6-8PM; Sundays from 5-7PM)): Commemorate the holidays with an outing the whole family will remember when meeting the jolly man himself during photos with Santa at The Workshop, located by The Wishing Tree; his trusty Elves will be joining him on Fridays.
Holiday Artisan Market from 2-10 PM (+ November 13 from 10AM-7PM): Along with the Sunday farmer's market, The Square will unveil a picturesque artisan market reminiscent of a Parisian bazaar on this special holiday kickoff weekend. While strolling along Rosemary Avenue lined with shops set under colorful canopies, visitors can shop for gifts and holiday goods from a variety of local specialty vendors.
WHERE: 700 South Rosemary Avenue, West Palm Beach
---

Christmas Tree Lighting At Flagler Museum
WHEN: Sunday, December 4
WHAT: Purchase Tickets
WHERE: One Whitehall Way, Palm Beach
---

Mounts Botanical Garden's Tropical Holiday Trees
WHEN: Saturday, November 19-December 31st
WHAT: Celebrate Tropical Trees at Mounts Botanical Garden's. TROPICAL HOLIDAY TREES AT MOUNTS featuring three, framed, 8-15 foot trees designed by the Mounts Horticulture Team and installed with hundreds of colorful bromeliads, orchids, and other tropical botanicals.
WHERE: 531 North Military Trail, West Palm Beach
---
Tis the Season for Science At The Cox Science Center And Aquarium 
WHEN:
November 25 – Bustle & Brew

December 16th – Bustle & Brew, G's Hibachi

December 23rd – Gimmie Grillin, Bustle & Brew, Taco Time

December 30th – Gimmie Grillin, Bustle & Brew, Taco Time
WHAT: Guests are invited to kick off the Winter Wonderland Laser Lights & Bites series and step into a starry night at CSCA! In partnership with FPL SolarNow, guests of all ages can sing and dance to their holiday favorites during the spectacular outdoor laser concert of the South Florida holiday events season. Visitors can also explore outdoor exhibits, mini golf and entertainment with dazzling lights, science-themed activities, food trucks and laser shows on the Cox Amphitheater stage. Finger-licking good food trunks are open during event hours from 6-9 p.m
WHERE: 4801 Dreher Trail N, West Palm Beach
---
Palm Beach Ballet Presents The Nutcracker
WHEN: December 3-4
WHAT: The family-friendly Holiday event through the season
WHERE: 701 Okeechobee Blvd, West Palm Beach
---
Holiday Happenings At The Warehouse District
WHEN: December 3rd & 9th
WHAT: Admission to all events is FREE.  Donations of new, unwrapped toys to benefit Toys for Tots are appreciated.
Saturday, December 3 from 2 p.m. to 5 p.m.
Join us for a family-fun experience along the railway to include visits with Santa, a Mad Science Show with slime, and live holiday music.  Create holiday-themed crafts with ornament and cookie decorating and holiday coloring activities.  Snap family selfies with a miniature horse in holiday garb and Modern Maven, a VW bus decked out in a holiday theme.
Advance registration is recommended at https://warehousedistrictfamilyfun.eventbrite.com.
Friday, December 9 from 6 p.m. to 9 p.m.
Watch Top Gun: Maverick on the big screen in the parking lot of Steel Tie while enjoying food and beverages purchased at Grandview Market, Steel Tie Spirits and more.  Movie, rated PG-13, to start at 7 p.m.
Advance registration is recommended at https://warehousedistricttopgun.eventbrite.com. Complimentary valet parking is available on Elizabeth and Clare Avenues daily starting at 11 a.m.
WHERE: 1500 Elizabeth Avenue, West Palm Beach
---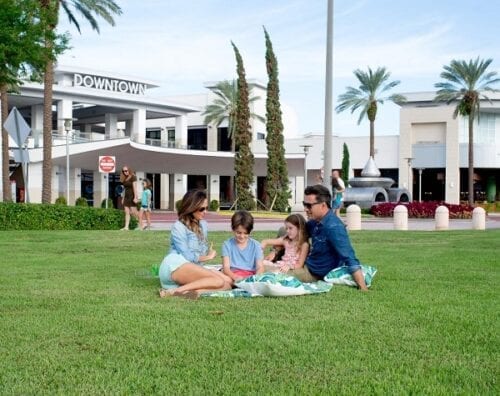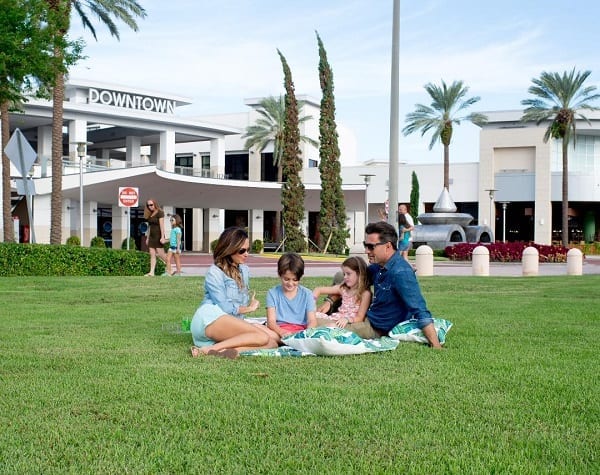 Downtown Palm Beach Gardens South Florida Holiday Events
WHEN: December 1-December 31
WHAT: The family-friendly Holiday events through the season
WHERE: By the waterfront at Downtown Palm Beach Gardens; 11701 Lake Victoria Gardens Ave., Palm Beach Gardens
---

Photos and Brunch with Santa at the Hilton Hotels in WPB
WHEN: December 15 & December 17
WHAT: Photos and Brunch with Santa
WHERE: 600 Okeechobee Blvd, West Palm Beach
---
*City of West Palm Beach's Sandi Tree Holiday In Paradise
Breakfast With Santa December 17!
When it comes to celebrating the South Florida holiday events season, the North Pole has nothing on The Palm Beaches in South Florida – not even snow!
WHAT: The world's only 35-foot, 700-ton holiday sand tree will soon return to the West Palm Beach waterfront, and this year's new element is Ferris the Ferris wheel. The month-long Holiday in Paradise (HIP) campaign will kick off at the Clematis by Night Holiday Tree Lighting on the Great Lawn.
WHEN: Starting the beginning of December, during the annual Holiday Tree Lighting at Clematis by Night. This annual holiday tradition draws thousands of visitors to the waterfront and offers guests an enchanting opportunity to enjoy Sandi's magical music and light show and get in the holiday spirit.
WHERE: 100 N. Clematis Street, West Palm Beach
---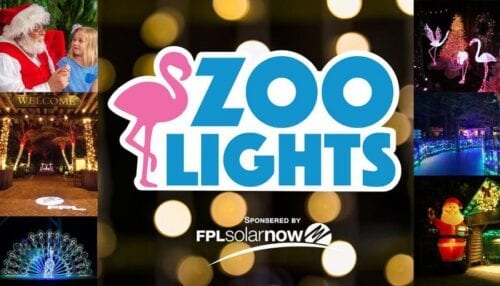 *Zoo Lights at the Palm Beach Zoo
Nov 18th-20 25th-27th DECEMBER 2-4, 9-11, 16-23*, 26-30 & JANUARY 1 6:00-9:00 PM – REQUIRED Timed Entry

WHAT: Zoo Lights presented by Florida Power & Light Company, FPL SolarNow has become a Florida holiday tradition for families and friends. While the animals slumber, Palm Beach Zoo is illuminated for the holidays with over one million eco-friendly lights.
WHEN: Each evening from 6-9 PM the Zoo will be aglow with unique themed displays throughout the entire 23 acres. The festive South Florida holiday events fun also features photos with Santa (until Dec. 23rd), a DJ holiday dance party, seasonal treats and more!
WHERE: 1301 Summit Blvd. West Palm Beach
---
Noon's Year Eve at Cox Science Center & Aquarium
WHEN: Saturday, December 31st at 10:00 AM
WHAT: Cox Science Center Noon Year's Eve
WHERE: 4801 Dreher Trail North, West Palm Beach
---
2022 South Florida Holiday Events Guide: Boca Raton, Lake Worth, Boynton Beach & Delray Beach
*Grandview Association of Parents Holiday Market at Grandview Preparatory School
Come get all of your holiday shopping done at this special market right on campus. Gift wrapping will be available as well!
---
*CP Group's Annual Tree Lighting at BRiC
WHEN: November 17th from 5:30-7:30PM 
WHAT: The South Florida holiday events magic begins the moment you enter BRiC's main entrance, transformed as Snowflake Lane. Surrounding the spectacular 40-foot Christmas tree family and friends will enjoy complimentary photo opportunities with Santa, live performances, themed children's activities at Santa's workshop, a delicious line-up of food trucks, and more! 
WHERE: 5000 T-Rex Ave, Boca Raton
---
*Light The Lights: Season Kickoff in Boca Raton
WHEN: Saturday, November 19 6:00 PM – 9:00 PM
WHAT: Light Up Downtown Boca, a series of winter holiday festivities, kicks off at the Mizner Park Amphitheater (MPA) with a FREE Holiday Festival culminating with the City of Boca Raton's and Mizner Park's annual tree lighting ceremony. The centerpiece of Mizner Park and Downtown Boca's holiday display will be an enchanted walk-through experience throughout the park's median with 16' x 10' illuminated tree canopy walkway reflective of a white magical forest.  The path will reveal a series of large, dramatic ice crystals.  Across from the Mizner Park Amphitheater will be an outdoor lighted art gallery with three interactive custom picture frames that invite guests to be a part of.  Complementing the decor will be cascading style lighted fountains of lights at the main fountain and patterned golden/bronze light poles.
Festivities will include holiday vendors; DJ Disco Dance Party with games and snow flurries from 6 p.m. – 7:15 p.m.; photos with Santa; trackless train rides; letters to Santa; a giant snow globe for photo opportunities; costumed characters; food and beverage vendors; and a stage show, "Hollywood Holiday" with singing dancing and a live band at 7:30 p.m.
The evening will feature the ceremonial lighting of the City's tree led by Mayor Scott Singer and City Council at 7:15 p.m., that will illuminate simultaneously with Mizner Park's 30-foot white tree at the south end of the center and all of the holiday lighting throughout Downtown Boca.
Throughout Mizner Park, 50,000 LED lights will adorn 75 palm trees; poles will be laced with garland; lights and four wreaths (each 60" in diameter) will be placed throughout the center; garland will be swooped throughout the gazebos and the valet parking station – all of which will be decorated with lights and holiday trimmings.
Your favorite Mizner Park restaurants will be open with special seating options offering great views of the holiday décor and lights.
Merry in Mizner will bring evening holiday entertainment throughout Mizner Park every Friday in December (December 2, 9, 16 and 23) from 6 p.m. to 9 p.m. with strolling, festive performances to enhance the spirit of the season.
WHERE: Mizner Park Amphitheater 590 Plaza Real, Boca Raton
---
***Sponsored***
*Christmas On The Hill at Church on the Hill
WHEN: Sunday, November 27th at 5:00 PM
WHAT: Fun holiday activities for the whole family at this FREE EVENT!
WHERE: 251 SW 4th Ave, Boca Raton
---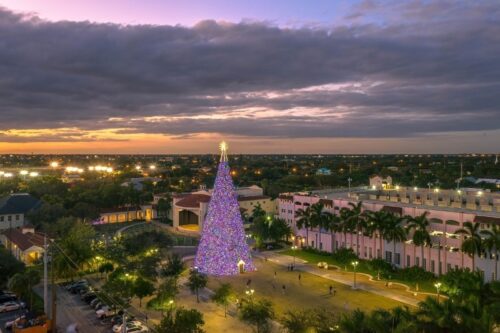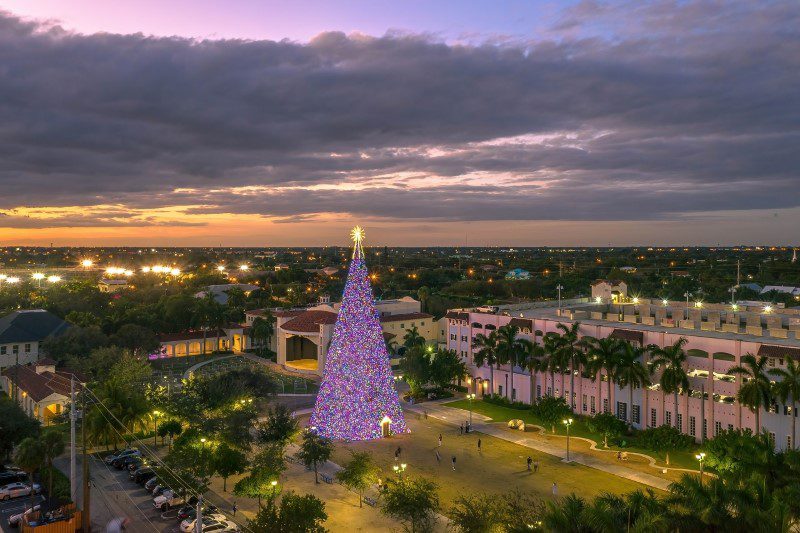 Downtown Delray Beach Holiday Events
100 Ft. Christmas Tree Lighting Event
November 29th @ Old School Square Grounds & E. Atlantic Avenue Street Fest (Swinton to Federal closure at 2pm) Event begins at 6pm with musical entertainment, holiday displays, carolers, and a visit from Santa!
Boynton/Delray Beach Boat Parade
December 9th @ Intracoastal Waterways – Please visit herefor more details
Delray Beach Holiday Street Parade
December 10th @ Atlantic Avenue – beginning at 6 p.m. from Atlantic Ave bridge to NW 5th Avenue.  Plenty of room to watch the parade along Atlantic Avenue – over 20 blocks.
Jingle Bell Jog 5K 
December 17th @ Anchor Park – Registration NOW OPEN!! – Please visit here for more Jingle Bell Jog details.


---
Gumbo Limbo A'Glow
WHEN: Wednesday, December 6, 16, 20, 30 from 6:00PM-7:30PM
WHAT: 'Tis the SEAS'n at Gumbo Limbo! Experience holiday ambiance with a special evening visit to our "glowing" outdoor aquariums and Sea Turtle Rehabilitation Facility. Discover what goes on in the aquariums at night after the regular visitors have gone! Enjoy holiday refreshments, yard games, and a festive photo op with our mascot, Luna. Reservations required.
WHERE:1801 N Ocean Blvd, Boca Raton
---
*Downtown Boca Raton Holiday Street Parade
WHEN: Wednesday, December 7th from 7:30PM-9PM
WHAT: The 50th Annual Holiday Street Parade will feature more than 70 floats and groups which will entertain viewers as they bring dancing, lighting, and music to Federal Highway in Downtown Boca. The parade will start at Federal Highway and SE 5th Street, and travel north to the Mizner Park Amphitheater.  This year's South Florida holiday events parade theme will be "Groovy 70's," as we celebrate the 50th Anniversary (1972-2022). As a reminder, traffic will be congested in the area as Federal Highway will be closed. Parking for attendees at the City lots listed below is free, ample and highly recommended:
City Hall – 201 W. Palmetto Park Road
Downtown Library – 400 NW 2nd Avenue
Building Administration – 200 NW 2nd Avenue
WHERE: Federal Highway in Boca Raton
---
Krampus Nacht 2022 at the American German Club
WHEN: December 9th at 7:00PM
WHAT: What once was meant to frighten youngsters into good behavior, Krampus Nacht in Europe has taken a twist over the decades and become a fun South Florida holiday events night of mischief, dancing, and spectating as the "Krampus" of German legend takes over. This event is geared toward and most enjoyed by adults; it is a frighteningly fun kind of grown-up Christmas party! 
WHERE: 5111 Lantana Rd, Lake Worth
---
Family Movie Night
WHAT: The Polar Express Movie Night!
WHEN: Saturday, December 17 6-8PM
WHERE: 455 NW 35th Street Suite 101, Boca Raton
---
Ring In The Holiday's With Celebrity Housewives
WHAT: The Studio At Mizner Park Welcomes The Housewives Featuring Ramona Singer, Margaret Josephs & Marysol Patton. Tickets range from $69 to $99 per person.  Admission to an exclusive VIP Meet & Greet and cocktail reception with the housewives, starting at 7 p.m., is $99 per person.
WHEN: Saturday, December 17 8PM
WHERE: 201 Plaza Real, Boca Raton
---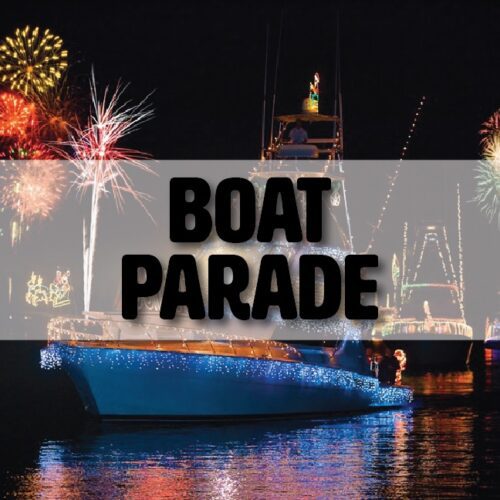 48th Annual Boca Raton Holiday Boat Parade
WHEN/WHERE: Saturday December 17 from 6:30 – 8:30 PM | Intracoastal Waterway
WHAT: The 48th Annual Holiday Boat Parade lights up the waterways of the Intracoastal beginning at C-15 Canal, traveling south, with bleacher viewing at Red Reef Park. This year's parade features boat entry for participants with $1,000 in cash and prizes in many categories in which to win. Public viewing areas:
Red Reef Park – 1400 N Ocean Blvd, Boca Raton, FL 33432
* Wildflower Park – 551 E Palmetto Park Rd, Boca Raton, FL 33432
* Silver Palm Park – 600 E Palmetto Park Rd, Boca Raton, FL 33432
* NOTE: Limited parking at Wildflower and Silver Palm Parks.
As a reminder, bridges will have extended closure times for the parade on December 18th:
Spanish River Blvd. Bridge- 6:30pm – 7:20pm
Palmetto Park Rd. Bridge – 7:20pm – 8:10pm
Camino Real Bridge – 7:30pm – 8:20pm


---
*Holiday Photos with Santa at Town Center at Boca Raton
WHAT: Simon® is pleased to announce  Santa visits for families as part of the Simon Santa Photo Experience at Town Center at Boca Raton from November 17-December 24.
WHEN: Santa arrives on Friday, November 17th and will be available for visits until Christmas Eve in Nordstrom Court. Santa Hours: 'Tis the Season for Photos with Santa at Town Center at Boca Raton® – A Shopping Center in Boca Raton, FL – A Simon Property
Caring Santa: Sunday, December 4 from 9 AM – 11 AM
Pet Photos: Sunday, December 11
Baby's First Christmas: Join Santa for a special memory as little ones have their first picture taking with Santa every Monday through December 12.
Pajama Day: Stay in your cozy clothes for a picture with Santa every Tuesday through December 13.
Ugly Sweater: Pick out your favorite ugly sweater and visit Santa every Thursday through December 15.
WHERE: 6000 Glades Road, Boca Raton
---

Light Up The Fourth Night of Chanukah
WHAT: In celebration of the fourth night of Chanukah, PJ Library® in South Palm Beach County invites friends and the entire Jewish community to a family-friendly celebration —  'Light Up the Fourth Night of Chanukah" —  in Boca Raton. Crafts and story time, latkes, gelt, candle lighting, a special Chanukah concert, and much more will make for a fun and memorable evening.
WHEN: 5 – 7 p.m. on Wednesday, December 21
WHERE: 5150 Town Center Circle, Boca Raton
---
2022 South Florida Holiday Events Guide: Coral Springs, Ft. Lauderdale & Miami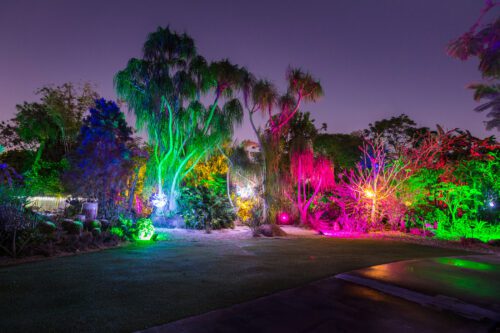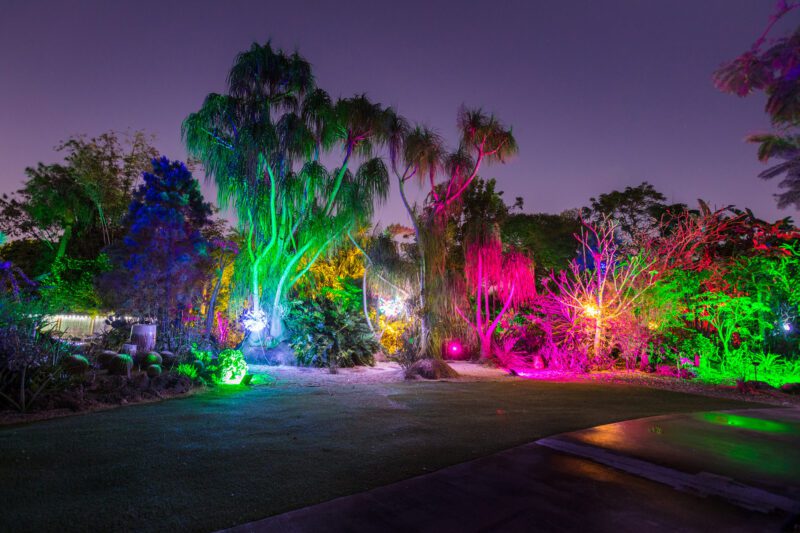 Nightgarden At Fairchild Tropical Botanical Garden in Miami
WHEN: November 11-January 8
WHAT: Fairchild is brought to life with stunning illumination! Enjoy enchanted activities, interactive light and sound experiences and solve the mystery surrounding the FairyScope(TM) app.
WHERE: 10901 Old Cutler Road, Miami
---
Symphony In Lights at Gulfstream Park 
WHEN: November 12-December 31
WHAT: The holidays have arrived at Gulfstream Park Village! Families are invited to come and see the beautiful lights display in the open-air lifestyle center. The property will be illuminated in more than 250,000 LED lights, all set to the sounds of holiday favorites from yesterday and today. A 10-minute light show will begin at the top of every hour from 6-11 p.m.
The public is invited to the 'Symphony in Lights' kick-off event on Saturday, November 12 from 7-10 PM. Emmy award-winning newscaster Calvin Hughes will serve as the emcee and the Gay Men's Chorus of South Florida will perform a lively set along with a 7-piece band. Even Santa Claus himself will ride in to kick off the South Florida holiday events festivities!
WHERE: 901 South Federal Highway, Hallandale Beach
---
Holiday Fantasy Lights at Tradewinds Park
WHEN: November 23, 2022 through January 1, 2023; Open Nightly 6-10 PM Open Thanksgiving Day, Christmas Eve/Day, New Year's Eve/Day
WHAT: Celebrate the holidays with a spectacular drive through three miles of giant animated holiday displays and illuminated trees. Our 28th annual event is larger than ever and includes favorites from the past and exciting new creations!
WHERE: 3600 W. Sample Road, Coconut Creek
---
The LOOP Fort Lauderdale Turns into Wonderland
WHEN: November 25-December 24
WHAT: 'Tis the Sea-Sun! A winter wonderland awaits as Fort Lauderdale Beach transforms into a hub of holiday activities. During "WONDERLAND," locals and visitors of all ages will make lasting memories through an array of sights, sounds, and special South Florida holiday events, including expanded holiday markets featuring strolling characters, live music, and visits with Santa, as well as holiday movies, Fit for the Holidays series and the introduction of Boogie Wonderland, a Silent Disco experience.
The official kickoff takes place Friday, Nov. 25, when singer, songwriter and guitarist Peter Mayer returns to Las Olas Oceanside Park for a stop on the 23rd anniversary of his widely acclaimed Christmas tour "Stars and Promises." The series concludes with the reprisal of "Christmas Eve with Sinatra," featuring Jeff Grainger as Sinatra, the Hoboken band, and a special appearance by Marilyn Monroe.
WHERE: 3000 East Las Olas Blvd., Fort Lauderdale
---

WHEN: November 25th-December 19th
WHAT: Holidays in the Centre this year include a build out of Santa's Ski Lift and Post Office, with events there all December. Get *santamental* with complimentary visits and photos with Santa, available from 1-5 p.m. starting on Black Friday and every Saturday and Sunday through December 19. Leading up to his arrival, photos with Santa will also be available on December 22, 23, and 24 for you to snap last-minute Christmas pics. After doing your holiday shopping at any of BCC's 100+ of stores, get wrapped up at the Ski Chalet while Santa's helpers wrap your presents every Wednesday and Saturday in December from 1-6 p.m., available through December 21. BCC's complimentary Gather programming for little ones will return with holiday activities, like decorating ornaments, musical storytelling classes, and book readings by local moms. Add a Centre Pass to your holiday wish list and unwrap exclusive offers from select shops and restaurants at Brickell City Centre – pick up yours at our Concierge desk on Level 2.
WHERE:  701 S Miami Ave, Miami
(Credit: Brickell City Centre)
---

WHEN: November 25th-December 31st
WHAT: Margaritaville Hollywood Beach Resort features its first annual Winterwonderville this year, with holiday activations from Thanksgiving through New Year's Eve. Winterwonderville will spread holiday cheer throughout Hollywood Beach with events like their Friendsgiving at 5 o'Clock Somewhere Bar, a Thanksgiving Feast at Jimmy Buffett's Margaritaville Restaurant, followed by a festival of events. Resort guests and the public are welcome to enjoy a calendar of family-fun festivities all December long, including a surfing Santa on the signature wave-simulating FlowRider, a beachside skating rink, and live entertainment at the famed Hollywood Beach Bandshell. The resort's eight oceanfront dining outlets will host live music events, including "Holiday Karaoke" and "Dueling Pianos," along with festive special menus.  
WHERE: 1111 N Ocean Dr, Hollywood
(Credit: Margaritaville Hollywood Beach Resort) 
---
*THE POLAR EXPRESS™ Train Ride returns on Brightline
WHEN: December 3rd-29th
WHAT: This holiday classic comes to life when the festive Brightline train departs on a journey led by a cast of talented actors. Set to the sounds of the motion picture soundtrack, passengers relive the magic of this story as they are whisked away on THE POLAR EXPRESS™ for a one-hour trip to meet and interact with Santa. 
WHERE: 600 NW 1st Ave, Miami
---
Pine & Palm Holiday Market at Coral Springs Museum of Art
WHEN: December 9th from 5:30-8PM & 10th 10:30AM-2:30PM
WHAT: The 2-day shopping event will be filled with original art and wares from local artist and makers. This is a great opportunity to "Sip, Shop and Celebrate!" the holidays with your friends and family. This year we have expanded our event to include a juried exhibition and hands on workshops throughout the month. 
WHERE: 2855A Coral Springs Drive, Coral Springs
---
The Hip Hop Nutcracker
WHEN: December 11 7:00PM
WHAT: This touring production features hip hop pioneer Kurtis Blow, the first rapper to be signed by a major label in 1979. Blow is considered one of hip hop's founding fathers and will perform as the MC of The Hip Hop Nutcracker. The tour includes a cast of a dozen all-star dancers, an on-stage DJ and an electric violinist who turns the beloved Tchaikovsky score on its head.
WHERE: 2855 Coral Springs Dr, Coral Springs
---

Noon Years Eve at Museum of Discovery & Science (MODS)
WHEN: December 31 from 10:00 AM-5:00 PM; Ball drop at Noon
WHAT: Join at MODS and ring in 2023 with one of their most popular South Florida holiday events!
Join us for a mid-day celebration with immersive activities, music, dancing and science. Create festive party gear and prepare for a ball drop to ring in the new year! Say goodbye to our Discovery Center before it closes for renovation and reopens as the brand-new Discovery Spot (Summer 2023). Visit our gallery wall to add your own New Year's resolution.
Just for early learners (ages 0-6): Ring in the new year with a ball in the Discovery Center, a bubble drop in the Sprouting STEM Early Childhood Learning Lab, and dance away on a bubble floor, design festive party gear, and write down what your new year's wishes.
Free with Museum admission.
WHERE: 401 SW 2nd Street, Fort Lauderdale