This storm prep in Boca Raton post is sponsored by Publix. The opinions and text are all mine.
---
Is your family new to South Florida? Welcome! The good news is you've relocated to paradise! The bad news is…well…we tend to get almost daily monsoons in the summer and a few bad tropical storms each year. If you haven't been through a hurricane before, this native Floridian doesn't want to break it to you, but: YOU NEED TO PREPARE NOW. It's a good thing that there's no better time to storm prep in Boca Raton.
Plus my favorite supermarket, Publix, has you covered! They are truly a one-stop-shop destination for all the storm supplies you'll need for you and your family to feel ready for the hurricane season.
Here's what we recommend new families to Boca Raton stock up on before the next named storm shows up a little too close to us in the Atlantic…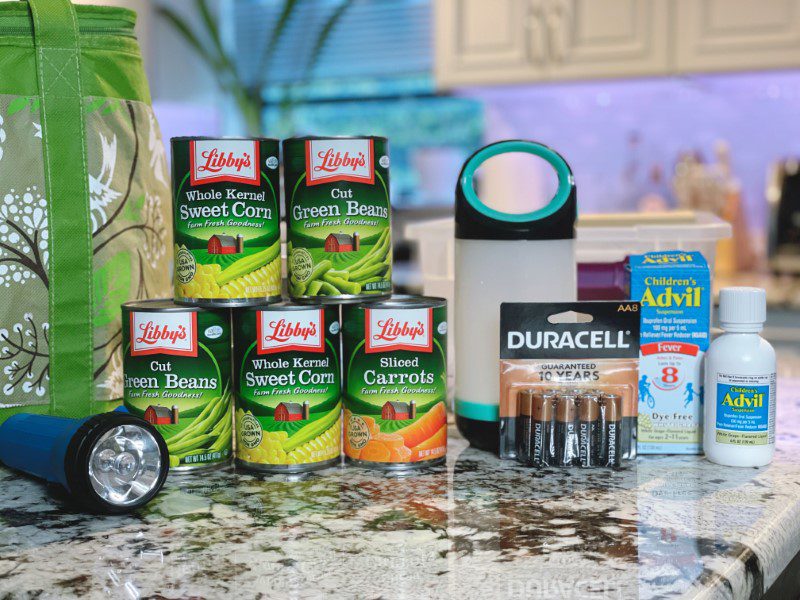 Waterproof Bins
Having grown up in South Florida, my family always has a few waterproof bins on hand that we add supplies to each season. This ensures we're always close to being ready in case a hurricane or tropical storm chooses to head our way. These handy bins contain everything from flashlights and headlamps to a portable radio and battery-operated fans and lanterns.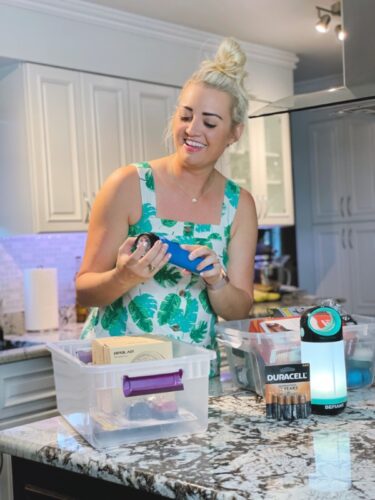 Batteries
It's really important to have plenty of extra batteries for devices such as flashlights, headlamps and those portable fans (hello- it's hot in Florida!) because in a bad storm, you lose power quickly. We tend to rely on Duracell-brand batteries.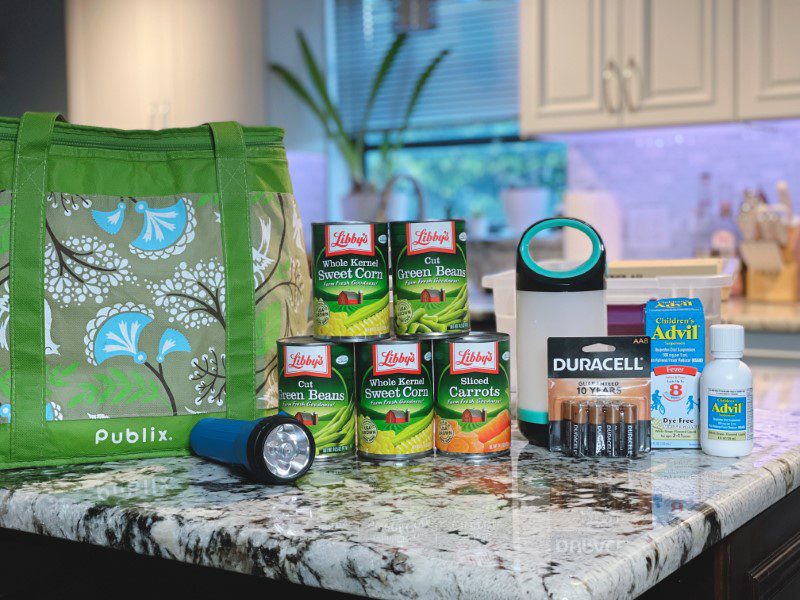 Medication (for Adults + Children)
It's every parent's worst nightmare, but what would you do if one of your kids felt unwell during a storm? Sure, you could call your pediatrician (if they have telehealth). But, chances are they'll only be able to recommend an over-the-counter medication until it's safe to drive your child to their office.
Children's or Infants' Advil is one of those medications you should always have on hand. Don't forget basic medications for all of the adults in your household either.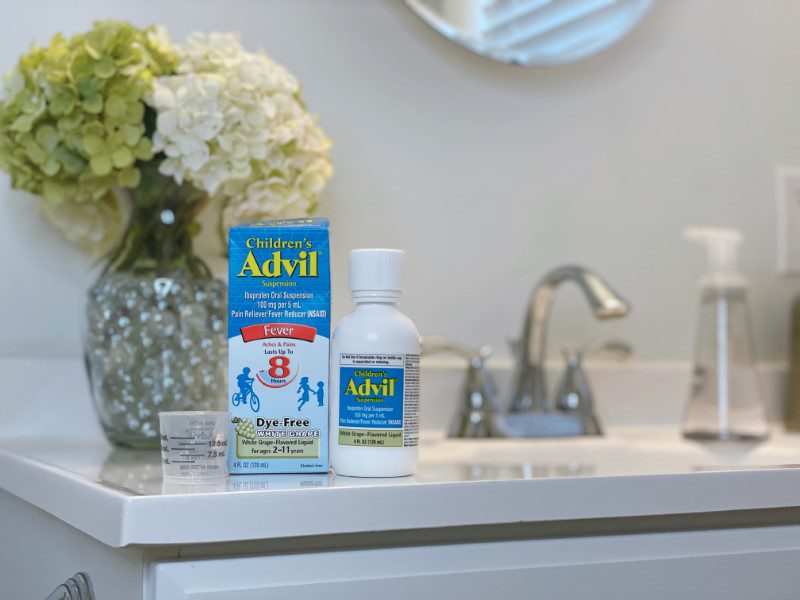 Bottled Water
How is your supply of bottled water? This is usually one of the first items to sell out when the Boca Raton area enters a storm's "cone of uncertainty." Yes, this is a weather term you'll get quite familiar with living in South Florida!
If your home's water becomes contaminated, the last thing you'll want to deal with is thirsty kids. The rule of thumb (via the Federal Emergency Management Agency, Red Cross and Centers for Disease Control and Prevention) is to have 1 gallon of water per person per day. Fill up containers you have on hand or stock up EARLY at Publix.
Pro Tip: Fill your bathtubs with water in case you need to flush your toilets. This has never happened to me (so far), but it's just one extra step towards being prepared. You can also use pool water in a pinch.
Canned Goods/Non-Perishable Foods
Snacks and comfort meals are key during a crisis. It's important to stock up on non-perishable foods when you storm prep in Boca Raton–things that won't spoil and that you can heat up on a grill if you lose power. (Side note: make sure your propane tanks are full!)
Canned fruits are always a good choice as are veggies (shockingly my kid loves them). Libby's Vegetables are also a great option. Time to get your pantry locked and loaded!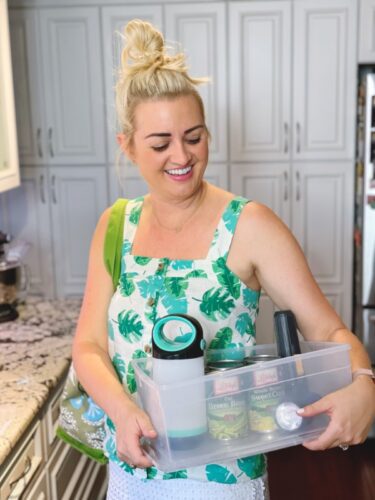 New Kids' Activities
Bust out those head lamps (if necessary) and ease any storm anxiety that your kids (or you) may have with some new, shiny distractions! Some ideas to keep your kids occupied during and after a storm include:
Puzzles
Books
Dolls, Cars, and Action Figures
Build a fort and have an extra flashlight for them to play with
Crayons, Coloring and Activity Books
Play-doh
Art Supplies
Pro Tip: It's certainly nice to have screens on hand for entertainment. But if the power goes out, so will the internet. I rank that sadness up there with losing power. Be sure to fill up your car with gas prior to the storm, so you can charge all of your devices in it.
Let's hope the only Florida welcome new residents get this season is from your new friends and neighbors. Don't wait until it's too late to storm prep in Boca Raton. Take advantage of supply savings wherever you can. Thank you Publix for always having our backs!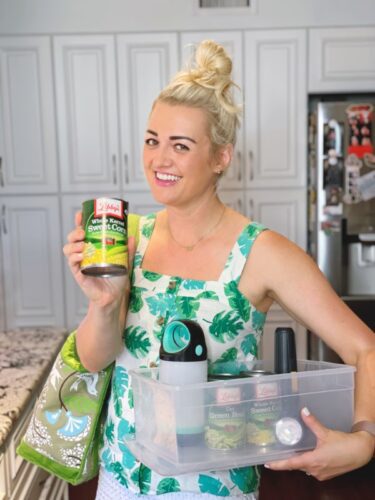 ---
Pin for Later!