When it comes to new restaurants and retailers (even bars!) opening at Town Center, this Modern Boca Mom is usually all over it. But this fall was busy, people!!! I was invited to a "hard hat" media preview back in October 2019 to check out a new high-tech restaurant and virtual reality lounge concept called Rex Baron at Town Center Boca Raton. I was intrigued. And honestly, a bit confused as to why something 'outside the box' like this might come to Boca over a tourist destination like Orlando. But besides being crazy busy, I also hadn't written about Rex Baron yet because it JUST opened to the public on December 16th!
Described as: "Where the art of food meets the art of survival", the "nothing like it" interactive, multi-sensory experiential destination meeting place, dining haven, watering hole and hi-tech virtual reality escape lounge is the second in Rex Gryphon's network of casual, upscale "vigilante posts" set for national expansion. The first being in Philadelphia.
Now as a Boca mom blogger, I'm typically reviewing local dining and entertainment options first with kids in mind, second with parents. And as much as I, as a grown adult, think Rex Baron at Town Center Boca Raton could be a fun night out with my husband and friends, it's not a viable entertainment option for young children.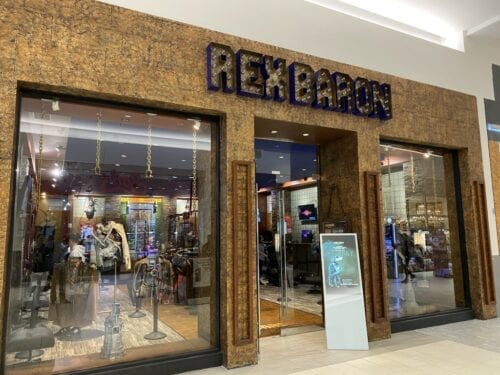 Let's Talk about the Virtual Reality "VRex" Lounge
When I first saw the "VRex Lounge" in October, it was still under construction. I decided to visit it in person this week and have to admit, it's quite cool; especially since there's a full bar with specialty cocktails available to drink via "IV bags" that you sip with a long straw while you have your Oculus goggles on. But, after speaking to a couple of the employees, the entertainment venue is ideally targeted to those ages 14+ (and kids need to be accompanied by an adult if under 18).
I'm a big fan of virtual reality, but I'm not (and probably never will be) a "gamer." However, my husband is. And, the one thing we can agree upon is that shooting games aren't for us or our young child.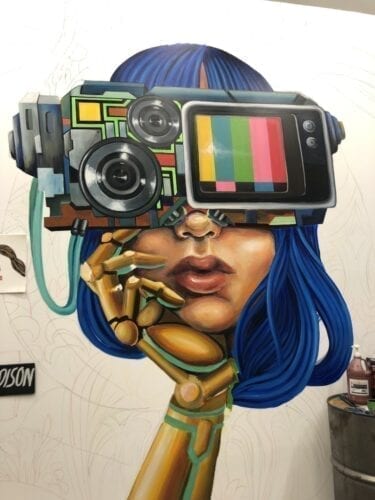 Group VR Play
Unfortunately, that's really the only group play option available in VRex Lounge. There is a private room that can be reserved where there are interactive sports game options for groups–golf, bowling, etc. But in the main VRex Lounge, count on booking a solo experience if you want to:
Take a walk in space
Climb Mt. Everest
Venture on safari
Leap from a plane
Dive the oceans
Swim with turtles in the Galapagos
Pilot a plane
Drive a race car
I should mention that no other location in the world has this VR technology available to the public. It's really cool! But like any screen time, a parent has to be discerning about the content he or she exposes their children to.
A couple moms had also messaged me with concern about the guns on display in the VRex Lounge, so I felt that I needed to address that. We do live in an area where parents have serious concerns when it comes to firearms, after all.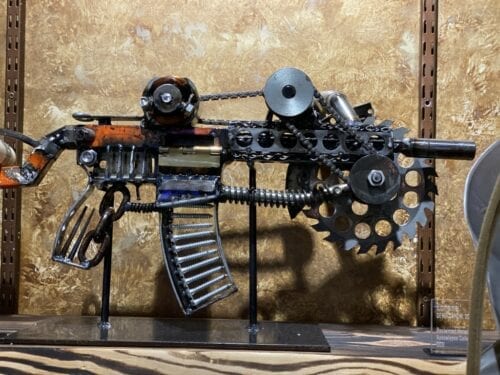 The good news is that they are not real guns. They're actually commissioned art pieces if you look closely. In lieu of bullets, there are screws and on one, the stock is actually wrapped in Louis Vuitton. They are meant to look post-apocalyptic and 'out of this world'–at least that's what my husband described them as. But, if the presence of guns is a trigger for you and your family (no pun intended), please take note. There is a wall of them featured in the restaurant too.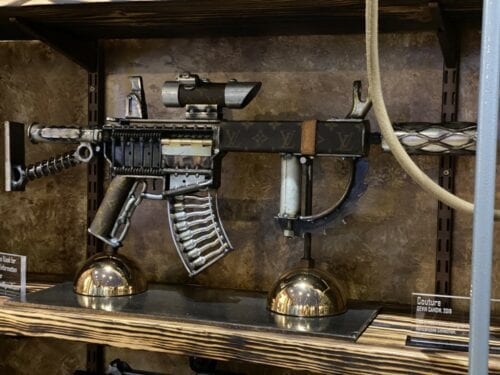 Now, for Rex Baron at Town Center Boca Raton, the Restaurant
The 8,500-square-foot avant-garde post-apocalyptic themed restaurant concept engages guests (aka survivors) with characters (aka vigilantes, the "good guys…and gals") who together are building a peaceful, inclusive new world. I told you it was an entertainment destination!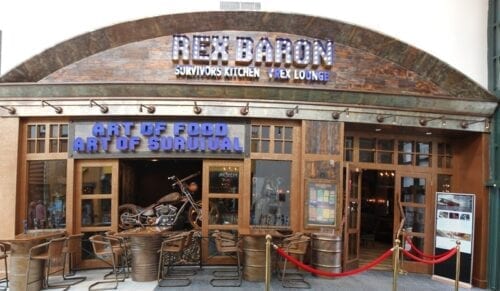 As its sister outpost to Rex Gryphon's Mad Rex in Philadelphia, the South Florida outpost is named for its own lead vigilante Rex Baron. It features a collection of authentic, fashion-infused vigilante persona art exhibits (clothed in post-apocalypse recovered remnants of Dolce & Gabbana, Louis Vuitton, Jean-Paul Gaultier, Prada, John Galliano, Alexander McQueen, Isaac Sellam and Carol Christian Poell couture) each with their personal stories.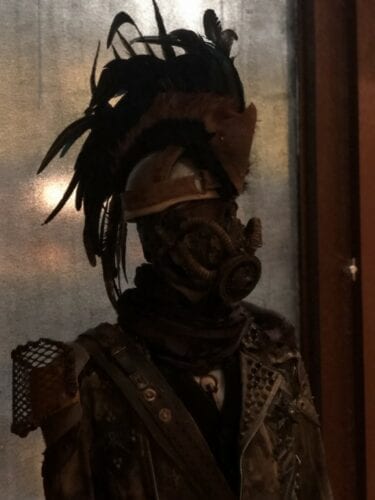 Guests themselves become part of the story as they dine and get to know more about Rex Baron and his 18 vigilante character personas. Spoiler alert: they each play an impactful role in the New World. To help survivors spot and learn about each vigilante, guests will be provided a pocket-size gallery guide and an app is currently under development.
What About the Food?
And yes, the food and cocktails are GOOD! They have this lava hot rock that you can cook meat on. I definitely got a kick out of that.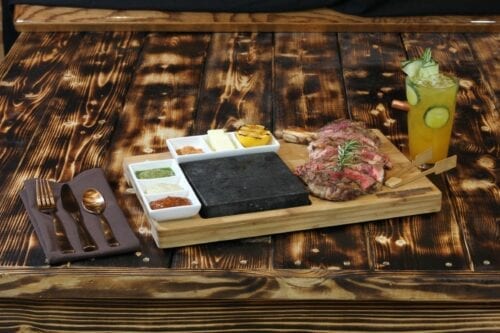 But since I'm not a food blogger, you'll have to take their word for it: The Survivors (Scratch) Kitchen's Modern American cuisine is based on classic world techniques with new and old-world flavors with a focus on high-quality locally-sourced ingredients. These include fresh vegetables and highest-grade organic meats, seafood, poultry and spice blends and "unusually served" themed cocktails.  You can check out the full menu HERE.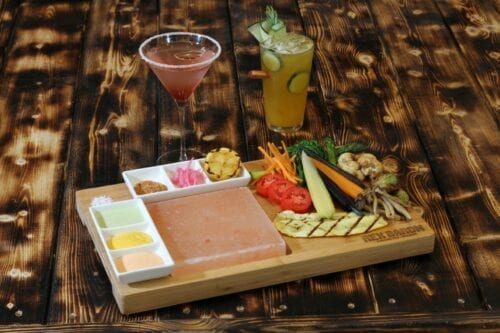 ---
Located in the Nordstrom wing at Town Center at Boca Raton (6000 Glades Road, Boca Raton, Fla.) and offering inside and outside terrace dining and bar services, Rex Baron is open seven days a week, on Sundays to Thursdays from 11 a.m. to midnight and Fridays and Saturdays from 11 a.m. to 2 a.m. Reservations are not required but can be made via www.TheRexBaron.com, Open Table or by calling (561) 447-6993. For large private groups and corporate events and team-building email at info@therexbaron.com or call (561) 447-6993.