What if we asked local parents to design the Boca pediatric office of their dreams? An office with no germs, no wait times, awesome doctors, "on top of it" staff, all in the most modern and fun setting? A mom can fantasize, right?
Modern Boca Mom has the *exclusive* that our favorite pediatric office in Boca is indeed, "movin' on up!" And our town will never be the same! Get ready parents…because  my favorite pediatric office in town, Boca VIPediatrics is moving to a brand new space and getting a major makeover! 
Whoop, whoop! After more than 5 years in their existing rocking space, this Boca parent favorite is upgrading to a new facility that they're calling "the pediatric office of the future!" So, what exactly is a pediatric office of the future? I sat down with the Boca VIPediatrics team to get the 411 on their brand new space and learn all about their vision for keeping our Boca kids the happiest and healthiest.
Here are the highlights of their amazing, glam, ultra-modern new Boca pediatric office, designed FOR parents, BY parents:
A "Non-Waiting" Room That Is Fabulous, But Consistently Empty
Anyone who has ever taken their child to the pediatrician (minus Boca VIPediatrics parents, of course) knows that the wait time in the yucky, germ-filled waiting room is pretty unbearable. It is especially awful during cold/flu season when all you hear is coughs, sneezes, and lots and lots of crying. Boca VIPediatrics' new space will feature an ultra-glam "non-waiting room," which they'll pass right through on their way directly back to see their doctor.
Exam Rooms As Individualized and Unique as Your Boca Kids
Their new space features additional exam rooms that celebrate the individuality of their VIPs. Boca VIPediatrics' philosophy is built upon highly personalized care. So, they've developed very different individualized themes that celebrates their VIP kids as stars of music, science, sports, and more!
A Designated Baby Well-Check Room and "Lactation Lounge"
Bringing a newborn or infant to your Boca pediatric office brings a whole other level of stress. But with zero wait times and a designated infant well-check up room, new parents can breathe a sigh of relief. The beautiful, all new "Baby Stars Suite" is for infants only. Plus, nursing moms will love the comfort of the rocking chair, mood lighting, and ultra-modern nursery-like vibes of this room that doubles as a lactation lounge.
A Private VIP Entrance
Whether you're a celeb or not, it's all about your kids at Boca VIPediatrics! Their VIPs (Very Important Patients) even have their own private VIP entrance!
Modern, State-of-The-Art Technology
Dr. Rudnick and Dr. Gilbert have been featured both locally and nationally in various news outlets for using the most modern medicine. Be it game-changing telemedicine devices, specialized testing, or the latest and greatest tech tools that keep your littles in tip-top shape.
The Nicest Staff In Town
With a former Disney princess leading their team, every staff member at Boca VIPediatrics is Disney-hospitality trained. Aside from their front office "concierge fairies" who handle everything from school forms to appointment scheduling to old-school friendly phone voices, (hooray for no "Press 1" to speak to a real person nonsense) the pediatricians, Dr. Rudnick and Dr. Gilbert are loved by Boca kids and parents alike.
Game-Changing Air Purification
State-of the art air purification keeps typical doctor's office germs at bay, making their new space a breath of fresh air…literally.
In-House Mental Health Services
Our kids need more access to mental health services, so the Boca VIPediatrics team will be partnering with various local mental health professionals to offer in-house services to families. This will provide an integrative approach to pediatric healthcare, overseen by the pediatrician who knows your family best.
Curated Toys and Pediatrician-Approved Design
Every toy and design element in their new space has been custom curated through the "Mommy Recommended, Pediatrician Approved" program developed at Boca VIPediatrics. Through developmentally appropriate "smart toys," parents can test-drive actual pediatrician-recommended favorites.
Go To The Office…Or Don't 
Perhaps the not-so-little awesome tidbit about this practice that changes everything for parents… is the fact that a large part of what you ask for can be handled virtually. So, you don't have to go into the office for every.little.thing. Can I get an AMEN?
Send an email, send a text, set up a virtual visit, or even receive a newborn house call. These doctors are reachable 24/7 via text, email and phone directly to their own personal mobiles, so Boca parents always have "their pediatrician in their pocket!"

Having seen the Boca VIPediatrics practice launch in 2014 (around the same time as Modern Boca Mom), I am pretty much brought to tears whenever I think about their growth and success. Nice people really can finish first! And it doesn't get much nicer than the team over at Boca VIPediatrics. I can't wait to see the new space in person! Congratulations!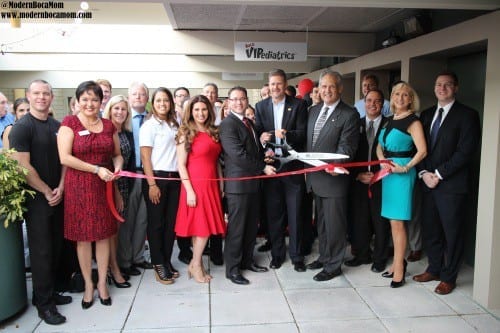 ---
Sponsored: This Boca pediatric office post was sponsored by Boca VIPediatrics. All opinions expressed in this blog post are my own and not influenced in any way by the sponsor.  Any statistic, quote or other representation about a product or service should be verified with provider. Please refer to this site's Disclosure for more information. I was compensated for this post, but all opinions are mine.