Mom-ming in the digital age definitely has both its perks and drawbacks. We've all seen the crowd-sourcing posts in social media moms' groups. You know the ones… One mom takes a picture of a nasty rash on her baby, then crowd-sources the answers as to what it is. (They usually contain a range of diagnoses from hand, foot and mouth, to poison ivy, to some deadly eradicated disease). Or even the health questions your mother-in-law thinks she has all the answers to. Even though they're from raising a baby 30+ years ago. Or the teachers at your child's school doling out advice about the "best" ADHD treatment. That one especially irritates me. While it's definitely useful to have "a village" helping you raise your child, health is far too important a topic to crowd-source or seek answers from non-experts. That's when a pediatrician in your pocket comes in really handy…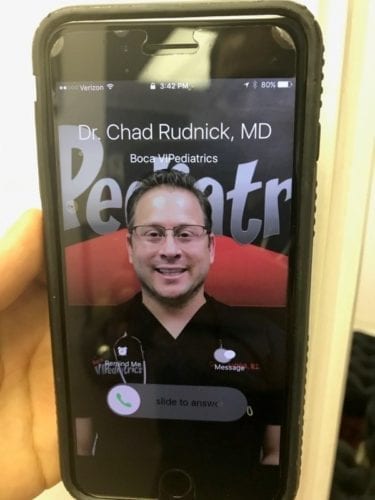 Because where's a mama to turn in this digital age of unsolicited advice?
Luckily, in Boca Raton, we've got the very best option…your board-certified Pediatrician. And not just for your scheduled visits to the office, either. At Boca VIPediatrics, Drs. Chad Rudnick, MD and Paul Gilbert, MD have turned the traditional model of pediatric care on its head. 24 hours a day, 7 days a week, you have your family's very own board-certified pediatrician in your pocket. And let's get real…when it comes to your child's health, your go-to trusted source should always be your Pediatrician.
Boca VIPediatrics has an extremely limited patient base, and VIPs (Very Important Patients & Very Important Parents) have their Pediatrician's cell phone number, email address, and access to always same-day visits. These are both virtual and at their Central Boca office location.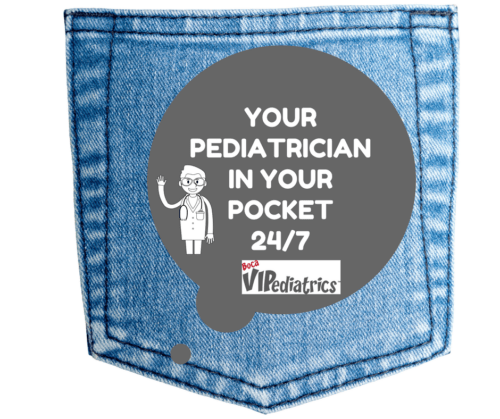 Wait, what? I can text my child's doctor or do a virtual visit?! 
Boca parents are busy. But when it comes to our kids, there's nothing quite like the stress of our little ones being sick. With the Boca VIPediatrics team, you're connected 24/7 to the doctor who knows your child best. And with a slew of other amenities like:
No waits
Same day visits
House calls
A small, personalized practice
Having a pediatrician in your pocket is just another way Boca moms who are a part of Boca VIPediatrics have it made!
So I reached out to Dr. Rudnick, founder of Boca VIPediatrics, to see just what the most F.A.Q.s via text/email are. These Boca parents are breathing the sweet sighs of relief by having their concerns addressed instantaneously! Here's what he had to say:
What is this rash?
How annoying is it to drive your Boca kid to the doctor's office for every single freaky looking rash that pops up on their little body?
"We get a variety of rashes, skin bumps, bug bites, bruises, and all kinds of 'what is this?' type questions from parents. Whether they have a new baby at home, or a toddler who picks something up at preschool, or even kids away at sleep-away camp, having us a text message, phone call, or email away to look at a photo, diagnose a rash, and call in a prescription (if needed) all handled virtually is a time saver, money saver, and sanity saver!", says Dr. Rudnick.
What do you think about this cough? 
Coughs are scary. What starts out as a little throat tickle can lead to croup, pneumonia, or asthma attacks. "Having your pediatrician in your pocket to diagnose and treat a cough can save an ER visit for sure," Dr. Rudnick says. "With the help of some awesome telemedicine tools, I can start treatment right when a cough starts or begins to go south. It's truly how we can help get kids better, faster by being available 24/7. And not waiting for an office visit to begin a treatment plan…"
I have a question about sleep, behavior, breast feeding, development, etc. 
"This is a big one," says Dr. Rudnick. "Most busy practices don't have time to be thorough in guiding parents on wellness. At Boca VIPediatrics, this is a staple. We don't just want to treat kids when they're sick. We want to be sure they're staying healthy."
Not only do patients of Boca VIPediatrics have longer appointments, they also can reach Dr. Rudnick or Dr. Gilbert for questions that pop up in between visits. "Having your questions answered about sleep tips, behavior coaching, or nutrition virtually leads to more confident parenting and less stress. They say children don't come with a manual. But with our practice, it's better than a manual. It's a doc in your pocket!"
Do I need to come into the office? 
Sometimes a parent's most debated question is the all-too-familiar, "should we take him/her to the doctor?" VIPs at Boca VIPediatrics always have the answer, because they can literally ask the doctor first. "By being available via phone, email, and text, I can always talk with a parent first to hear the symptoms, see a video or photo, and tell them if they need to come in or not. I always trust a mother's intuition above all else. But if they're not certain, that's where having a pediatrician in your pocket comes in handy," says Dr. Rudnick. "Oftentimes, I can save an office visit or even an emergency room visit just by being available to my patients," he continues.
Ummm – saving a doctor's office or ER visit?! Game-changer!
As moms, I think we are unbelievably lucky to be living in a world with digital tools that help keep our kids safe and healthy. Just think–our parents were so isolated! They didn't have Facebook or Instagram to connect with other moms in the area…and they definitely didn't have a pediatrician in their pocket. That's where us Boca Raton moms of 2019 are luckiest of all!
---
Sponsored: This post was sponsored by Boca VIPediatrics. All opinions expressed in this blog post are my own and not influenced in any way by the sponsor.  Any statistic, quote or other representation about a product or service should be verified with provider. Please refer to this site's Disclosure for more information. I was compensated for this post, but all opinions are mine.