MOMpreneur: n. defined as a female business owner who is actively balancing the role of mom and the role of entrepreneur.
Welcome to our latest installment of MOMpreneur Monday, highlighting businesses and brands that were founded by female entrepreneurs and fellow mommas!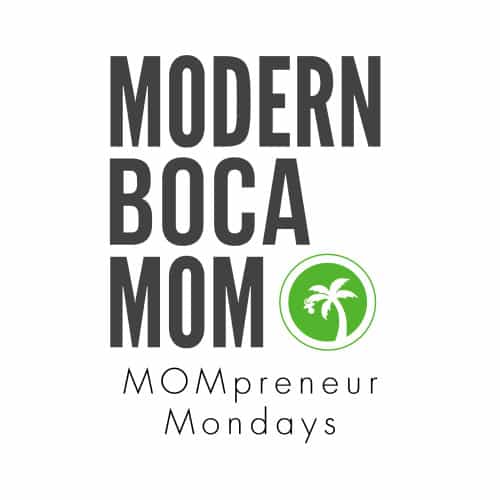 ---
Today's featured Modern Boca MOMpreneur is Corinne Grizzle, founder of Event Yard Card South Florida!
Hi Corinne! Why don't you tell us about your background and how your business got started?
I was born and raised in South Florida and am happily married to an amazing man. We have three children (16 year-old definitely not pictured, lol). Motherhood is present in every aspect of my current life. I decided to create Event Yard Card South Florida to fill my family's need of having at least one flexible parent as well as my personal need to have something that's my own.
"My unique business allows me to work during nap time and car line, while still using my creative side. I'm also grateful to contribute to my family's finances."
What is unique about Event Yard Card South Florida?
We allow you to share all of life's big moments in a BIG way. We are home grown and I manage every aspect of the business. I built Event Yard Card's style around Boca Raton and the premier service I know our residents expect.
Our signs are sturdy, clean and classy. The prints are custom made and only carried by me with my favorite pattern appropriately named 'Boca'!
I'm constantly adding to Event Yard Card's inventory and am happy to receive requests from my customers. I take my time when setting up and communicate seamlessly throughout the entire process.
Why should Modern Boca Mom readers use your Event Yard Card services?
We are the leading yard greeting rental company in South Florida. Event Yard Card brings the party to your yard letting you surprise your friends and family with an unforgettable personalized greeting. We deliver, set up, and remove your yard card.
You just sit back, relax and enjoy the smiles!
What exciting things are coming up for Event Yard Card?
We are expanding to different schools and events throughout the community. We are constantly updating our inventory and expanding our reach. Be on the lookout for our new keepsake options and giant statement pieces to add to your events!
What do you love about living and working in South Florida?
Location. Location. And location. With the sun always (mostly) shining, it's the perfect atmosphere for a Yard Card. Our family gets to enjoy all the best South Florida has to offer, with lots of friends and family close by– who could ask for more?
---
Connect with Event Yard Card South Florida:
---
SUBSCRIBE to Modern Boca Mom here!