MOMpreneur: n. defined as a female business owner who is actively balancing the role of mom and the role of entrepreneur.
Welcome to our latest installment of MOMpreneur Monday, highlighting businesses and brands that were founded by female entrepreneurs and fellow mommas!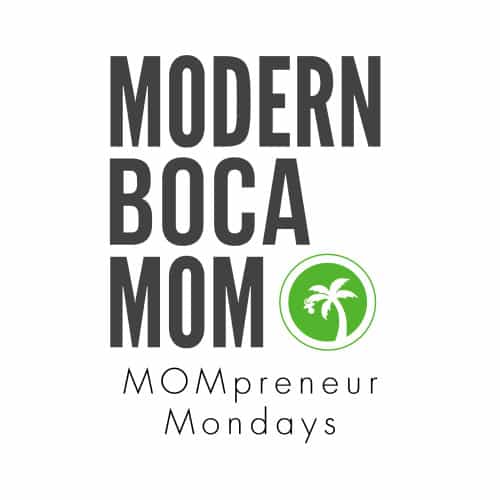 ---
Today's featured Modern Boca MOMpreneur's are Pam Thomes, Toni Valentino & Teri Jacobsen. Founding Agents & Boca  Raton Real Estate Advisors of the Pam & Toni Team!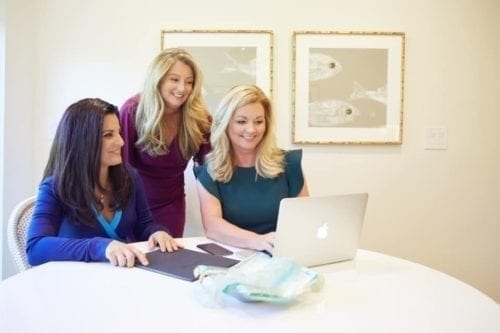 Hi Team! Why don't you fill us in a little bit on your personal and professional backgrounds…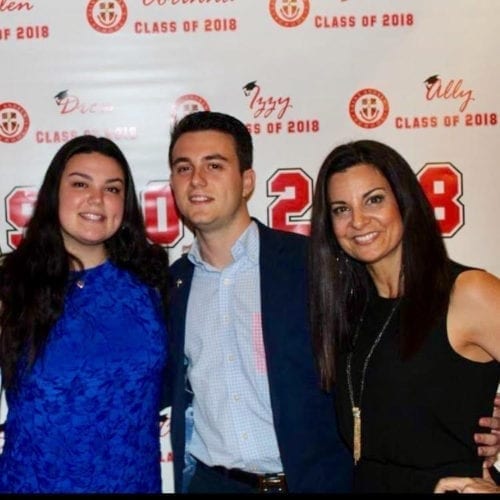 Pam Thomes, Founding Agent & Real Estate Advisor: Toni (Valentino) and I started our business in 2003, as we were both moms (her of 2, me of 3). Partnering allowed us the freedom and flexibility to attend our kids' events and also work full time. We had the goal to build our business and careers while providing for our families. My kids have always been my big "why". My proudest accomplishments are my 3 kids and (about to be) 2 grand kids!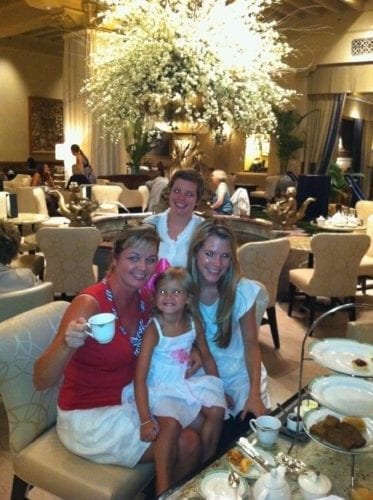 Teri Jacobsen, Founding Agent & Real Estate Advisor, is also a mother of 2 daughters, Sarah 26 and Kate 22.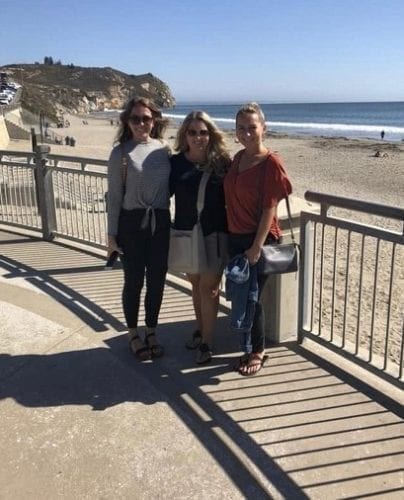 Tell us about the process of starting your agency in Boca Raton…
Toni: I started our business in 2003 with my partner Pam. We had been friends for a number of years and one day we each were visiting and decided it was time for a new challenge. We both wanted to be in a position to help people make their dreams come true finding the perfect home for each client.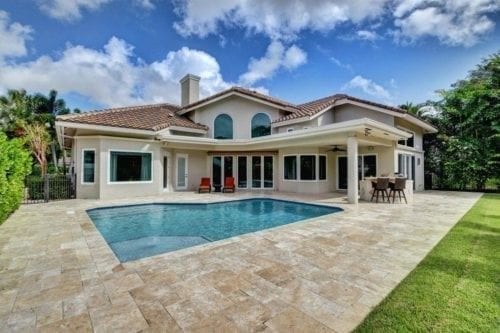 Teri: Organically by looking for my own home, I immediately could see myself working as a Realtor. I love working with a variety of people and providing excellent customer service to my clientele.
What is unique about your business?
Toni: We always put the client first and listen to their needs. We also are very active in the community and pride ourselves on giving back.
Pam: Although Real Estate offers its own set of challenges like any career, you have flexibility as a Broker to create your own schedule and better juggle the responsibilities of motherhood.
Teri: We are unique in that we offer a boutique style service.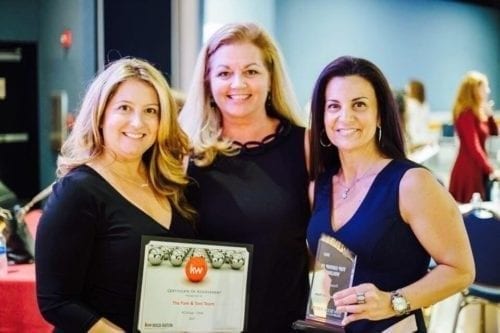 Why should Modern Boca Mom readers become your clients?
Toni: I truly care and want to help. I have worked with first time home buyers to high-end luxury buyers and everyone gets the same treatment. I love making my clients feel special.
Pam: We treat all of our clients like family! Compass enables us to continue our boutique, personalized customer service and also have the resources of a leading, technology savvy firm. We have all raised our families in Boca Raton and take pride in the city we live in by being very involved in community boards and local fundraising initiatives such as Habitat for Humanity, Place of Hope, and Impact 100.
What exciting things are coming up for The Pam & Toni Team, Boca Raton Real Estate Advisors?
Toni: We are expanding the Compass brand in Boca! As the founding agents of Compass Boca Raton, we're excited to trail-blaze the way for select teams who  join Compass as well.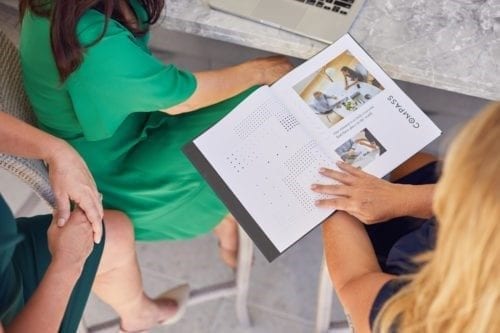 Pam: Compass is a relatively new company, established in 2012. It's said to be the first company to have built a proprietary mobile app for real estate agents. We're leading not only the local market, but being a part of the Compass team allows us to utilize our network around the U.S. We're so excited about our future!
Teri: Compass also offers strategic marketing  and planning as well as leading marketing resources that we use on behalf of our clients. This will be a key component to our growth going forward.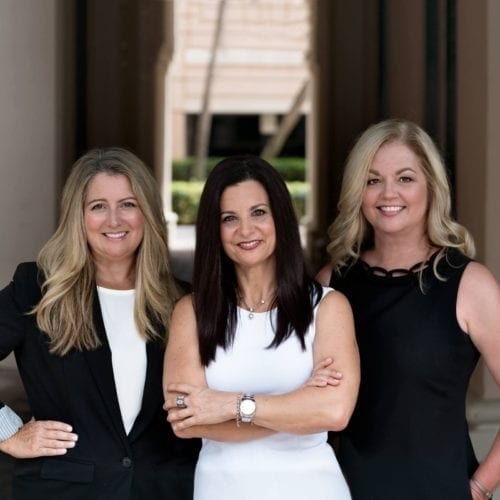 What do you love about living and working in South Florida?
Toni: South Florida is an amazing place to live! You have it all here: great weather, boating, golfing, tennis and some of the best beaches in the US.
Pam: The weather, the beach and all the great, easy weekend trips to destinations around Florida!
Teri: Of course, the weather in South Florida is (almost) always nice. The fact that most people are from somewhere else makes for a diverse environment and the opportunity to learn about so many cultures!
---
Connect with The Pam & Toni Team in Boca Raton online: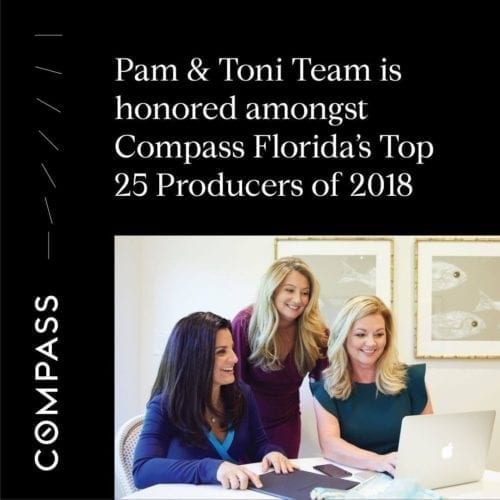 The Pam & Toni Team
433 Plaza Real, Suite 275
Boca Raton, FL 33432
561-716-7526
WEBSITE: The Pam and Toni Team
FACEBOOK: ThePamAndToniTeam
---
SUBSCRIBE to Modern Boca Mom here!