This Boca mama can truly appreciate a good deal, especially around holiday time! Every little bit saved helps, right? So, I'm happy to announce our exclusive retail partnership with Palm Beach Outlets this 2018 holiday season! There are so many reasons to head 15-20 minutes north for everyone on your list. From a complimentary breakfast and FREE Santa photo at Palm Beach Outlets to brand new store openings and a special #GivingTuesday initiative, we are loving what we are snowing…I mean SEEING up in Palm Beach!
The Palm Beach Outlets will officially kick off its holiday shopping season at 9 a.m. on Sat., November 17, (2018) with a host of kids' activities and the arrival of jolly old Saint Nick!
At 9:30 a.m., Santa will arrive in a horse-drawn carriage amidst a host of snow flurries
He will be joined by the Ralph Lauren Bear and other characters such as a stilt walker, balloon artist, snowman and Rudolph
The event will also feature strolling photo booths and the sounds of continuous holiday music
FREE Santa Photo at Palm Beach Outlets
Palm Beach Outlets will continue to offer a present of its own this holiday season, giving each family TWO FREE professional Santa photos and a digital download of a single image through December 24th. (One giveaway per family, per Christmas season. Some restrictions may apply.) This is a pretty jolly deal! Additional photos and Christmas merchandise will also be available for purchase.
Santa Hours:
Photo Hours November 17, 2018
10:00 am – 8:00 pm
Photo Hours November 18, 2018 – December 23, 2018
• Monday – Thursday: 11:00 am – 7:00 pm
• Friday – Saturday: 11:00 am – 8:00 pm
• Sunday: 12:00 pm – 6:00 pm
Photo Hours November 27, 2018
11:00 am – 5:00 pm
Photo Hours December 16, 2018
12:00 pm – 5:00 pm
Photo Hours December 24, 2018
9:00 am – 5:30 pm
(Please, be aware that Santa needs to take breaks to feed his reindeer)
Breakfast with Santa on December 1st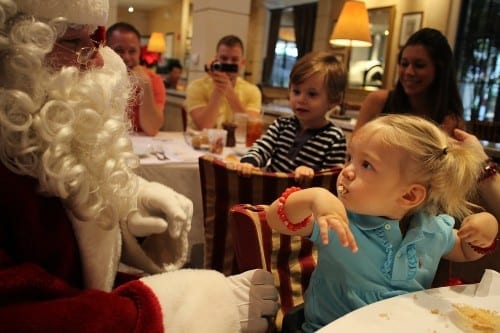 A popular shopping center tradition, Santa's Breakfast will take place on Sat., December 1st! This FREE event provides opportunities for parents and children to enjoy a complimentary buffet breakfast and FREE Santa photo at Palm Beach Outlets. Guests will also be able to decorate cookies, make holiday crafts, win prizes and more. Ho ho ho!
Pet Photos on #GivingTuesday
On November 27th, as part of #GivingTuesday, a global day dedicated to giving back, guests are invited to bring their pets for a FREE pet picture with Santa!
A donation of $10 is suggested with all proceeds benefiting Peggy Adams Animal Rescue League and a second pet photo night will be held from 6-8 p.m. on Sun., December 16th.
Palm Beach Outlets Chanukah Event
From 5-7:30 p.m. on Sun., December 9th, Palm Beach Outlets will host a Chanukah event in Center Court. The festive occasion will include menorah lighting, music, dancing, latkes and a BMX bike demonstration. Hurrah!
For more information about any of these events this holiday season, please call Palm Beach Outlets at (561) 515-4400 or go online to www.palmbeachoutlets.com. Hope to see you up there!
---
Sponsored: This post is sponsored by Palm Beach Outlets. All opinions expressed in this blog post are my own and they are not influenced in any way by the sponsor. Any statistic, quote or other representation about a product or service should be verified with provider and please refer to this site's Disclosure for more information. I have been compensated for this post, but that does not impact my views or opinions.