MOMpreneur: n. defined as a female business owner who is actively balancing the role of mom and the role of entrepreneur.
Welcome to our latest installment of MOMpreneur Monday, highlighting businesses and brands that were founded by female entrepreneurs and fellow Mommas!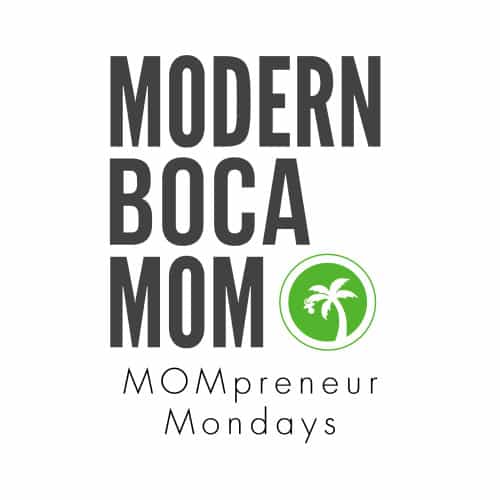 ---
Today's featured Modern Boca MOMpreneur is Elena Carissimo, a Realtor at Lang Realty Delray Beach!
Tell us a little about your background…
I was born in Milan, Italy, where I met my Canadian husband. Before landing in sunny Florida four years ago, we lived in London, Los Angeles, Toronto and Wayne, PA. I'm now a mom of two amazing young girls, Anabel (9) and Isabel (6), who are the greatest joys of my life. I've been married to my wonderful husband, Mike, for almost 15 years and we now live in Gulf Stream, FL, which is a little town just north of Delray Beach. We couldn't be happier to live here.
What inspired you to become a Real Estate Advisor at Lang Realty Delray Beach?
Although my formal background is in law, I was not passionate about the legal profession. After University, I took many courses and certifications and started my own decorating/home staging business. I worked closely with real estate agents for quite some time. And, having bought, designed and sold several properties through the years for my personal interest, I realized that real estate was the place where I could put all my talents to work and share them with other people.
What is truly unique about your service?
There are a lot of real estate agents in Florida, but they are not all equal.  Because of my background in law and design, what makes me unique is: my attention to details, my researching skills and my commitment to clients to do all it takes to get their house sold for the highest possible price.
This includes me personally taking care of the staging to negotiation to focused marketing. I'm always present at showings. Also, my drive, passion, ability to see the potential in a home that needs to be renovated and guiding the clients who decide to go that route set me apart.
Why should Modern Boca Mom readers become your clients?
Being a mom, I relate very well to families with children of all ages. I also have the knowledge of the neighborhoods and schools in the area (my girls currently attend school in Boca).
Also, having relocated many times myself, I can assist families who are moving to the area with any challenges during the relocation process. I want to help my clients find the right neighborhood and ultimately, a home they love.
What do you like about living and working in South Florida?
Having lived through many cold winters, my husband and I dreamed about living in warmer climate.
While visiting friends a few years ago, we fell in love with this area. In literally three months, we sold our house in PA, bought our house here and moved our family. We haven't looked back! Besides the climate, we love living close to the beach and giving our daughters the opportunity to do activities outdoors all year long. Living in a place where people vacation is pretty special and I am very grateful for it every day!
---
Connect with 

Lang Realty Delray Beach:
Phone: 786-510-0408
EMAIL: Elena Carissimo
WEBSITE: Elena Carissimo: Lang Realty Delray Beach
---
SUBSCRIBE to Modern Boca Mom here!