MOMpreneur: n. defined as a female business owner who is actively balancing the role of mom and the role of entrepreneur.
Welcome to our latest installment of MOMpreneur Monday, highlighting businesses and brands that were founded by female entrepreneurs and fellow Mommas!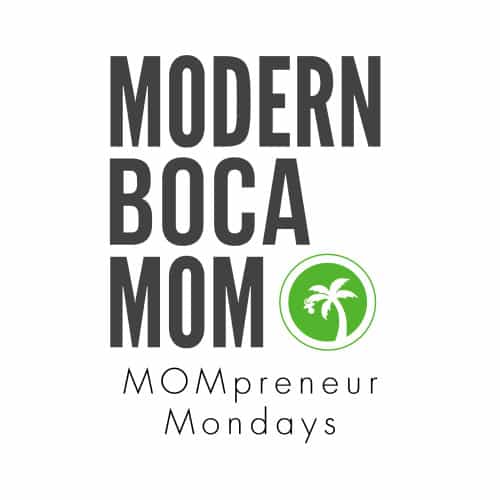 ---
Today's featured Modern Boca MOMpreneur is Veronica Iglesias Romney, Co-founder of LoSoMo Digital Marketing in Boca Raton!
Tell us a little about your background and what inspired you to start your business…
My friends and family call me "V" and I am a full-time SEO nerd, a wife and "mimi" of 2, and a Florida native. As the daughter of two Cuban immigrants who lived the American Dream, I am fiercely proud of my heritage and constantly driven by my parents' entrepreneurial spirits. Running a business is in my blood, and I am thrilled to lead my own company alongside my husband.
If there's one thing you should know about me, it's that I thrive when multitasking – mom skills all the way! I founded and managed four online businesses, all while still being successful in full-time positions for industry-leading organizations and becoming a mother. My last four years were spent as the Director of SEO and then Director of Marketing Suite Products for Entrata and serving as an adviser for the business Scott and I started, LoSoMo Digital Marketing in Boca Raton.
"We always knew we wanted to start our own business so that we could call our own shots and make our family our first priority."
Aside from being a mother and an entrepreneur, finding opportunities to present, moderate, train, and teach is one of my greatest passions.
My parents own an air conditioning company here in Boca Raton, and my teen years were spent watching them build a successful business out of our garage. When I graduated with a degree in international marketing, I knew I could help them market their business more effectively and use the internet to their advantage.
In the meantime, I moved up through the digital marketing industry, and clients from past companies continued to reach out to me asking for the latest solutions and strategies for SEO. One of these solutions was some what like Tools for Google Ads automation, there was so much that I learnt while I worked in digital marketing that I have and will apply to future projects I become a part of. With the rise of technology, it is hard not to keep up, especially in this industry. One aspect that stood out to me and I recommend is to look into something like Five Examples of Businesses that Underwent Digital Transformations – Salesforce.com to help give you an insight into the use of technology for businesses. Everything I learn, I take in.
These two things became a catalyst for starting LoSoMo—a digital marketing company that believes in the underdog and focuses on helping local businesses, like my parents, grow, all while using up-to-date and ethical strategies.
What is truly unique about your business?
We've discovered a unique niche in the local space that sets us apart from other digital marketing agencies. We truly believe in helping those 'mom and pop' shops and small businesses that don't have the time to understand, implement, or stay current with the latest online marketing strategies. LoSoMo Digital Marketing in Boca Raton values transparency, communication and constant unity.
We are also focused on giving back to our community and take pride in working with the FAU internship department to give opportunities to students, the Pledge 1% organization, and a variety of other community organizations.
Why should Modern Boca Mom readers become your clients?
We get it, so you don't have to! Really, understanding the constantly evolving digital marketing world is a major task. LoSoMo Digital Marketing in Boca Raton truly does everything we can to become an extension of your brand so that we can take the reigns and efficiently and effectively manage and implement your digital marketing strategy. We deliver a personal, passionate, and tailored service to each and every one of our clients, big or small. Our company does everything in house. Every client has a dedicated account manager that they can contact directly. And, we provide tangible, trackable data to show that what we do is working.
What exciting things are coming up for your business?
Oh, so many things! Something LoSoMo Digital Marketing in Boca Raton is looking forward to is building out an entire Spanish department for native Spanish-speaking clients who feel like other agencies don't understand them.
I have speaking opportunities that I'm looking forward to at Napa Summit and in Australia in 2018. We are also hosting some upcoming webinars, being featured on a couple different podcasts, and creating lots of great content that other business owners can put to good use.
What do you love about living and working in South Florida?
As a South Florida native, it means so much to me that I can raise my family and grow my business right here where I grew up! Cuban heritage is celebrated here and that is important to me as I share that with my children. I love that they can grow up speaking Spanish, eating Cuban food, and being part of a big Cuban family and that it is totally normal.
The climate is another major perk for me—sunshine year round makes it so much easier to be both career-driven and family-oriented. There are so many activities to do outside and share with my kids. Saturday morning beach days have become one of our favorite traditions. South Florida offers an amazing network and community and I have been so impressed with every organization I've been a part of! If you needed some SEO support with your digital marketing in the UK, my friend recommends WhiteHat, click here to go on Whitehat.
---
Connect with LoSoMo Digital Marketing in Boca

:
WEBSITE: LoSoMo Inc
INSTAGRAM: @losomoinc
---
SUBSCRIBE to Modern Boca Mom here!