"Moms don't get sick days." You know the saying, right? I used to think it was a cheesy marketing tactic to convince parents like me to purchase excessive amounts of over the counter cold medicine. But after becoming a mom, reality sets in…your child doesn't care one iota if you're sick. Neither does your job most likely. So can a busy mom afford to get the flu? The answer is HECK TO THE NO.
Can a Mom Afford to Get the Flu? Spoiler Alert: No.
I'm pretty good about getting the flu shot, I'll admit. The one year I skipped it (cough, cough last year), I got the flu right before one of the biggest blog conferences and trips of my career. Typical.
I headed to my local MD Now Urgent Care on a Saturday morning and thought I had a sinus infection. Wrong. Twas the flu. 🙁 To this day, I'm so grateful they caught it early and gave me a flu treatment. It literally saved me (and my blogging career for all intents and purposes). I was able to go on my Disney Social Media Moms Cruise and have a good (and healthy) time with my family!
I try not to make it a habit of hanging out at MD Now on a Saturday…even though the selfie with my mom friend below seems to contradict that statement. But as someone who's usually scheduled to the hilt, it's oftentimes the most convenient medical care option for me and my family. That also means it's now my go-to location for getting the flu shot and I can just swing by!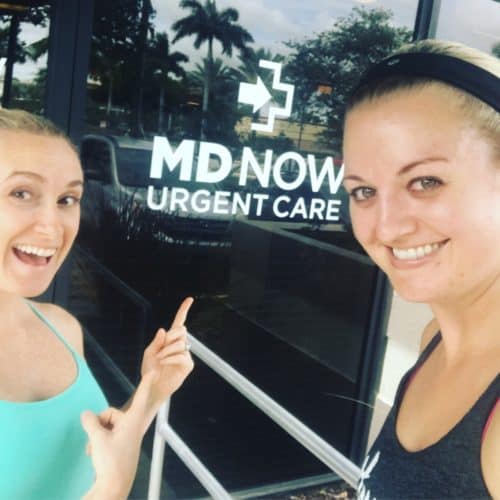 What kind of flu shot does MD Now have?
MD Now offers the Quadrivalent (4-strain) flu shot as its standard seasonal flu vaccine, providing your family with maximum protection at the lowest cost. We even have a coupon for you below! When it comes to facing cold and flu season, I feel so much better knowing I can count on MD Now Urgent Care for fast, affordable, and convenient treatment and prevention.
If there's any chance you think you may have the flu, visit a local MD Now location for influenza testing, treatment and care. For more information to find an MD Now location in Palm Beach, Miami-Dade or Broward County, visit MDNow.com.
And remember to get your flu shot!

---
Sponsored: This can a mom afford to get the flu post was sponsored by MD Now. All opinions expressed in this blog post are my own and not influenced in any way by the sponsor. Any statistic, quote or other representation about a product or service should be verified with provider and please refer to this site's Disclosure for more information. I have been compensated, but that does not impact my views or opinions.