MOMpreneur: n. defined as a female business owner who is actively balancing the role of mom and the role of entrepreneur.
Welcome to our latest installment of MOMpreneur Monday, highlighting Florida businesses and brands that were founded by female entrepreneurs and fellow Mommas.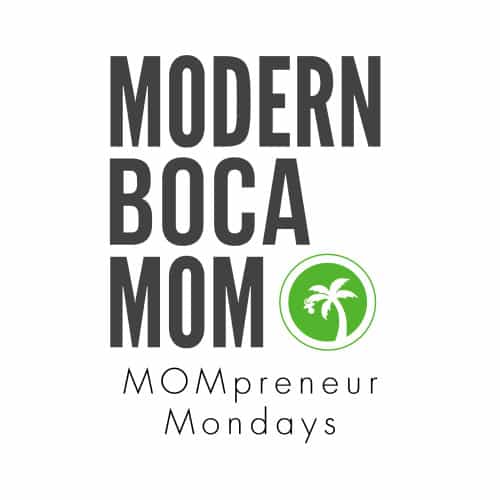 ---
Today's featured Modern Boca MOMpreneur is Michelle Agulansky, local mom and founder of Chelle and Mi fashion clutches!
Tell us a little about your background and what inspired you to create your Chelle and Mi fashion clutches…
Raised in Herzlyia, Israel, I moved to Boca Raton when I was 13. After graduating from Florida Atlantic University, I started designing and selling jewelry and handbags to major boutiques throughout South Florida. I loved picking designs that my customers were excited to wear!
The idea of an interchangeable purse first came to me when I was going to an event, but my clutch didn't match my outfit. I didn't want to change my whole look just to accommodate my purse. So, I decided it was time to create a handbag that could match every outfit. I ran my idea by a few local boutiques I worked with before and found that shoppers were also looking for a versatile and functional bag that could accompany them to various events. My goal was to create a bag that gave you the freedom to express your personality.
During this time, I met my husband. Soon after, I was pregnant with my first child Daniella and I launched my online retail store. Being a new mom and juggling a business have given me some of the most empowering and challenging moments of my life. I have an abundance of motivation to teach my daughter about perseverance. I'll teach her to follow her dreams no matter what challenges stand in her way.
What is truly unique about your fashion clutch?
Chelle & Mi is a modern, bold and functional clutch that allows the wearer to change the clutch's entire look by swapping out the front flap. With 75 different combinations, you can choose various designs and colors to create your own distinct look. With the detachable metal strap, you can wear it as a clutch or as cross-body bag. This is the ultimate accessory for traveling ladies and mommies who need different purses to accommodate any occasion.
Why should Modern Boca Moms become your customers?
Chelle and Mi was created to make women look and feel good by choosing their favorite clutch combination for that day. It is meant to give you the freedom to express your individual taste. For brunch with your gal pals, you can wear your beige flap. At night, just switch the flap to zebra to make a bolder statement!
Chelle and Mi clutches are crafted with beautiful Italian leather. The clutch retails for $175 and the extra flaps retail for $35. Packed in a luxurious dust bag and box,  it makes a great gift for all the important ladies in your lives!
What exciting things are coming up for your business?
We are very excited about launching our website! I have a few pop-up shops and trade shows lined up across Florida. I'm really excited to introduce this beautiful bag to the South Florida community.
What do you love about living and working in South Florida?
My family and I love any activities that involve the water and South Florida is the best place for that! We take full advantage of the amazing Florida weather to go swimming or snorkeling in the ocean, and canoeing in the intracoastal.  We feel very blessed to wake up to sunshine (almost) every day!
---
Connect with Chelle & Mi :

 https://www.facebook.com/chelleandmi/
 https://www.instagram.com/chelleandmi/
---
SUBSCRIBE to Modern Boca Mom here!