MOMpreneur: n. defined as a female business owner who is actively balancing the role of mom and the role of entrepreneur.
Welcome to our latest installment of MOMpreneur Monday, highlighting Florida businesses and brands that were founded by female entrepreneurs and fellow Mommas.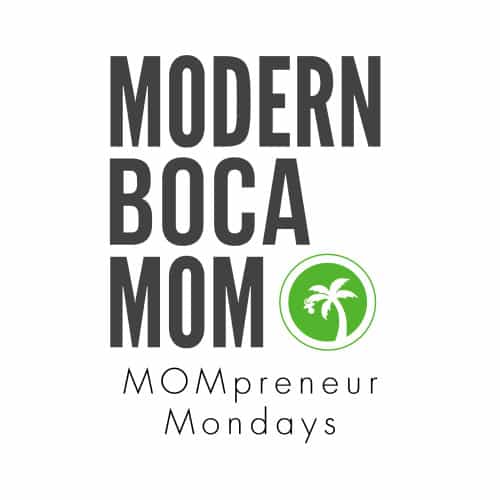 ---
Today's featured Modern Boca MOMpreneur is Lynn Sasso, local mom and founder of the Dreamland Company.
Tell us a little about your background…
I was born in St. Louis, Missouri and moved to Miami at the age of 11. After graduating from Emory University, I attended The University of Miami School of Law where I also met my husband, Richard.
While working at a Miami law firm, I focused on plaintiff product liability litigation making big bucks traveling the world (oftentimes via private jet). I got married in 2005 and a couple years later decided to start a family. Unfortunately, we struggled with devastating fertility issues. 
Eventually I left my job and we moved north to Lighthouse Point. We now have two healthy and beautiful children – Tyler, 7 and Stella, 5. I learned so much from surviving our fertility issues. Life is precious and short. The most precious things in life cannot be bought and finding work that you love is priceless.
What inspired you to create the Dreamland shirt?
Even though I knew I could always go back to law, I wanted to create something for women like me. Women who had real bodies – of all shapes and sizes– whose bodies may have changed after bringing children into the world, from aging or sickness or being stuck with needles during struggles with infertility.
I always loved fashion, but my nights attending red carpet events and fancy charity galas were far outnumbered by the nights taking care of my babies. After number two, I was beyond exhausted caring for a newborn daughter and a wild two-year-old son. I would sleep in whatever was around. Nothing was flattering. Nothing felt special.
Determined to find something with a bit more style, I happened upon a super cute sleep shirt at a discount retailer. There was literally one…and all of my scouring and online searching fell flat.
It was a bummer because whenever I wore it, I didn't feel frumpy, so it became my go-to. The shirt was flattering without being tight (which was great as I worked to drop my baby weight). It was the perfect sleep shirt for a new mom, offering both comfort and style. My husband loved it. My girlfriends wanted it. That's when the light bulb went off!
What is truly unique about your product?
I knew I could create something that would make all women, especially moms, feel special, comfortable and pretty. So the dreamshirt was born! I designed the dreamshirt (the perfect mix of a sleep shirt and a nightgown) with ruching in the front and back so it hugs the body without being tight. Made of the most luxurious cotton jersey fabric, the ¾ length sleeves and length just above the knee are flattering on all shapes and sizes. 
Most sleepwear is mass-produced overseas. It isn't designed to fit real women's bodies. It isn't special or particularly well made. The Dreamland Company knows that moms run the world! It's a little reminder that we deserve to take care of ourselves. We deserve things that make us feel strong and valued and beautiful.   
The dreamshirt comes in solid colors and prints (our first collection has 6 solids and 3 prints). The prints are unique in that they are designed by us specifically for our customers. Our signature print, Daydreamer, features clouds and hearts.
After your business get started, what challenges did you face? How did you solve them?
After deciding to launch the dreamshirt, I called upon my friend Melissa Wexler to help. I had gotten absolutely stuck searching for the perfect fabric and manufacturer. Melissa owned her own clothing line that was sold in hundreds of stores along the West coast (BJOY) and had a ton of relevant retail experience. We discussed the lack of stylish and flattering sleepwear for women like us. Just like me, Melissa also faced her own health struggles.
When her mother was diagnosed with ovarian cancer, Melissa had herself tested for the BRCA gene and it came back positive. This prompted her to have an elective, preventative double mastectomy. When in the hospital, she wished she could ditch that dreary hospital gown and have something that would serve a functional purpose and be easy to get on and off. She also craved something that would make her feel both feminine and comfortable. When I mentioned my idea of bringing something to market that fit the bill, Melissa was thrilled and has been an invaluable asset to The Dreamland Company.
Why should Modern Boca Moms become your customers?
The Dreamland Company was created by two tired moms looking for a little bedtime style. We are your readers. We live for our children, but still value looking good and feeling good. All moms can sleep well in their dreamshirts knowing each one was sewn and packaged with love right here in Florida. They can sleep well knowing that by shopping with us, they are supporting a female-owned, local small business.
Our dreamshirts start at just $50 and are packaged in a reusable drawstring bag with an inspirational note inside. They are the perfect gift for moms, teachers, co-workers, friends and family.
What exciting things are coming up for your business?
Our website launched just a couple weeks ago! We were blown away by the feedback we have received so far. We have some pop-up shops planned in the coming weeks and are in the process of designing new prints and new styles.
What do you love about living and working in South Florida?
Having grown up here, South Florida is home. One of the best parts of becoming a mom was meeting my South Florida mom friends.  The support, advice, laughter and adventure they bring to my life is beyond anything I could have ever imagined. The Dreamland Company was inspired by the women in my life and I hope our products make all women feel valued, beautiful and loved.
---
Connect with The Dreamland Company:

 https://facebook.com/thedreamlandcompany
 www.instagram.com/thedreamlandcompany
$5 off Dreamland Company Coupon Code – MODERNBOCAMOM
---
SUBSCRIBE to Modern Boca Mom here!