It's the second most wonderful time of the year: FALL! Even though I'm digging the (slightly) lower temps down in Boca Raton, there's nothing like experiencing the fall season at Disney World.
There are festive Halloween decorations, new attractions for the whole family and a farewell celebration for an old favorite departing on October 9th: Disney's Main Street Electrical Parade. We said our proper goodbyes to the classic parade earlier this month at the Magic Kingdom. I encourage you to experience it with your kids before it's too late! It's truly magical.
---
Waiting for the Main Street Electrical Parade to begin, I looked around in awe at all of the gorgeous harvest decor. It made me want a pumpkin spice latte real bad. 😉 Good thing there's a Starbucks right there.
During this fall season at Disney World visit, we were also invited to experience several of the new attractions that just opened at the parks.
---
Fall Season at Disney World 2016
Frozen Ever After at Epcot
This is the ride with the fabled (yet actually true) 3 hour wait time.
MBMom Tip: Get to Epcot EARLY! We went on the ride twice and waited less than 30 minutes each time.
Frozen Ever After is the most high tech ride at Disney to date. Olaf WALKS, all of the characters from the movie sing with custom projections on their faces (and new music) and the effects are spectacular, especially during the "Let it Go" sequence with Elsa.
Do not miss Frozen Ever After at Epcot! Our daughter wouldn't let us anyway…
---
Anna and Elsa have moved from the Magic Kingdom into brand-new digs at Norway in Epcot's World Showcase. I personally love their decorating style.
But the best part? Meeting Queen Elsa and Princess Anna in person!
This is a FastPass-enabled attraction conveniently located next to Frozen Ever After. Plan your day out so you arrive at Epcot early and get your Frozen fix!
---
Soarin' Around the World
Soarin' Around the World, located at The Land in Epcot, is an updated version of the original which kept your glider flying firmly in the great state of California.
Now, you can see the pyramids of Egypt, the Taj Mahal in India, the Eiffel Tower in France, all from the comfort of a safe, air conditioned attraction. The new scents are awesome.
MBMom Tip: Try to sit in the second row of Soarin' Around the World. That vantage point has a perfect view of the projection.
---
Star Wars: A Galactic Spectacular at Hollywood Studios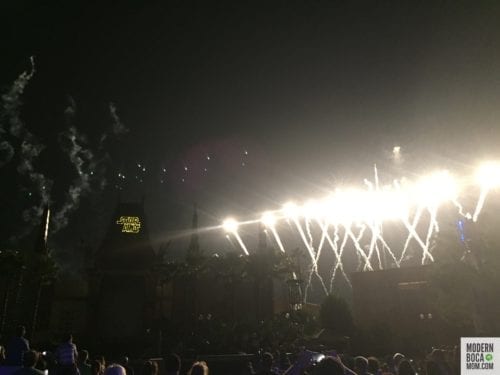 And a spectacle it is! Star Wars: A Galactic spectacular did not disappoint my die hard, Star Wars-loving family. We snagged a viewing spot in front of the Chinese Theater about an hour before showtime and ate a pizza picnic-style while we waited.
MBMom Tip: Pizza Planet is now CLOSED! 🙁 The only place we could find to get pizza takeout was on Sunset Blvd. at Catalina Eddie's.
I thought the show was a little heavy on the Star Wars movie clips, but the effects and projections have definitely been upgraded since the previous Star Wars fireworks show. As long as the movie score from John Williams is playing, I'm a happy girl.
Okay fine, I'll be honest. As long as I'm at Disney, I'm a happy girl. 🙂
Tell me, are you and your family planning a wonder-FALL season at Disney World this year? Comment below!
---
Hosted: This post was hosted by Walt Disney World. All opinions expressed in this blog post are my own and not influenced in any way by the host.  Any statistic, quote or other representation about a product or service should be verified with provider. Please refer to this site's Disclosure for more information. I was given 4 complimentary Disney Park Hopper passes, but that does not impact my views or opinions.